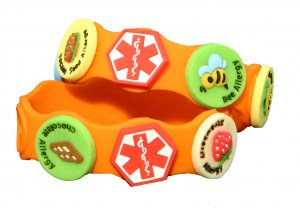 My son was diagnosed with several food allergies at the age of 18 months and he has worn one of these bracelets ever since. I was told that he needed to wear a medical bracelet and I began to search for one that was appropriate for a toddler.  I was super excited when I found the Allerbling bracelets/wristbands!  They are very stylish, even for my little guy

 The allergy tabs are customizable to the bracelet!   There are 5 holes to customize on the bracelet.  There is a medical tab and four other spots!  I choose to put my son's most threatening allergies on the bracelet.  The bracelet is extremely comfortable; it doesn't bother my little guy at all.  He keeps it on all the time! Everywhere we go, we get compliments on it.  All of his doctors and paramedics have been able to recognize the tabs on his bracelet!
The wonderful company of Allerbling has been gracious enough to giveaway 2 full Kits of Allerbling bracelets!   See the picture below!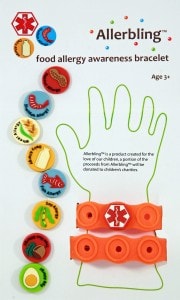 It will come with lots of allergen tabs for you to customize for your child!  The recommended age for the bracelets is at 3 and up.  This is a great bracelet!  Enter below for a chance to win ONE of the bracelet kits!
a Rafflecopter giveaway
Allerbling did not give me any products or compensation.  The opinions in this review are mine.  They were gracious to give 2 kits to our readers.  Thanks, Allerbling!
Tweet