Easy Apple Crisp is a sweet dish that is easy to make and your family will be asking for second helpings! Simple ingredients coming together with a big flavor!
Apples are a favorite food around our house! No matter the time of year, we have apples in a bowl on our counter! Fun Fact: The internet says that there is more than 2500+ varieties of apples! Now that is a lot of apples! Whether you eat apples raw or in a dish, their taste can be amazing!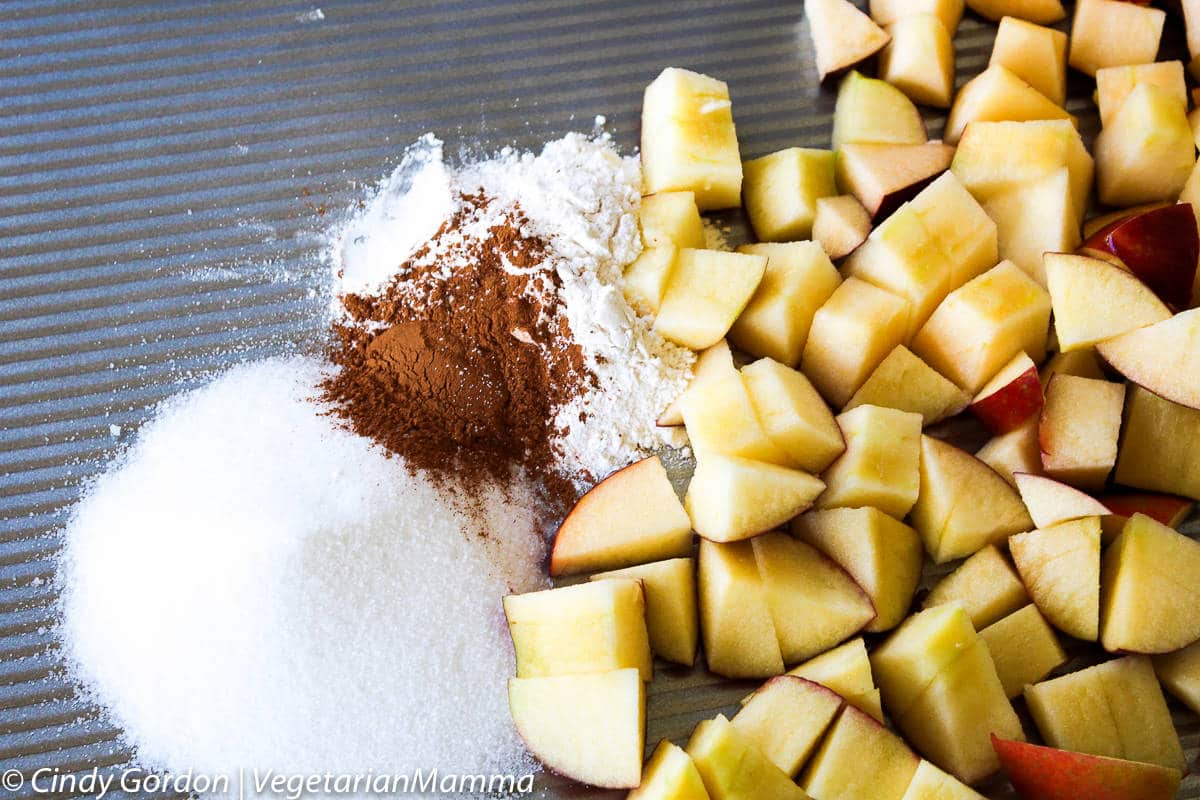 Apple crisp is a delicious way to use apples!  This is a simple and quick dessert that can be whipped up to compliment any meal! Depending on the variety of apple that you use, it may brown pretty quickly! Ours did. But no need to worry, you are going to coat them in some deliciousness and bake them! It is all good!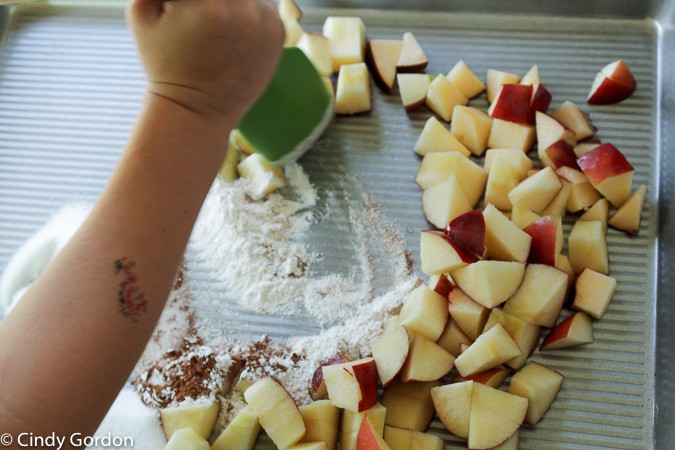 You can easily enlist the help your children for this recipe! Mine was dawning a half worn off temporary tattoo. Ha! Oh kids! Everything tastes better when stirred with a little extra love! That is certainly true for this recipe. I put the ingredients on a baking sheet for easy stirring!
I have to say that the kiddo did a great job mixing, stirring and coating those apples! They are ready to be put into a baking dish and topped with our magic topping!
For this dish, we used the Original Granola from IM Healthy. This particular granola is:
peanut free
tree nut free
gluten free
awesome
We LOVE to snack on this granola and use it in so many ways! It is delicious and comes in several varieties.
Hungry for the recipe? Let's get to it!

Easy Apple Crisp
Author:
Cindy Gordon (Vegetarian Mamma)
Ingredients
⅓ c sugar
2 T all purpose gluten-free flour
3 large apples
1 t cinnamon
Toppings:
1 cup gluten-free IM Healthy Granola
½ c brown sugar
⅓ c butter, melted
2 T all purpose gluten-free flour
Instructions
Gently dice apples into chunks (as shown in picture) and remove core/seeds.
Gently mix diced apples with white sugar, 2 T flour and cinnamon.
Once mixed together, put apples into a slightly oiled baking dish. I used an 8X8 inch.
Mix melted butter, brown sugar, 2 T flour and granola. Once granola is coated, spread on top of apple mixture.
Bake at 350 degrees F for 40 minutes.
ENJOY!
Notes
I used dairy-free butter for this recipe but it lends itself to dairy butter as well!
You can connect with I. M. Healthy at their website, pinterest, facebook and twitter. Thank you to I.M. Healthy for sponsoring this post. The opinions in this post are my own and I do love the granola! This post does contain amazon affiliate links.
Let's talk! Leave me a comment telling me if you LOVE  easy apple crisp? Do you add anything into your crisp? Sometimes I throw in cranberries too!