I am very excited to have Melanie from My Friendly Reminders as a guest poster today! I met her in Denver and I love the concept of their site!  Check this out!
The holiday season has arrived, which means it's finally time for hot cocoa, beautiful decorations, lots of shopping, and of course, holiday parties. I'd say it's a pretty safe bet that you're either hosting or attending at least one holiday-themed shindig this month. I'm also going to guess that if you have some dietary restrictions, these holiday parties may be a little stress-inducing.
We all know how important it is to share our dietary restrictions but up until now there really hasn't been an easy way to do so. That's where 
Friendly Reminders
 comes in, a site we created to make it easy to share dietary restrictions and food preferences with your friends, family or coworkers.
At Friendly Reminders, we want all hosts to cook confidently knowing their guests will be able to eat the food they've prepared and we want all dinner party guest to rest easy knowing that their host knows exactly what they can and can't eat.
How does it work? It's easy! Let's say you're hosting an event. Simply ask your guests to fill out a profile for themselves. Here's an example of one: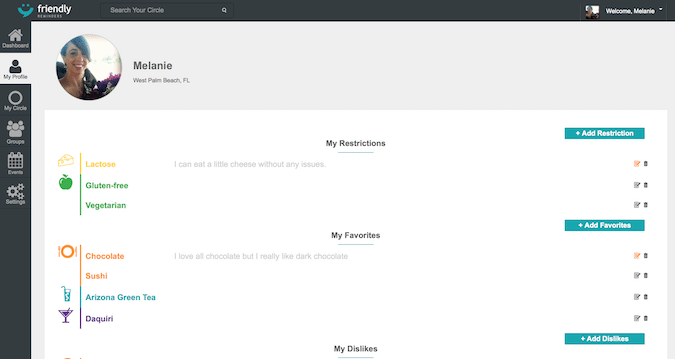 Once you're connected, you add them to your event and pull a report (it's super easy). The report will show you which allergies, intolerances and diets you need to be aware of for a select group. It also shows you the top food, drink and alcohol preferences within the group. It looks like this: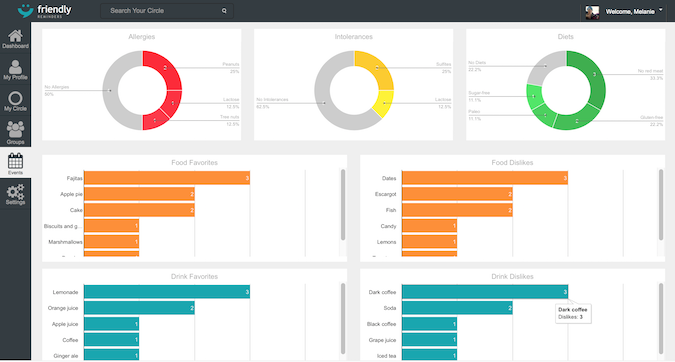 Cool, huh? I truly hope My Friendly Reminders will take some of the stress out of your holiday season.