We hear a lot about detoxifying our bodies to get rid of toxic build-up from the food we eat, but have you considered that your home may need a detox as well?  11 Ways to Detox Your Home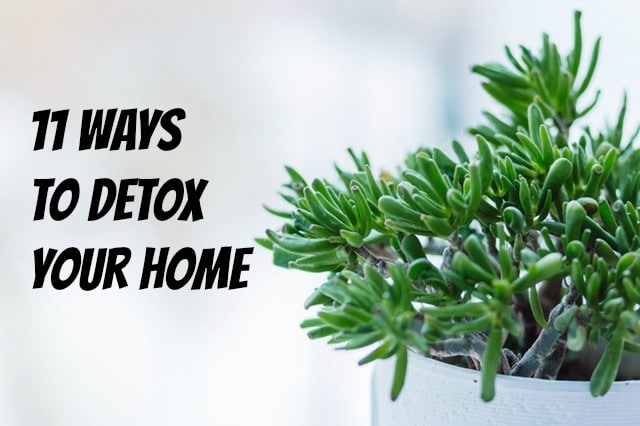 We hear a lot about detoxifying our bodies to get rid of toxic build-up from the food we eat, but have you considered that your home may need a detox as well? Common household products, including the things you use to clean your house can be leaving toxic residues on your floors, walls, furniture and more.
According to one study that focused on a neighborhood in Arizona, the air in the average home can contain more than 300 different chemicals. And while this may not be a representation of all American homes, you can imagine that any chemicals from the products you use, as well as chemicals from the outdoor air are making their way into the air you breathe. It doesn't really matter how many chemicals are there, it matters that they are there at all! You may not be able to completely avoid the hazards of chemicals in the air, but you absolutely can make changes in your home to reduce the chemicals there. Here are 11 ways that you can get started – Today!
Don't Wear Shoes in Your Home

. Wearing your shoes in your home brings anything you may have stepped in, in with you. Avoid this at all costs.
Open The Windows.

Open windows allow for ventilation, which will allow fumes from household chemicals to leave. Use your judgement though- in some cases it's better to keep your windows closed, such as when there is road work going on in your neighborhood.
Get Some Houseplants.

Plants really do help to clean the air in your rooms. If you can keep them alive, get one for each room in your house. Try a spider plant or a pothos if you don't have a green thumb – they are hard to kill!
Clean the Air.

Invest in air purifiers for your sleeping areas, and get your home ducts cleaned every year.
Filter Your Drinking Water.

Over 700 contaminants can be found in drinking water! Use a pitcher filter or whole house filter to make sure that your water is pure.
Swap Out Your Cleaning Products.

Ditch the chemicals you use to clean and pick up cleaner, greener cleaning supplies. Many household cleaning projects can be completed with no chemicals at all – stock up on vinegar and baking soda.
Dust and Vacuum More Often.

Having dust on your surfaces and carpet just means that toxins are sitting there. Clean it up at least once per week, and make sure your vacuum has a HEPA filter to keep that dust from going back into the air.
Be Careful with Pet Products.

Many pet shampoos and flea treatments are completely toxic and say so right on the packaging.
Avoid Exterminating.

If you have pest control issues, investigate non-toxic ways to deal with it if you can. There's a reason that you're often recommended to leave your home during extermination.
Avoid Dry Cleaning.

Most traditional dry cleaning is chemical laden. If you absolutely need to dry clean your clothes, remove the plastic wrap as soon as you get home, and let the clothes air out outdoors before bringing them into your home.

Consider your purchases

. Don't bring anything new into your home that will off-gas chemicals. Opt for organic bedding, clothes, and furniture, and look for fabrics that haven't been pre-treated.
I hope this list has given you a great starting point for your very own home detox! Coming soon I will be sharing some of my personal experience with detoxifying my own home and also sharing some products that I've found helpful in getting my home as chemical free as possible.
Let's talk! Leave me a comment telling me what you plan to do to Detox YOUR Home! Do you have any tips that I didn't list?