12 Delicious Soul Warming Vegetarian Soups that will get you through the cold weather! When the days are cold, you will almost always find a pot of soup on my stove.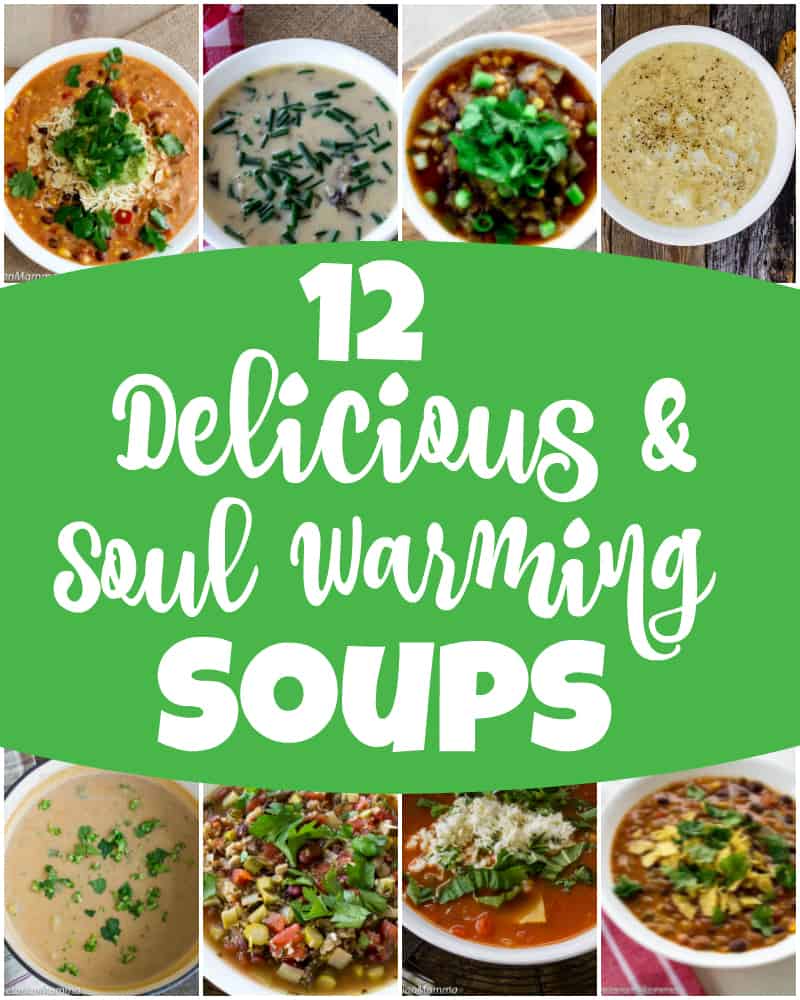 What soups can vegetarians eat?
When the days are cold, you will almost always find a pot of soup on my stove. Nothing else has the same ability to fill your belly and warm your soul at the same time.
I love all types of soups, creamy soup, cheesy soup, broth soup – they are all my favorite! Snuggle in with this list of my 12 favorite soul warming vegetarian soups.
You're sure to find a favorite – or two – here.
Vegetarian Soup Recipes To Try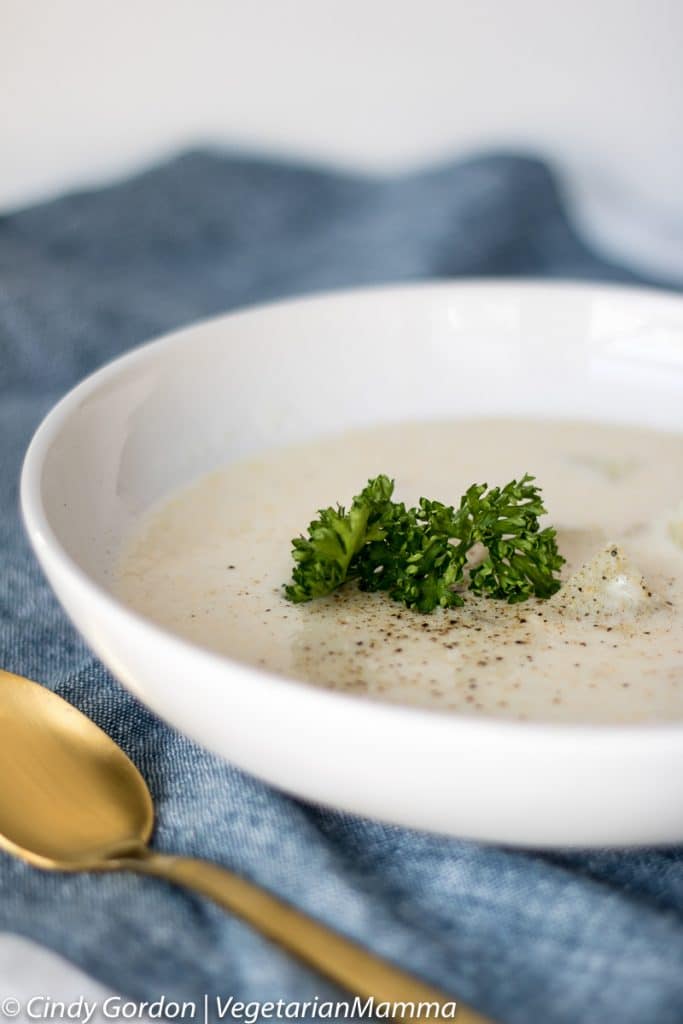 Just the smell of this simple and hearty soup will make you hungry. Creamy rustic potato soup is the ultimate soul warming comfort food.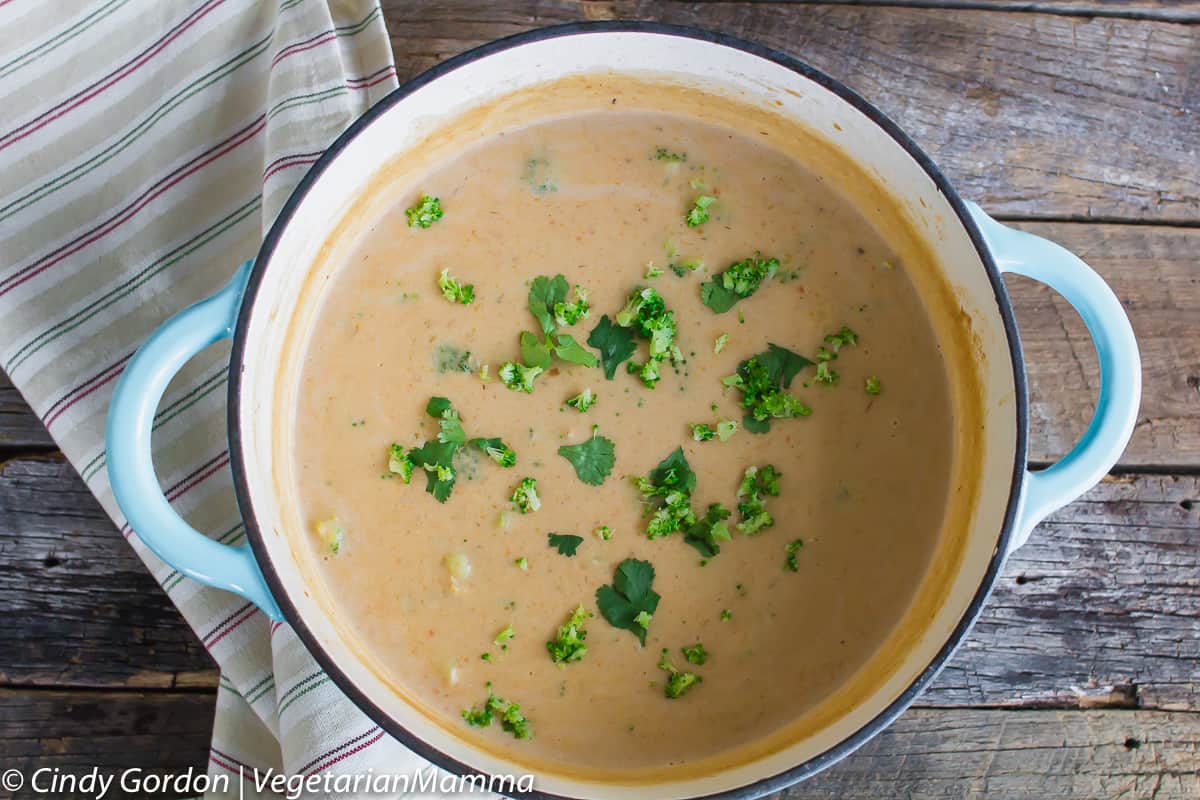 World's Best Broccoli Cheese Soup
I promise that this is the best broccoli cheese soup you'll ever have! This vegetarian soup recipe reheats very well so it's perfect to cook on a weekend and have ready for lunch during the week.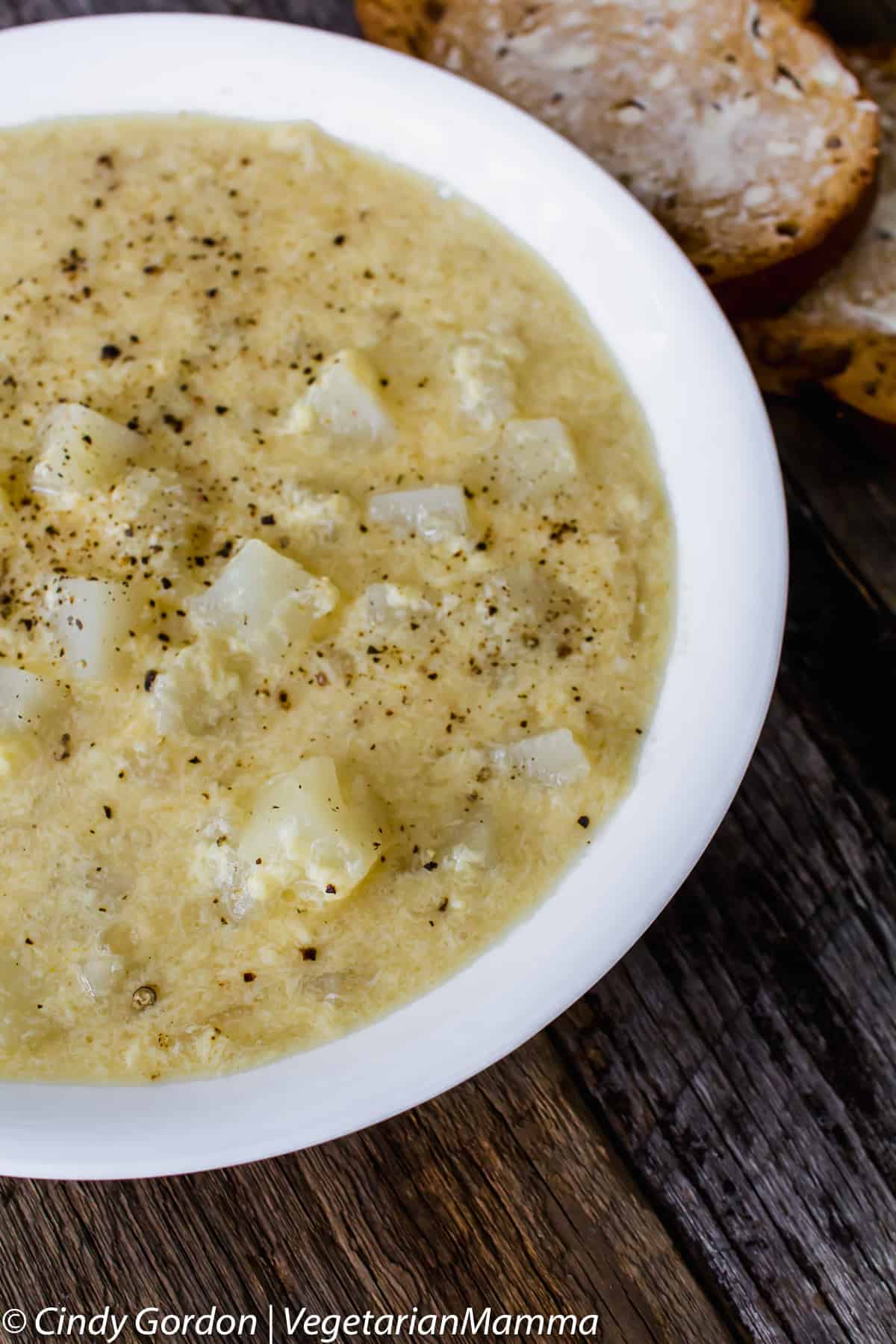 This is my go-to recipe when I'm not feeling well, and you likely already have the ingredients in your cupboard and fridge. What are you waiting for – go make this soup!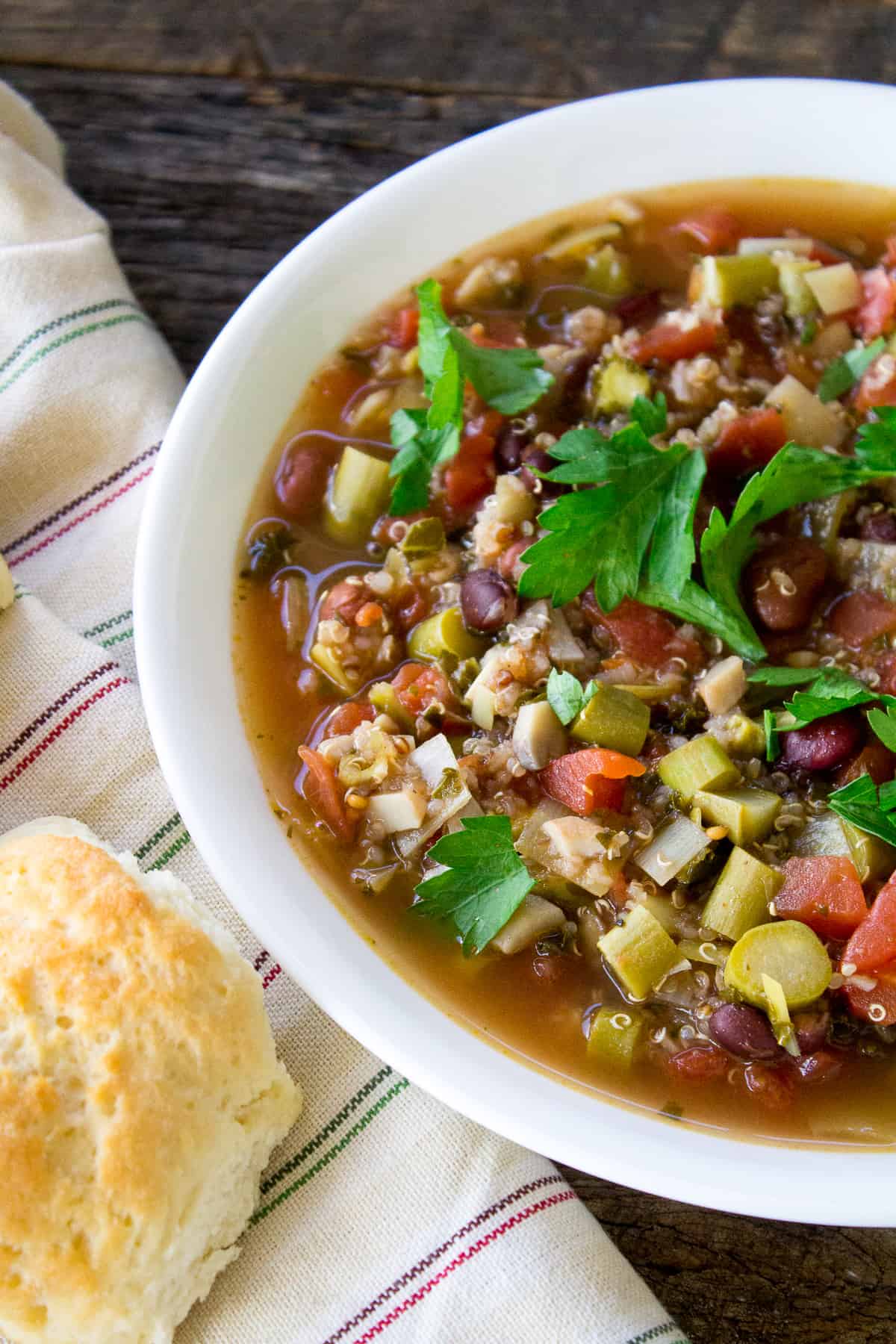 This quinoa and kale soup recipe is a hearty one. It is full of good for you vegetables and stocked full of quinoa. I am a huge fan of quinoa!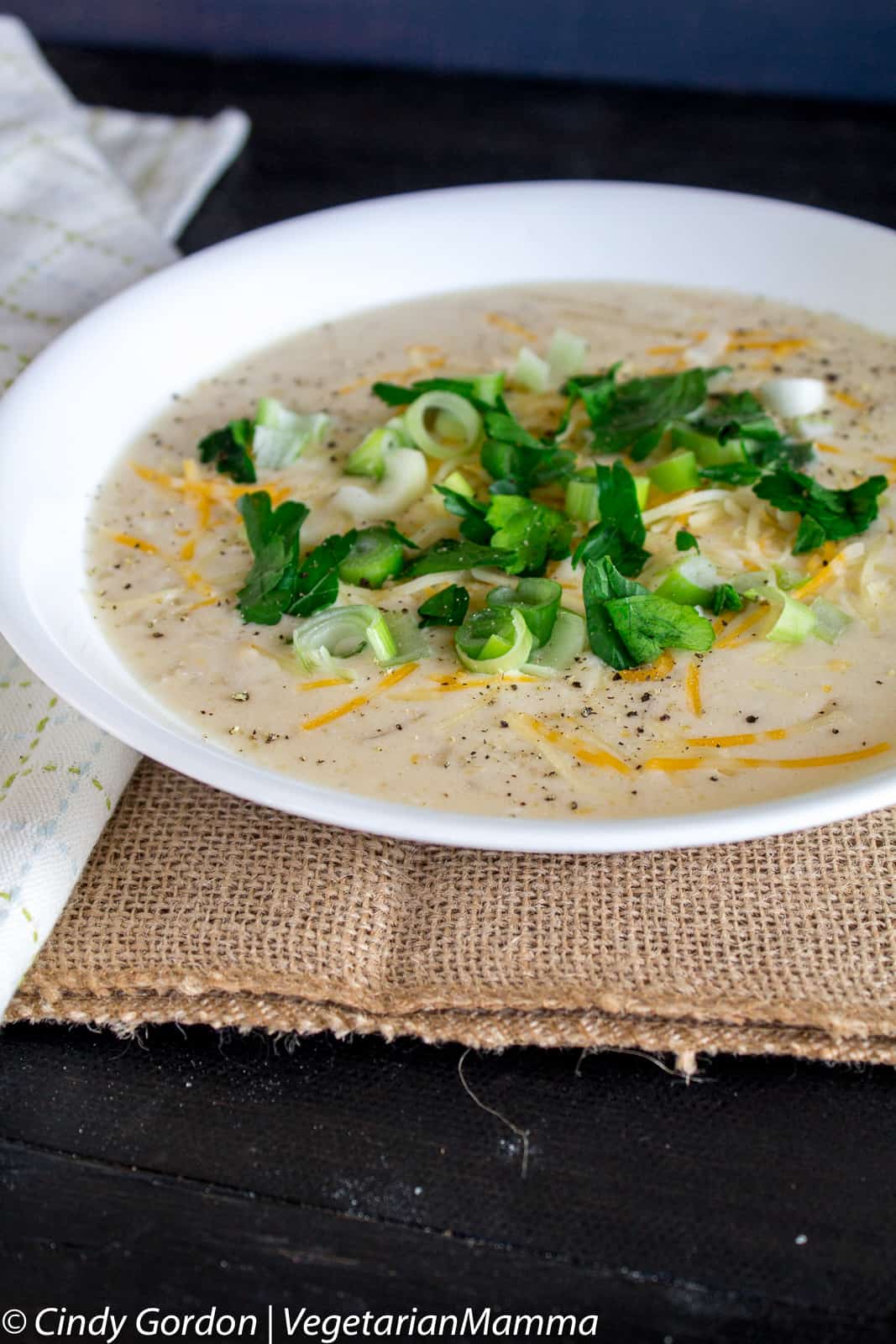 Slowcooker Hashbrown Soup is the ultimate comfort meal that cooks itself for you in a few short hours. Just dump the ingredients into the slowcooker and wait!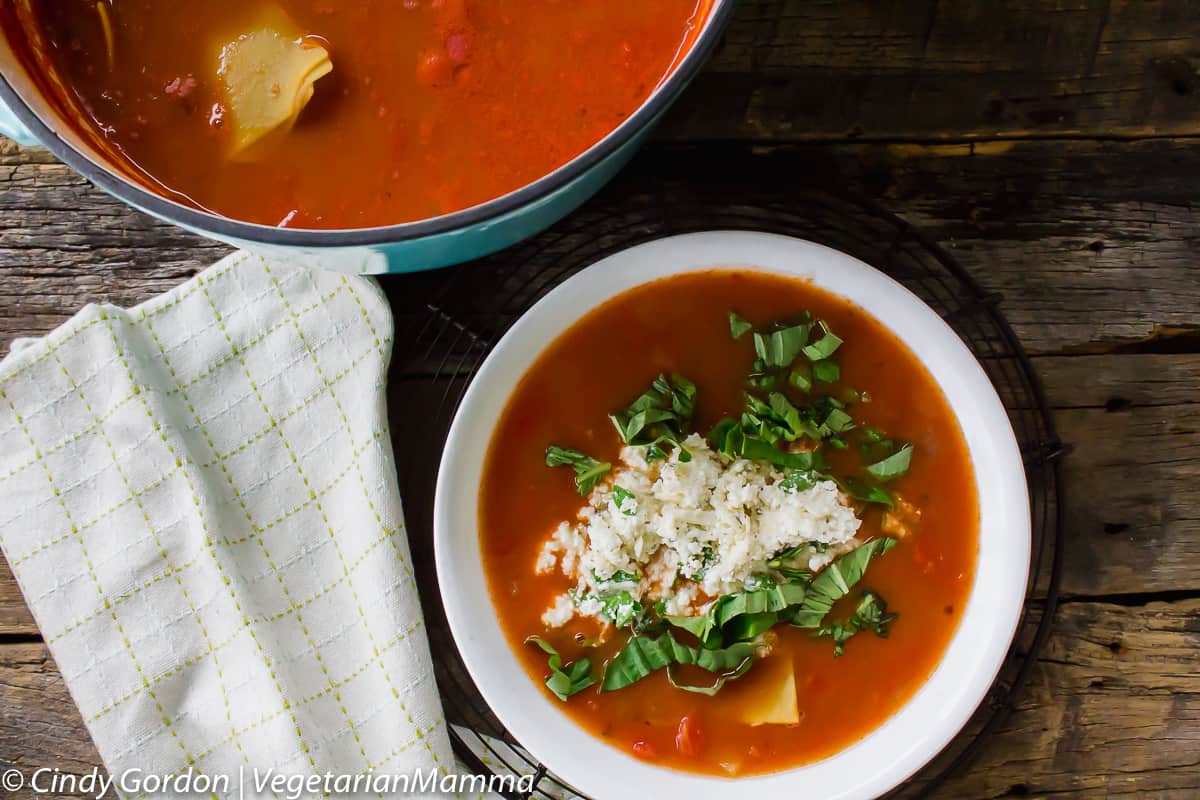 Easy Lasagna Soup is a combination of two comfort dishes rolled into one. The comforting taste of lasagna paired with a soul warming soup.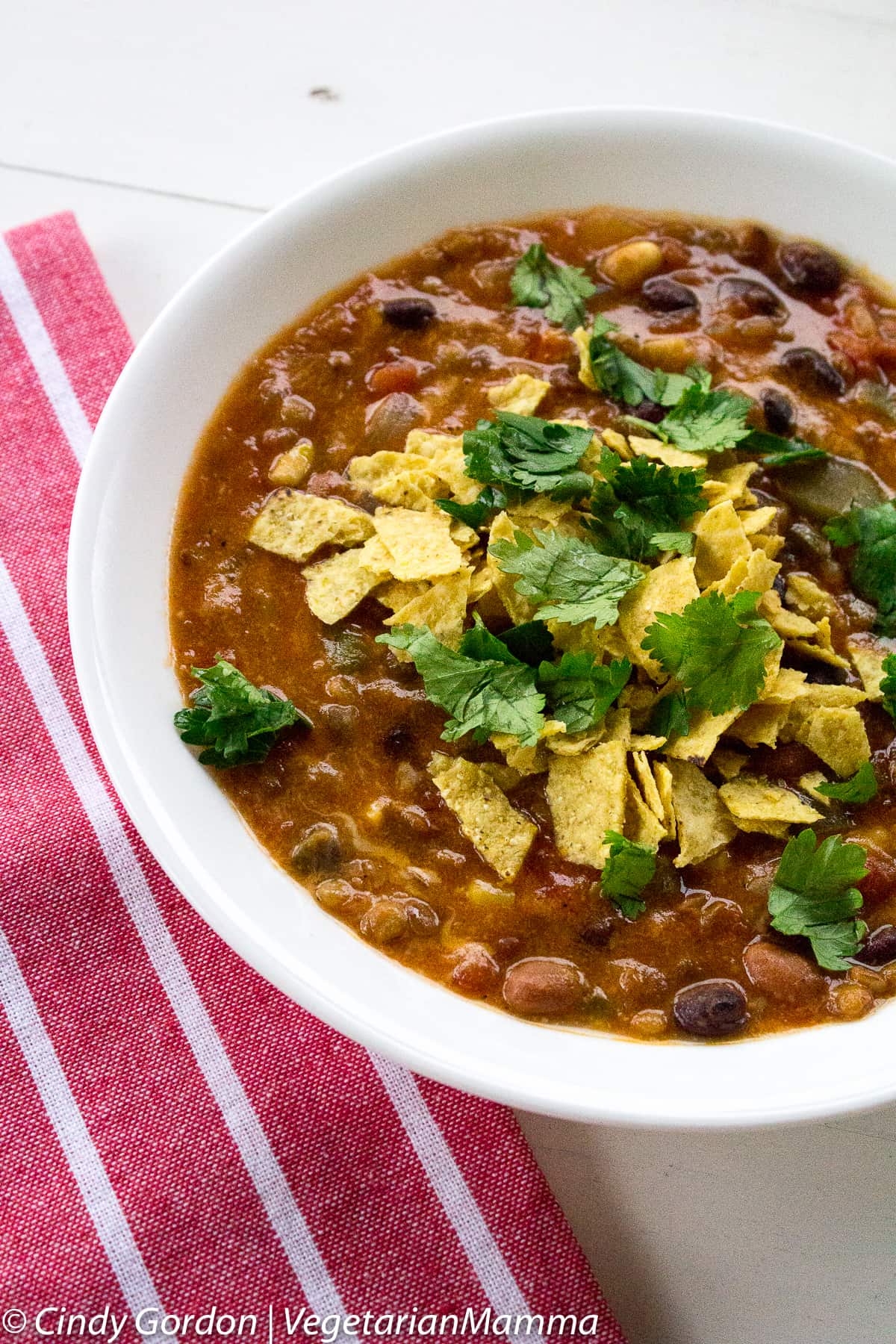 Instructions included for both Instant Pot and Stovetop! Everything you love about tacos – but in soup form.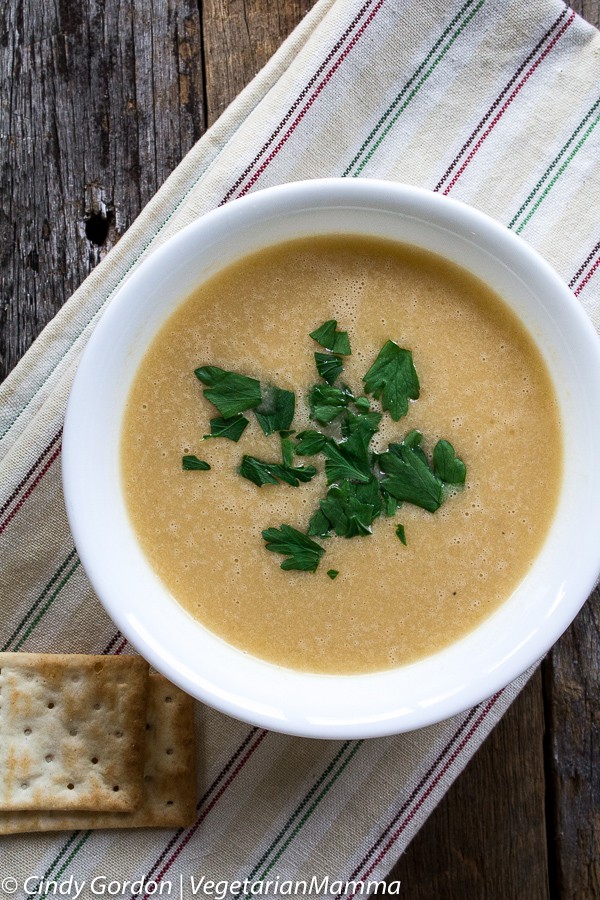 Instant Pot Cheesy Potato Leek Soup
Make this soup in your Instant Pot or on the stovetop. Either way, you'll love the classic flavor and come back to this recipe again and again!
Vegetarian Soup is on!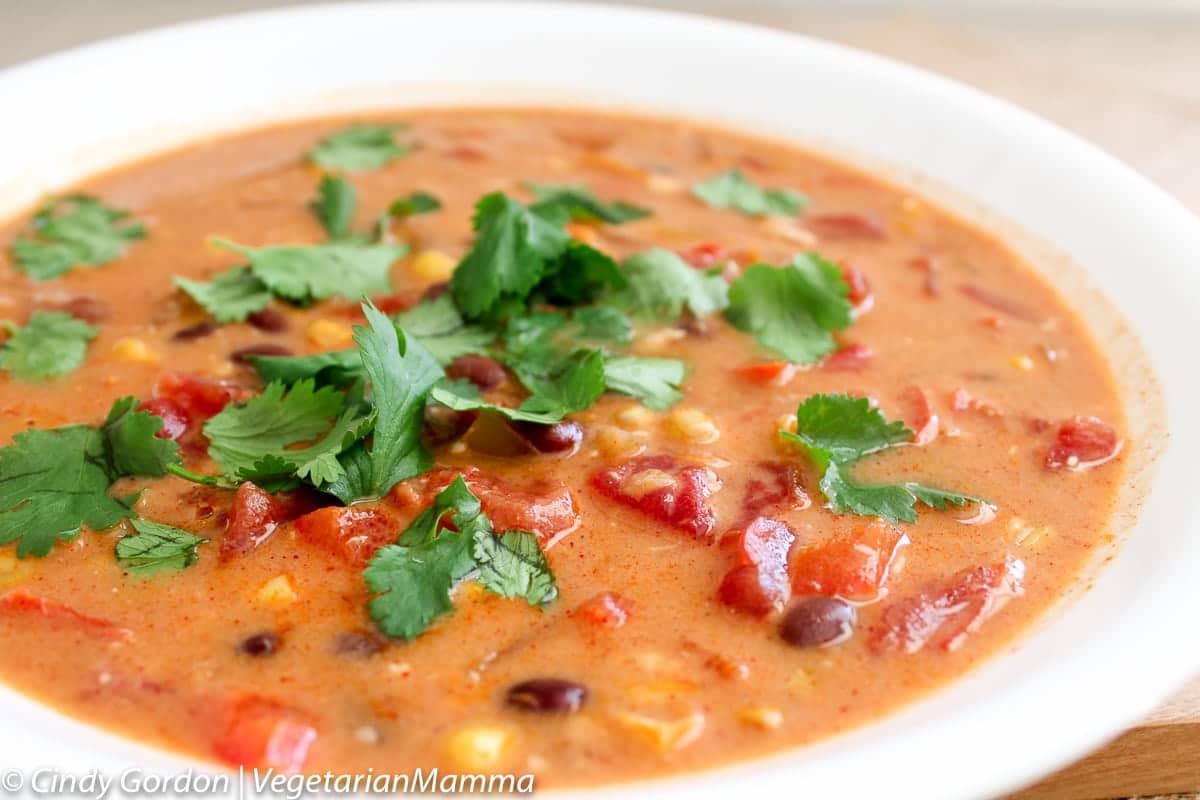 Slowcooker Tex Mex Enchilada Chowder is a delicious soup that basically makes itself! Who doesn't love a slowcooker meal? This vegetarian dish is sure to please!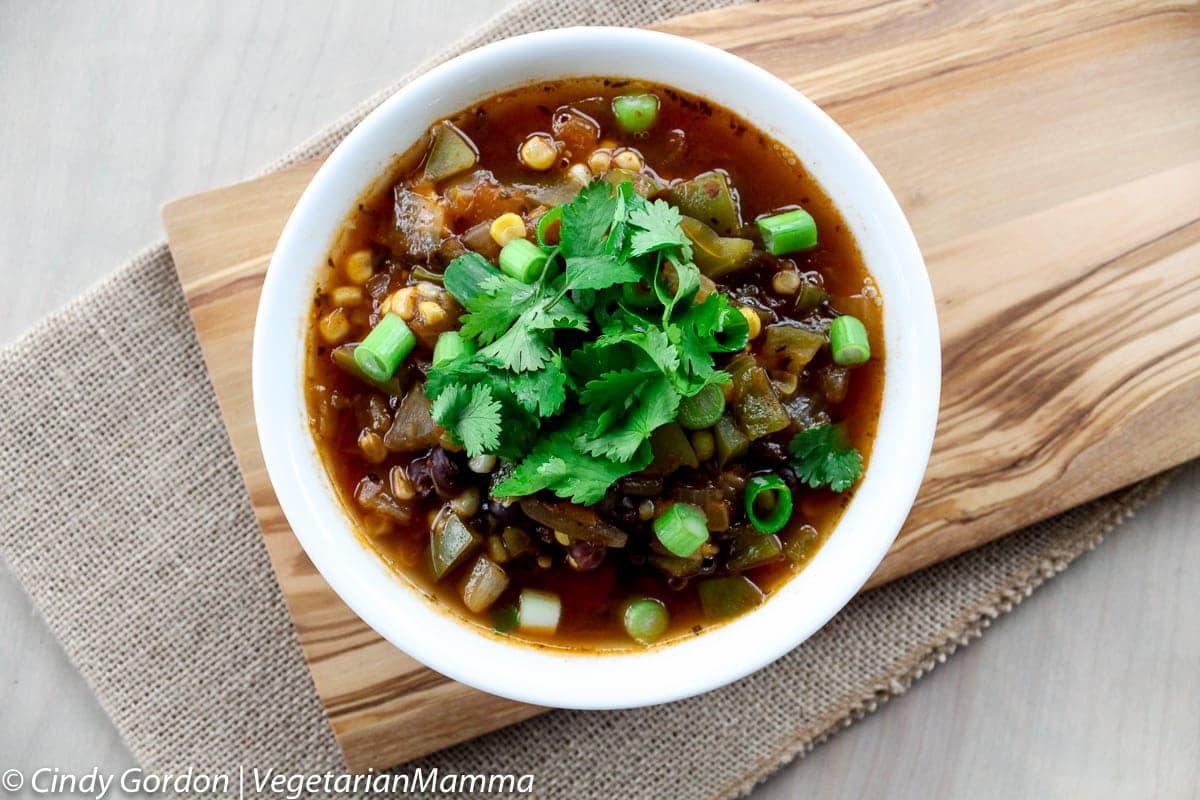 Southwest Black Bean Corn Soup
This corn and black bean soup is full of flavor! It has simple ingredients but they pack a PUNCH! Never underestimate the common foods that you have in your pantry!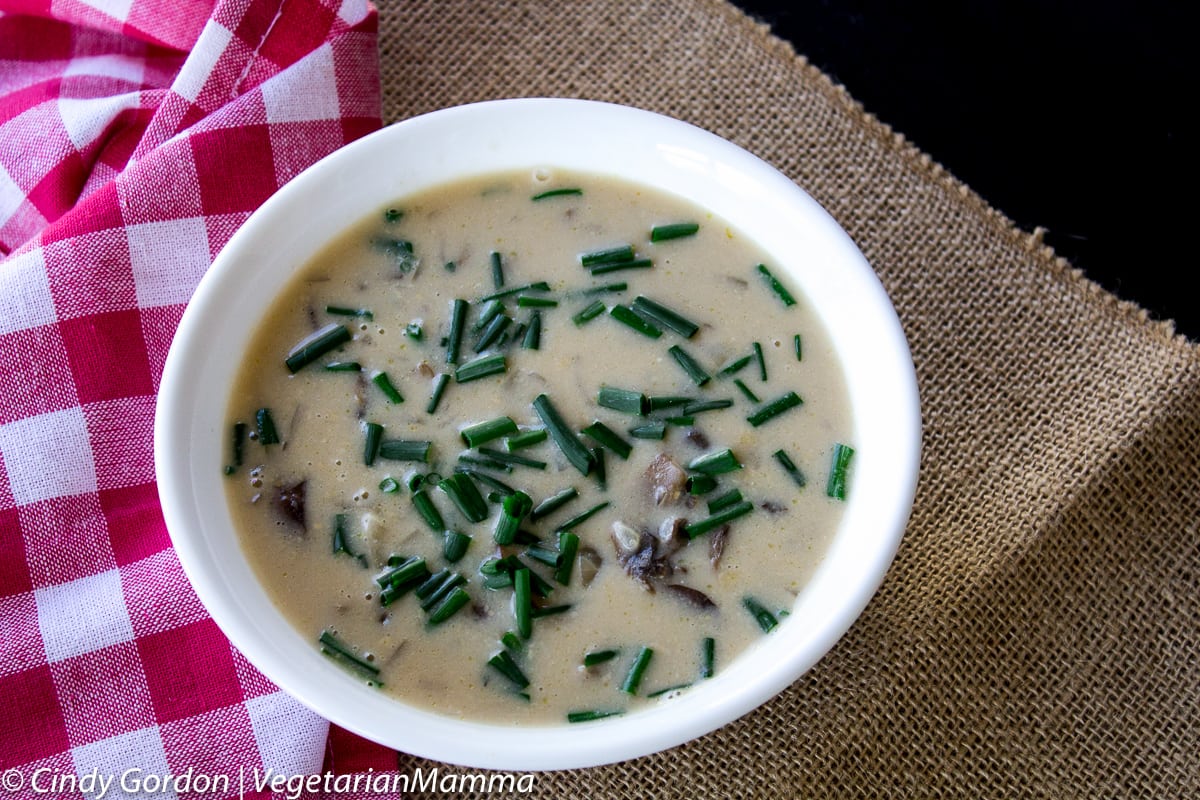 Creamy Mushroom Rice Soup is an easy to make meal that is perfect for any time of the year. This soup is gluten-free and will be a family favorite.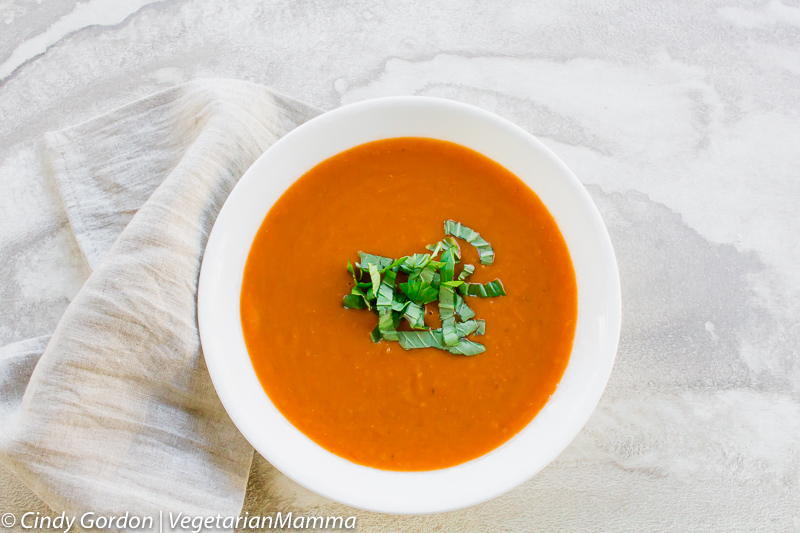 This Creamy White Bean Tomato Soup has a secret ingredient that makes it so creamy and delicious. Can you guess what that secret ingredient is? Beans. White beans to be exact. I know you may have guessed it from the title, so I guess it is not all that secret. But the beans are what makes this delicious soup what it is!
That's quite a few delicious vegetarian soups to try and I think you'll have a great start on your menu plan for next week. Leave me a comment below and tell me what your favorite soup is!