3 Steps to Detox your Bedroom – There are a number of simple ways to start detoxifying your sleeping space, and a few more complicated ways as well.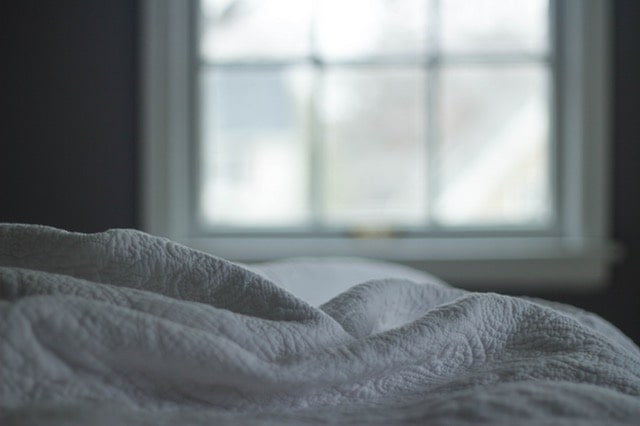 Photo Credit: https://www.pexels.com
As we move around the home talking about detoxing different rooms, I thought we should definitely start with the bedroom. Why? Well, we spend about 8 hours per day in there, or a third of our time, so it's important that it be a healthy, non-toxic place for us to sleep. Our kids (lucky ducks!) spend even more time in their beds than we do, so don't forget their rooms as you work with me to detox your bedrooms
There are a number of simple ways to start detoxifying your sleeping space, and a few more complicated ways as well. You can start with the easier steps first, or start with a big one that will have the most impact. However to decide to implement these tips, know that you are doing yourself and your family a huge favor by creating clean and serene bedrooms for them.
Tip #1: Decrease Electronic Emissions
Electronics release harmful emissions that can be very disruptive to our natural sleep cycles and can even keep us awake. The harmful electromagnetic fields (or EMF's) given off by some lights, phones, computers, and electronics have even been shown to cause or contribute to serious health issues.
Keep your phone, TV, tablet, and other personal electronics out of your bedroom completely. If you need an alarm, consider an old fashioned clock alarm, or just turn up the volume and leave your phone in the hallway. Swap out any fluorescent lights for full spectrum or LED lights instead, and turn off or unplug anything that doesn't have to be on while you're sleeping.
Tip #2: Improve the Air Quality
This is true for every room in your home: you need to control the amount of toxins that are in the air that you breathe.
Remove sources of pollution, including candles and air fresheners. Opt for soft lighting from a salt lamp or freshen the air using an essential oil diffuser. Stop using toxic chemicals to clean your bedroom, and switch to natural products instead. Finally, consider what type of detergent and treatments you're using on your bedding. Make sure that those products are all-natural as well in order to keep the air you're breathing clear.
You can add natural air purifiers in the form of plants or bamboo charcoal bags, and consider purchasing a high quality air purifier.
Tip #3: Use a Non-Toxic Bedding
Everything that you sleep on and under needs to be non-toxic. Again, you spend 8 hours per day touching these items, spending a little extra for organic fabrics and a high-quality, non-toxic mattress should be a no-brainer.
Opt for organic cotton sheets, since cotton crops are otherwise very heavily sprayed with pesticides. Consider using an organic wool blanket or comforter rather than one made with synthetic fibers. Wool has a number of amazing benefits – it actually repels dust mites, it's breathable yet warm at the same time, and it's a renewable resource.
So now you know why it's important to detox your bedroom, and you have a few great places to start. Remember that your bedroom is where you spend a third of your life! Keep it as clean and as non-toxic as you possibly can and it will improve your sleep, your health, and your life overall.
Let's talk! What have you done to detox your bedroom or what do you plan to do?