The animal coworker cats are loving their new Cat Teepee from P.L.A.Y. They just can't get enough of the fun structure where they love to sleep and play!
We have been having so much fun with our new kitten, Miss Cabi the Tabby! I almost forgot how much energy a kitten can have, and how much they like to play. Cabi does this hilarious thing lately where she runs around after one of her little toys for 15 minutes, like the energizer bunny, non-stop.  She plays so hard in a short period of time that she finally just crashes and catnaps for an hour!  She's the opposite of our relaxed elder cat, Chianti!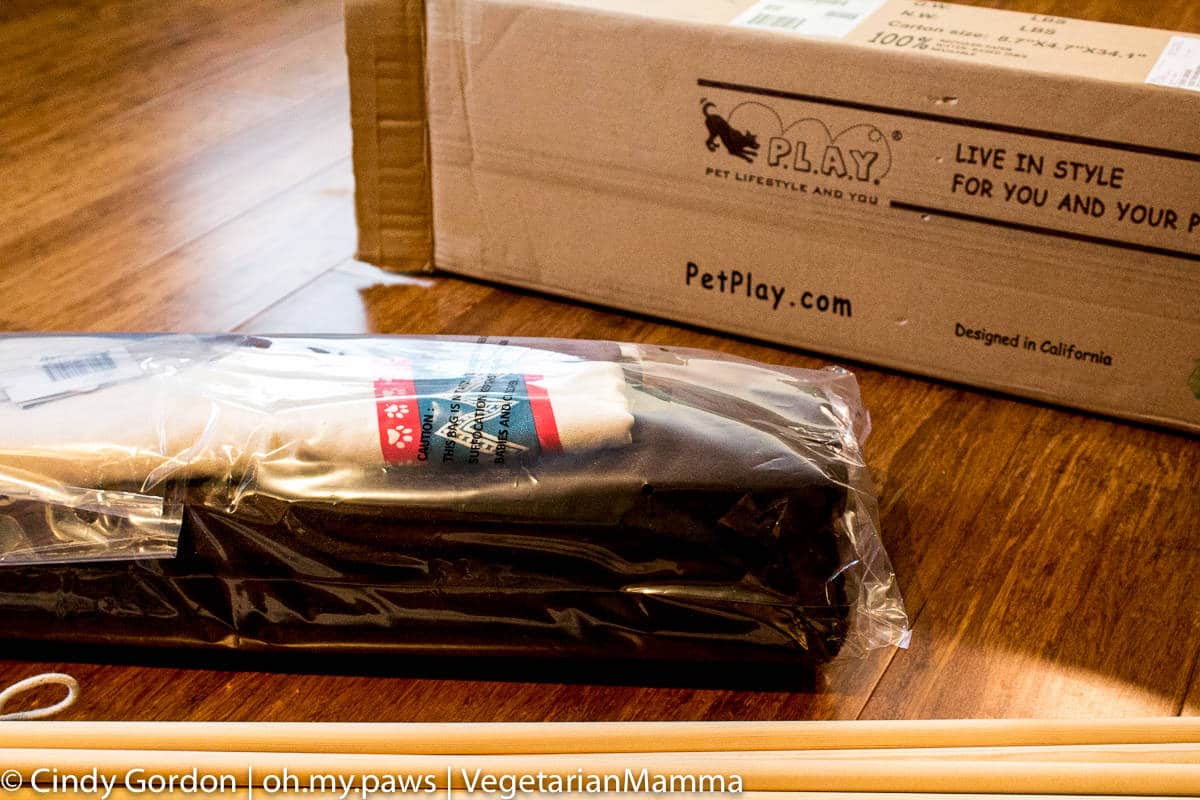 Lucky for Cabi, she has an amazing little nap spot. We got her a Cat TeePee! P.L.A.Y's Classic Pet Teepee is her favorite sleeping spot, and I can't wait to add more of their products to our home for our pets.  Actually, I NEED to add more, since the cats can't seem to agree on who gets to call the TeePee their bed.  They love it so much! Our other cat, Chianti The Cat LOVES the Teepee also! You might have seen her in our snaps and instagram stories!
Since 2010, P.L.A.Y. has been making quality pet beds with pets, people, and the planet in mind.  The company was created when the owners were in search of an excellent quality bed for their own pets, but they couldn't find one that fit into their modern lifestyle.  So they decided to create their own.  P.L.A.Y.'s products are fashionable, and there are many different styles to match any decor. These pet beds are durable and crafted from quality and sustainable materials that are made to last. Finally all of these pet beds are created to be ergonomic for your pet's maximum comfort.  P.L.A.Y. has won numerous awards for their products and they continue to improve and create new things each year.
On top of making amazing pet beds, P.L.A.Y. is also a seriously generous company that gives back to animals in a number of ways. They have partnerships with the International Fund for Animal Welfare, Zero- The End of Prostate Cancer, and their own Warm Bellies initiative with the Petfinder Foundation.  And on top of that, they donate part of their profits to various groups and charities across the country.  You can feel good when you purchase from P.L.A.Y., because you can trust that they are giving back to the animal community in your honor.
The Warm Bellies Initiative is P.L.A.Y.'s way of directly giving to animals in shelters.  They believe that every animal deserves a warm place to lie down. Because just having a warm mat instead of a cold concrete floor can make a world of difference!  For every pet bed purchased, P.L.A.Y. donates a mat to a pet in need. You can also nominate a shelter to be a recipient of a set of mats by visiting here and emailing a submission.
As you can see our cats love our cat teepee! Not only is it fun for them, we love the design and how it fits so well into our household!
Cabi is often hard to get a picture of, as you can see from the one below! Let me tell you, she moves so fast she is one BIG BLURR! Ha!
Do you want to see more pictures of my adorable pets? Visit them on Instagram! Lucky for you they have their own account. You can see the Classic Pet TeePee in action there too.  
Connect with P.L.A.Y on Instagram as well to see more pictures of adorable pets and their products in action.  Visit them on Facebook, Twitter, and Pinterest as well.
Thank you to P.L.A.Y. for giving us a TeePee to try out! Our family loves it! This was not a sponsored post but I did receive the product to try out.
Let's talk! Do you have animals? What is their favorite item to sleep on/in? Do they have a special spot where they love to play or sleep? Leave me a comment, let me know!