Simple, basic with a twist of avocado is how I would describe this avocado egg salad sandwich recipe. Nothing fancy here, just common ingredients coming together to make a stunning egg salad!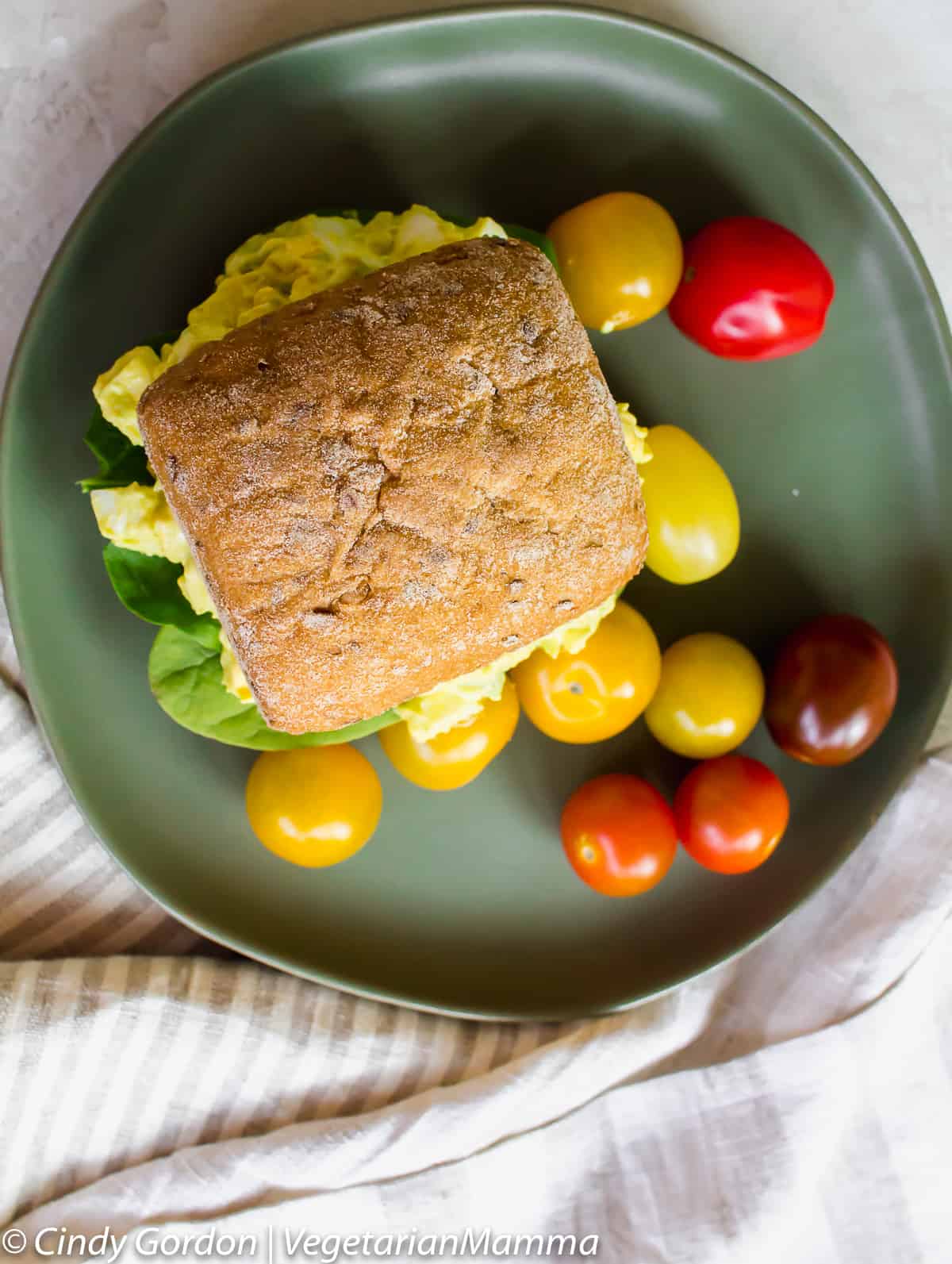 Thank you to Schar for sponsoring this post.
Vegetarian Egg Salad
Egg Salad has always been a staple in my home. Growing up, we used to make egg salad often when we've had leftover hard-boiled eggs.
We also seemed to make it around warm holidays, like Memorial Day, the 4th of July and Labor Day.
Fast forward to now, and egg salad sandwiches are still popular in my house. We are vegetarian, which means we do not eat meat. We do consume some eggs and limited dairy. So egg salad fits our eating needs.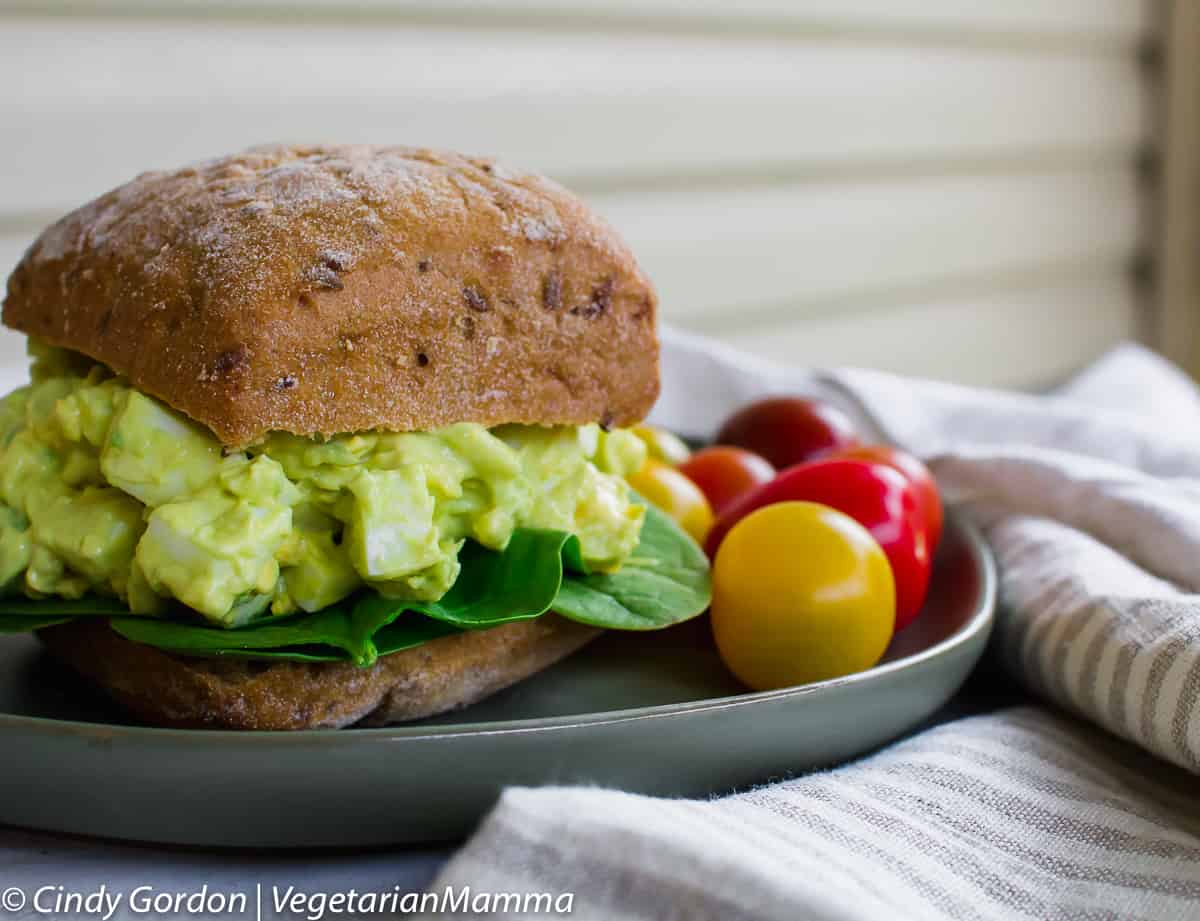 Amazing Avocado Egg Salad
Honestly, I have been loving avocados and I love egg salad…so why not combine the two, right? It seems like a great idea!
When you can prepare a great recipe in less than 30 minutes I am sold! I used mayo in this recipe, but I have heard of others using greek yogurt for a lighter addition to this dish.
Avocado Egg Salad Ingredient Substitutions
You are welcome to use yellow mustard or dijon mustard, it is completely up to you! You know what you love and what you do not. Make this recipe your own!
One thing that I do recommend is that you add some salt and pepper to the final sandwich. It is amazing what a little S+P will do for a recipe!
If you are adding in red onion but don't want the onion to be too strong. You can diced your red onion, then soak it in cold water for 5 minutes. Drain the onions and toss into the egg salad. This takes the "bite" away from the red onion!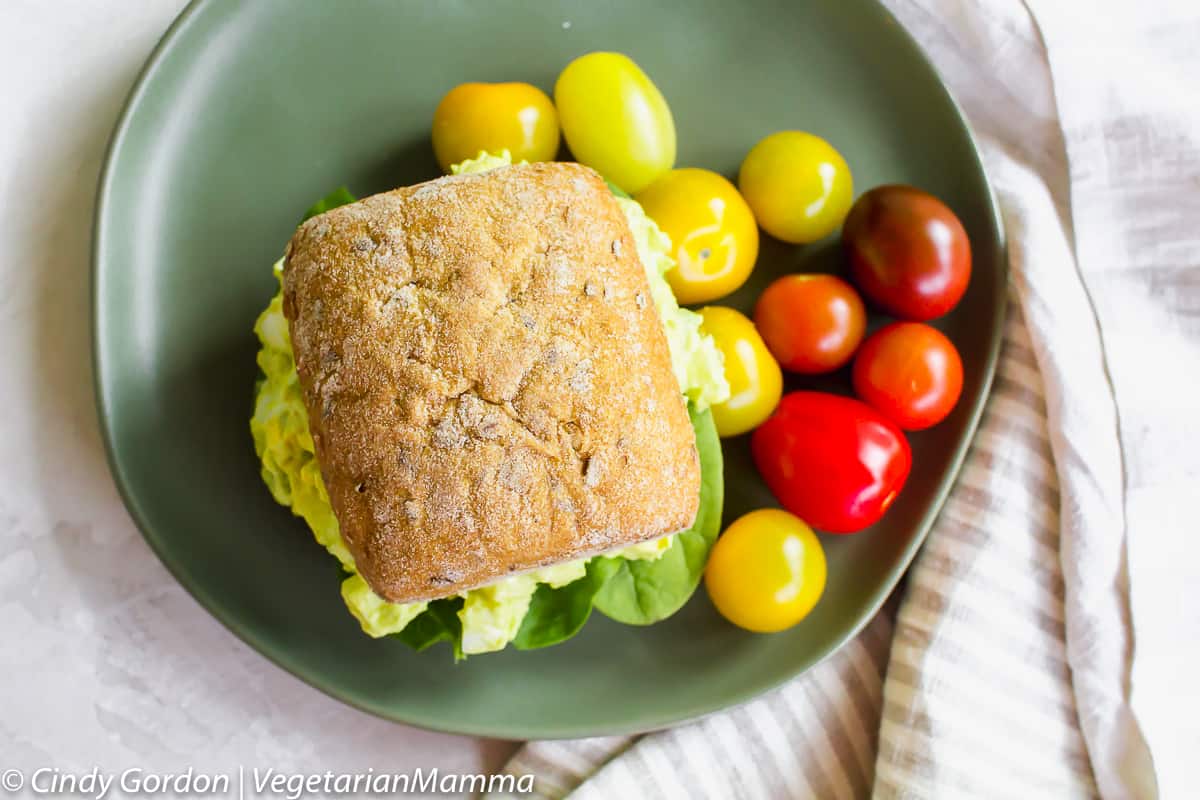 Tips for cooking and peeling hard-boiled eggs
Why is cooking and peeling hard-boiled eggs such a chore? I hate it when the eggs don't peel and you are left with a mess of egg whites and yolks. Here are some things I discovered that I hope help you out too.
If you have an instant pot, I would suggest placing your eggs into a basket with 1 cup of water on the bottom of the instant pot. Place on manual high for 3 minutes, natural release for 9 minutes, plunge into ice water for 5 minutes. Cooks and peels wonderfully!

Place eggs (large size) into large stock pan, cover with water at least 1 inch above eggs. Boil, remove from heat with the lid on for 13 minutes. Remove eggs, place into an ice bath for 5 minutes. Peel away!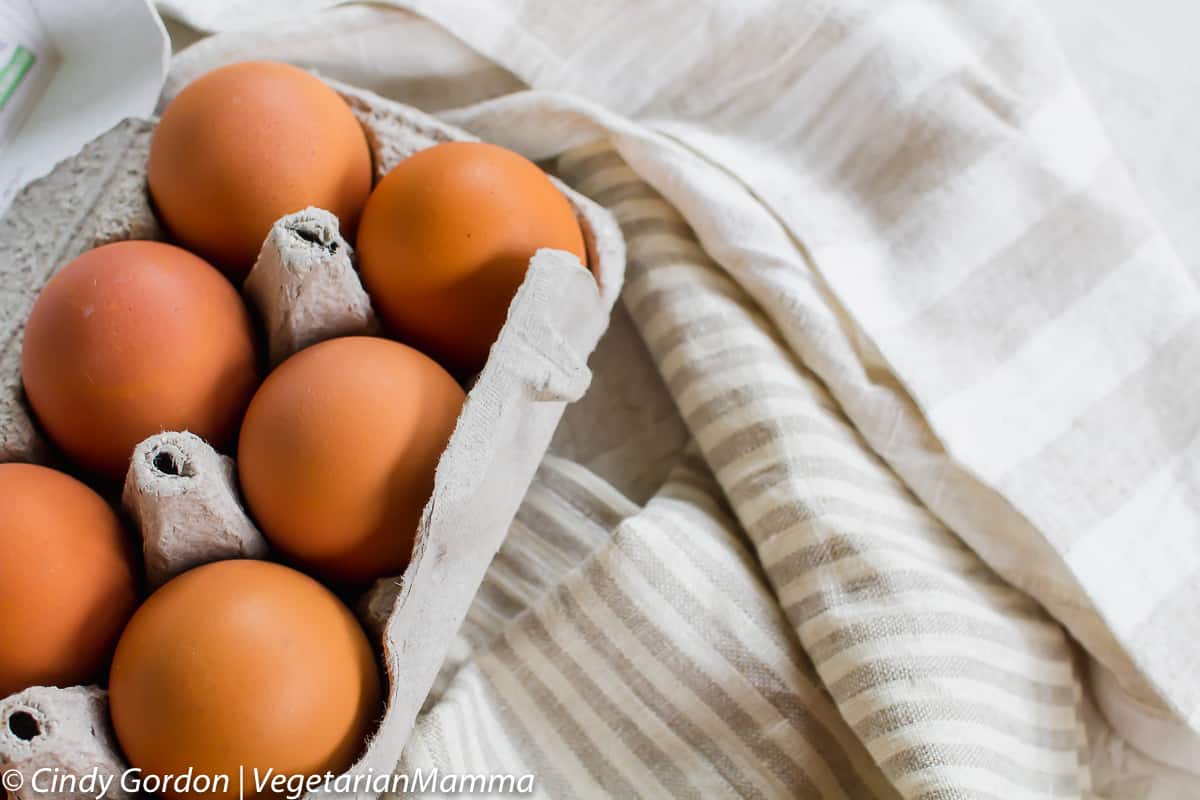 Avocado Egg Salad with Fresh Herbs
If you love fresh herbs as I do, you can certainly add them to this egg salad recipe! You are welcome to add in some fresh dill for extra flavor!
We love the smell and the taste of dill! It elevates all recipes, including this one! Love parsley? Parsley would be a great addition to this egg salad!
I would even venture to guess that if you are a cilantro lover, that the addition of cilantro would be tasty.
Chives are also a beautiful and delicious addition to this avocado egg salad sandwich recipe! Just dice up the chives and sprinkle on top of your egg salad!
As you can see most fresh herbs would taste amazing in this recipe! Just take your favorite and add it in!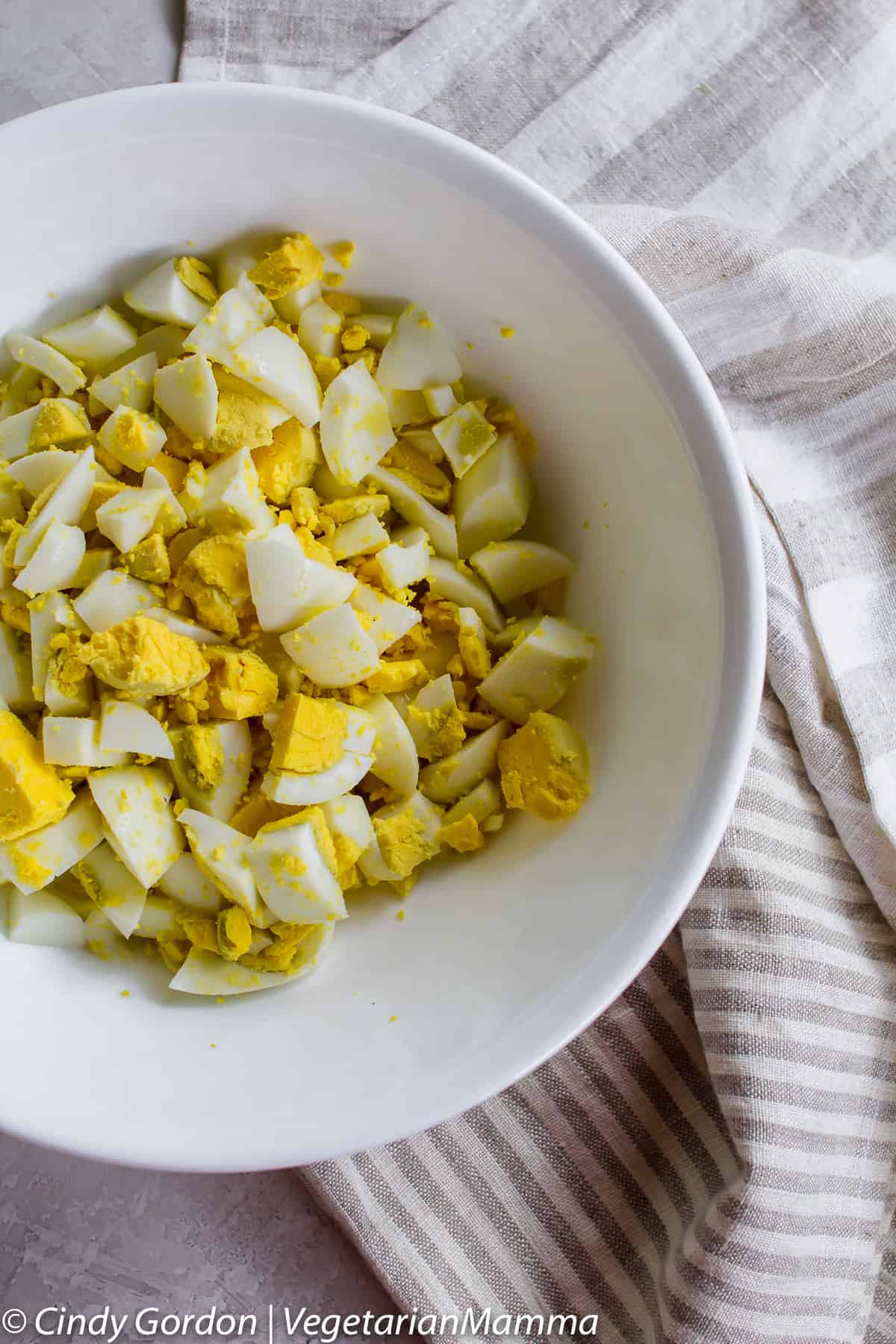 How long does Egg Salad last?
Egg salad usually doesn't last too long around our house! That is because it is delicious!
When you add in avocado to your egg salad, it changes it up a bit. As you know, avocado turns brown at times. I would say that this recipe should last 1-2 days in the fridge.
The sooner you eat it, the better!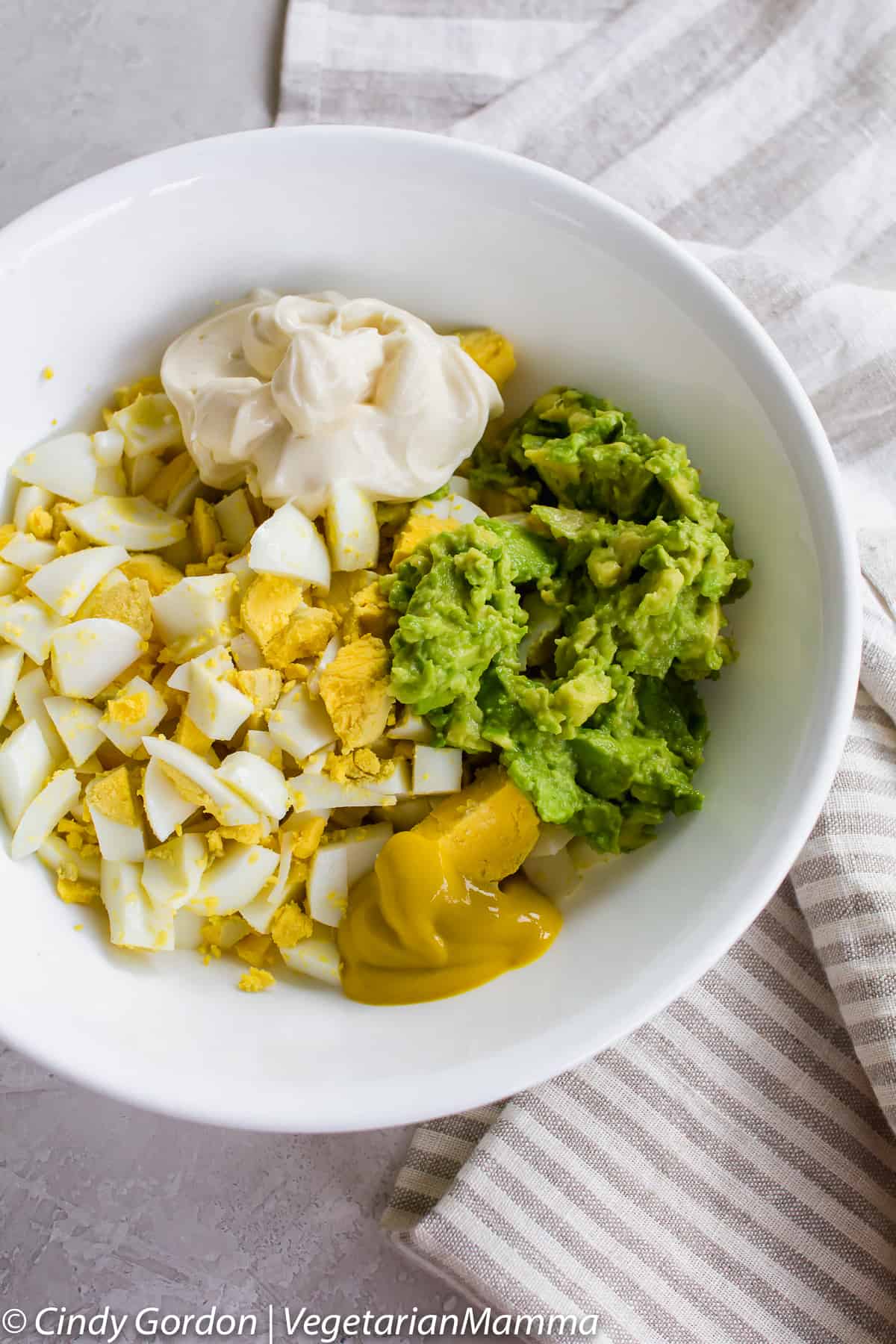 Egg Salad With Chickpeas?!
Have you ever tried adding in some smashed chickpeas (garbanzo beans) to your egg salad? If not I would highly recommend trying it.
The smashed chickpeas add a deliciously light earthy flavor to this egg avocado salad. I think you will be impressed!

Tips for preventing your avocado from browning
Lime juice and lemon juice naturally assist in helping to slow the browning process. If you happen to have a fresh lime or fresh lemon add in a squirt of juice.
Why do avocados turn brown?
Find the perfect avocado, one that is perfectly ripe. You cut it open but can only eat half.
Sometimes, you save the avocado for the next day. You get it out of the fridge and the beautifully green avocado has not turned brown. Why did this happen?
The flesh of avocados oxidizes when exposed to air. It gives it a brown color, which many people find unappealing!
Gluten Free Multigrain Ciabatta Rolls
These delicious Italian Style Ciabattas are from Schar! You know the one and only fastest growing gluten-free brand in the United States!?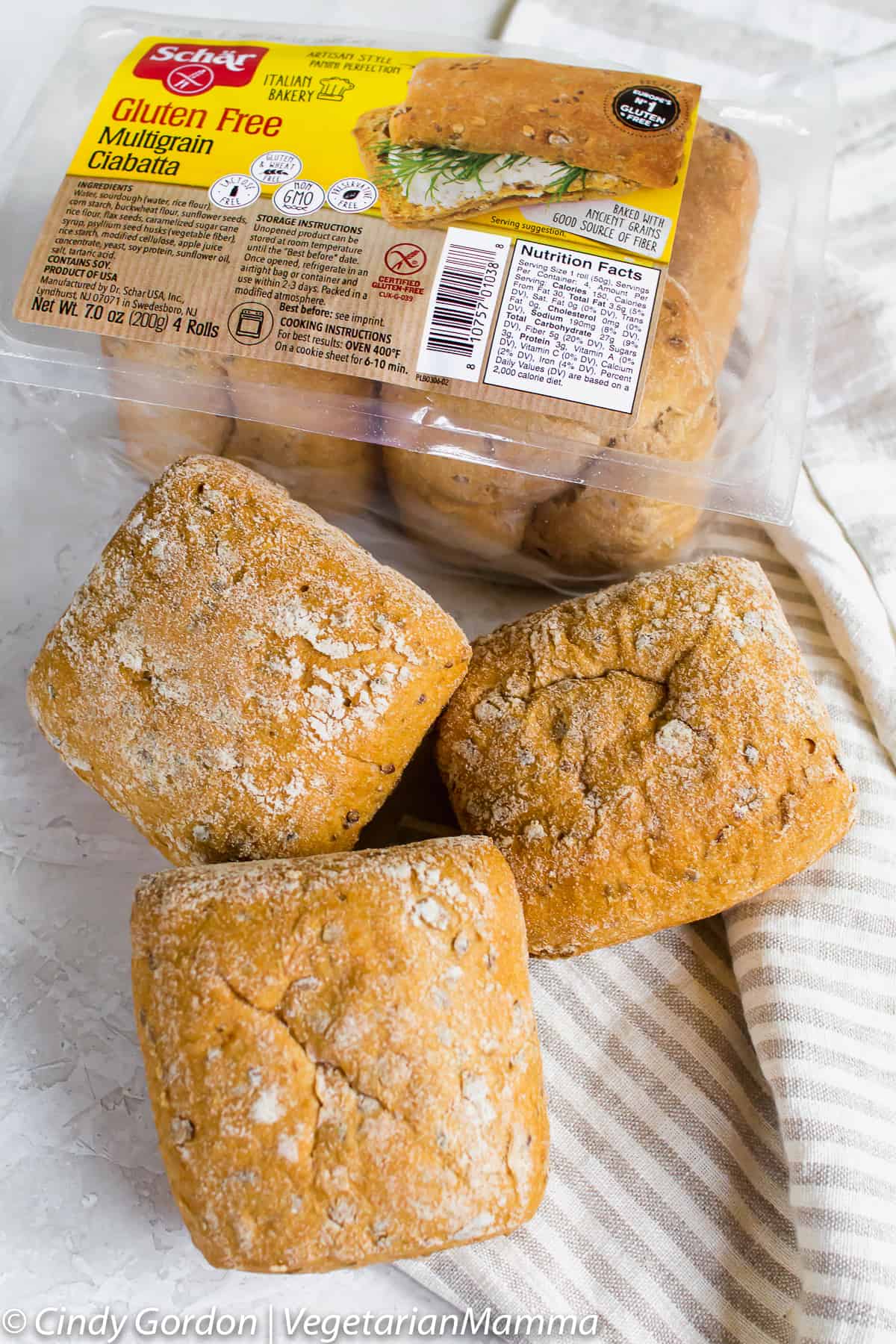 Schar and its products are global and recently came to the United States in 2007. I, for one, I am thankful for that. This company works hard to meet customer needs, customer demands, the latest food technology, all while giving back to organizations that support and educate about Celiac Disease!
So back to these gluten-free Ciabatta Rolls. These par baked multigrain rolls are delish. They are in a shelf stable package that gives a gracious "use by date." That makes them very enticing for this busy family!
Just being able to have this soft gluten-free roll on my shelf ready to it, is simply amazing!
Here is your avocado egg salad recipe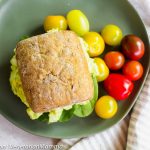 Print Recipe
The MOST delicious avocado egg salad sandwich recipe
Simple, basic with a twist of avocado is how I would describe this avocado egg salad sandwich recipe. Nothing fancy here, just common ingredients coming together to make a stunning egg salad!
Ingredients
Instructions
Prepare hard boiled eggs, peel and dice.

Smash avocado with a fork so it is ready to blend with the rest of the ingredients. Combine with egg.

Mix in mayo and mustard, blend well.

You can chill if you'd like but I prefer to eat it right away! ENJOY!
Nutrition
Calories:
374
kcal
|
Carbohydrates:
28
g
|
Protein:
12
g
|
Fat:
23
g
|
Saturated Fat:
4
g
|
Cholesterol:
212
mg
|
Sodium:
479
mg
|
Potassium:
197
mg
|
Fiber:
2
g
|
Vitamin A:
335
IU
|
Vitamin C:
2.5
mg
|
Calcium:
34
mg
|
Iron:
1.1
mg
All though this website attempts to provide accurate nutritional information, the information should only be considered an estimate. Varying factors such as different product types, different brands, etc. can change nutritional information. It is your responsibility as a consumer to read all labels to make sure the ingredients fit your dietary needs as well as calculate your own nutritional information as a double check.
Let's talk! DROP me a comment below telling me if you are an avocado lover! Have you tried avocado egg salad before? Leave me a comment below!
PIN this recipe idea for later: