Banana Split Ice Cream Pie is the treat you've been dreaming of! It is dairy-free, gluten-free, soy-free and nut-free!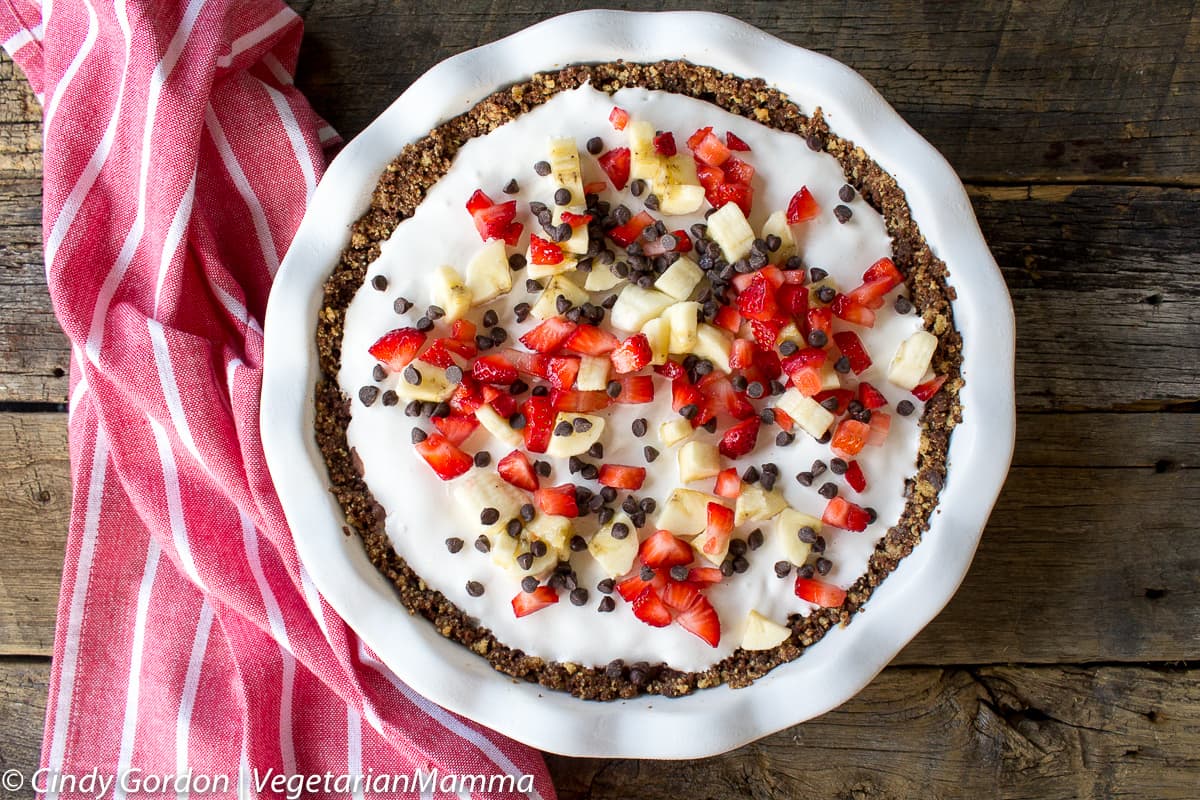 I think I love Banana Splits because they remind me of my childhood. Getting a banana split as a kid was a big deal.
You see, the banana splits were BIG, that was a whole lot of treat in that little boat shaped dish. Also, the bigger treat, the bigger the price tag.
Banana splits didn't happen very often. But when they did, the results were heavenly.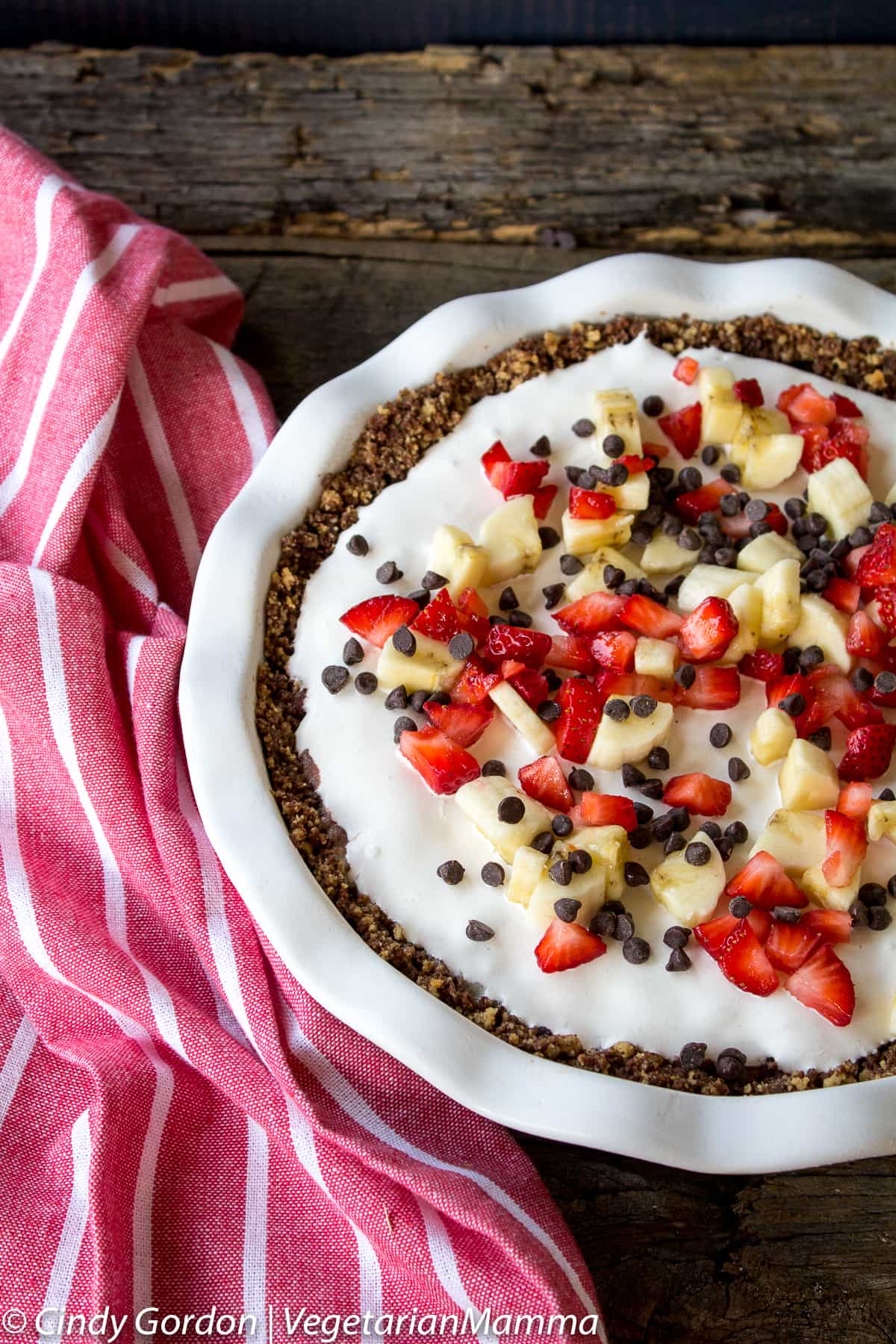 So I've taken my love and comfort food memories of banana splits and turned that into an allergy friendly dessert option!
This Banana Split Ice Cream Pie is easy to make and is very allergy friendly!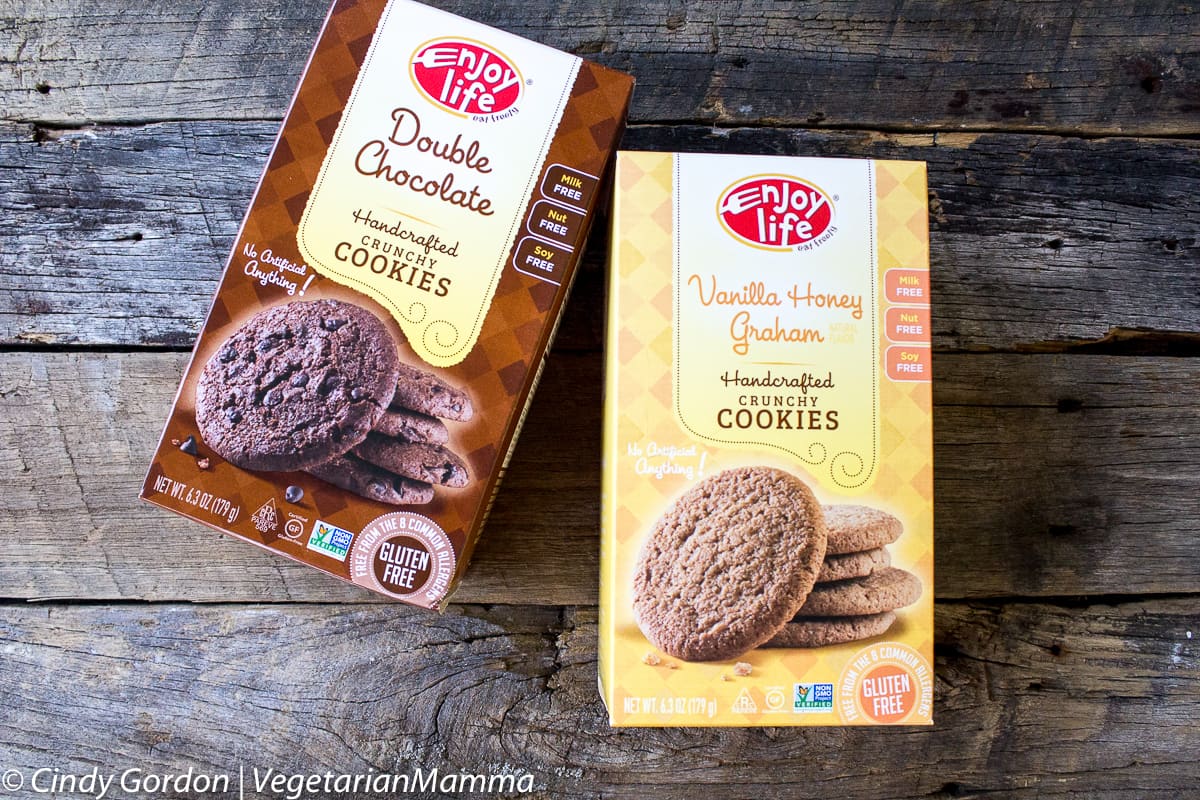 The crust is made from cookies! We used a combination of double chocolate and vanilla honey graham cookies from Enjoy Life Foods. (affiliate links, ad)
I love Enjoy Life Foods!
Our family loves and relies on Enjoy Life Foods products in our live because they are not only delicious but free from the TOP 8 most common allergens (and then some!)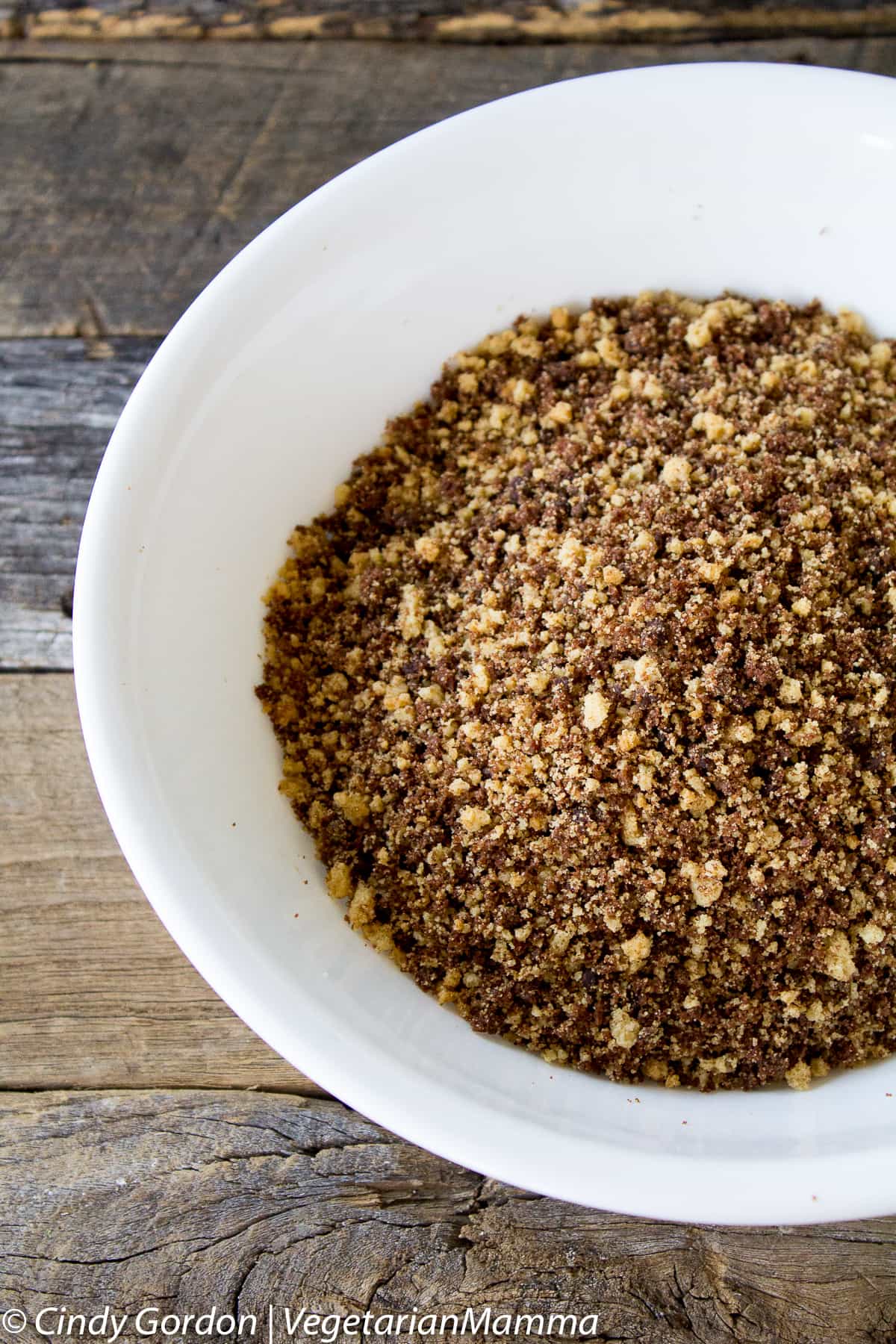 We used our food processor (affiliate link) to crush the cookies into small pieces. Then we mixed it with melted dairy-free butter to make it sticky.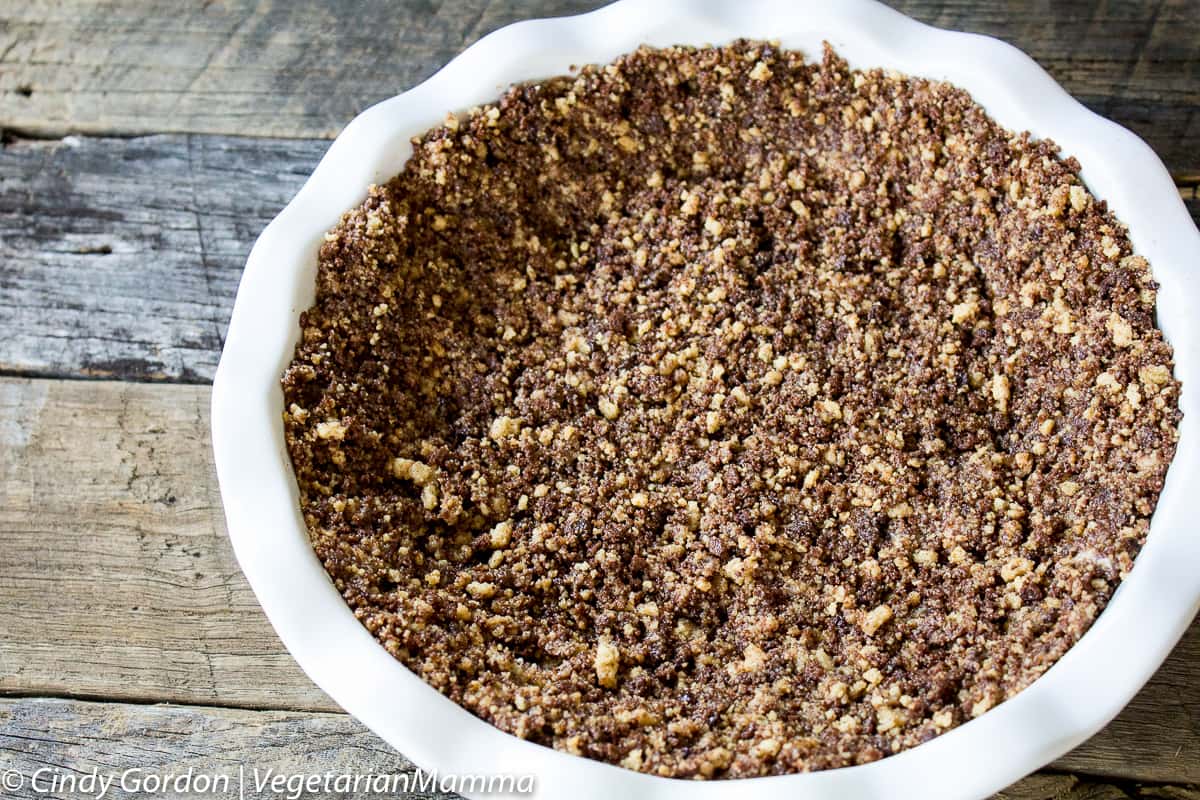 Then we firmly pressed and formed it into our pie plate. We just used our fingers to move the cookie pieces into place!
Then we popped it in the oven for a few minutes!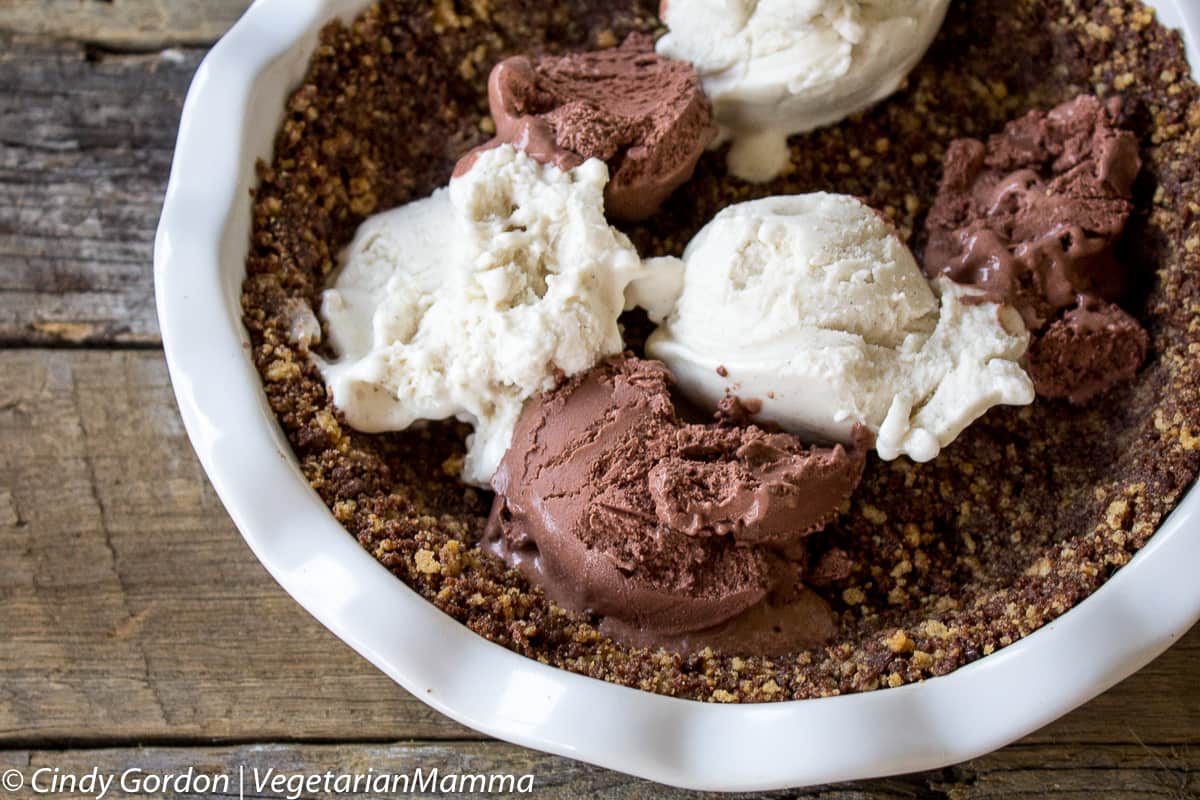 Next up is the ice cream. Traditionally, banana splits have strawberry ice cream.
But the GREAT thing about banana split ice cream pie is that you can make it the way you want! We used our favorite vanilla and chocolate allergy friendly ice cream for our pie.
While we do love strawberry, we have an extremely hard time finding the dairy-free, allergy-friendly option in our area when it comes to strawberry!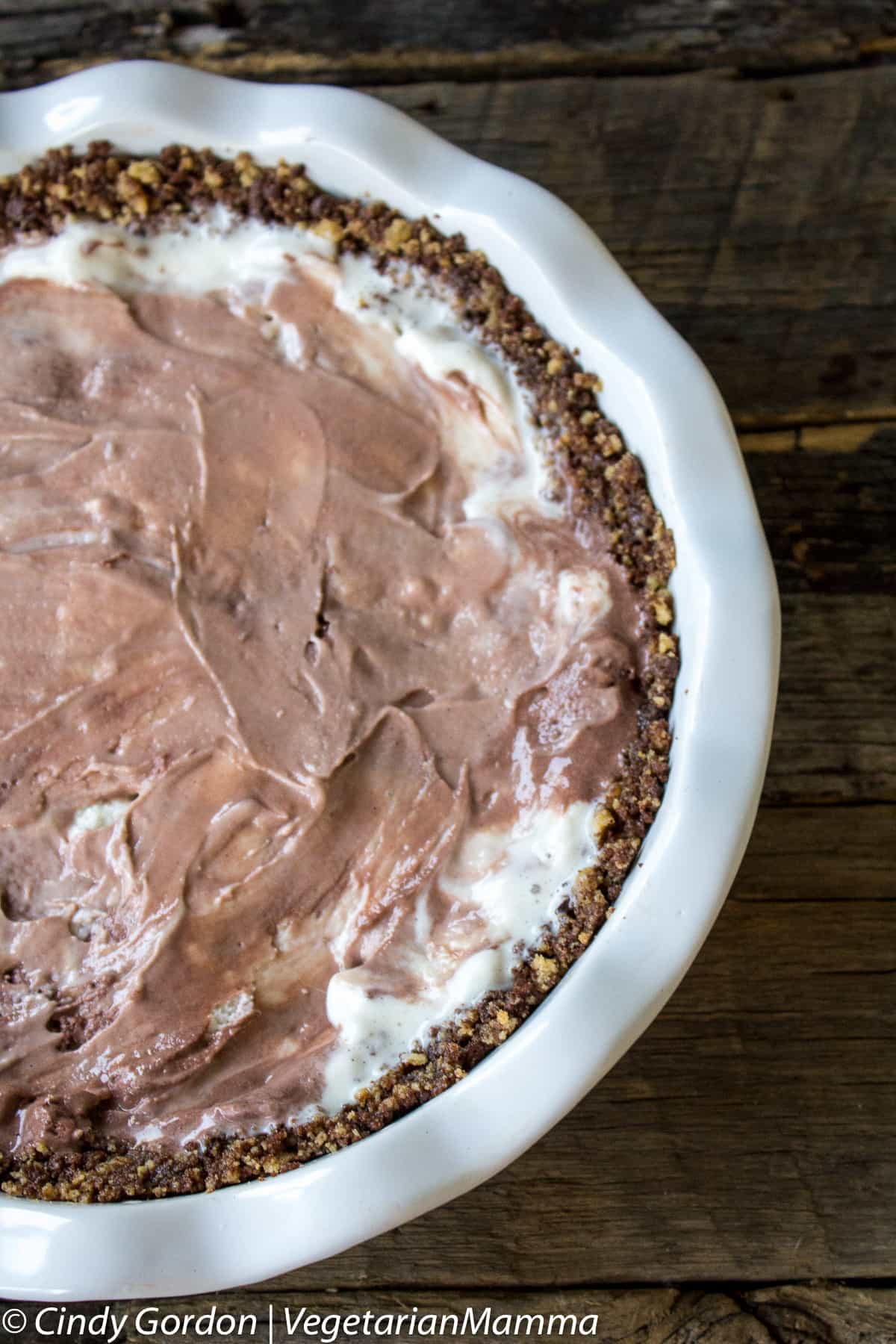 The ice cream should be soft, which will allow you to gently press it into the pie plate. You can smooth it out.
Back into the freezer!
Then back into the freezer it goes to become firm.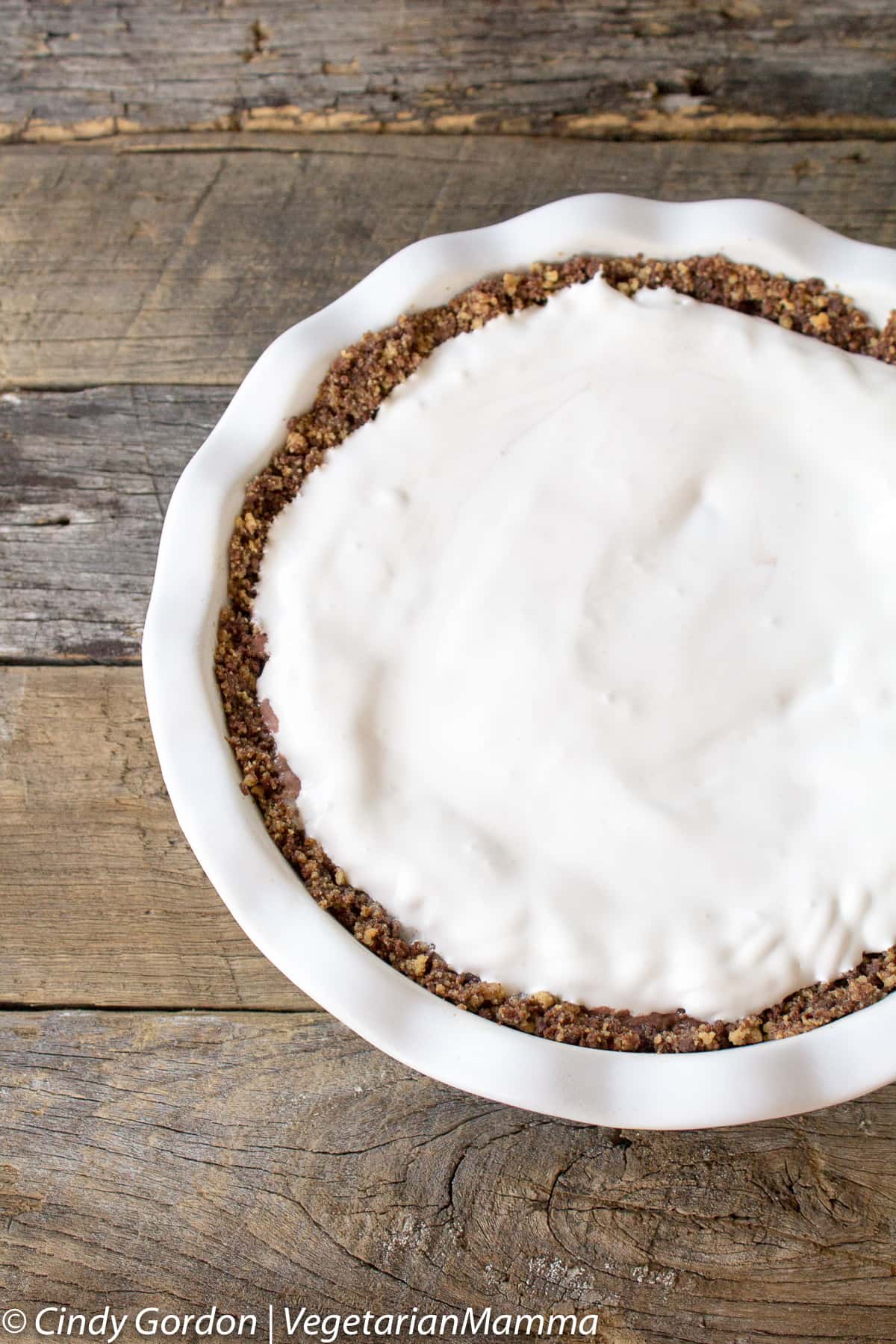 Next up, if the whip. We used an allergy friendly whip. Let it come almost to room temp so it was easier to spread.
I left some of the crust showing because we love that color pop!
Back into the freezer again to harden the whip!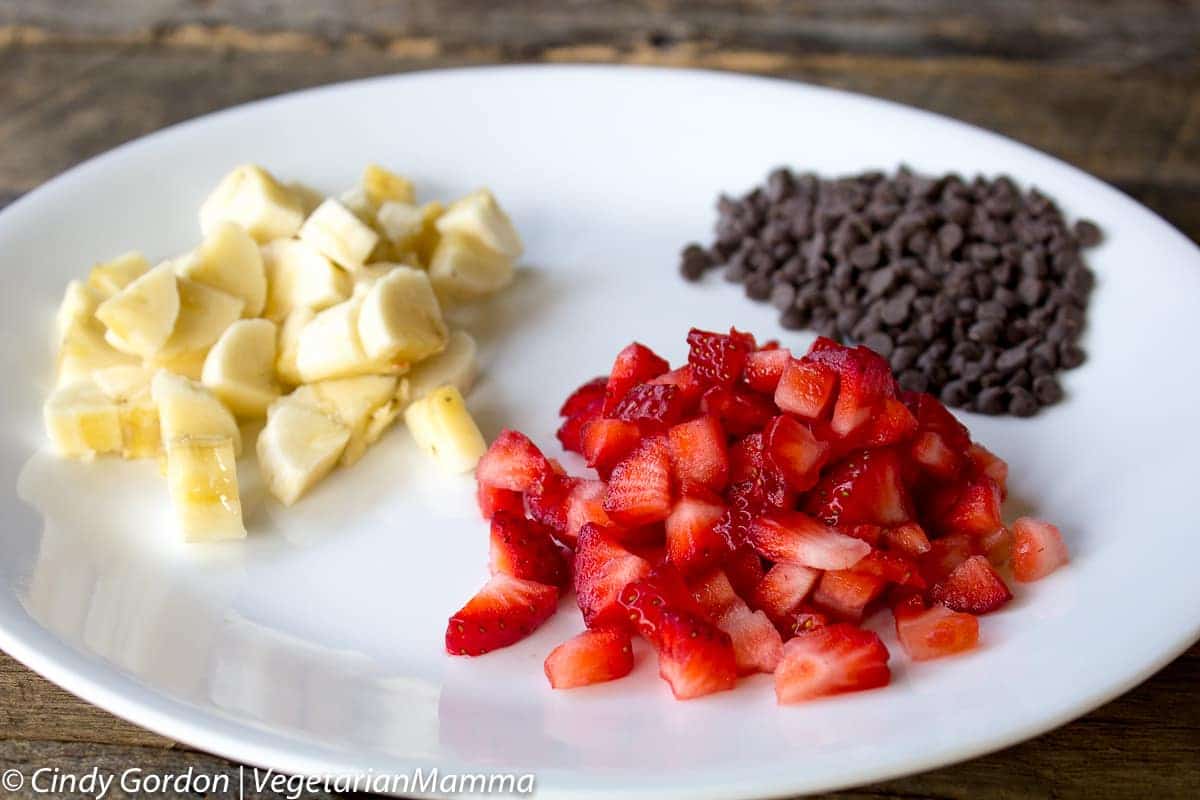 Then comes the toppings. Oh yes! I love this part.
You can also personalize this area here. Love pineapple? Add that in! You get the idea!
We chose diced strawberries, bananas and mini chocolate chips from Enjoy Life Foods. (affiliate link)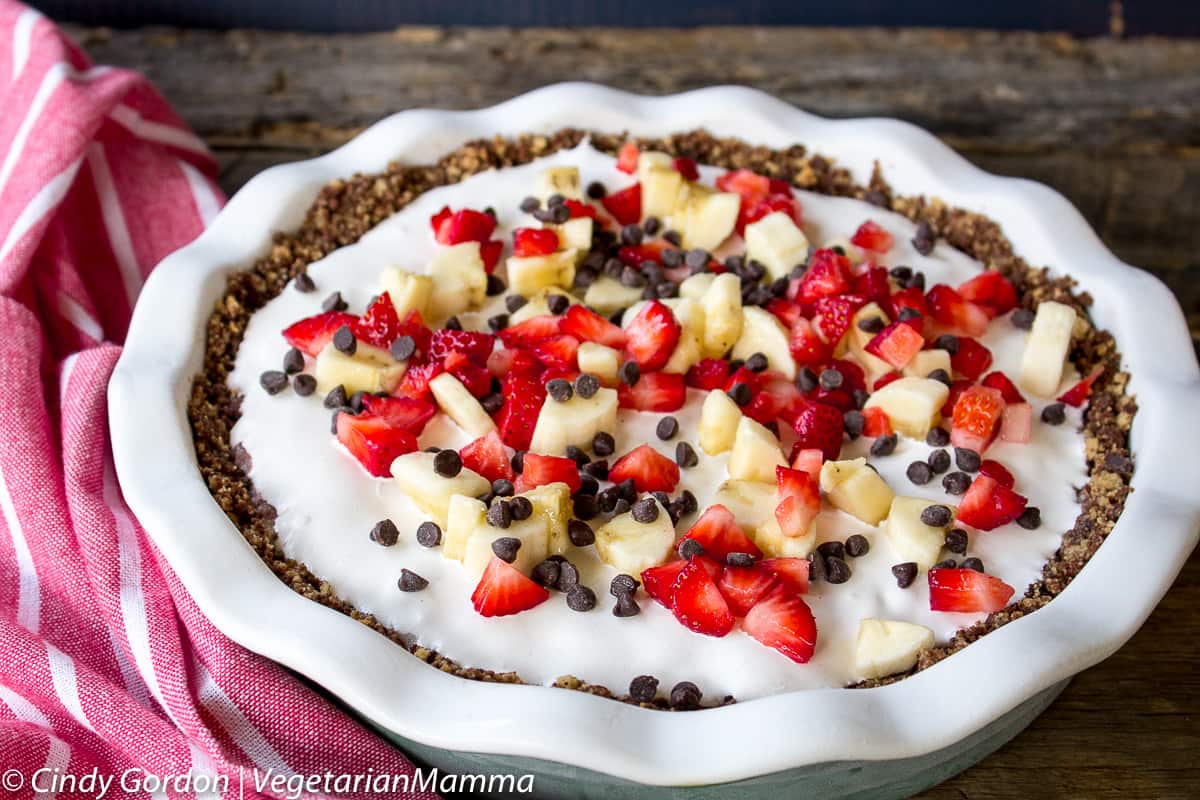 Such simple ingredients coming together to make such a stunning effect on this Banana Split Ice Cream Pie!
I am hungry just thinking about it!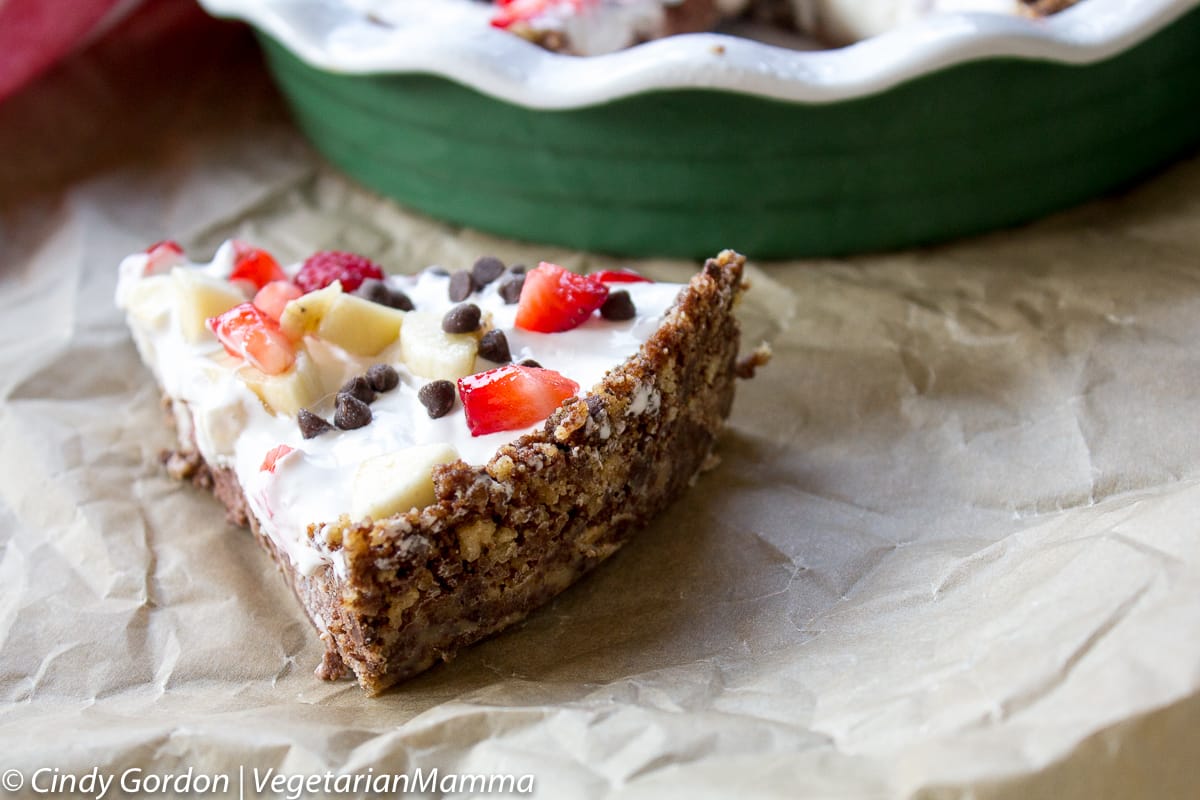 For me, it is the delicious cookie crust that sets this banana split ice cream pie apart from other allergy-friendly desserts we've made.
Getting hungry?
The best part of this recipe is that you can use your favorite ingredients. After you get your cookie crust completed, the rest is up to you how you customize it!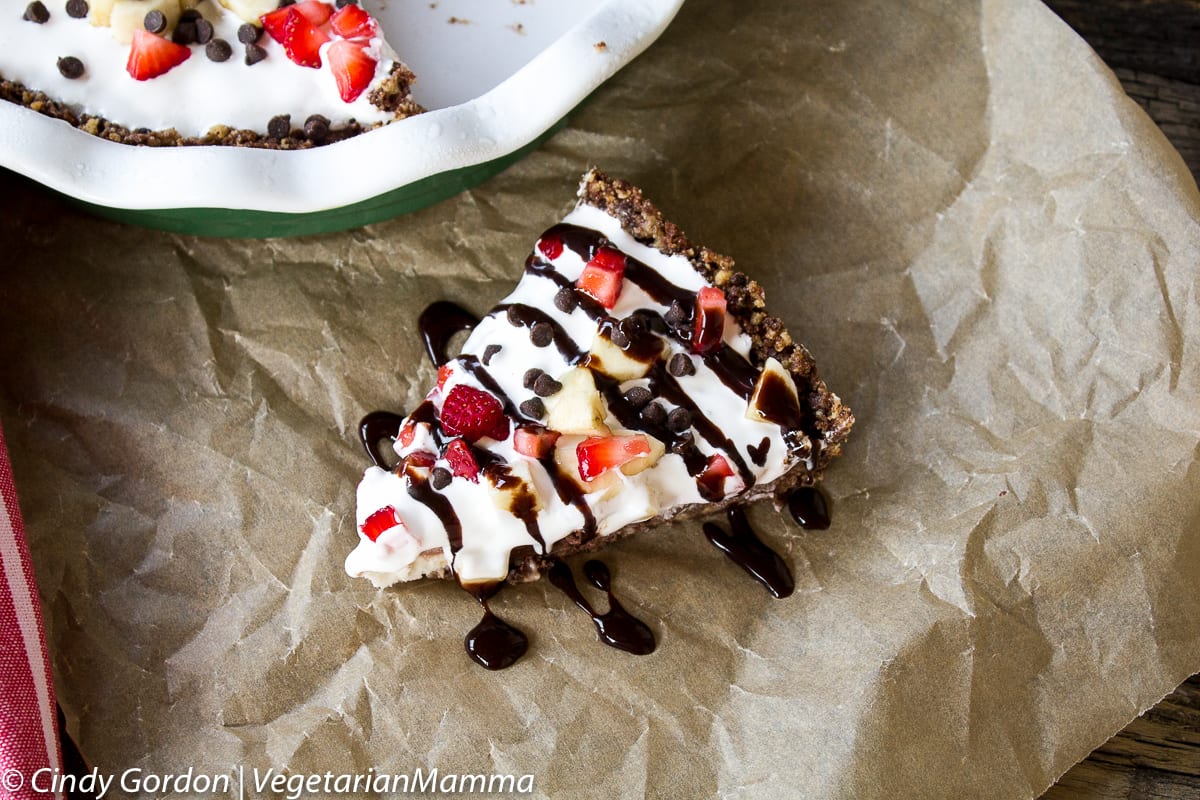 You can even drizzle some dairy-free chocolate sauce over the top of a slice!
A little extra chocolate, can't hurt, right?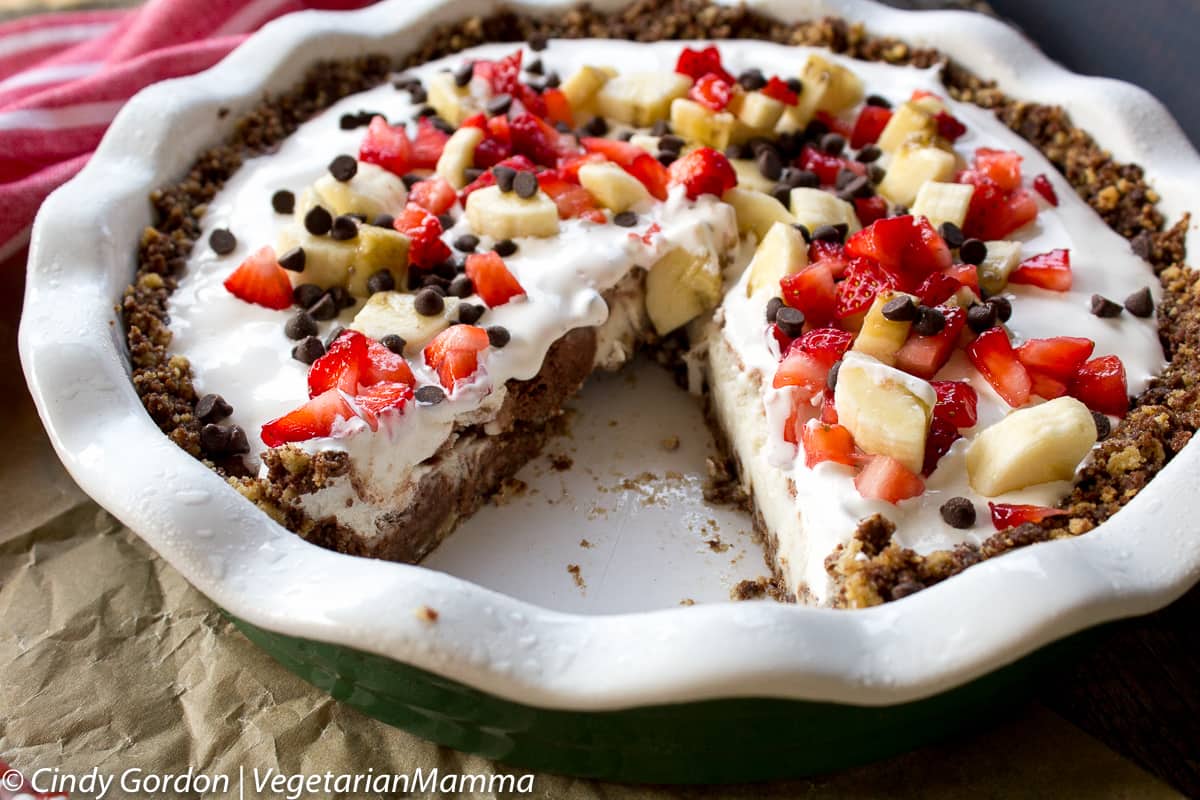 Cut yourself a slice and put the remaining Banana Split Ice Cream Pie back into the freezer! Easy peasy!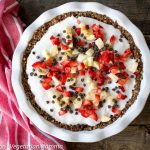 Print Recipe
Banana Split Ice Cream Pie - Allergy Friendly
Ingredients
1

Box of Double Chocolate Crunchy Cookies by Enjoy Life Foods

1

Box of Vanilla Graham Cookies by Enjoy Life Foods

A total of 12.6 oz between the two cookies boxes

6

T

butter

melted (ours was dairy-free)

2

pints

of your favorite ice cream

softened (ours was allergy friendly)

9

oz

of whip

softened (ours was allergy friendly)

1/2

c

diced bananas

1/2

c

diced strawberries

1

oz

of mini chocolate chips

Chocolate drizzle

optional
Instructions
Preheat oven to 375 degrees F.

In a food processor, pulse the cookies to make crumbs. Add in melted butter, pulse again.

Put crumbs into a lightly oiled pie pan.

Bake for 7 minutes. Allow to cool completely.

Scoop ice cream into pie crust when cool. Ice cream should be soften so you can gently press into the pie pan. Place in freezer for 30 minutes.

Remove from freezer, gently spread softened whip onto the pie. Put back into freezer for 1 hour.

Remove from freezer, top with bananas, strawberries and chocolate chips. (Drizzle optional)

Cut a piece to ENJOY and place left over Banana Split Ice Cream Pie back into the freezer!
See I told you that was easy. It does take a little time because you have to freezer the pie inbetween steps, but the steps are easy!
---
Looking for more gluten-free recipes? Especially ones that use Enjoy Life Food products? Check out these recipes: Loaded Plentils Nachos, Creamy Corn Soup, Gluten-Free Fudgy Brownies, Gluten-Free Brownie Trifle and Gluten Free Cinnamon Roll Muffins.
Thank you to Enjoy Life Foods for sponsoring this post!
---
Let's talk! Are you a lover of Banana Splits? What would you add to this Banana Split Ice Cream Pie to "make it your own?" Leave me a comment below!