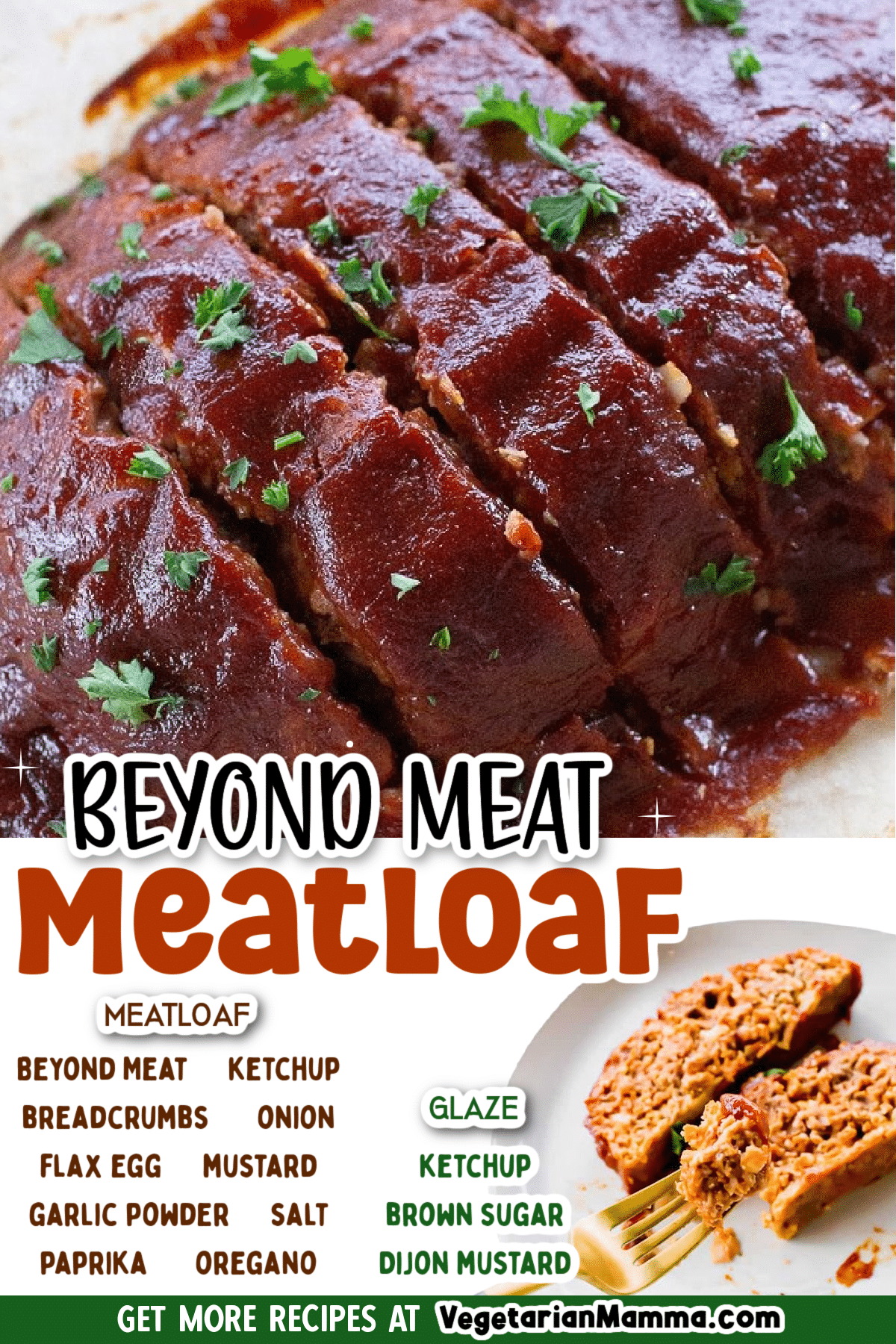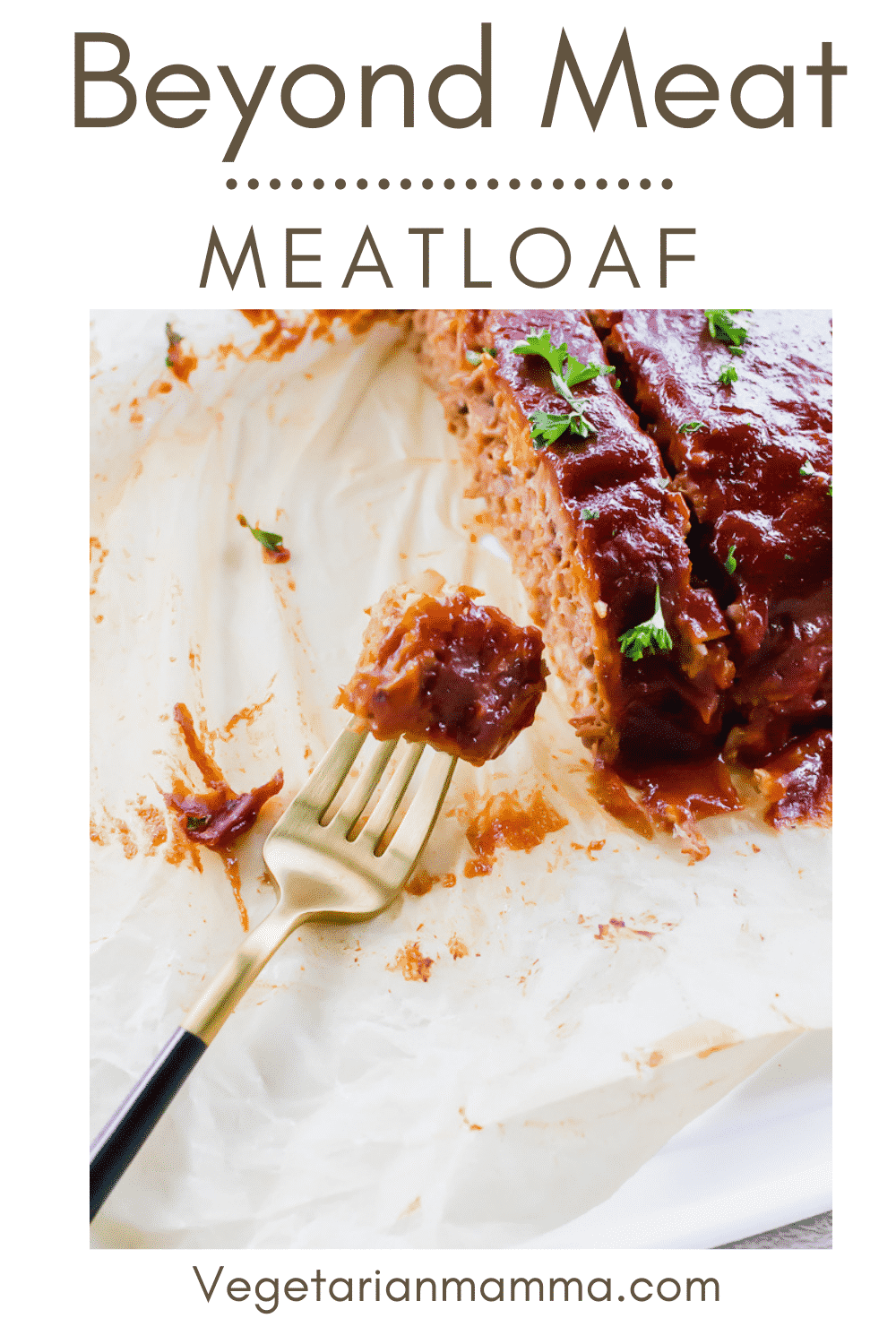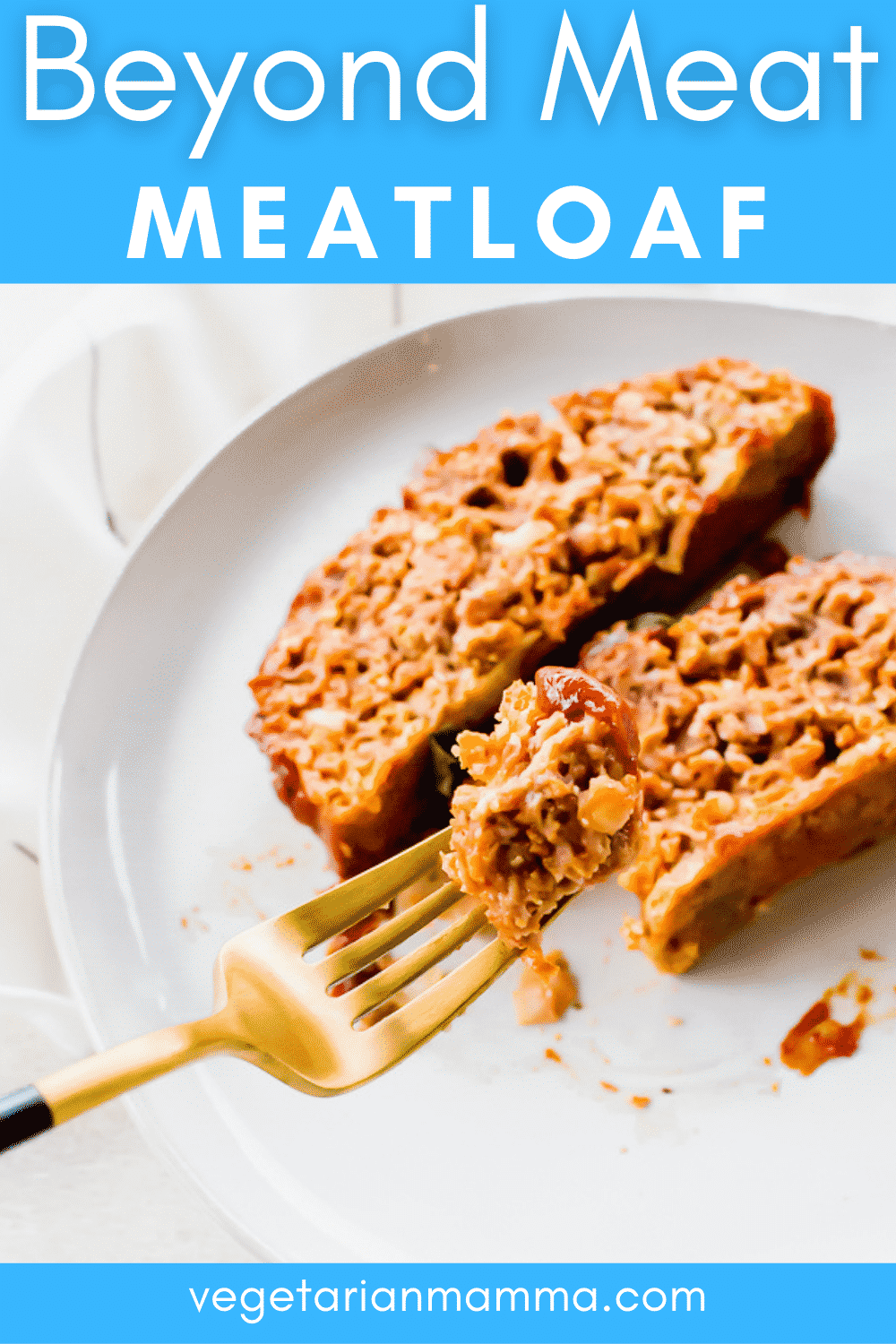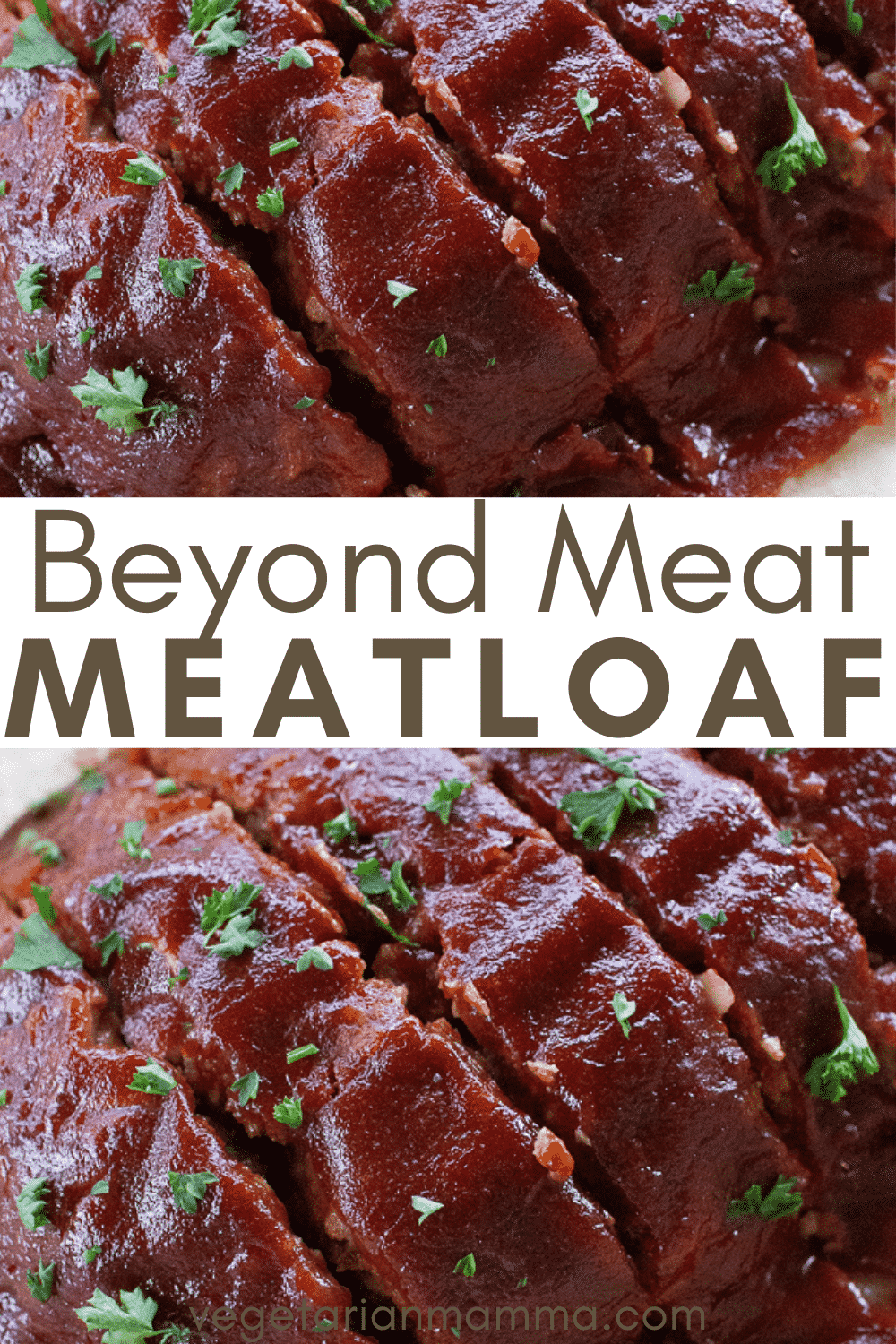 Beyond Meat Meatloaf is the vegan comfort food of your dreams! Enjoy all the flavors of a traditional meatloaf with a plant-based protein swap instead of meat.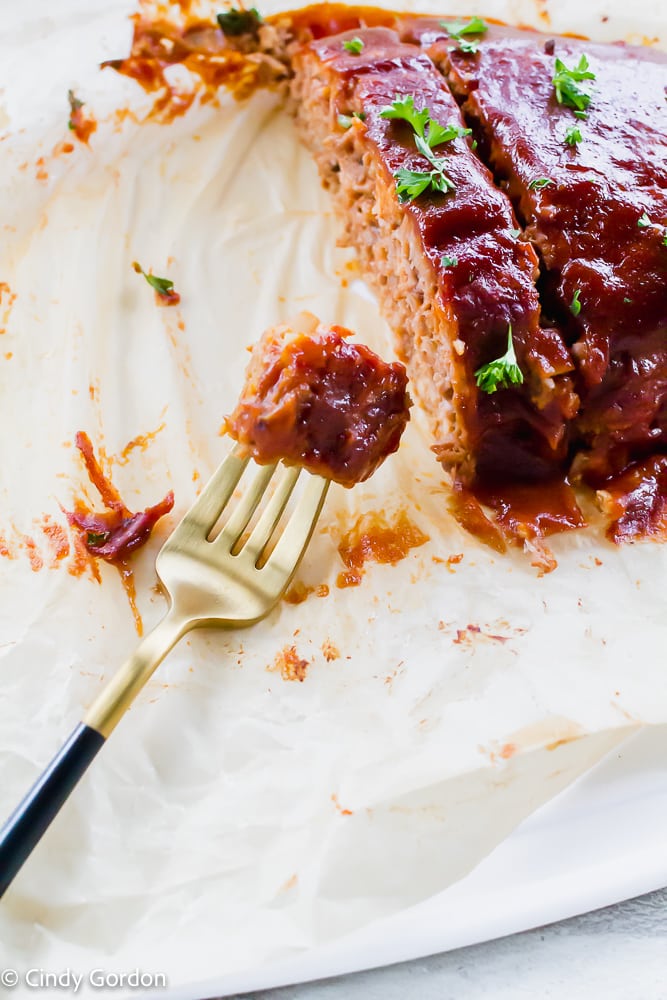 BEYOND MEAT MEATLOAF RECIPE
Comfort food is my middle name. I'm always on the hunt for the most comforting dinners without all the meat and dairy.
Beyond Meat meatloaf will trick even the biggest carnivores into believing this perfectly spiced and sliced loaf is packed with beef and pork.
You can keep this meatloaf recipe vegan by ditching the dairy and replacing the traditional egg binder with a flax egg mixture! But of course, I don't skip the yummy ketchup, brown sugar, and Dijon mustard glaze on top. That's the best part!
Love this meatloaf recipe? Try it in the air fryer!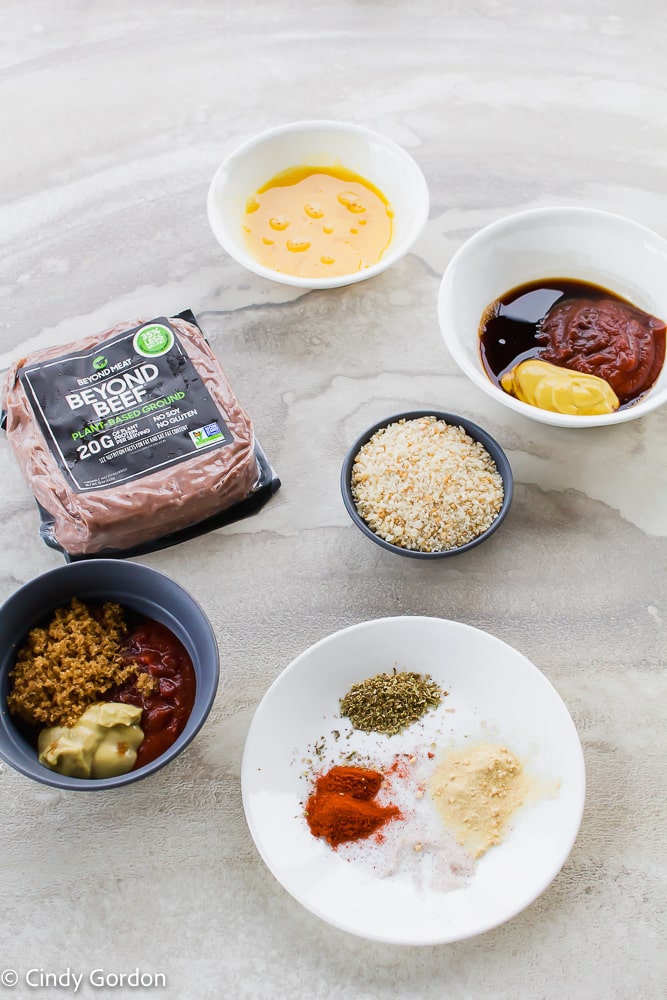 INGREDIENTS IN BEYOND MEAT MEATLOAF
Beyond Meat: Plant-based meats or proteins have come a long way. It's not just tofu anymore! Beyond Meat gives you a perfect meatloaf without the ground beef and ground pork.
Breadcrumbs: Trying to keep it paleo? Ditch the breadcrumbs and use cassava flour or almond flour.
Ketchup: This sauce gets a bad rap for being a super salty tomato dip. However, it brings a deep, rich flavor to the meatloaf and is not to be skipped! You'll use it in the meatloaf and in the glaze.
Onion: Everything is better with onions. As they cook inside the meatloaf, they release moisture and sweetness.
Flax egg: To make this easy vegan meatloaf binder, mix a tablespoon of flaxseed meal with 3 tablespoons of water. Let it chill about 15 minutes in the fridge to set. If you're not on a vegan or egg-free diet, you can always use eggs for the binder!
Mustard: Whether you like it on hot dogs or not, mustard brings a little tang to the mix. Plus it's already best buds with ketchup, so why not?
Liquid smoke: I love liquid smoke because it brings that freshly grilled flavor to anything I'm eating. A little goes a long way here, so be careful!
Garlic powder: Unlike raw garlic, garlic powder has a slightly sweeter spice to it. I add it to almost anything I make.
Salt: Vegan meatloaf needs salt to give it a little extra flavor. Make sure the seasonings get mixed in well.
Smoked paprika: Like liquid smoke, this bright red seasoning brings a little smokiness to the mix. You can use regular paprika in a pinch, too.
Oregano: Where tomatoes go, oregano follows. This Italian seasoning is so perfect with meatloaf. I use dried oregano, but fresh is fine too!
Brown sugar: This and ketchup are in every meatloaf glaze I've ever made. You need the brown sugar for that lightly caramelized top.
Dijon mustard: This takes the glaze to another level. A little extra spice and flavor mixed with ketchup and brown sugar.
If you have any questions about how to make meatloaf with Beyond Meat, please leave a comment below and I will get back to you ASAP!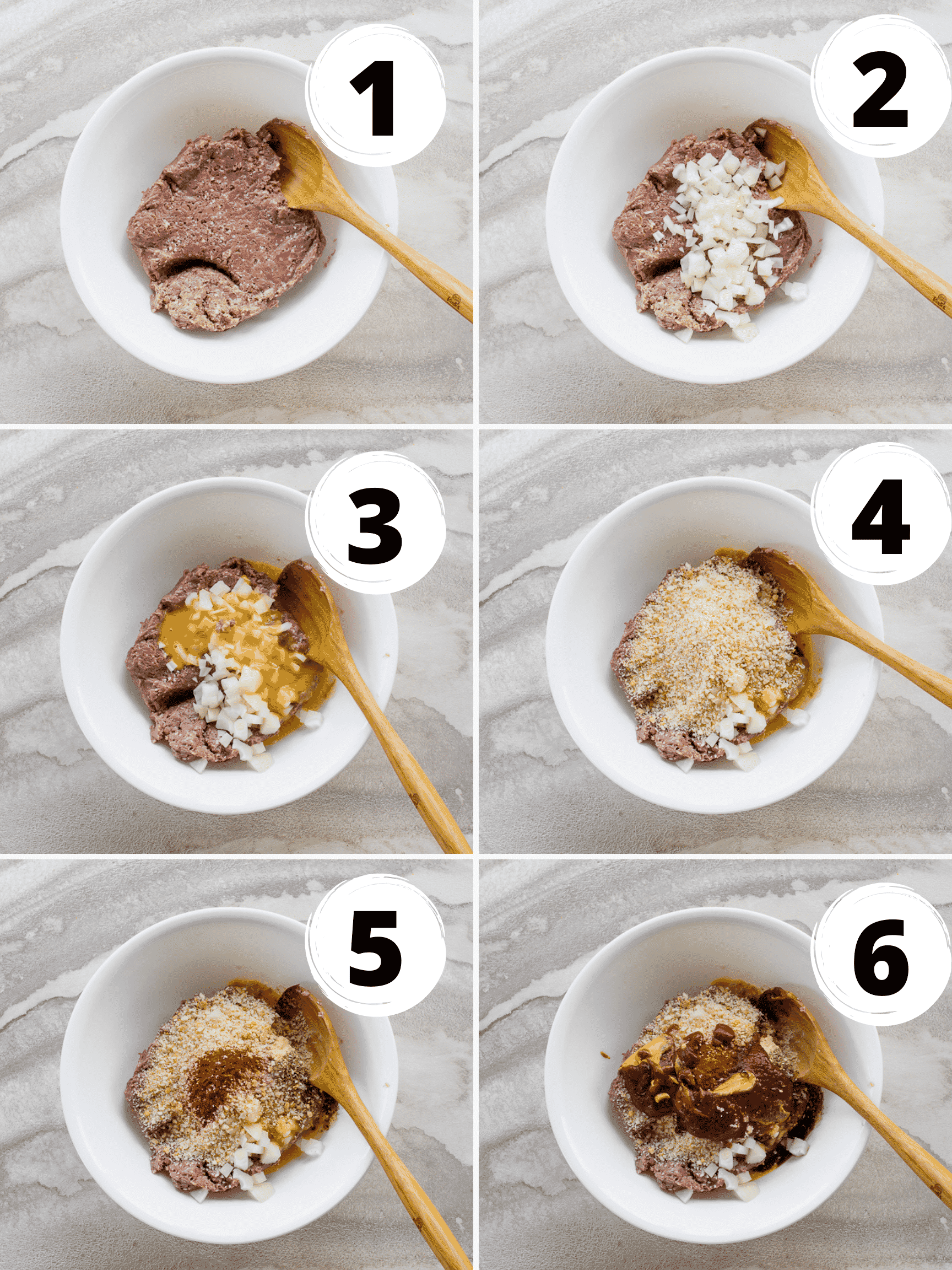 HOW TO MAKE BEYOND MEAT MEATLOAF
First, put the plant-based meat or protein in a large mixing bowl. You want lots of space to add ingredients!
Then, dice up the onions and add them to the Beyond Meat.
Now, add the flax egg. You can also use a whisked egg if you're not on a vegan diet.
After that, add the breadcrumbs to the mix.
Dump all your spices into the mixing bowl.
Finally, add the ketchup, mustard, and liquid smoke to the meatloaf mixture.
Now, stir to combine it all! You'll get a better distribution if you use your hands. Don't be afraid to get in there!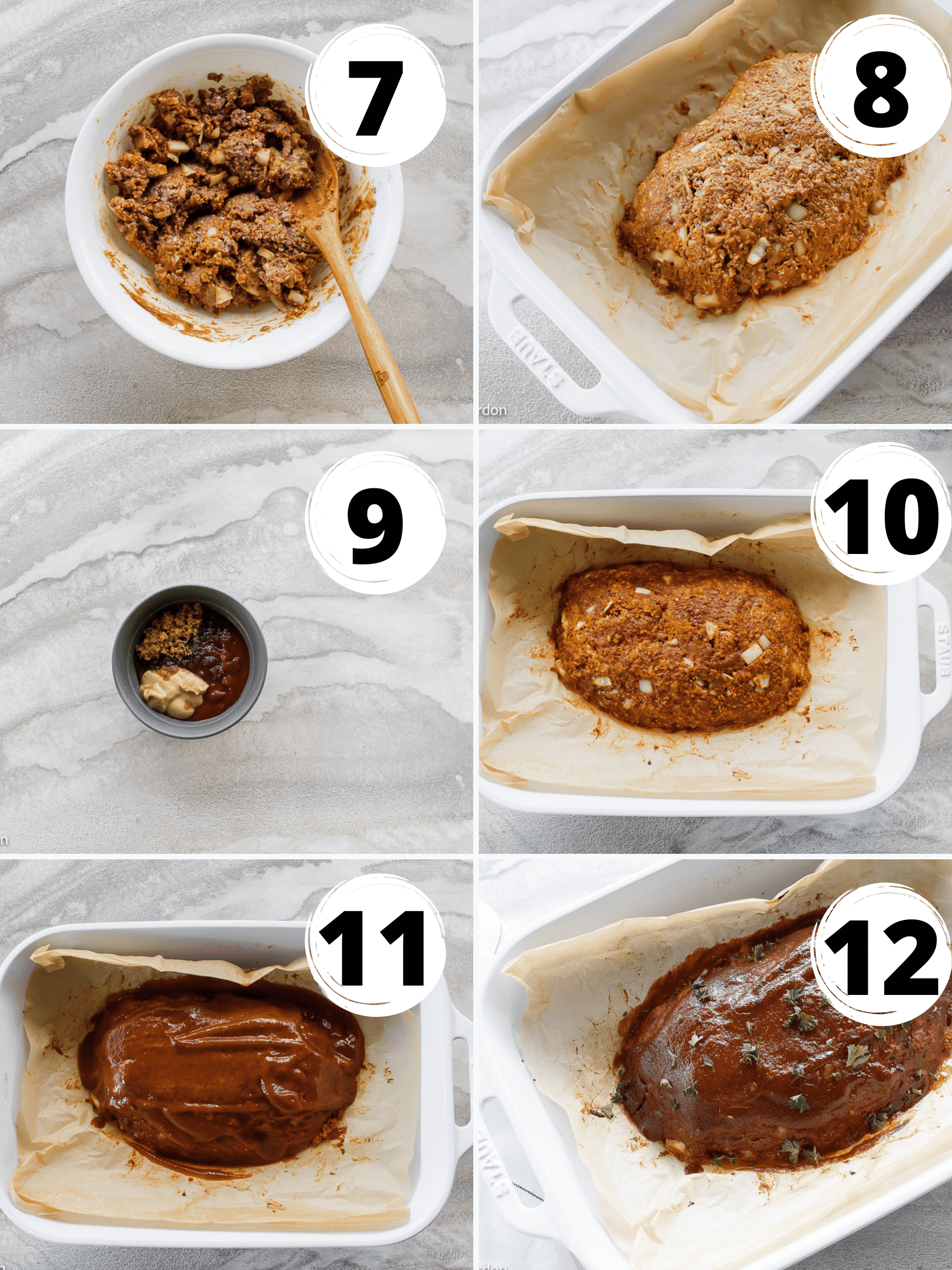 Shape the meatloaf mixture into a loaf on a baking dish with parchment paper. You can also use a loaf pan if you have it! Pop it in the preheated oven.
Time for the glaze! Mix the ketchup, brown sugar, and Dijon mustard together.
When timer goes off, take the Beyond Meat meatloaf out of the oven.
While it's still hot, brush the glaze onto the meatloaf.
Put the glazed vegan meatloaf back in the oven for about half an hour more. Let it stand at least 10 minutes to set before slicing with a serrated knife for the perfect loaf slices.
These numbered steps match the numbered photos above and are for illustration purposes. For the complete list of ingredients and instructions for Beyond Meat Meatloaf, please see the recipe below.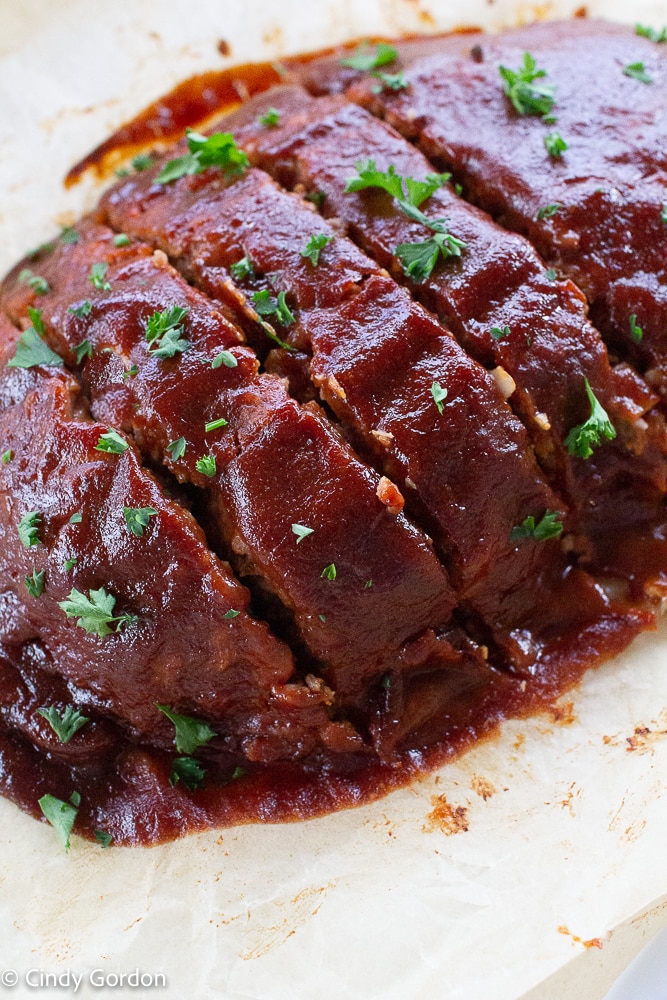 WHAT TO SERVE WITH BEYOND MEAT MEATLOAF
Meatloaf needs mashed potatoes. It's just a fact. These vegan mashed potatoes are super creamy made with vegan butter and no cream! You will love these easy Ranch Mashed Potatoes too.
Or, enjoy your meatloaf with Air Fryer Baked Sweet Potatoes, or Air Fryer Potato Wedges instead.
Looking for a cold side? This lightly sweetened Amish potato salad is the best with hard boiled eggs, onions, and celery wrapped in a sweet and tangy yellow mustard dressing.
This air fryer green bean casserole is super simple and totally vegan! Your family will never believe it's a dairy-free casserole. For a simpler version, make sauteed green beans and mushrooms instead!
I like to keep my side dishes simple with meatloaf, like these roasted potatoes and Brussels sprouts.
WHAT IS A SUBSTITUTE FOR MILK IN VEGAN MEATLOAF?
There are absolutely no animal products in this meatloaf!
Want it vegan? I use a flax egg instead of the traditional whisked egg in this Beyond Meat meatloaf recipe. This gives the loaf the same binding effect.
Most recipes also call for milk to add some moisture to the loaf and the breadcrumbs. I don't use any extra liquid beyond a little ketchup and liquid smoke. No dry meatloaf here! If you feel that it's necessary, a bit of unsweetened almond milk or soy milk can be added.
WHAT CAN I PUT IN MEATLOAF INSTEAD OF BREADCRUMBS?
Without something carby, this vegan meatloaf will be clumps of meat instead of a loaf.
I use breadcrumbs for this meatloaf recipe, but you can also use plain flour.
If you're gluten-free, you can totally use a 1:1 ratio of gluten-free breadcrumbs or flour with no problem.
Just notice you're out of both? You can always use crushed-up crackers like saltines, Club crackers, or Ritz crackers!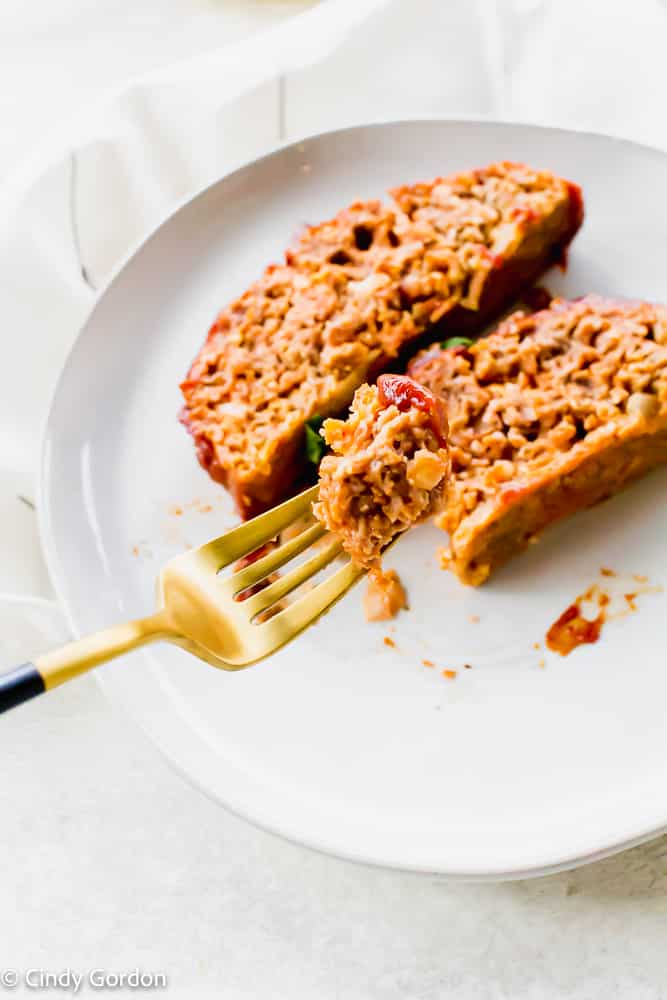 MORE YUMMY VEGAN RECIPES
Lunch is the hardest meal to enjoy for me. Gimme breakfast or dinner any day! This vegan chicken salad turned that around, and now I make it every other week!
When you need the comfort of a hearty stew but don't want all that meat, try this vegan beef stew! All the flavor with none of the animal products.
End your night on a sweet treat with these Air Fried Oreos! You read that right — enjoy this iconic carnival food with lower calories when you skip the hot oil.
Need more vegan dessert recipes? We have so many delicious ones! Start with Vegan Peanut Butter Chocolate Chip Cookies, or go big and make a Vegan German Chocolate Cake to impress your guests.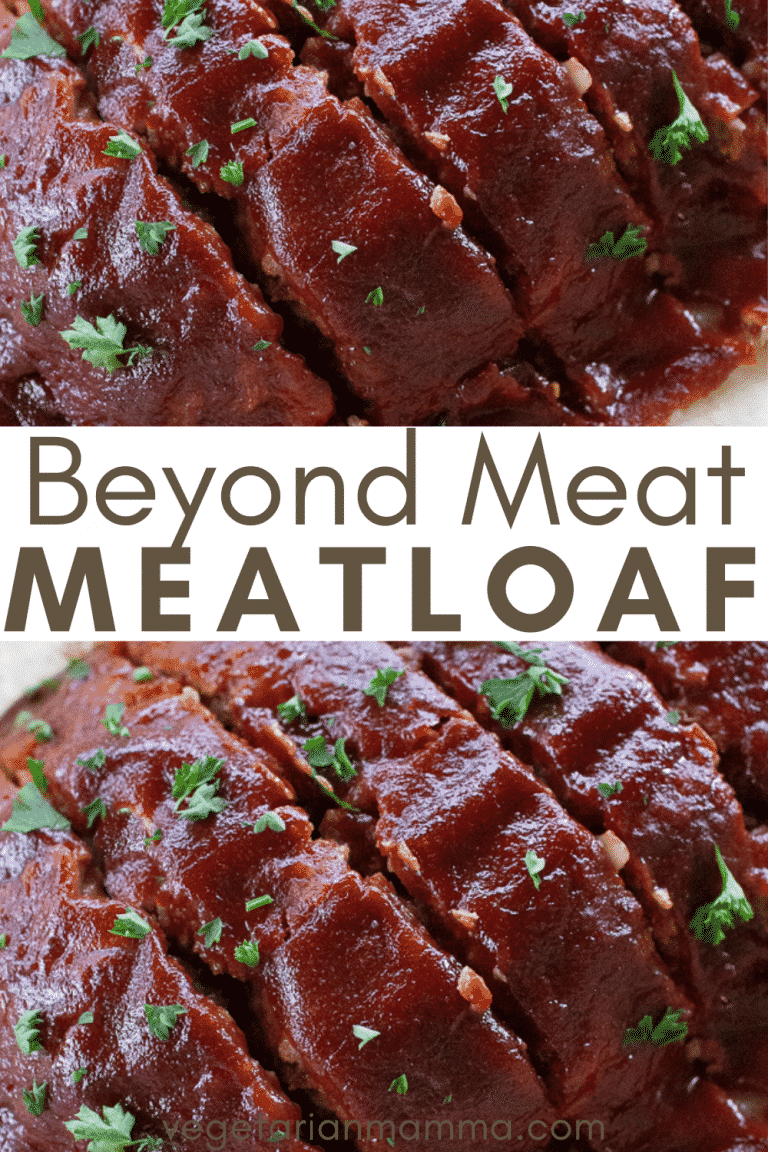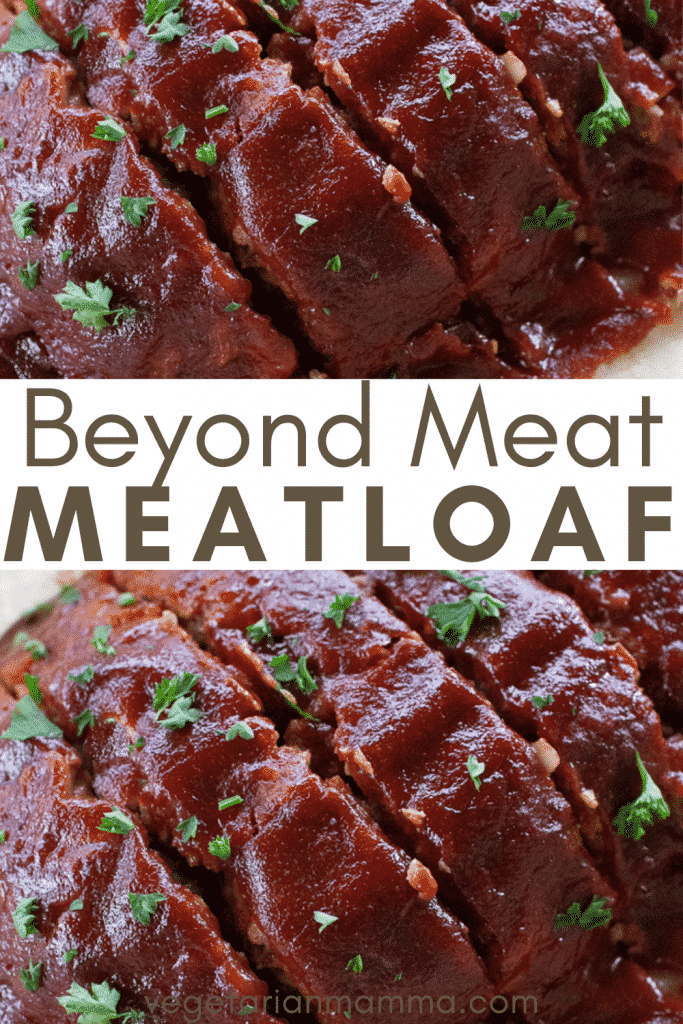 Have you made this recipe? Please leave a comment AND rating below! It helps other readers!
Be sure to tag @VegetarianMamma on instagram, if you share a picture on the gram! Let's get social, you can follow me on Youtube, Instagram, Facebook, Pinterest or join one of our Facebook Groups: Tasty Vegetarian Recipes and Vegetarian Air Fryer Recipes.
Don't forget to subscribe to our EMAIL newsletter.
Beyond Meat Meatloaf
This vegan meatloaf is made with plant-based proteins and tons of spices. Top it with a ketchup and Dijon glaze for a quick weeknight meal!
Equipment
Baking pan or loaf pan

Serrated knife
Instructions
Start with the Beyond Meat protein in a large mixing bowl.

Dice onions and add to mixing bowl.

Add flax egg or whisked egg to the bowl.

Add breadcrumbs, spices, ketchup, mustard, and liquid smoke to the bowl and mix, preferably by hand.

Shape mixture into a loaf on parchment paper in a loaf pan or baking dish. Bake meatloaf at 375°F/190°C for 35 minutes.

While the meatloaf cooks, mix the glaze ingredients together and set aside.

When the timer goes off, take the vegan meatloaf out of the oven and glaze the top with a large spoon or pastry brush.

Continue cooking meatloaf for 25 to 30 minutes. Let the meatloaf stand at least 10 minutes before cutting with a serrated knife for solid slices.
Notes
To make flax egg, mix one tablespoon ground flaxseed meal with three tablespoons of water. Mix together, and chill in your fridge for 15 minutes to set up and thicken. Can sub eggs for non-vegan option.
You can add vegetables to this recipe. Nice additions are a ½ cup of diced carrots or ¾ cup of diced bell pepper. If you enjoy mushrooms, you can also add those to your Beyond Meat meatloaf. Just be sure that you diced them very small so they cook through.
If you are wanting to make Paleo Meatloaf, you can sub out the breadcrumbs and sub in cassava flour or almond flour.
Do not skip the resting part of this vegan meatloaf recipe. You need to let the meatloaf sit and rest to cool down.
Use a serrated knife to cut your meatloaf into slices. This type of knife will help the meatloaf to not break apart when cutting.
You need to check on your meatloaf every so often to make sure it isn't crisping too fast or burning. If you feel that the top of your meatloaf is starting to burn, you can place foil on top of the meatloaf.
Don't try to rush this vegan meatloaf recipe by increasing the temperature. Cooking at a lower temperature helps to keep the meatloaf moist.
Cooking times may vary a little depending on how you shape your loaf.
Nutrition
Serving:
1
slice
|
Calories:
213
kcal
|
Carbohydrates:
28
g
|
Protein:
16
g
|
Fat:
5
g
|
Saturated Fat:
1
g
|
Trans Fat:
1
g
|
Sodium:
775
mg
|
Potassium:
271
mg
|
Fiber:
5
g
|
Sugar:
14
g
|
Vitamin A:
165
IU
|
Vitamin C:
2
mg
|
Calcium:
40
mg
|
Iron:
5
mg
All though this website attempts to provide accurate nutritional information, the information should only be considered an estimate. Varying factors such as different product types, different brands, etc. can change nutritional information. It is your responsibility as a consumer to read all labels to make sure the ingredients fit your dietary needs as well as calculate your own nutritional information as a double check.
Thanks for stopping by and checking out this recipe. Whether you are here because you want to eat more meatless meals, you are vegetarian or vegan, whatever brought you here, you are welcome here! We are happy to have you! If you are looking for some meatless main dishes, I would suggest you check out: Vegan Zucchini Fritters, Instant Pot Pad Thai, Vegetarian Potato Soup Recipe and Mediterranean Rice Bowl.