This black bean soup is vegetarian and full of healthy and delicious vegetables. With a little help from the immersion blender, your family will never know all the veggies they are eating!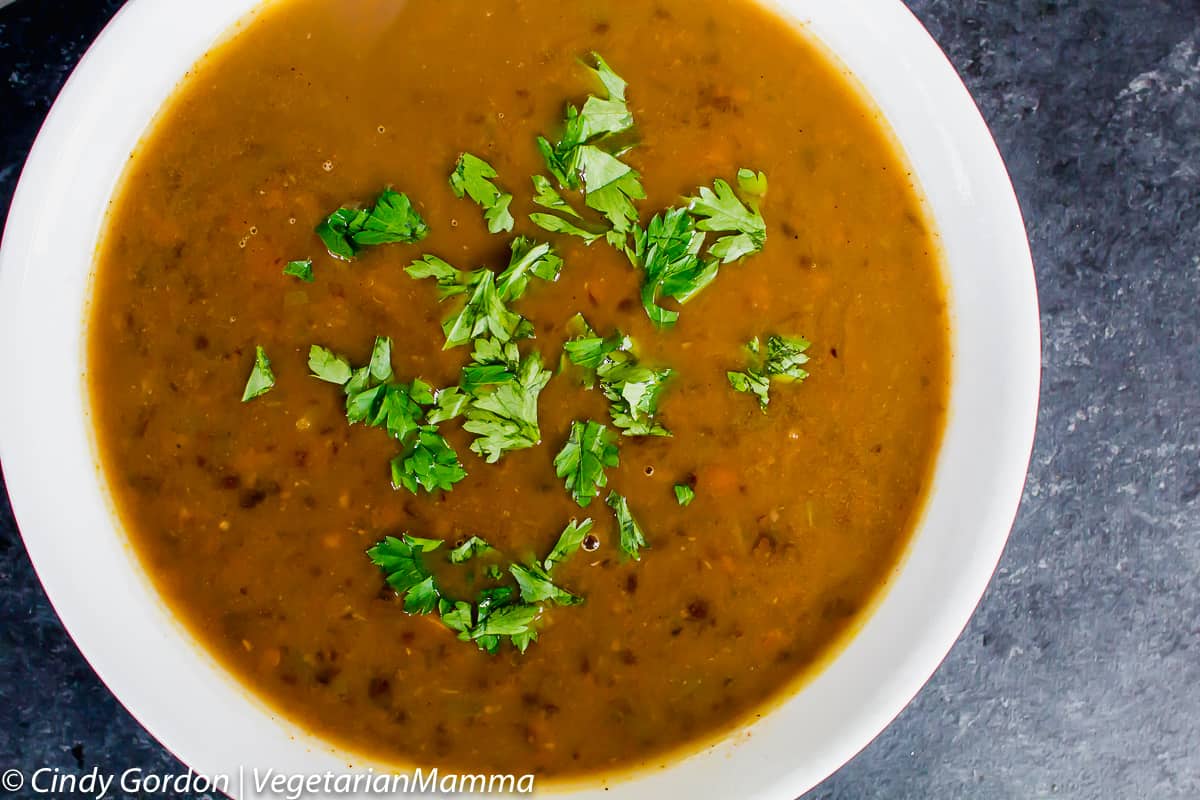 Thank Goodness I Found Black Bean Soup!
Black bean soup is an absolute favorite of mine. It's simply delicious, each and every time. I often get asked where my love for black bean soup started and oddly enough, I can remember exactly where I had the first taste that got me hooked! Panera!
In fact, every time I visited Panera I would always order a bowl of soup with some delicious feta cheese on top but had never ventured out to order their black bean soup. My sweet friend Amy, encouraged me to try that. I'll forever be grateful to her and her recommendation.
If it wasn't for her, I may still be clueless about the awesomeness of black bean soup. Whew, so glad that I found out about this secret soup earlier in life rather than later! I honestly can't even imagine NOT having this soup as part of my families dinner rotation meals.
What's so awesome about soup anyway?
The beautiful thing about soups? They can take on so many different flavors, looks, and tastes. We recently updated the old photo and retweaked the recipe, just a little bit. Due to making the recipe gluten-free, we removed flour from the ingredient list.
Don't fret though if you aren't gluten-free! You can certainly add in some all-purpose flour (I used gluten-free flour) or corn starch to thicken it. Have I mentioned that no matter how you tweak this black bean soup recipes it's utterly delicious?
Never tried black bean soup? You are missing out!
Here's the deal. I understand the hesitance to want to give black bean soup a try. I get it, I really do. The name of the soup actually doesn't sound all that appealing.
Lucky for you, it's just a name. The true beauty of this soup is from what is inside. It's full of vegetables and truly unique flavors. And don't forget the black beans!
How can you deny a bite of celery, carrots, peppers, and onions? There is absolutely nothing unique or odd about the combination of those flavors, right?
Then, to balance out the rest of the soup it's literally just a bit of spice, veggie broth, and black beans. See? What did I tell you? Once you break down what's in the black bean soup, your more intrigued to give it a go, right?
Even my kids love this black bean soup!
I'm a lucky mom in the fact that my kids honestly love veggies. But when I introduced them to this yummy black bean soup, they were over the moon.
I no more than finished filling up one bowl when I had to refill the next! The first night that this was introduced to my family for dinner, they were banana's over it. It was gone before I even had a chance to take a bite.
Now, it's a monthly staple in our house. Sometimes we add a bit of heat and spice, and other times we load it up with even more veggies. It's truly that versatile.
Plus, it tastes awesome the next day as leftovers as well. (Although, truth be told…that rarely ever happens in my house!) And if you want to freeze it for later, totally doable!
Black beans, the affordable and delicious vegetable.
One of the mean reasons that I love this soup, besides the flavor is the fact that it's extremely affordable. While the recipe calls for 4 cans of black beans, that can be flexible depending on your budget.
Typically, I can find them for under $1 per can which means that I can make this entire soup to feed my WHOLE family for under $10. To me, that's an absolute win.
As the days and dinners keep happening, I find that it gets harder and harder to think of meals that my kids will like and want to eat. They get tired of the same old meals and seem to always be craving something that has a little more substance and unique flavor.
This is where black bean soup really shines. Each and every time I've made it, I've tweaked it a bit. During the winter, I'll add in some hearty crackers to give it some thickness, and in the summer months, I prefer to top it off with fresh cilantro from my garden. And ALWAYS cheese!
And each time I've tried something unique and new, my kids have loved each and every variance!
Is it possible to make an entire meal for your family in mere minutes?
ABSOLUTELY. This black bean soup recipe takes hardly any time from start to finish. Talk about a time saver.
Leave that crockpot in the cupboard as it doesn't take hours upon hours to meld the flavors of this amazing soup. Besides the sauteeing up of the veggies, the rest is just totally simple!
I hope that you enjoy the updated photo for this black bean soup recipe! We also perfected this recipe in the instant pot (affiliate ad link) and I'll be sharing the recipe shortly as well!
Don't forget the rest of my soup recipes!
If you love soup as much as I do, make sure to visit the recipe index to find more gluten-free soup recipes! Try Creamy Corn Soup, Cheesy Potato Bean Soup, or Taco Soup.
Have you ever had black bean soup? What did you think after taking your first bite?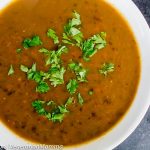 Print Recipe
Black Bean Soup – #glutenfree #vegan
This black bean soup is vegetarian and full of healthy and delicious vegetables. With a little help from the immersion blender, your family will never know all the veggies they are eating!
Ingredients
1

onion

diced

1

bell pepper

diced (you pick the color)

4

carrots

peeled and diced

3

celery ribs

diced

1 1/2

T

chili powder

1/2

t

cumin

6

cups

of Veggie broth

4

cans of black beans

rinsed and drained
Instructions
Warm oil in pan. Saute onion, bell pepper, celery and carrots. (until soft)

Add chili powder and cumin, saute for 2 minutes.

Next, puree 2 cans of beans in a food processor or mash in a bowl. Keep two cans whole.

Stir in your beans and veggie broth. Bring to a racing boil, then reduce and simmer for 25 minutes.

Enjoy!
Nutrition
Calories:
49
kcal
|
Carbohydrates:
11
g
|
Protein:
1
g
|
Fat:
1
g
|
Saturated Fat:
1
g
|
Sodium:
1004
mg
|
Potassium:
238
mg
|
Fiber:
3
g
|
Sugar:
6
g
|
Vitamin A:
8515
IU
|
Vitamin C:
29.1
mg
|
Calcium:
24
mg
|
Iron:
0.7
mg
All though this website attempts to provide accurate nutritional information, the information should only be considered an estimate. Varying factors such as different product types, different brands, etc. can change nutritional information. It is your responsibility as a consumer to read all labels to make sure the ingredients fit your dietary needs as well as calculate your own nutritional information as a double check.