Looking for a sweet, allergy-friendly after school treat? Look no further than these Blondie Brownie Kabobs. Pair these Enjoy Life Foods Chewy Bars with some fresh fruit and you are on your way!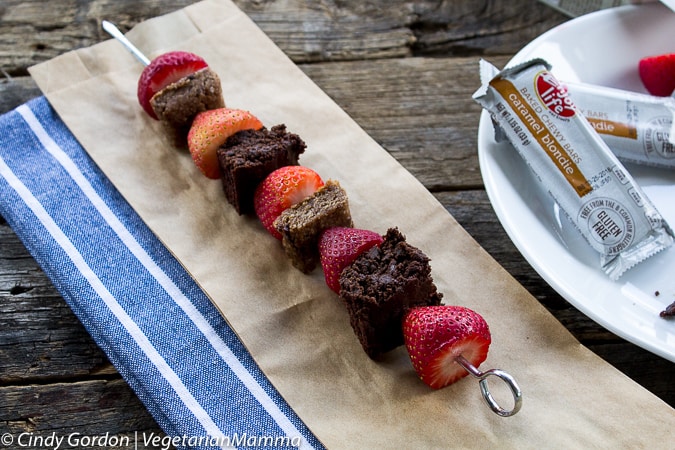 I bet you've heard the news! Enjoy Life Foods just released some amazing new Chewy Bar flavors! I can tell you that my family is in love!
There are full recipes, being created everywhere! My friend Brianna at Flippin Delicious created a No Bake Millionaire Bar using the chew bars!
My friend Chrystal at Gluten Free Palate shared about her experience with the Chewy Bars and gave some great ideas on how to use them! Catch her post, Baked Chewy Bars + Fun Ways to Use them.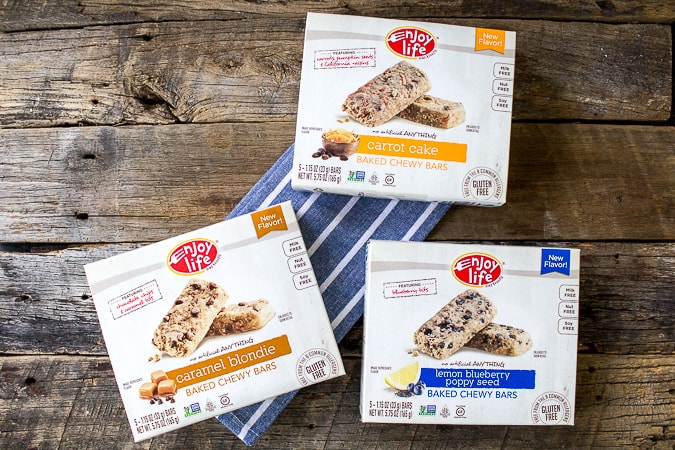 I am pretty excited about these new flavors of Chew Bars by Enjoy Life Foods. You might remember we mentioning that my son depended on his beloved Cocoa Loco bars for years.
With food allergies, sometimes you find something so delicious and you stick with it. That's what he did.
The entire family was excited to try these new flavors! We love Enjoy Life Foods because their products give us food freedom.
They are free from the most common allergens and they aren't filled with junk. We are so thankful so have such a great option!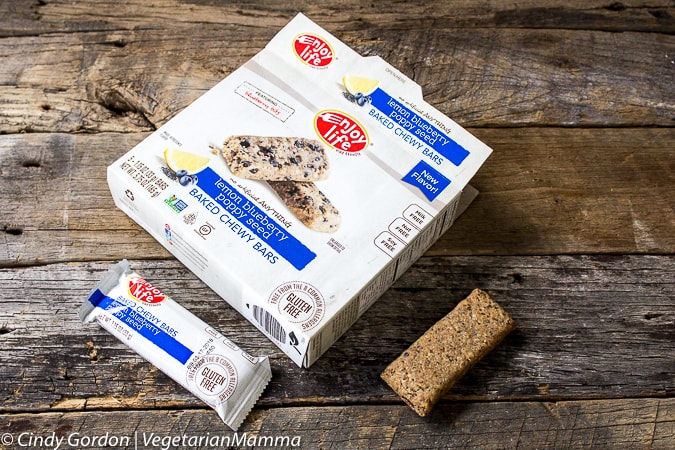 This right here is my favorite! I am in love with lemon blueberry poppy seed. It is so light and delicious! However, I do have a close second favorite!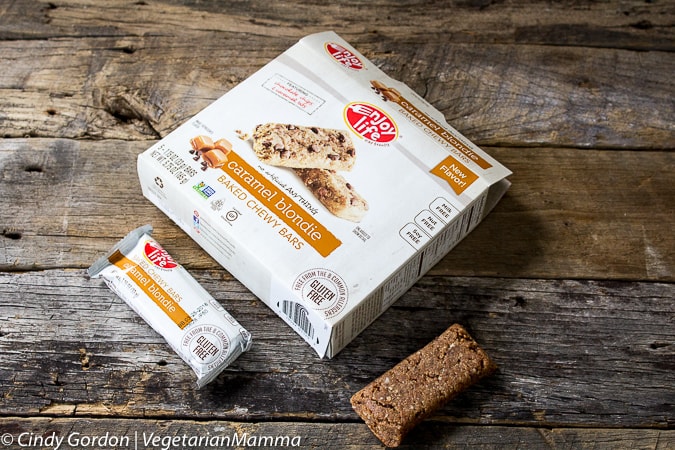 You guessed it, the Caramel Blondie is my second favorite. Its almost a tie, really. I love them all! We used these for our Blondie Brownie Kabobs snack idea! You'll catch that below!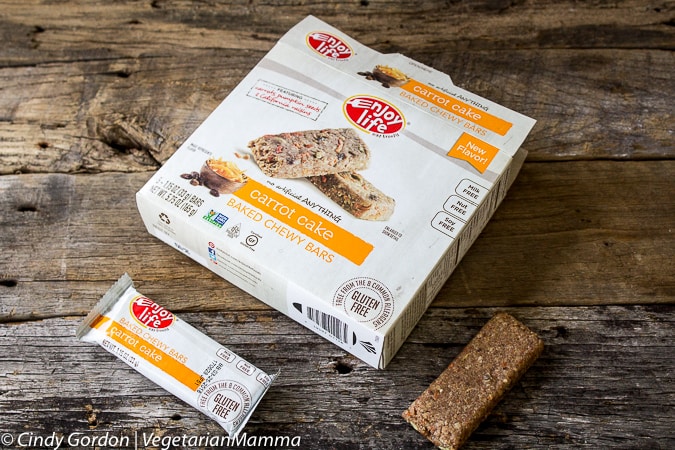 My husband is a BIG fan of carrot cake. He loved these carrot cake baked chew bars. My husband begged to take all three flavors to work for his coworkers to sample during a meeting.
All of the coworkers that tried them, liked them! See anybody can enjoy these!
Incase you are ready to buy them now, here is a discount code for you.
New Product Alert! 20 (%) with code: CHEWYBLOG
Get them here: http://bit.ly/2ugIH5O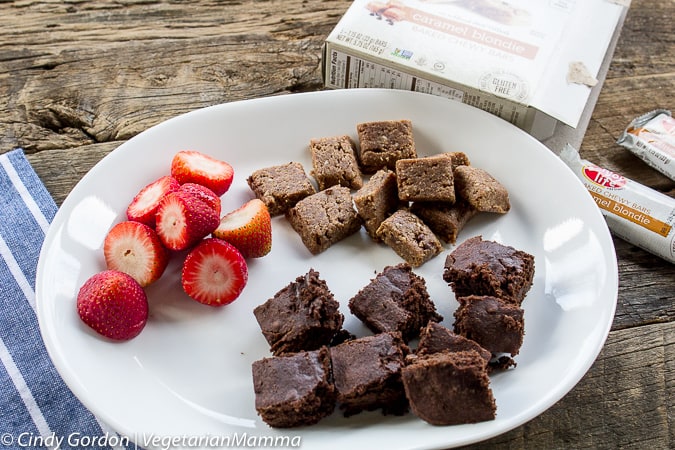 So for these Blondie brownie Kabobs, we used the Blondie Baked Chewy Bars from Enjoy Life Foods. We also used the Enjoy Life Foods Brownie Mix.
Our fruit of choice was strawberries, but you could easily sub in or add blueberries too!
I made these for the kids "after school snack" last week. It was a surprise for them! They were so excited and asked that THEY help construct them next time!
So looking back, it would be a very fun activity to do with your kids!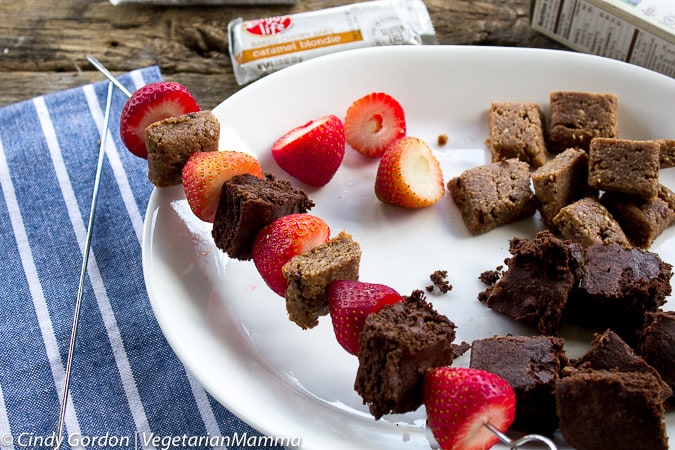 To construct your Blondie Brownie Kabobs, you will need cut each Blondie Bar into three segments. Then cut your cooled gluten-free brownies into the same size pieces.
Remove the greens from your strawberries and you are good to go!
For our Blondie Brownie Kabobs, we started with a strawberry, then brownie, then strawberry, then blondie piece and repeated the sequence. That worked well for us!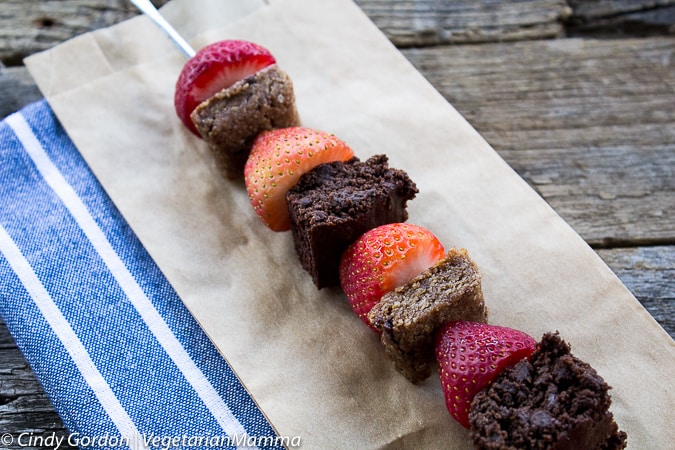 Pretty simple, I think you get the idea!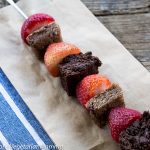 Blondie Brownie Kabobs - a fun snack idea
Ingredients
1

box of Blondie Chew Bars

Enjoy Life Foods Brownies

2

c

Strawberries

Skewers
Instructions
Take each blondie bar from the package and cut into thirds.

Bake brownies per directions on box and cool. You will cut up about 1/3 of the 8X8 pan into 1 inch pieces once the brownies are completely cooled.

Remove the green tops off the strawberries.

Gently thread the fruit, blondie bites and brownie bites onto the skewers. If a blondie or brownie peace starts to break, gently push it back together. It will hold.

Serve and enjoy!
Recipe Notes
You can also drizzle chocolate sauce over the Blondie Brownie Kabobs for extra yumminess!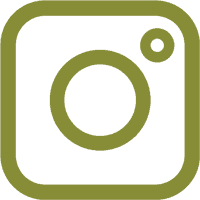 Did you make this recipe?
Be sure to snap a picture and post it to Instagram with the hashtag #VegetarianMamma! I love seeing our recipes being recreated!
Looking for more gluten-free recipes? Especially ones that use Enjoy Life Food products? Check out these recipes: Loaded Plentils Nachos, Creamy Corn Soup, Gluten-Free Fudgy Brownies, Gluten-Free Brownie Trifle and Gluten Free Cinnamon Roll Muffins.


Thank you to Enjoy Life Foods for sponsoring this post!
---
Let's talk! Which of the new Chewy Bar flavors are you most interested in trying? Carrot Cake, Blondie or Lemon Blueberry? Leave me a comment.