Blueberry French Toast Casserole is a delightfully mouthwatering dish. This easy french toast casserole is perfect for brunch.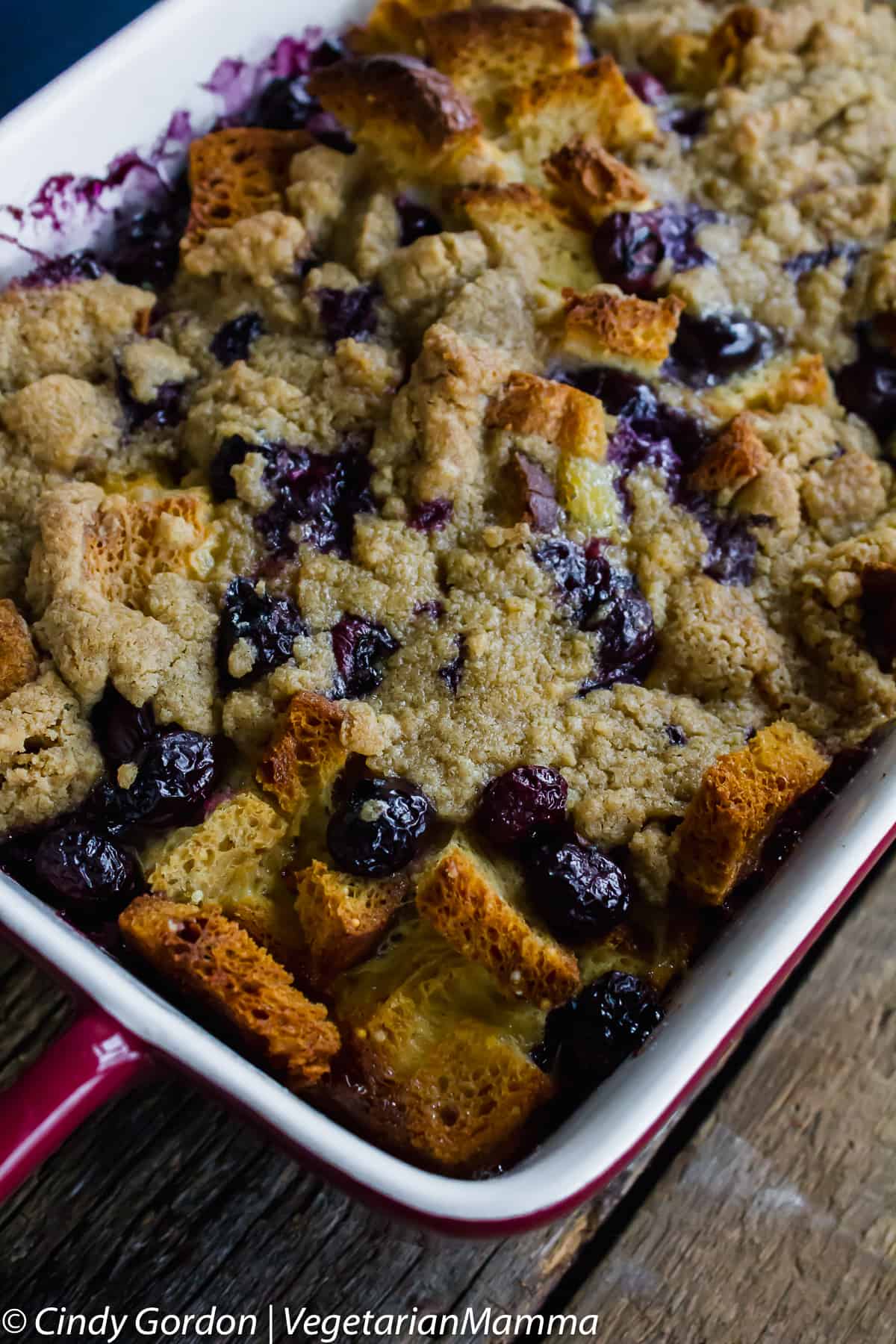 This recipe post is sponsored by Canyon Bakehouse. Opinions are my own.
Brunch is literally my favorite meal of the week. During our sporting "off seasons" we have some Saturdays and Sundays where we can actually sit down as a family and enjoy brunch.
Oh, I love those brunch days. My husband is a morning person, so he gets up early to roast and grind coffee beans to make fresh coffee. I just love waking up to that smell!
Then he starts brunch prep. This varies at our house from eggs, hash browns, breakfast potatoes, quiche, french toast, pancakes and more.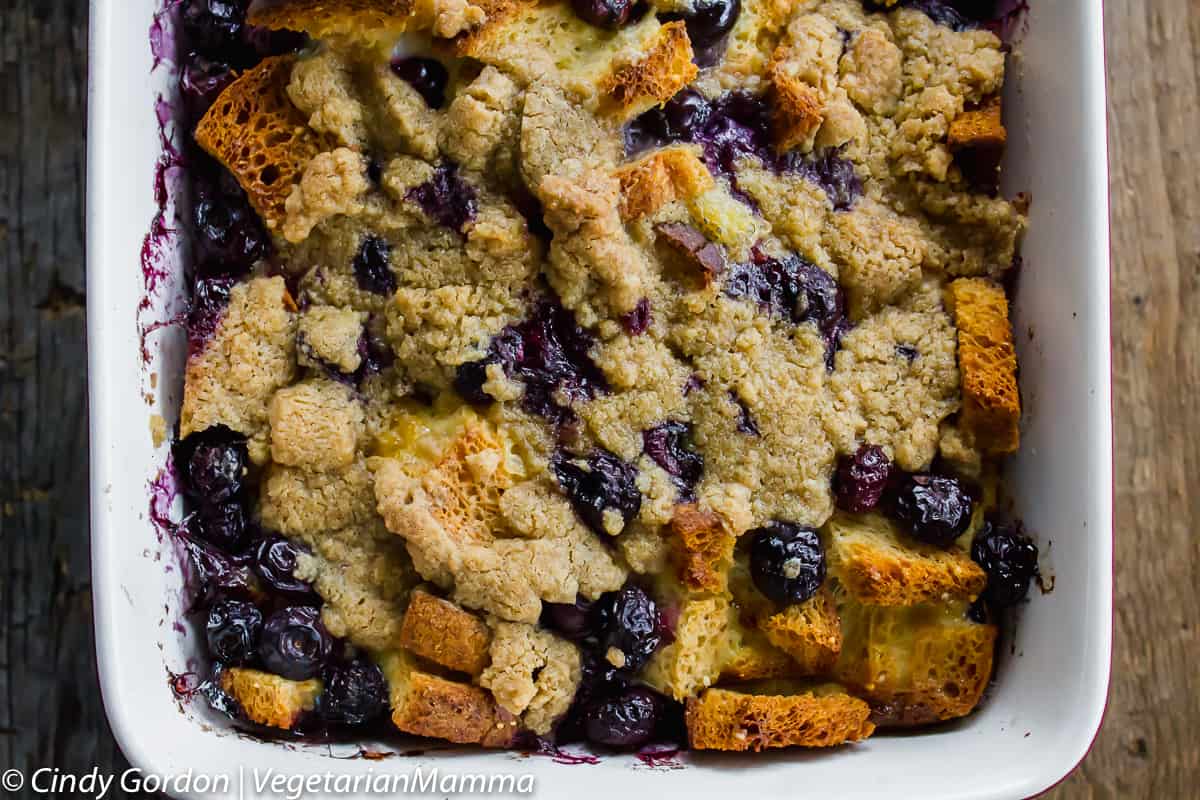 Recently, we have all been hungry for french toast. So we worked to create this easy blueberry french toast casserole.
Who is hungry?
We all love a good casserole around here. Those dump and go type of meals make life easier sometimes. This french toast casserole does not disappoint!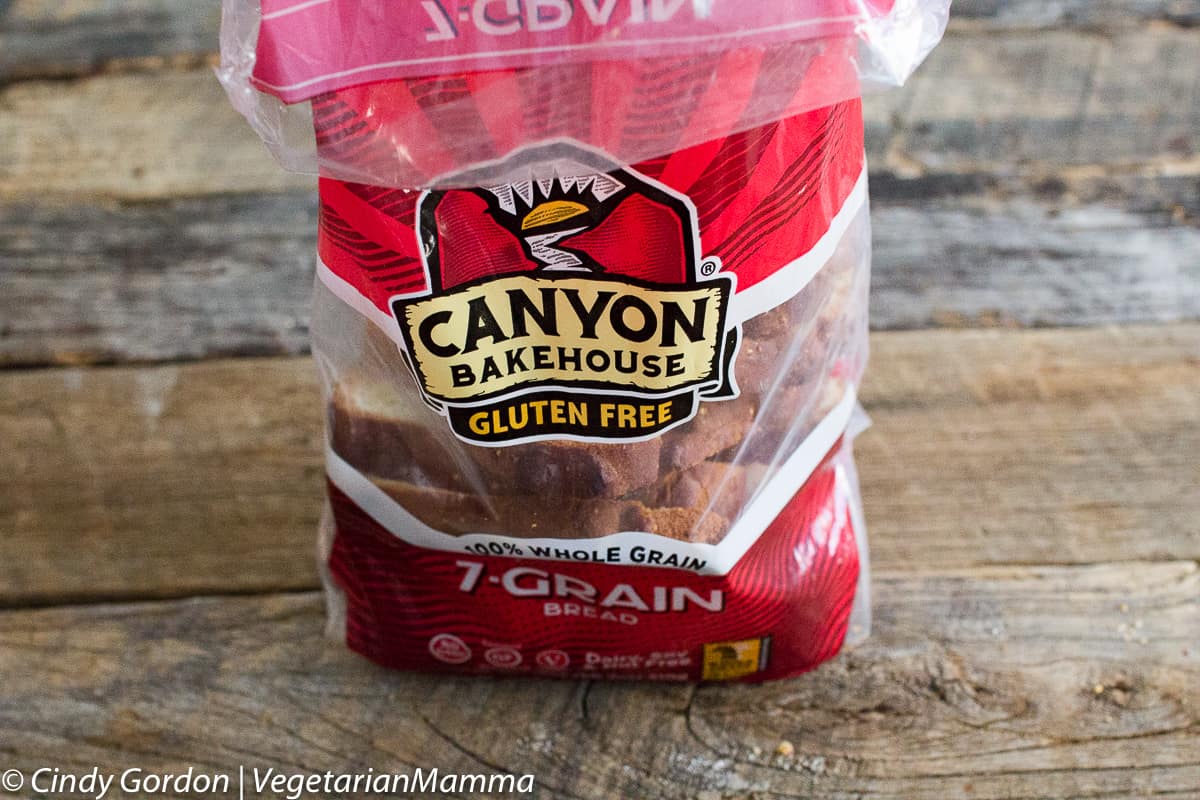 The ingredients in this blueberry french toast casserole are very simple. We are talking about bread, eggs, milk and blueberries. Those are the basics.
For this french toast casserole we choose to use Canyon Bakehouse Gluten Free 7-Grain Bread. This bread is made with ancient grains including quinoa, teff and amaranth.  It will certainly make you Love Bread Again®.
The bread is certified gluten-free, Kosher and free from dairy, all nuts and soy!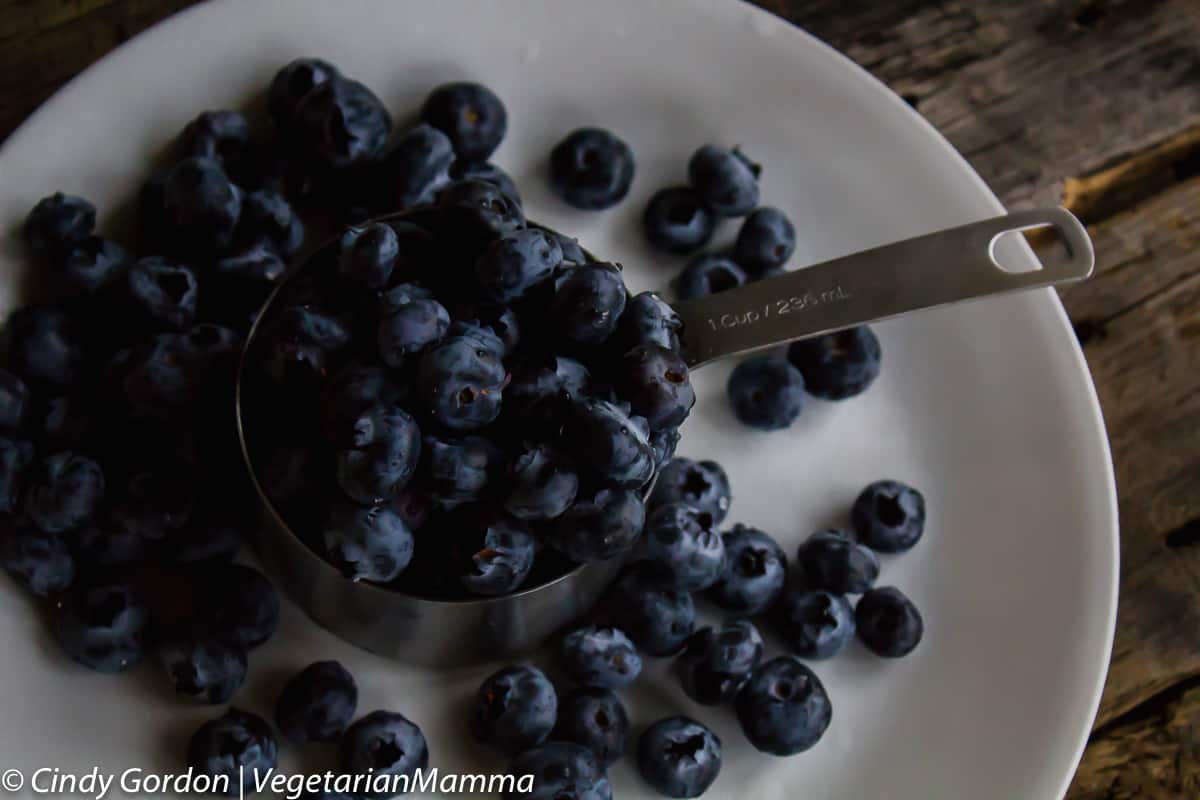 Blueberries are another huge component to this blueberry french toast casserole. You might be asking yourself:
What do blueberries do to help your body? That's a great question! Blueberries are valued for their high levels of antioxidants!
Is it healthy to eat blueberries every day? OR Can a person eat too many blueberries?  Well, I am not a nutritionist but I think that everything in moderation is a good rule!
Are blueberries a superfood? I hit up google for that answer and it seems to be a YES!
Hello Blueberries!
We have basically covered the blueberry frontier and they seem to be not only tasty but good for us. Let's be sure to add in two cups to our blueberry french toast casserole!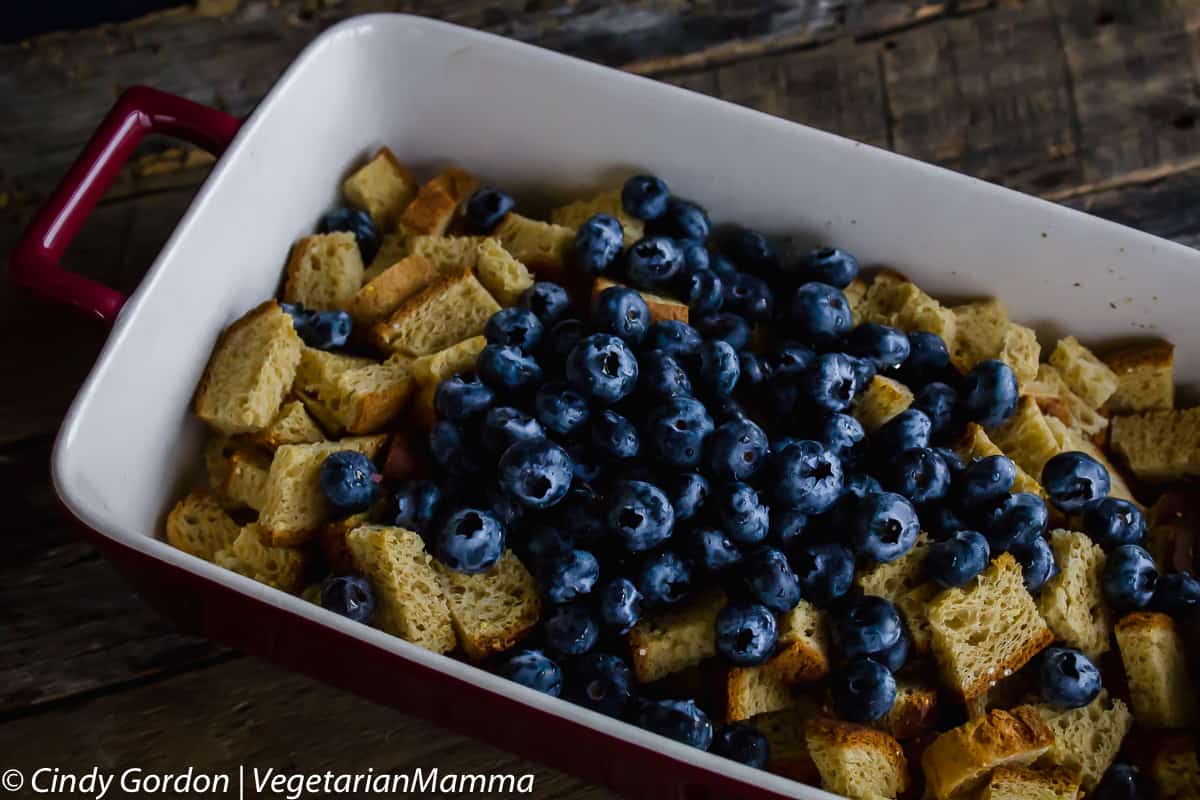 So we have a great start to our Blueberry French Toast Casserole. We have our base of gluten-free bread and we have our delicious blueberries!
Next up, is some liquid magic!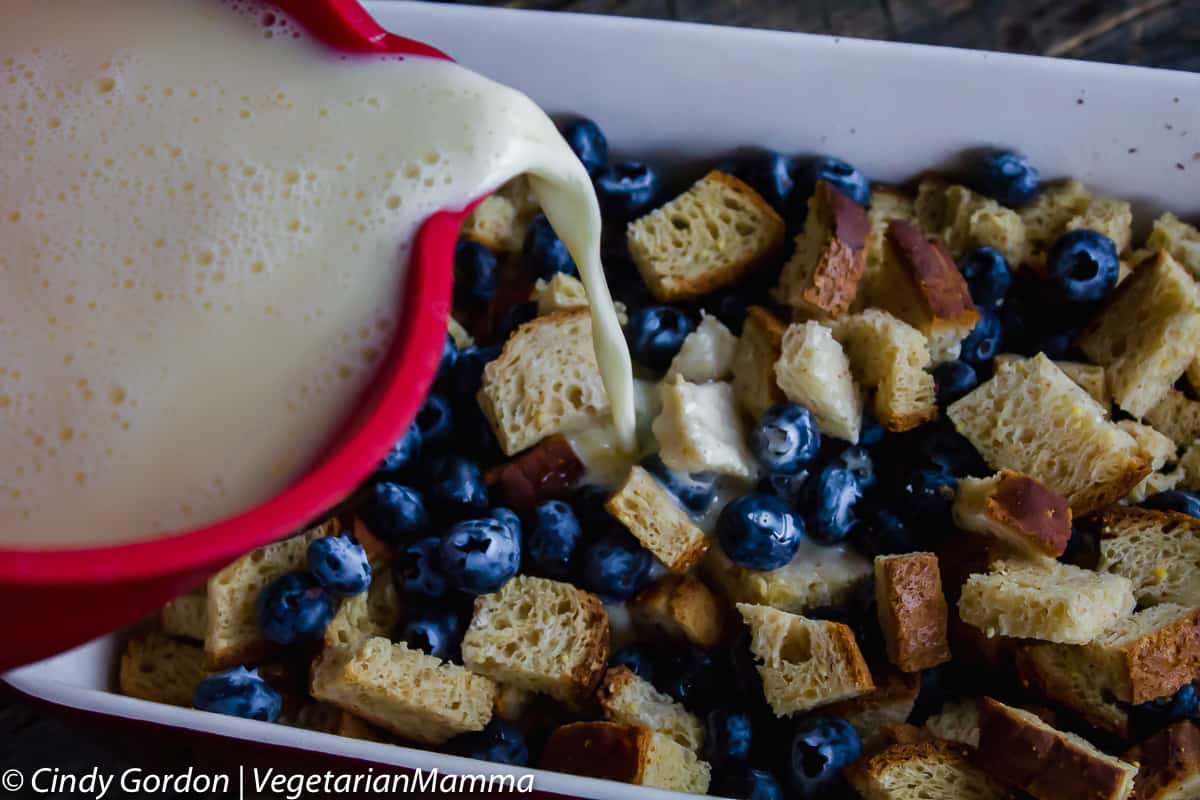 Liquid magic is the binder to our blueberry french toast casserole.  We have some milk and eggs whisked together.
I used dairy milk there, but you can also sub in a dairy-free milk.  No sub for the eggs. Just pour the mixture right on top of the bread and blueberry mixture.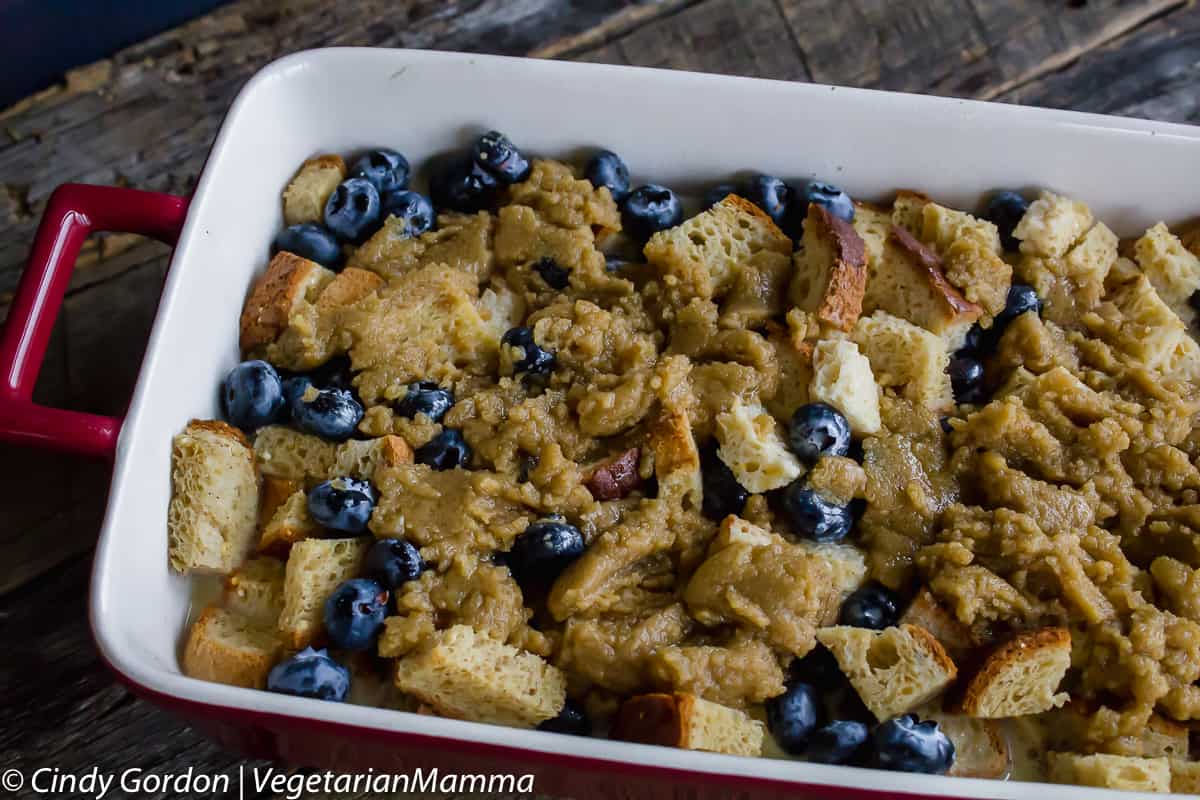 Now it is time to make the topping. I consider this a 'wet crumble'.  You are going to mix gluten-free flour, brown sugar, cinnamon and some butter.
Once you have all those ingredients mixed, you are going to gently spread the mixture on top of the casserole It is time to bake this blueberry french toast casserole!
Let's talk blueberry syrup!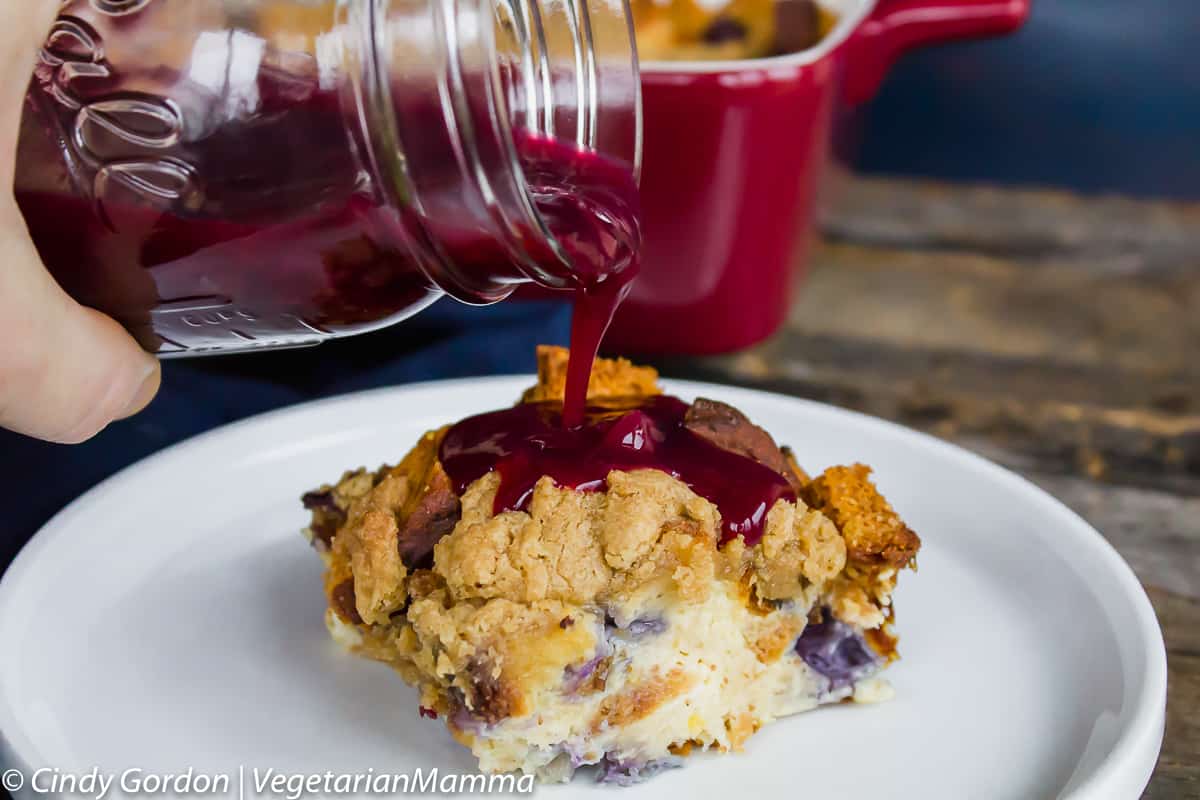 This simple blueberry syrup is a HUGE part of the tastiness in this recipe! While your blueberry french toast casserole is baking in the oven, you are going to prepare the blueberry syrup.
Let's get saucy!
It is simple; you will boil some blueberries and water together. Then in a small bowl you will combine some cornstarch and some water. Mix that combination well and add it to the water and blueberries to thicken.
I prefer my sauce not too thick. That is just a preference. You can adjust the sauce thickness to your liking!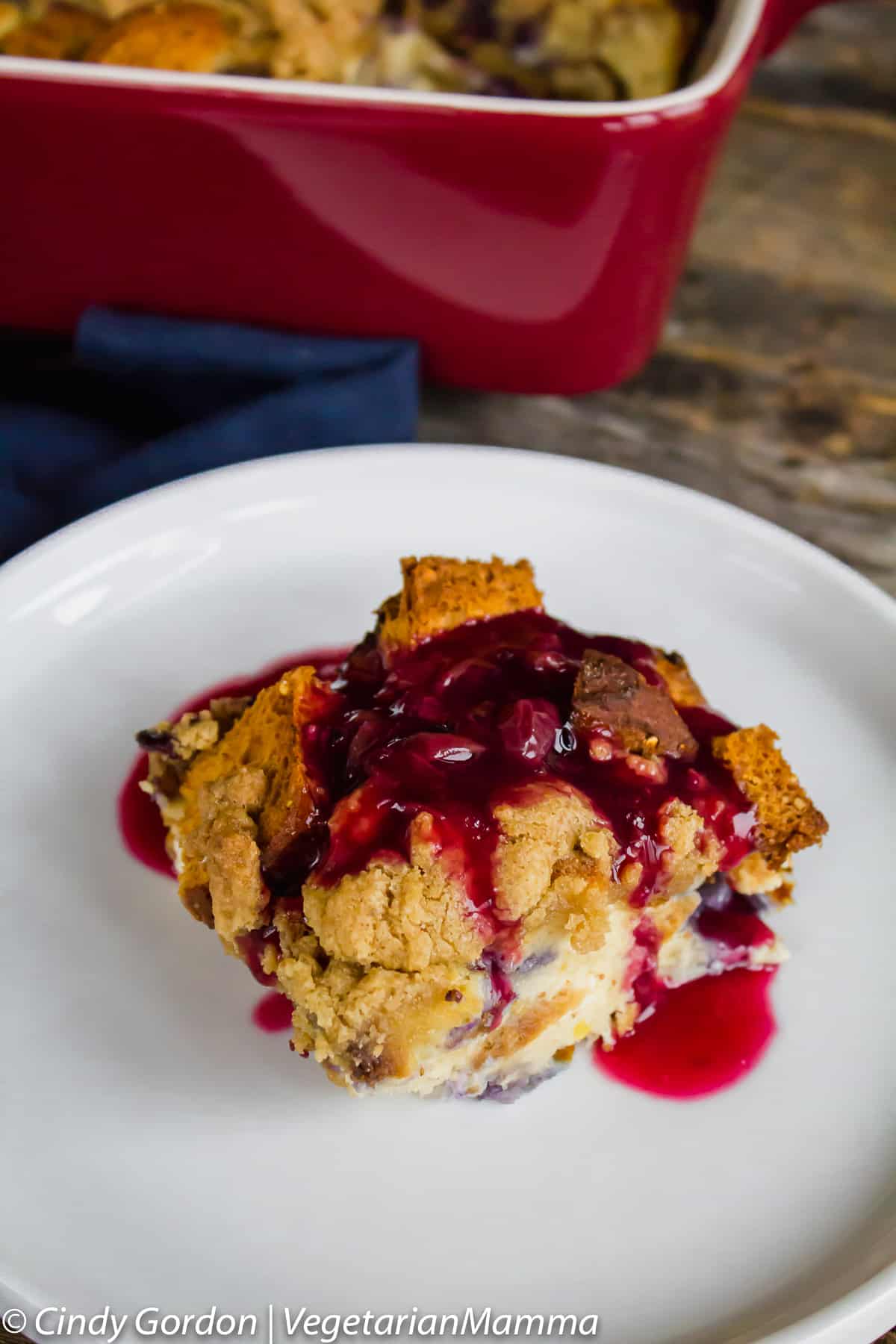 I am seriously drooling again over this pictures as I type this post for you. I am pretty sure that you will have a new favorite on your hands!
My friend Margaret from MI Gluten Free Gal also loves Blueberry French Toast Casserole. She even has a recipe on her site for french toast casserole too! She used the Heritage Loaf bread from Canyon Bakehouse for her recipe.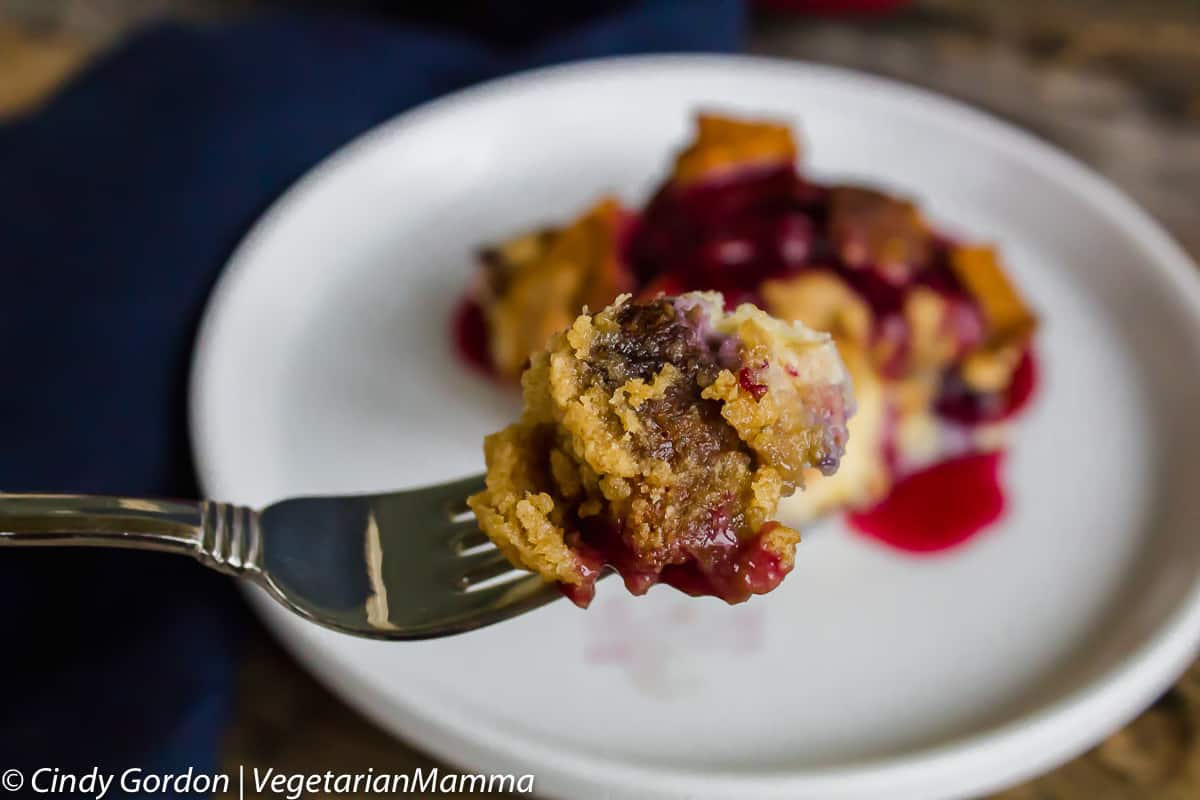 When I made the blueberry syrup for this french toast casserole, I did not add any additional sugar.
I let the sweetness from the blueberries take over. If your blueberries are tart or you just love a sweeter taste, you can certainly adjust the recipe and add in some sugar.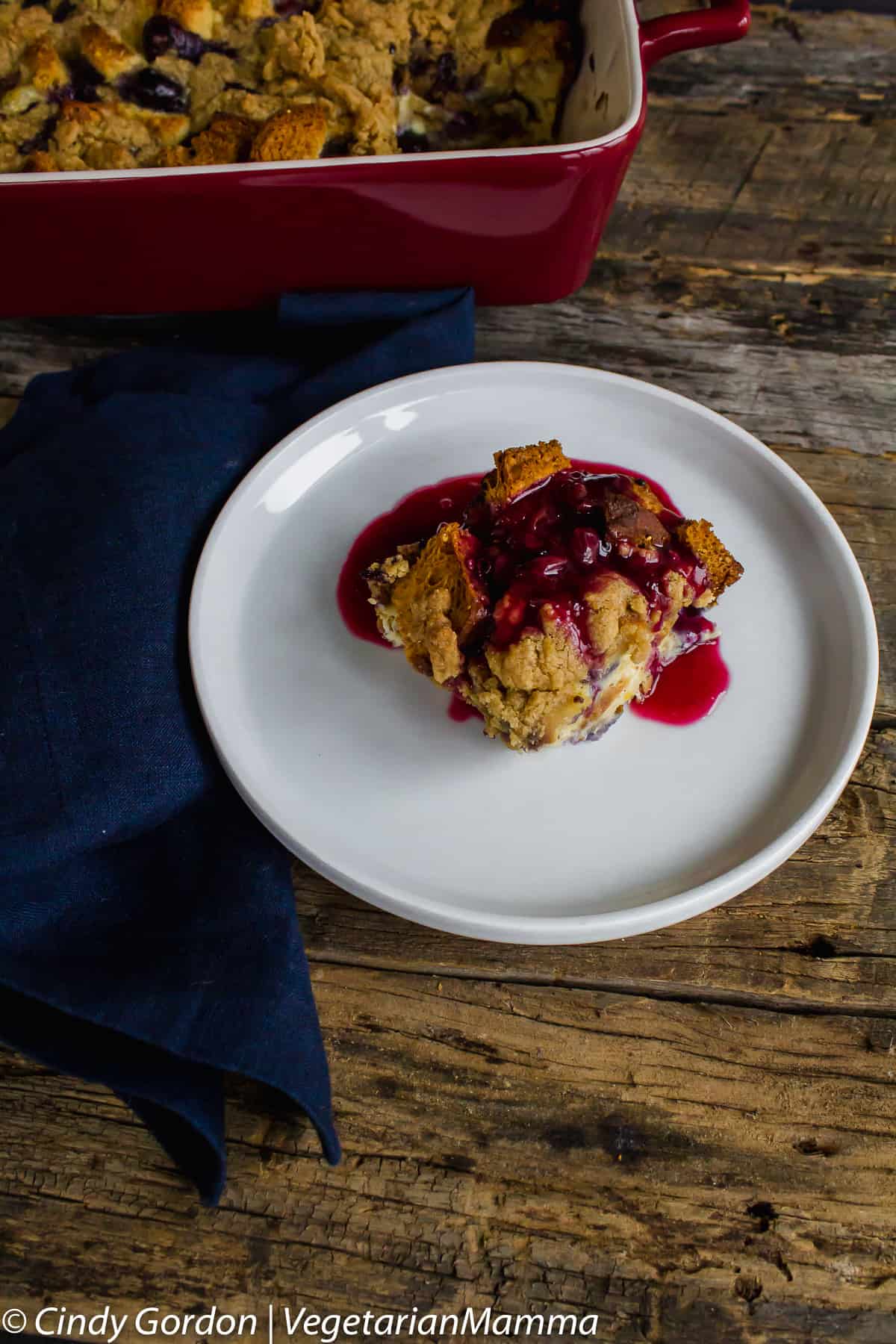 You can also use maple syrup on this Blueberry French Toast Casserole. Just enjoy the blueberry flavor from the actual french toast casserole, but omit the blueberry syrup.
To syrup or not to syrup? That is your choice!
I have one child that just likes it plain. No blueberry syrup, no maple syrup.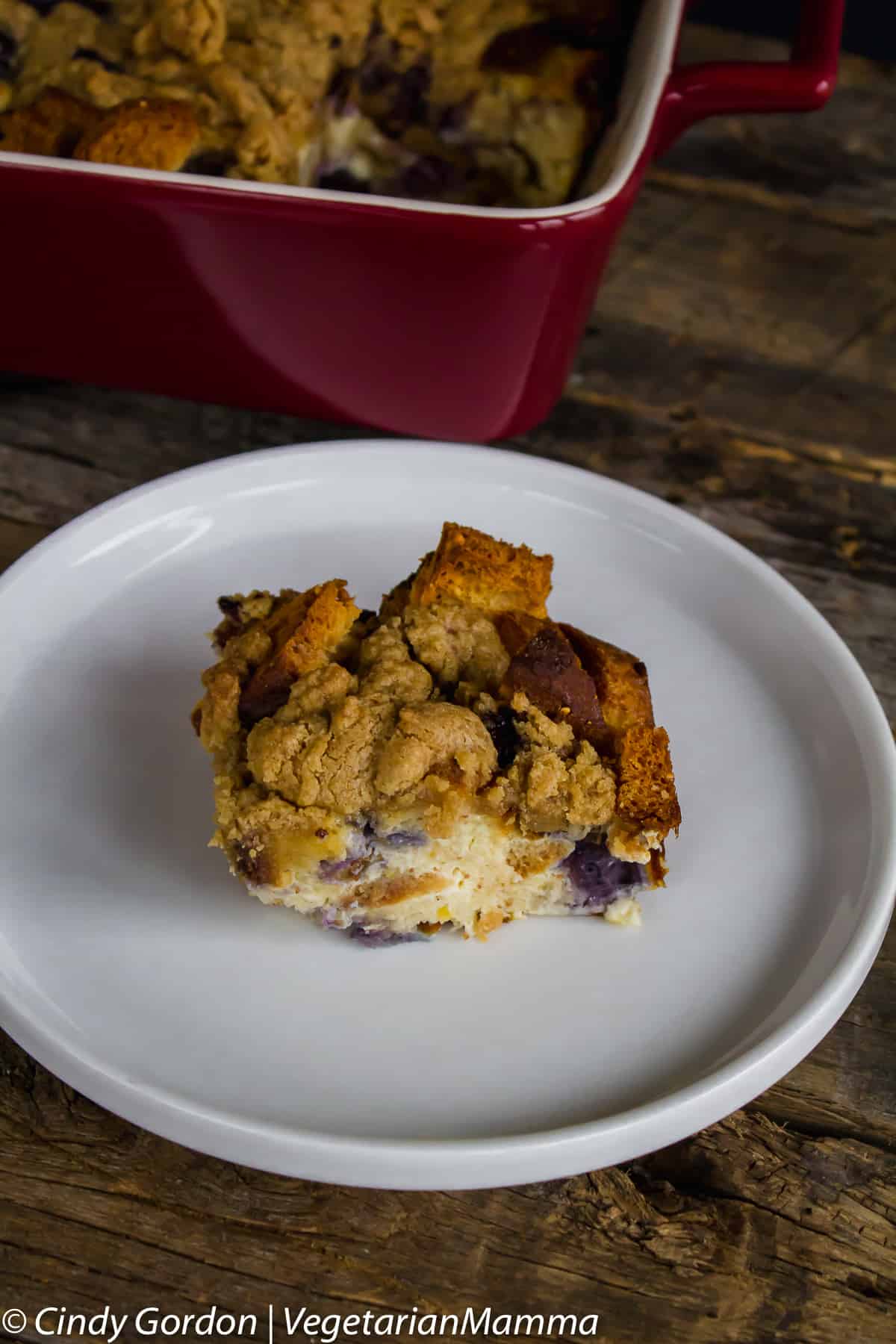 Whatever works for you, works for me.  Make this your own. Top it how you want it!
Oh, the best part is that IF you do have leftovers, it does reheat well. So make this blueberry french toast casserole on Saturday and eat it again on Sunday!
Now that is what I call a winning recipe!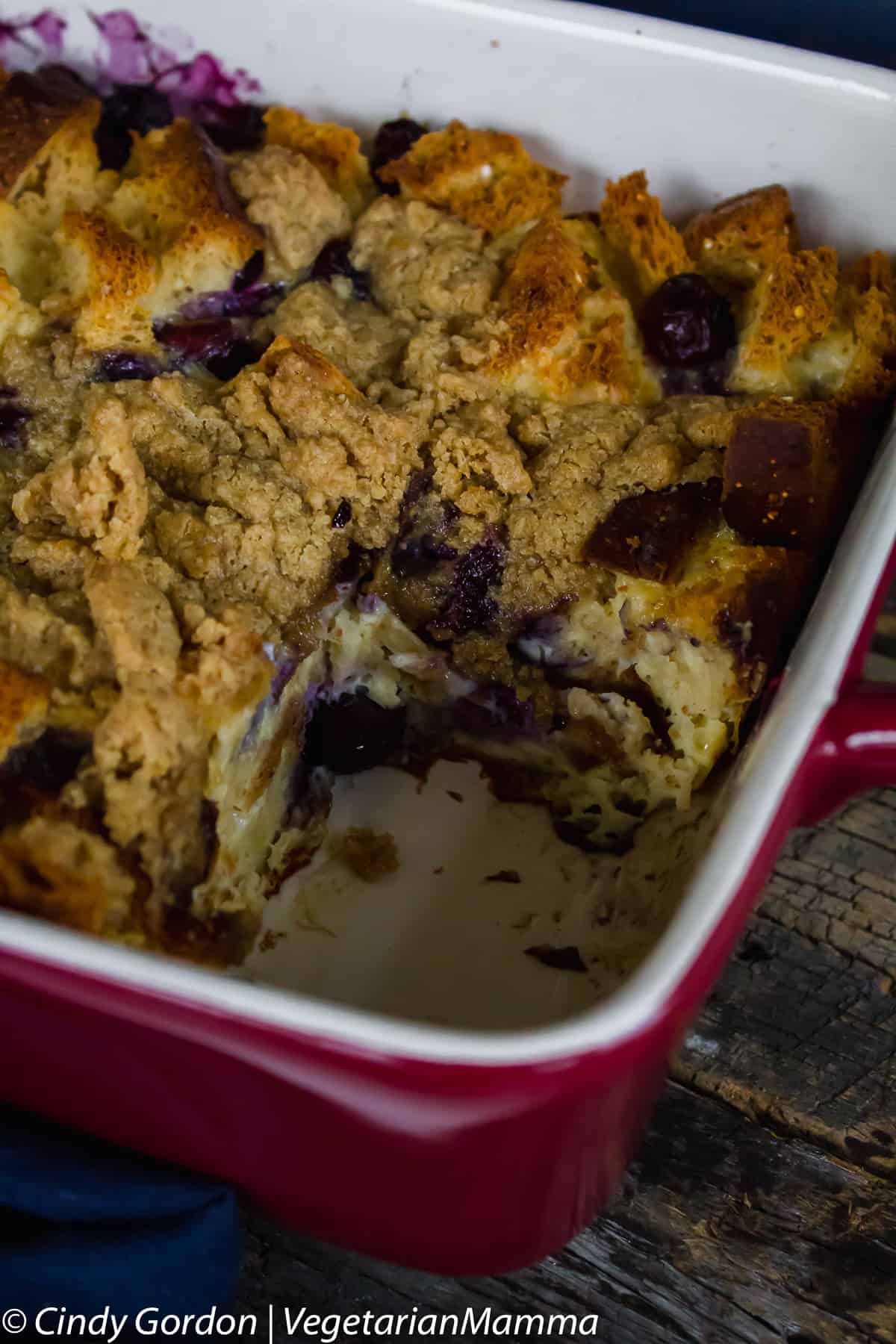 Ready for the recipe?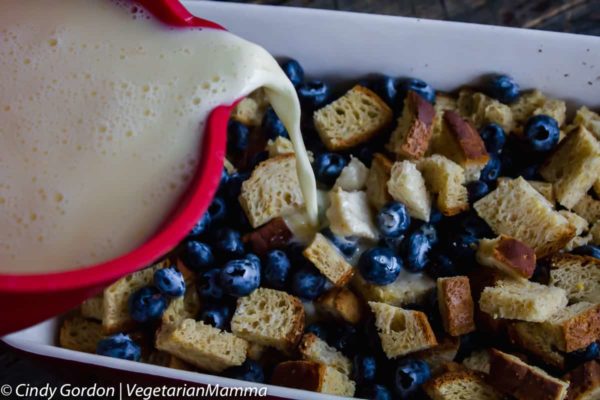 French Toast Casserole Mixture
| | |
| --- | --- |
| French Toast Casserole Mixture | |
Blueberry French Toast Casserole
Preheat the oven to 350 degrees F. Bake diced gluten-free bread cubes for 12 minutes. Place your bread cubes into an oiled 9X13 baking dish.

Mix blueberries with bread cubes.

In a medium bowl, whisk 8 eggs and milk. Whisk until smooth and pour over bread crumbs and blueberry mixture.

With a fork combine flour, sugar, cinnamon and butter. Mash with a fork to create a wet crumble style topping and place on bread/apple mixture.

Bake casserole for 50-55 minutes in a 350 degree F oven.
In a small sauce pan mixture blueberries and 1/2 cup of water. Bring to a boil.

In a small bowl, whisk together cornstarch and remaining water. Add mixture to sauce pan.

Stir/whisk well until blended. Remove from heat when sauce reaches YOUR desired thickness.

Top your blueberry french toast casserole with the blueberry syrup and ENJOY!
This recipe reheats well!
What a delicious and easy recipe for blueberry french toast casserole. You might have been searching for blueberry french toast casserole taste of home, blueberry baked french toast pioneer woman or easy blueberry french toast and ended up here. Regardless of what you searched for on google, I am glad you made it here!
If you are looking for more allergy friendly breakfast or brunch recipes, check out Tofu Scramble Breakfast Burritos, Leek and Pepper Breakfast Casserole, Raspberry Breakfast Casserole, or Chocolate Chip Coffee Cake.
Let's talk!
Leave me a comment below telling me if you have ever made a french toast casserole? Did you make it with blueberries? Or maybe just cinnamon? Let me know, I can't wait to hear!
So Canyon Bakehouse is pretty amazing, they are letting us giveaway some bread to THREE winners AND their friends. Enter below: