Looking for a delicious fruit topping for your pancakes or waffles? Try this blueberry pineapple compote recipe!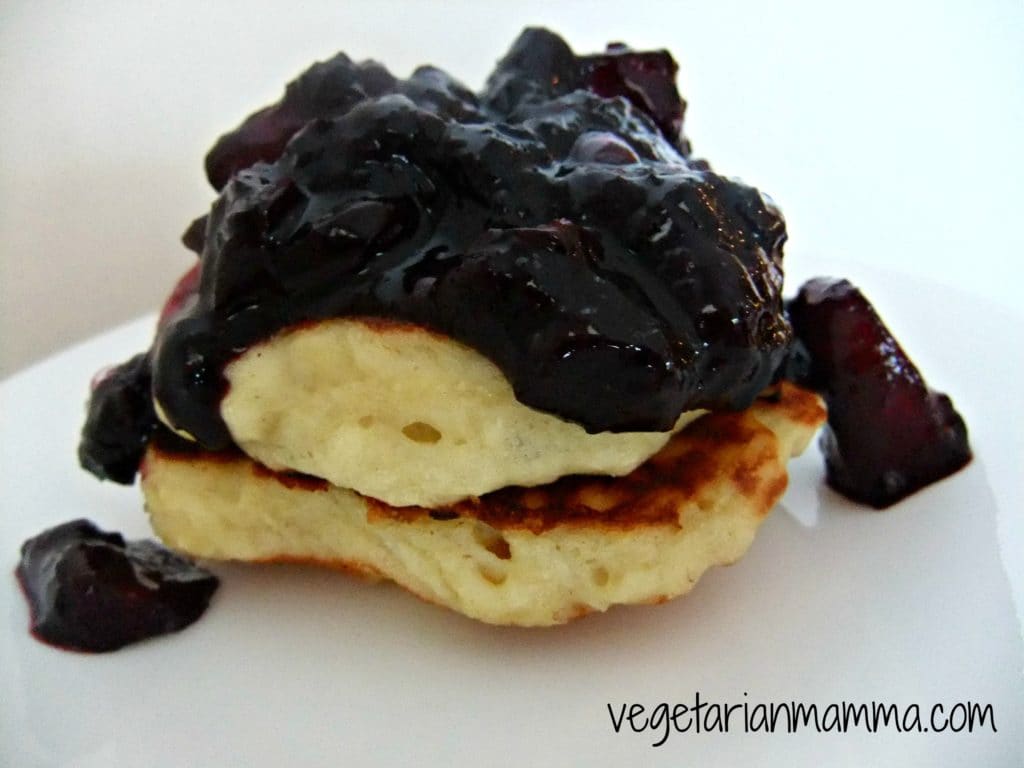 This week, I made some yummy gluten free pancakes. Instead of maple syrup, I wanted to add a compote! We had some blueberry and pineapple in our house so I began to create! The results were amazing! We loved this Blueberry Pineapple Compote. Next time you make pancakes, try making this fruit reduction to top your pancakes with! Serving fruit compote with breakfast is a welcome change from the typical sweet syrup we're used to. Even my kids loved it!
Blueberry Pineapple Compote
What exactly is a compote?
A compote generally refers to a mixture of chopped fruit cooked in syrup with or without spices or herbs and sugars. It is sometimes preserved, but in our modern times generally served fresh, and can be enjoyed either hot or cold.
This recipe was amazing served warm over gluten free pancakes. I enjoyed the leftovers cold from the fridge – with a spoon!
Try compote over vanilla ice cream too – you won't regret that decision at all. Compote and ice cream are meant to be together.
How to Enjoy Blueberry Pineapple Compote:
Cold, mixed with yogurt.

Topped with granola and yogurt

Over vanilla or coconut ice cream

With a bundt or pound cake

Topping waffles, pancakes, or french toast

Mixed in with oatmeal.
Or any other way you can imagine!
Do I have to use fresh blueberries and pineapple in compote?
If you can only get frozen, use frozen – but if it's at all possible to use fresh fruit, please do for this recipe. If you are lucky enough to have blueberry season where you live, using fresh local fruit would be amazing too, but totally not required. Frozen fruit can sometimes give off more juice than is necessary for this recipe. Drain some off if it doesn't seem thick enough.
What's the difference between compote and jam?
Jam and compote are very similar, but while jam is cooked to thicken and reduce to be slightly firm for jarring, a compote is thinner and designed to be served as a sauce or topping.
The Simple Blueberry Pineapple Compote Recipe
This recipe only has four ingredients!
Sugar
Water
Blueberries
Pineapple
That's it! You need absolutely nothing else to make this delicious fruit topping. You could whip this up right now without buying any fancy ingredients.
What might be delicious in this recipe though, is a bit of lemon zest, or a tiny splash of good vanilla extract. Play around with it and see what tastes good to you, or just make it like I did – 4 ingredients to amazing fruit compote!
Get the Recipe for Blueberry Pineapple Compote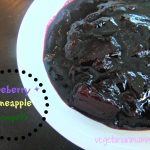 Print Recipe
Blueberry Pineapple Compote – #glutenfree #vegan
Looking for a delicious fruit topping for your pancakes or waffles? Try this blueberry pineapple compote recipe!
Instructions
Combine all ingredients in a saucepan over low heat.

Stir for about 15 minutes or until sauce has cooked down and thickened.

Serve warm over pancakes!

ENJOY!
Nutrition
Calories:
100
kcal
|
Carbohydrates:
25
g
|
Sodium:
1
mg
|
Potassium:
79
mg
|
Fiber:
2
g
|
Sugar:
21
g
|
Vitamin A:
40
IU
|
Vitamin C:
17
mg
|
Calcium:
7
mg
|
Iron:
0.3
mg
Let's Talk! Let me know what you think about this recipe! Have you ever made compote before? What is your favorite pancake topping?