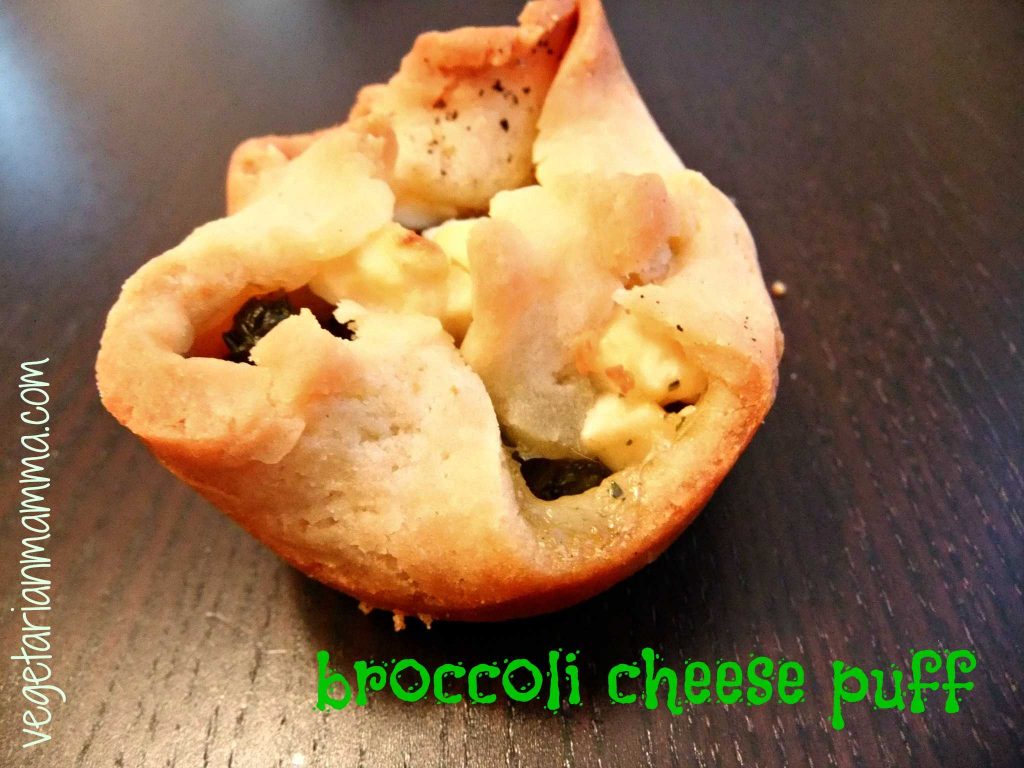 Back during our gluten days we used to buy these yummy broccoli nuggets.  They were basically a vegetarian version of a chicken nugget that used broccoli and a touch of cheese.  We loved those as a fast snack or meal.  We have not found any gluten free ones on the market yet.  We decided to tweak our puff recipe to try to recreate our long lost favorite! For the pastry dough part, I use one batch of Nicole Hunn's pie crust recipe.  She is simply amazing and makes baking gluten free painless! LOVE her.  For this recipe you will need one batch of this dough. (click here) I use Better Batter Flour (gf) and a non dairy butter in the dough recipe. The original recipe came from the November 2012 issue of Bon Appetit. We adapted the recipe to fit our dietary needs.
Broccoil Cheese Puff – #glutenfree #vegan
Serves:
12-15 muffin size puffs
You will need to steam or boil your broccoli first, before you put into the puff.
Ingredients
1 batch of pie crust "dough"
1 cup chopped broccoli (cooked)
½ cup cheese (non dairy or dairy) (I used Daiya Cheddar)
¼ cup finely chopped onion
½ T olive oil
Instructions
Prepare dough per instructions of link provided above.
Preheat over to 350 degrees F.
Prepare a muffin tin by lightly spraying muffin cups with oil.
Roll out 'dough' to approximately the thickness of a nickel. Cut into 3X3 squares. The size may vary slightly depending on your muffin tin.
Gently place/tuck each dough square into the oiled muffin tin. You will have extra dough on the top, you will fold this into the puff later.
Place broccoli, cheese, onion and oil into a bowl. Stir to combine.
Gently spoon mixture equally among puffs.
After mixture is divided among the puffs. Gently take any dough that is outside the muffin cup and fold it into the center of the puff.
Bake for 20-25 minutes or until golden brown.
Remove from oven, let rest in pan for 5 minutes. Then use a knife to gently loosen the edges of the puffs to remove from pan.
ENJOY!!