Meal Planning for GF Vegetarians – How to build a balanced vegetarian diet. With these few simple steps, you can easily build a balanced diet!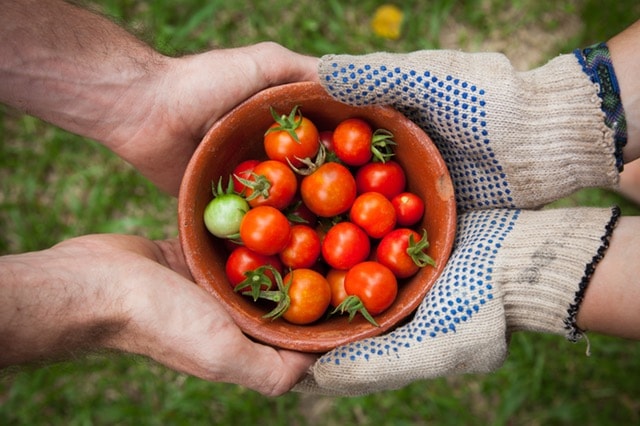 Some people think that you can't be vegetarian and gluten free. They're two separate ways of eating, and must remain so. Nope, not true!
It really isn't difficult to live a Vegetarian lifestyle and keep your diet gluten-free. You'll need to avoid certain foods, and you will still need to read labels for hidden animal products, like gelatin, as well as checking for gluten. But there are a wide variety of foods to choose from; just avoid the meat and gluten.
One of the main culprits for gluten in a vegetarian diet is many of the meat substitutes available for purchase or to make. Seitan is made from wheat gluten, and many of the prepackaged meat substitutes are seitan-based. In the grain department, wheat, barley and rye are off-limits as they contain gluten.
Even though it seems like your choices are limited, there are many other grains and seeds that will provide the nutrition your body needs, as well as leave you feeling full.
Below are the basic guidelines for a Vegetarian diet; this includes dairy and eggs. If you've eliminated the dairy and eggs, add another serving of nuts and seeds to your daily diet. This combination of food groups will provide more than adequate nutrition for the average adult.
Grains – Five to seven servings per day. A serving is one slice of bread, ½ cup cooked rice, oats, or other grains; ½ cup cooked pasta, etc. Eliminating gluten does not eliminate grain from your diet; if you've been eating gluten-free for any length of time, you already have a good idea of what grains you like. But here's where you can experiment with new grains, like quinoa, which is gluten free and very high in protein (it rivals meat and soy for protein content). Starches also fall into the grain category, like potatoes and yams. Avoid all grains containing gluten, like wheat, barley and rye.
Soy and Beans/Legumes – Three to four servings per day. Soy is a great source of protein, and the combination of beans and grains will provide all the necessary amino acids to make complete proteins for your diet. Dried peas, pinto beans, black beans, etc. all are included in this group. A serving size is about one half cup of cooked beans.
Nuts and seeds– Two servings per day. Nuts also help in supplying necessary amino acids. Peanuts and peanut butter, almonds, cashews, walnuts, etc. can provide necessary nutrition for your daily needs. A serving is one ounce of nuts, or two tablespoons of peanut, or other nut, butter, or about one-quarter cup of whole or chopped nuts.
Fruits – Three to four servings per day. Try to eat whole fruits, not just juices, as many nutrients are found just under the skin. Apples, bananas, pears, berries, watermelon, and any other fruit you can think of can be included in your diet. Serving size is one-quarter cup of dried fruit, three-quarters cup of juice, or one cup of raw fruit.
Vegetables – Six to eight servings per day. A serving size is three-quarters cup vegetable juice, one cup of leafy vegetables, or one-half cup raw or cooked vegetables. Try to include a wide variety of types and colors of vegetables in your diet. Salads with lots of dark or colorful leafy greens are good, as long as they aren't swimming in a heavy dressing.
The above daily requirements provide around 1800 calories per day, and may be adjusted if you need more energy for your lifestyle. It provides balanced and complete nutrition, meeting the average adult's needs. If you're eating eggs and dairy, include eggs every other day, and dairy once per day.
The hardest part in beginning a Vegetarian diet is eliminating certain foods from your diet, whether it's meat, gluten, or something else.
Vegetarian diets take a small bit of planning, only because you can't run down to the local fast-food place and have a meal. By having some of the meal components already prepared, though, you can make meals quickly and easily.
---
Looking for some meal ideas? We have plenty of good main dishes, side dishes and dessert recipes!
Be sure to check out our other articles in this vegetarian series: Types of Vegetarians, Myths of a Vegetarian Diet, Building a Balanced Vegetarian Diet and Vegetarian Recipes to Get you started!
Let's talk! What do you include in your weekly meals and snacks to help make your food intake balanced? What are your tips? Leave me a comment and let me know!