Mornings can be quite hectic. Get in the habit of prepping at the start of the week, so you can easily prepare these Busy Morning Breakfast Eggs all week long.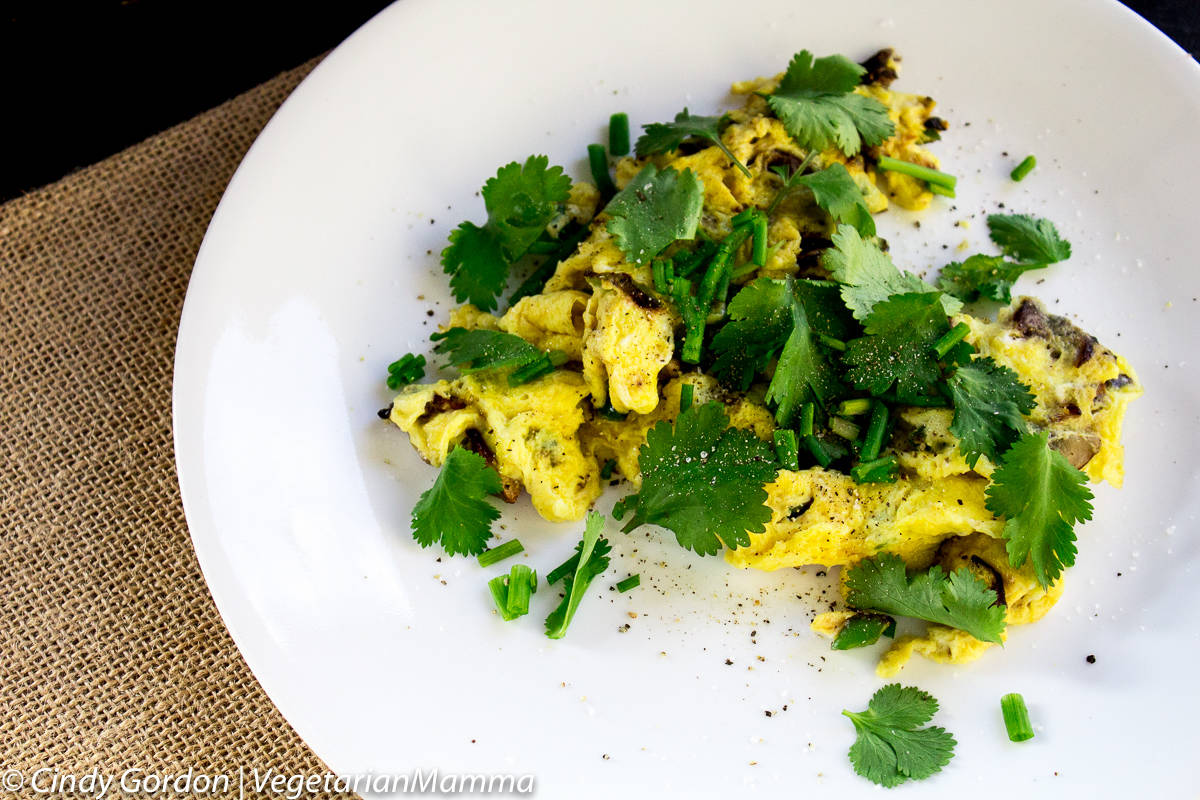 Busy Morning Breakfast Eggs – Morning Meal Made Simple
I am the first to admit that our morning schedule, especially during the school week is CRAZY. Yes, that deserved ALL CAPS. It can be nuts.
I usually forget about myself and put everyone else in my family first. My number one priority is to get them out the door.
I get my coffee, get the kids breakfast, pack lunches, get the kids off to school then I start into my day. Whoops, did I eat breakfast? Maybe, maybe not…by the time I slow down, I honestly can't even remember.
But for the most part, the answer is no. I often forget about myself. I don't do it on purpose, it just seems to happen! I recently found that if I prep some breakfast goodies at the start of my week I am more adapt to actually eat breakfast.
The words that my teachers used to say when I was younger about prepping helps being preparing are now coming back to haunt me as I get older…but alas, they were right. (Don't tell them I said that.)
And just between you and me? I like being prepared ahead of time because it makes the morning hustle and bustle just a little less crazy.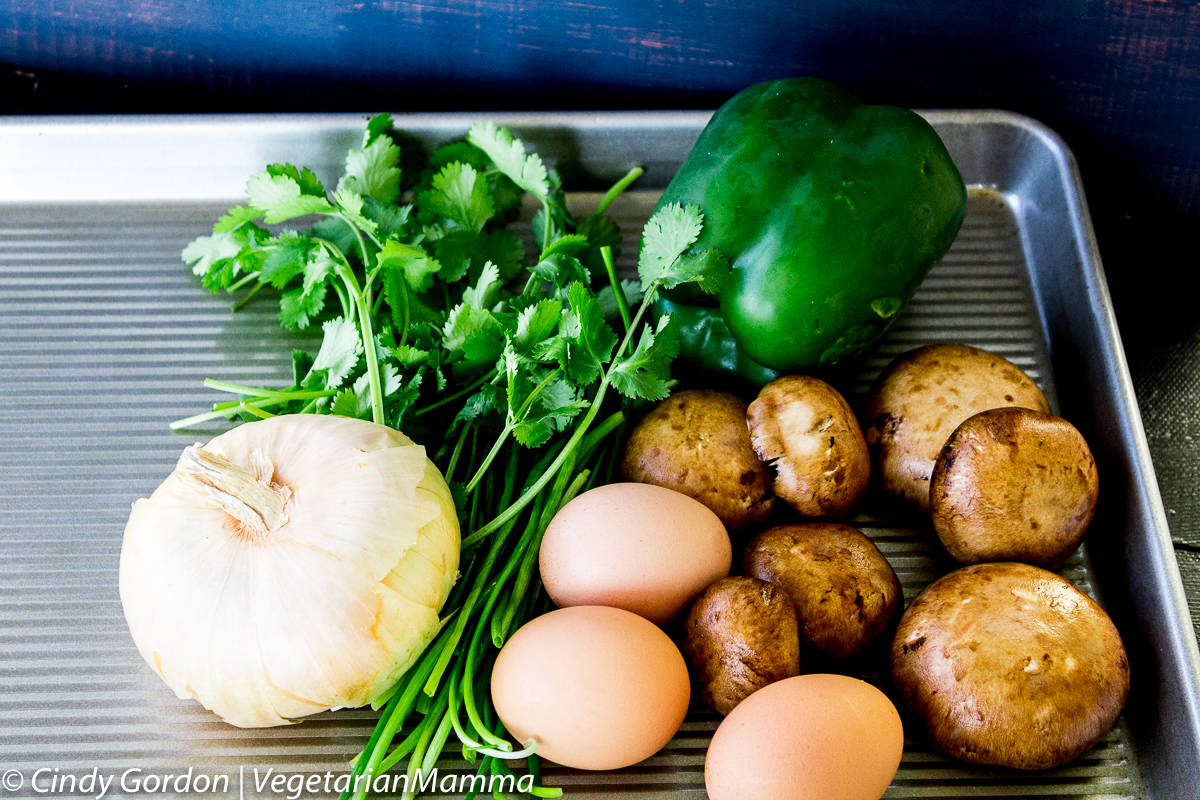 What do Vegetarians Eat For Breakfast?
I actually get asked this quite a bit. And honestly, it still makes me chuckle. Vegetarian breakfast meals are similar to what everyone eats for breakfast, with just a few little variances.
Obviously no meat…and if you are dairy-free, no dairy of any kind either. Besides that, we eat whatever we feel like.
Some days, I run out of breakfast ideas and just eat anything that I can find, honestly. Almond milk and peanut butter make for a great high protein pick me up that I've come to love and enjoy. Other mornings, I'm only the struggle bus to even get a healthy breakfast in front of me.
Mom life, right?
I found that if I dice up some of my favorite vegetables and put them all into a container, I can easily scoop some out to make a scrambled egg plate for myself. And if you don't like eggs, do the same but make a tofu scramble.
Of course, I make sure that I have some fresh herbs to top my breakfast with. That is half the flavor! Fresh herbs bring a TON of flavor to your plate.
I package the herbs and the veggies apart from each other.
Keep in mind that breakfast doesn't have to be anything elaborate. Seriously, as long as you are getting some good, key nutrients into your diet to start your day, you'll find that the remainder of your day will go smoother as well. And skipping breakfast? Always a bad idea!
Vegetarian breakfast meals – Good to the Last Bite
Being a vegetarian isn't always easy. In fact, I'd say it's harder being a vegetarian than not because I have to be aware of everything that it's in a recipe.
But honestly, since I became a vegetarian, I can't say I've missed out on anything from the past "food life". I love being able to eat season fresh veggies all year long for any meal and know, without a doubt, that I'm feeling my body with good nutrients and good energy.
And what I love most about being a vegetarian? Is that I'm showing my kiddos that it's a great way of life.
Making meals together as a family that fit our lifestyle and our eating habits isn't always easy, but we do always find ways to make it fun. And cooking together in the kitchen is what making memories is all about!
Do you LOVE breakfast like me? Check out these Paleo Pancakes from Noshtastic. I think you'll be in love!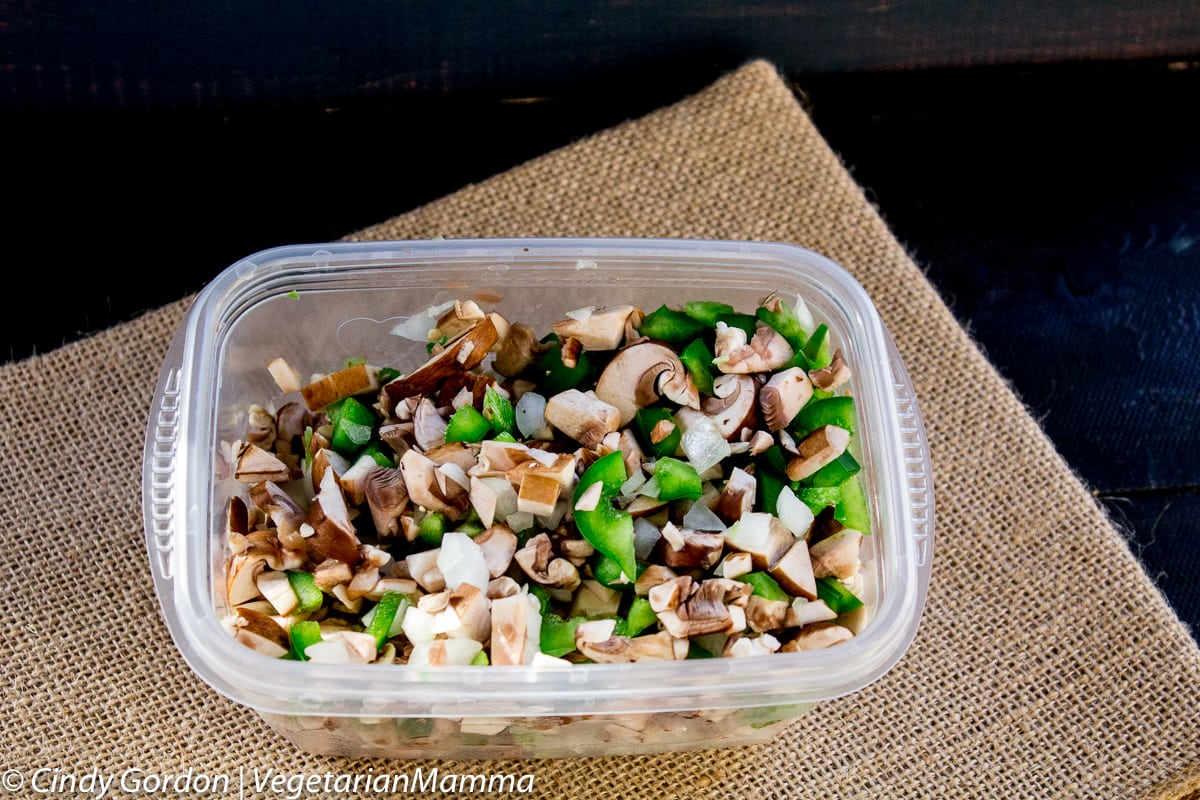 Busy Morning Breakfast Eggs – Simply Perfect
It doesn't get much easier than this! I heat some oil in a small skillet. Toss in 2-3 spoon fulls of my mixture. Saute that delicious stuff…whisk 3 eggs with some water and pour onto the veggie mixture. Then I let the eggs cook! Then I season with salt and pepper and top with herbs! DONE, so quick and I can goggle it up while I am making the kids lunches! Easy peasy!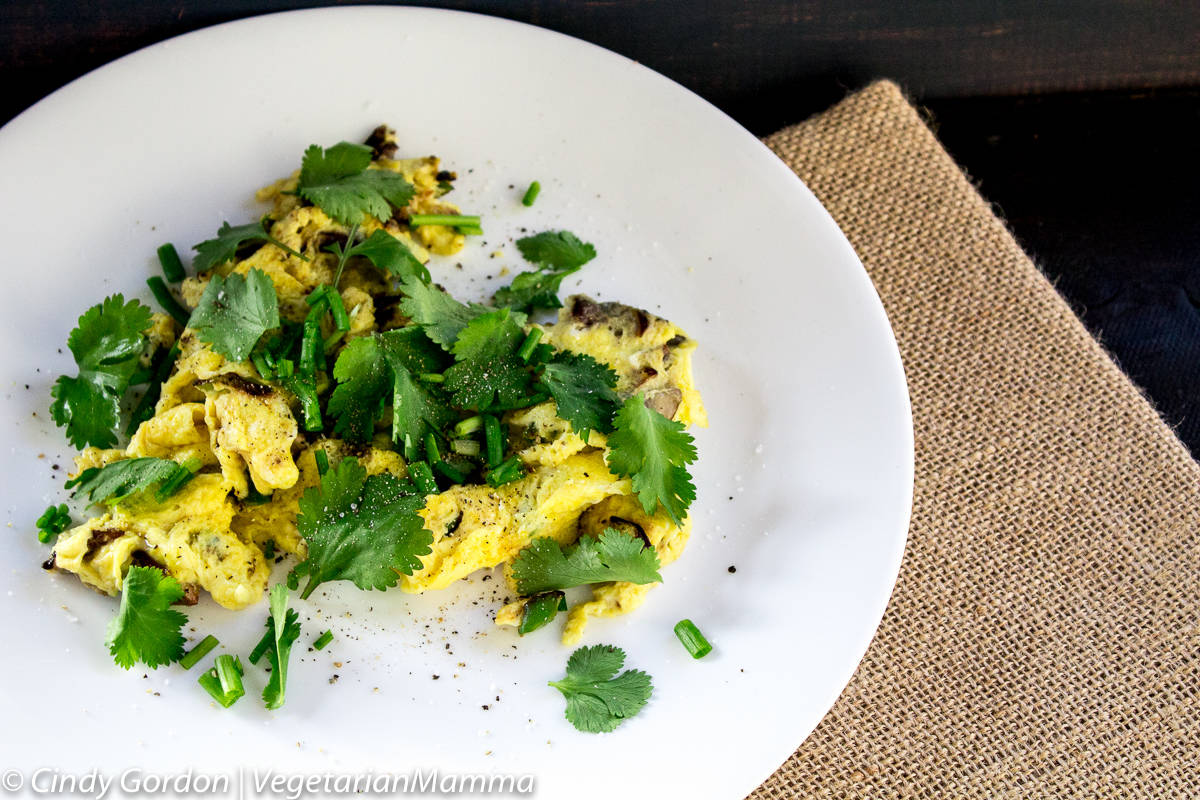 Want to get a little more specific? Check out these easy measurements and super simple recipe.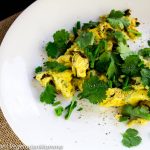 Print Recipe
Busy Morning Breakfast Eggs
Mornings can be quite hectic. Get in the habit of prepping at the start of the week, so you can easily prepare these Busy Morning Breakfast Eggs all week long.
Ingredients
Instructions
Put onion, pepper and mushrooms into a resealable container with a lid.

Put herbs each in their own container.

When ready to eat, put a dash of oil into a small skillet. Then put 2-3 spoonfuls into the skillet and saute.

Once veggies are soft, whisk 2 eggs with 1 T of water. Pour onto veggies. Cook and stir a few times.

Put cooked egg mixture on a plate, season with salt and pepper. Top with fresh herbs.

ENJOY!
Nutrition
Calories:
66
kcal
|
Carbohydrates:
7
g
|
Protein:
2
g
|
Fat:
4
g
|
Saturated Fat:
1
g
|
Sodium:
5
mg
|
Potassium:
239
mg
|
Fiber:
2
g
|
Sugar:
4
g
|
Vitamin A:
1520
IU
|
Vitamin C:
54.5
mg
|
Calcium:
16
mg
|
Iron:
0.5
mg
All though this website attempts to provide accurate nutritional information, the information should only be considered an estimate. Varying factors such as different product types, different brands, etc. can change nutritional information. It is your responsibility as a consumer to read all labels to make sure the ingredients fit your dietary needs as well as calculate your own nutritional information as a double check.
Hungry for more gluten-free breakfast recipes? Be sure to check out our recipe index. You can also visit our Amazon store to see our favorite gluten-free products and kitchen equipment! This post contains an Amazon affiliate link.
Let's talk!
Leave me a comment telling me what your favorite breakfast recipes are? What do you like to eat in the mornings? Do you have any breakfast hacks or tricks to share?