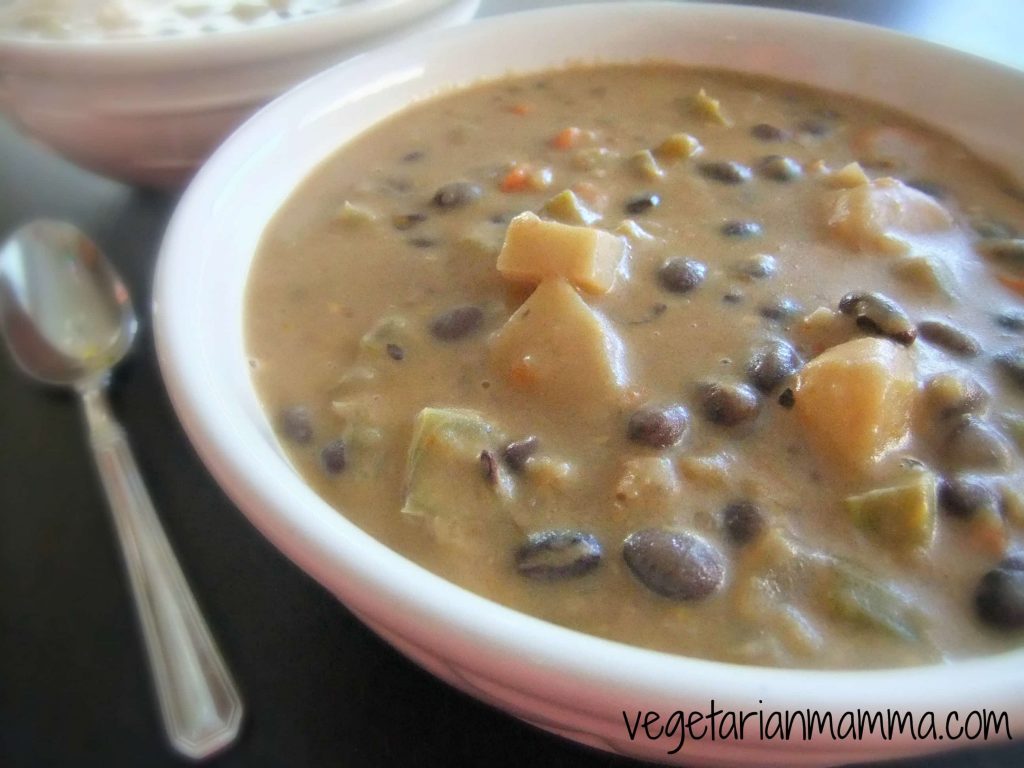 My friend Hollie would always make my husband and I cheeseburger soup!  Its one of my favorite memories of Hollie!  We'd hunker at her house for a football game while she had some cheeseburger soup simmering on the stove!  She also baked fantastic rolls to go with our soup!  We could never get enough of her soup!  I found a recipe for cheeseburger soup, here, and adapted it to fit our dietary restrictions.
Note: If you are soup lover be sure to check out our collection of soup recipes!
Cheeseburger Soup – #glutenfree #vegetarian
Ingredients
¾ cup chopped onion
¾ cup chopped carrots
¾ cup diced celery
3 cups Veggie broth
4 cups diced peeled potatoes
2 cans of black beans, drained and rinsed
¼ cup gluten free flour (I used Better Batter)
2 cups of shredded cheese (dairy or vegan)
1-1/2 cups milk (I used coconut)
Salt and Pepper to season
Instructions
In a large stock pot heat 1 T of oil to saute onion, carrots and celery until soft.
Add broth, beans and potatoes, boil for 12 minutes or until potatoes are tender.
Whisk together milk and flour, slowly stir into soup mixture.
Next add cheese. Stir until melted and heated.
Season with salt and pepper.
ENJOY!
Leave a comment telling me your favorite soup. Are you more of a chili person? Soup person? What do you love?