Cheesy Olive Bread is loaded full of olives and cheese on top of crusty delicious bread. This olive cheese bread can be used as a starter, snack or lunch!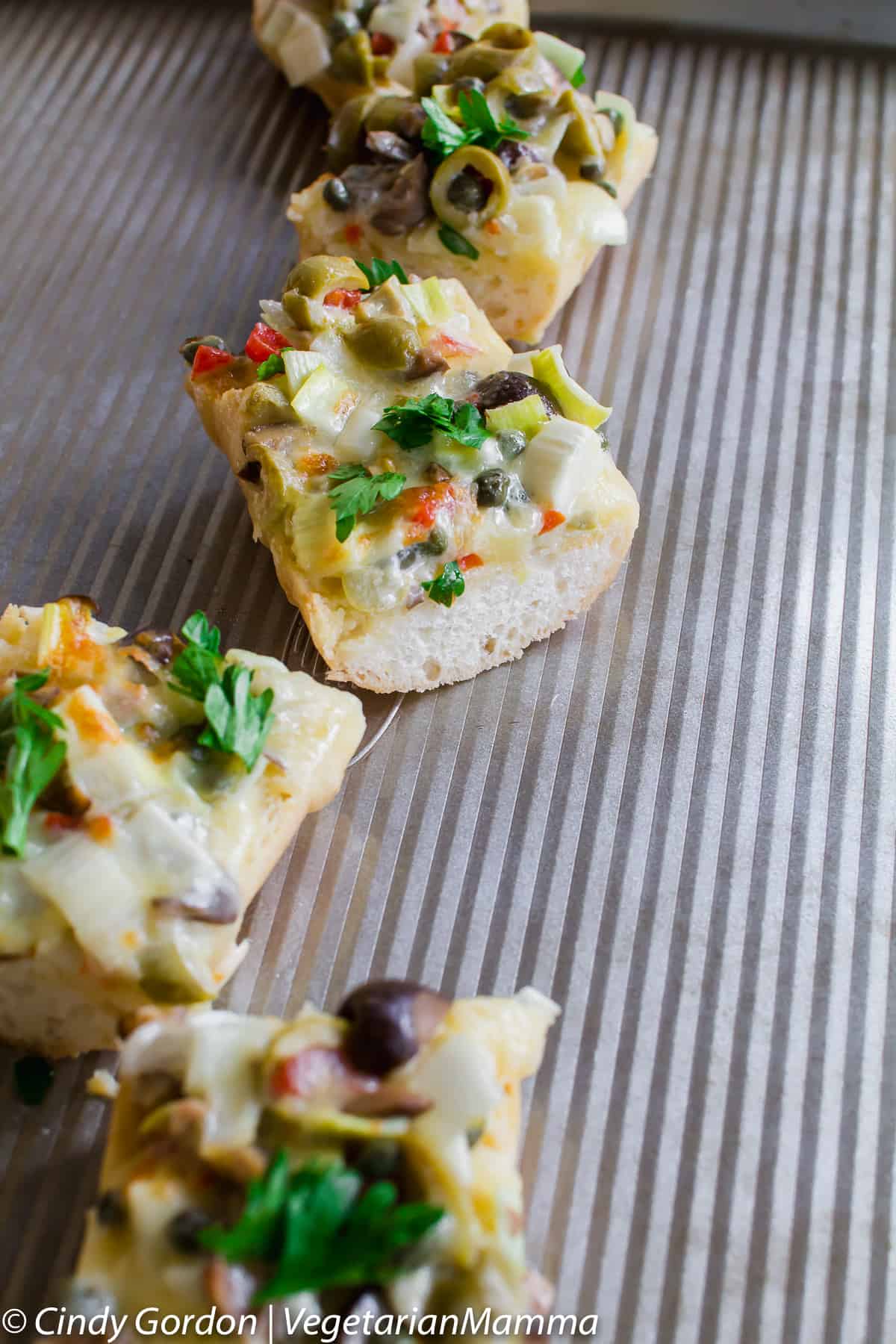 This recipe is in partnership and sponsored by Schar.
Cheesy Olive Bread – where did the inspiration come from?
Cheesy Olive Bread Inspiration
I grew up in Illinois and we had this amazing Italian eatery there. It was a small town so our restaurant options were limited.
But we were extremely lucky when it came to Corleones. This was THE place to get THE best pizza bread and THE best pasta salad, among other amazing things. It was kinda just THE place.
It was the place where the good food was and it was the place where all the cool high schoolers worked. Kinda funny looking back at how we all really held this place up.
It was pretty awesome though, good food, good people and a good town. Corleones is still going strong and still extremely well-loved by the people in my childhood town.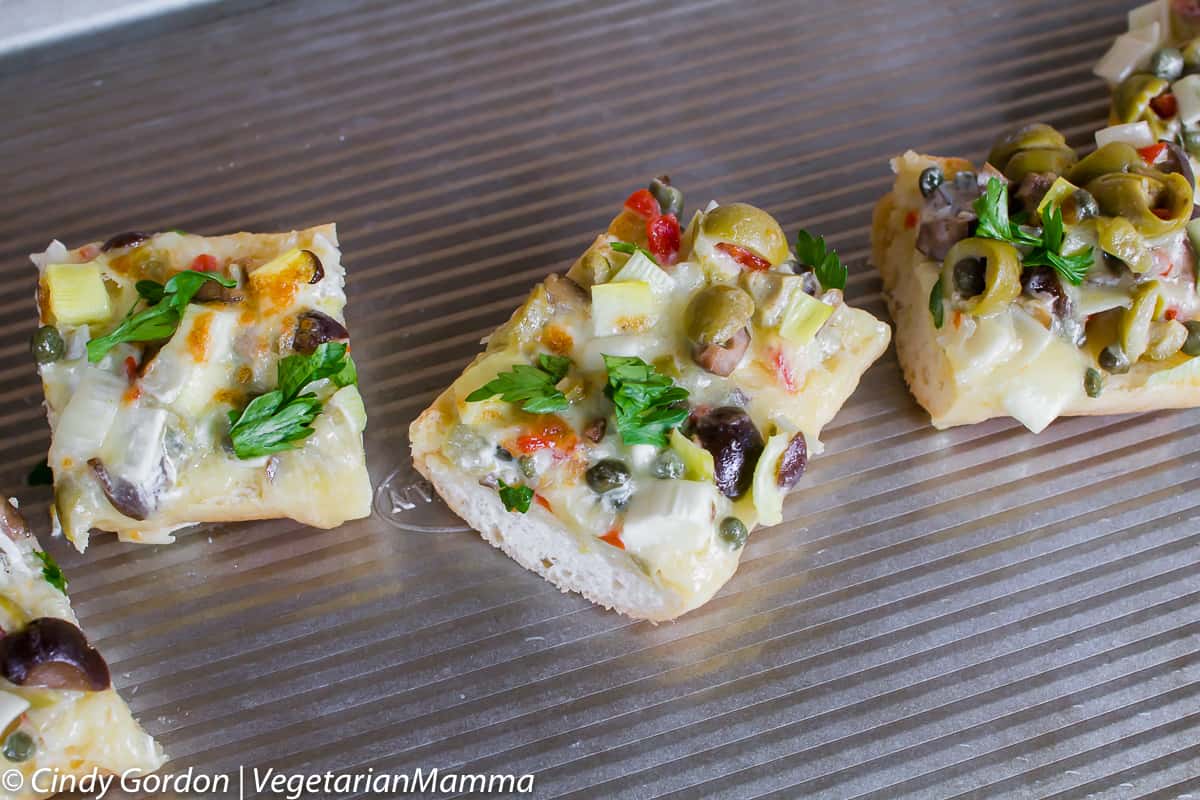 Fast forward to today…I don't live in that town anymore and I can't eat gluten. Not to fret, we just create our own.
While this isn't a traditional pizza bread, we put our own spin on it. The pizza bread back then had a delicious and OH, I mean delicious french bread, baguette-style loaf as the base. Then it has amazing secret red sauce slathered on it.
Next up, where all the toppings you desired (I liked black olives) and then topped with cheese. I could be wrong, but I was pretty sure they seasoned it with magic…because well the taste was magic!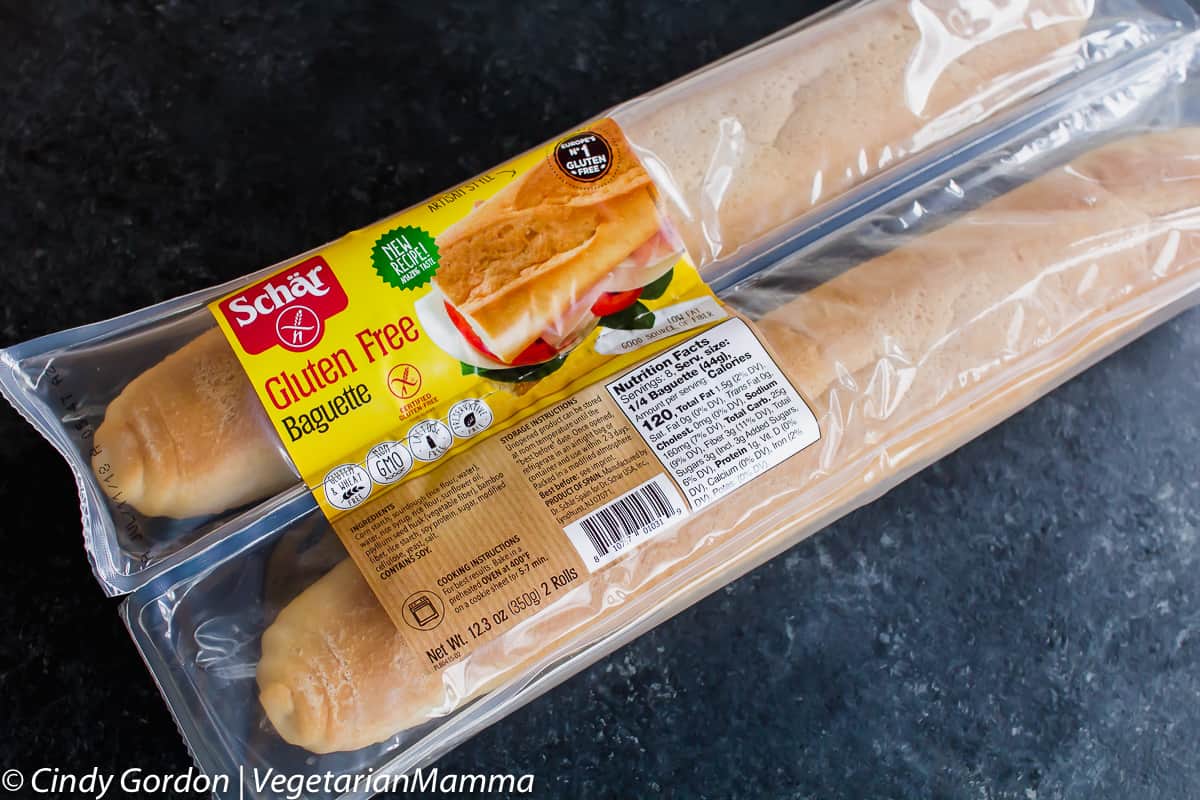 How to Make Gluten-Free Cheesy Olive Bread
So today, we are going to talk about how to make this delicious olive bread at home and completely gluten-free.
I'll go through all the ingredients and explain why I love them (and how good they are for you too!)
#1 Gluten-Free Bread
We used the baguettes from Schar for this recipe.
Schar is a well-respected brand within the gluten-free community. Schar is constantly working, researching and developing new products for the gluten-free world.
This company has truly been a blessing to many when it comes to gluten-free items. These baguettes, in particular, are self-stable with an expiration date of a few months.
For our family, this makes life easier. We can stock up on these and they can wait for us in the pantry until we are ready. These baguettes are soft and chewy.
The baguettes are perfect for making bruschetta, garlic bread, pizza bread and more! The options are endless. You won't believe how soft and delicious they are!
You can check the Schar website to see what stores near you carry their products and you can also score these gluten-free baguettes on Amazon (affiliate ad link).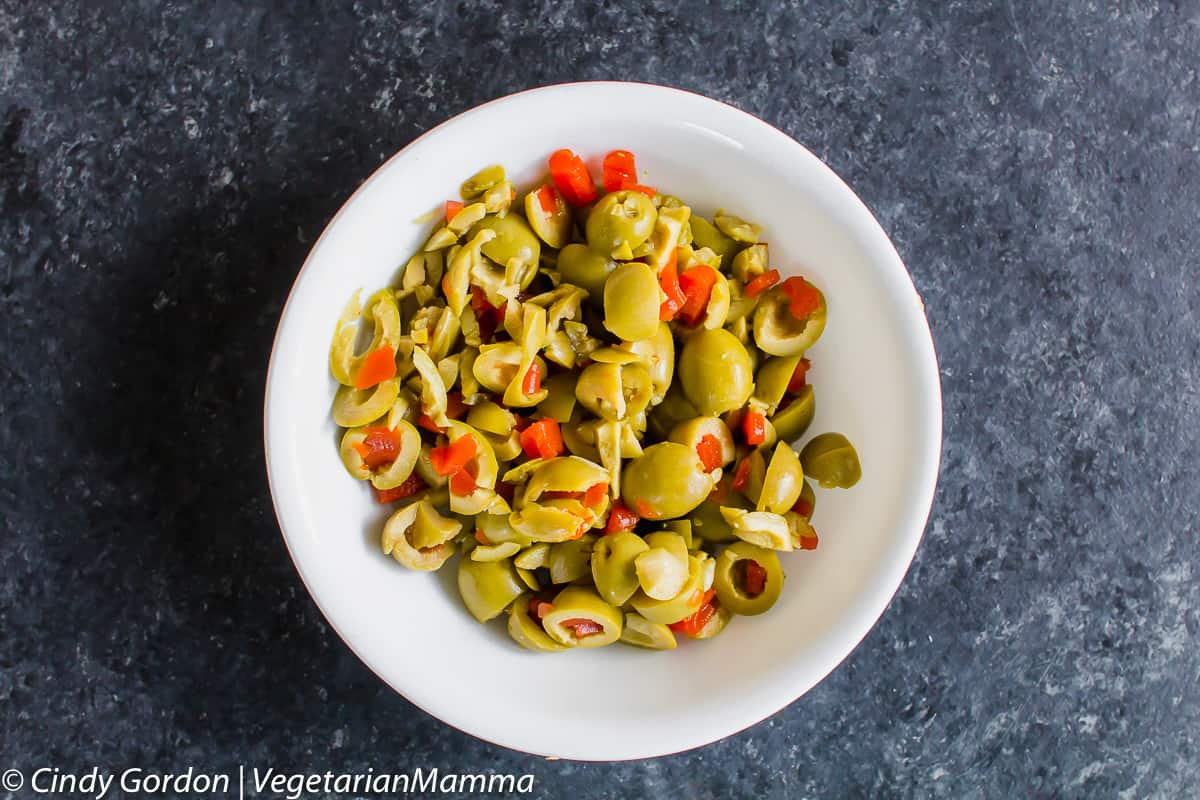 #2 Green Olives
Spanish style olives with pimentos are the first ingredient for our olive cheese bread. Basically, we call these green olives in our home.
I have always wondered about those pimentos though. Why are there in there? How did they get in there? Sounds like it is time for a little history search!
History of Olives
Okay, so the great old interwebs tell me that pimentos start out as a variety of cherry peppers. These peppers are pretty small and they are sweeter than a bell pepper. The little peppers are quite mild.
It seems that they are basically a garnish when it comes to olives and are often paired with cheese. I am seeing this as a win! We are using it just as google says!
As you might guess, there are now machines that stuff the pimentos into the olives. Back in the day though…it was all done by hand! Can you imagine the patience needed for that one? Want to learn more about olives with pimentos? You can continue your search here.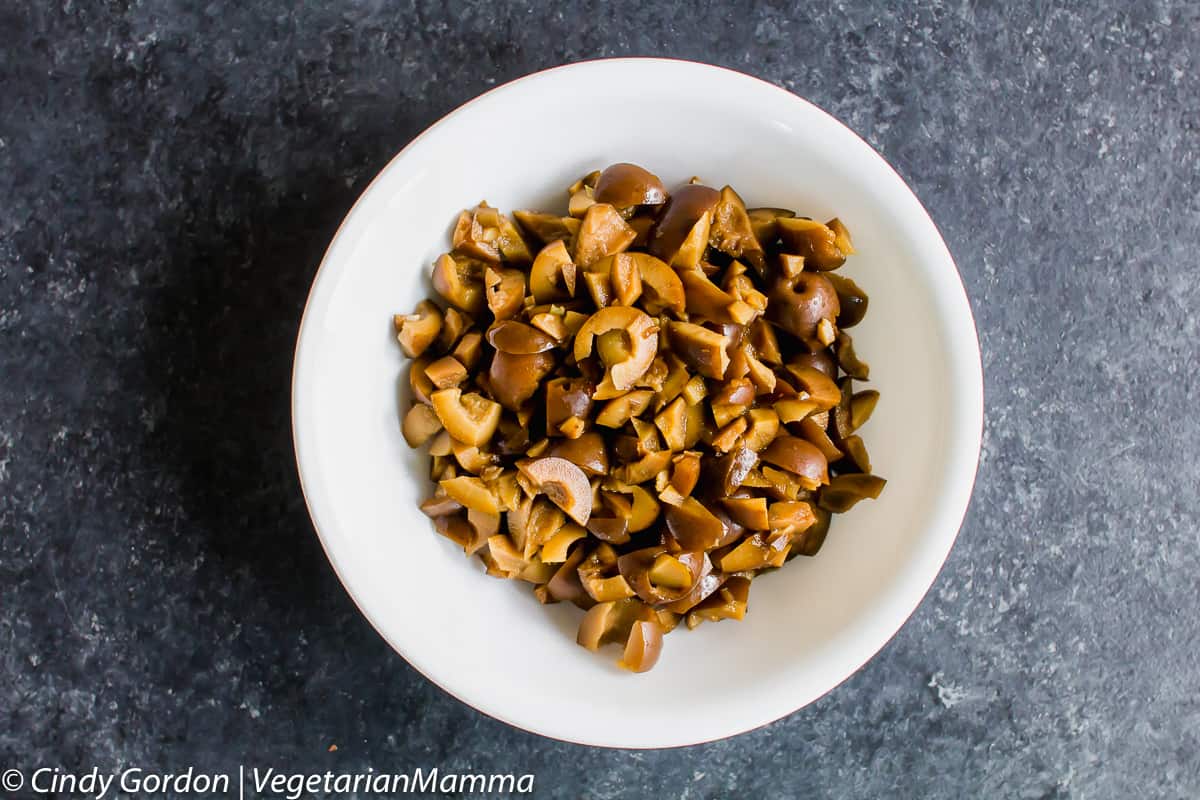 #3 Black Olives
Black olives are up next in our ingredient parade. I am not talking about kalamata olives here, I am talking straight up black olives.
Did you know that olives are actually a fruit that goes on a tree? Olives are a great healthy fat. We actually use them a lot as a stand-alone food, especially after a strenuous physical activity. We always carry olives to our soccer tournaments.
Back to our olive history and benefits of olives, sorry I get all excited and veer off topic! Olives are a pretty good source of vitamin E. It is said that vitamin E helps your immune system and helps to protect your body's cells.
So eat your olives!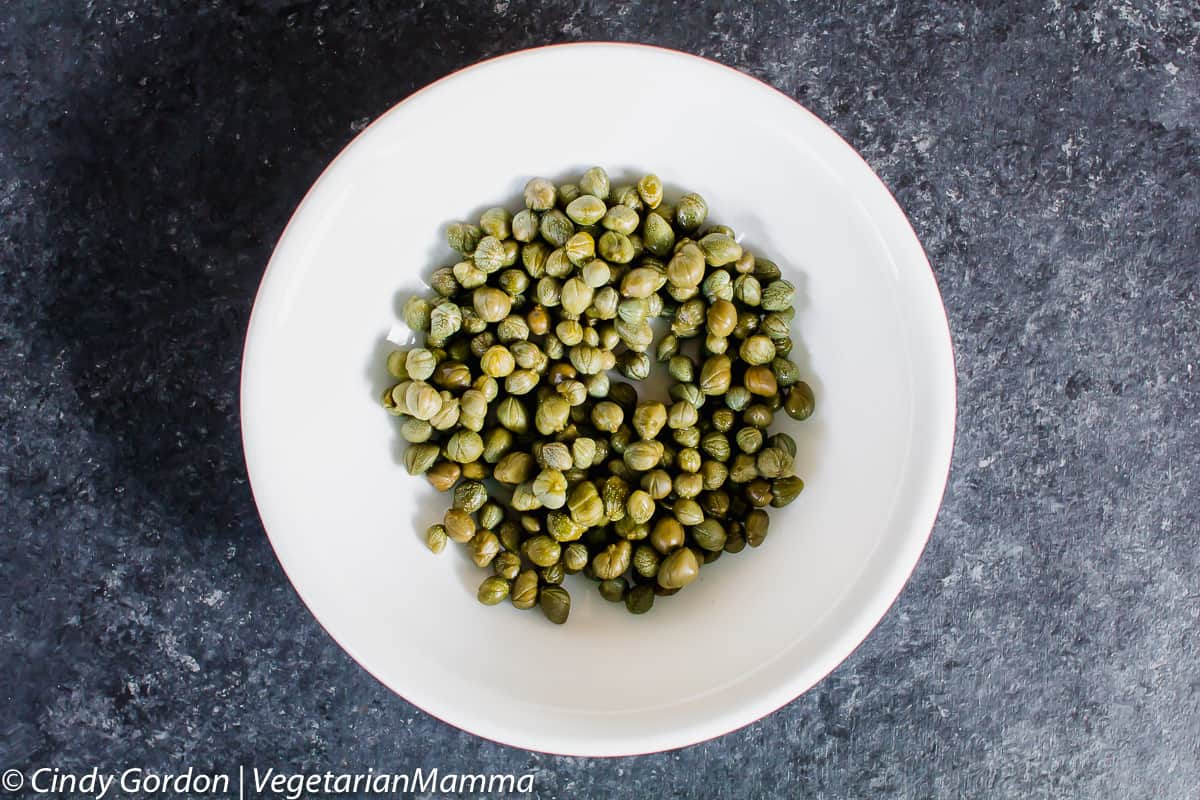 #4 Capers
Capers are up next. You know those little green things! So the Huffington Post says that capers are actually little pickles flower buds! Say what?
If a caper is allowed to mature in size, it could be the size of an olive. If capers mature they are considered a fruit. It is said that capers are so tiny and so delicate that they can only be picked my hand.
That is also a job that requires a lot of patience! I am a huge caper fan and I love salty foods. This makes sense as capers add a salty flavor to foods!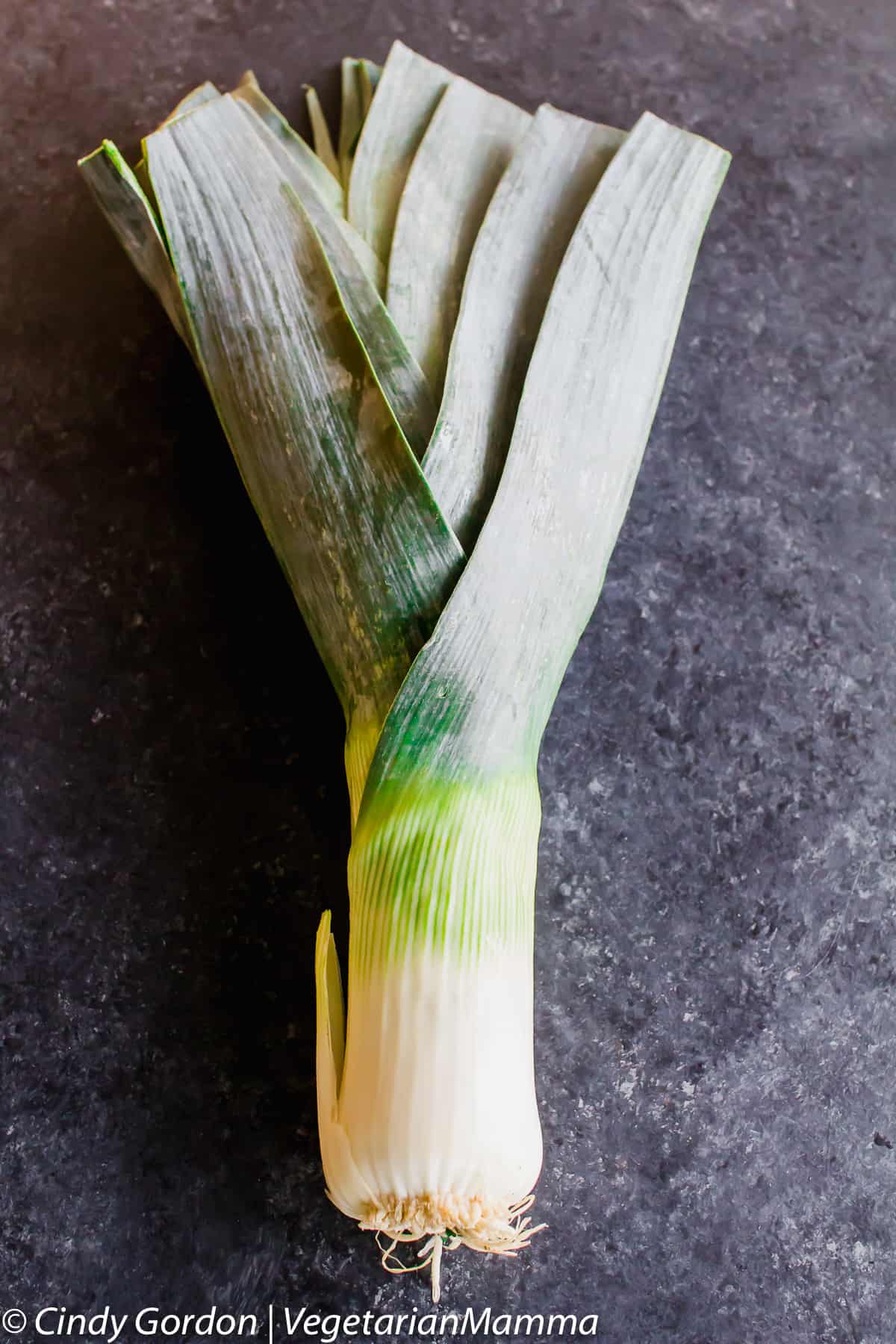 #5 Leeks
Leeks are another delicious ingredient in this olive bread recipe. I think it is safe to say that "I heart leeks." Truly, I do love them.
I use them in every recipe I can. I just love their flavor. So much like an onion but yet different enough!
It is really important that you clean your leeks well. There are so many layers of the leek and there are so many places for dirt to hide. We do not need any dirt flavor in this cheesy olive bread recipe!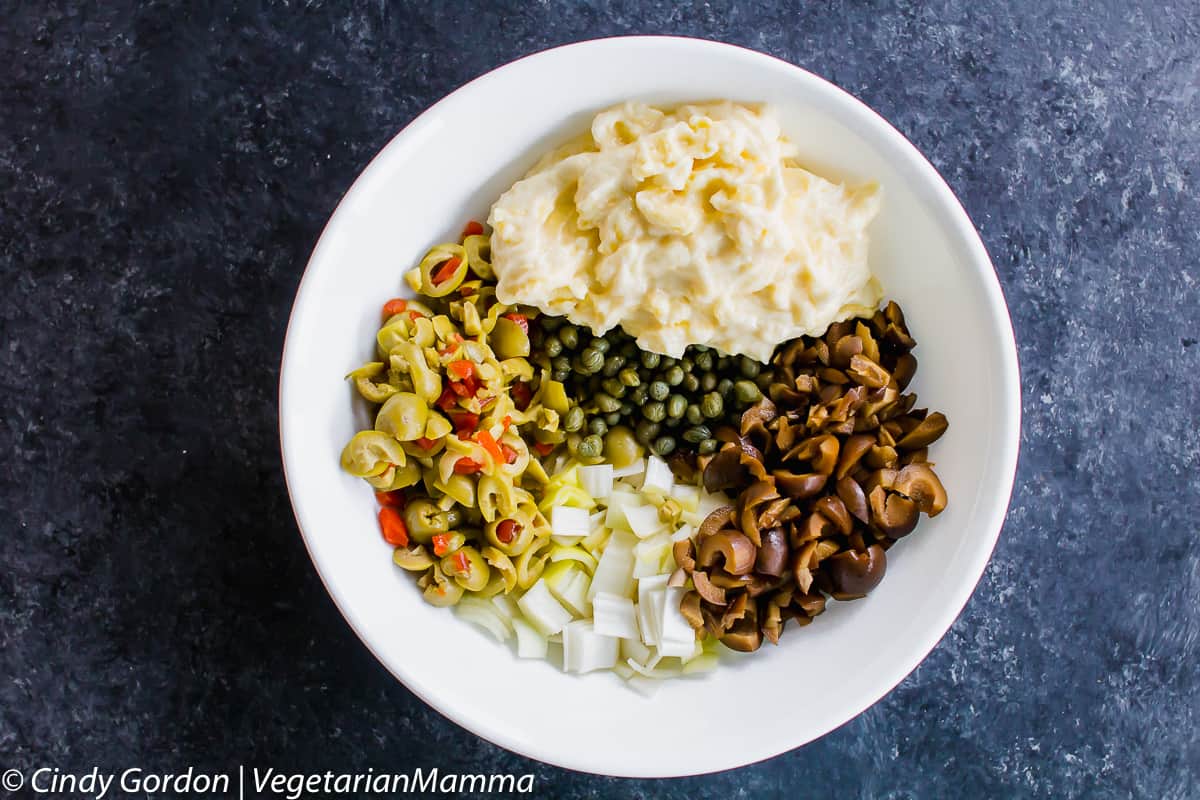 #6 Butter and Mayo
Now we are starting to move along. You will need to add in some softened butter and some mayo! The smells are pretty amazing! I am not going to lie!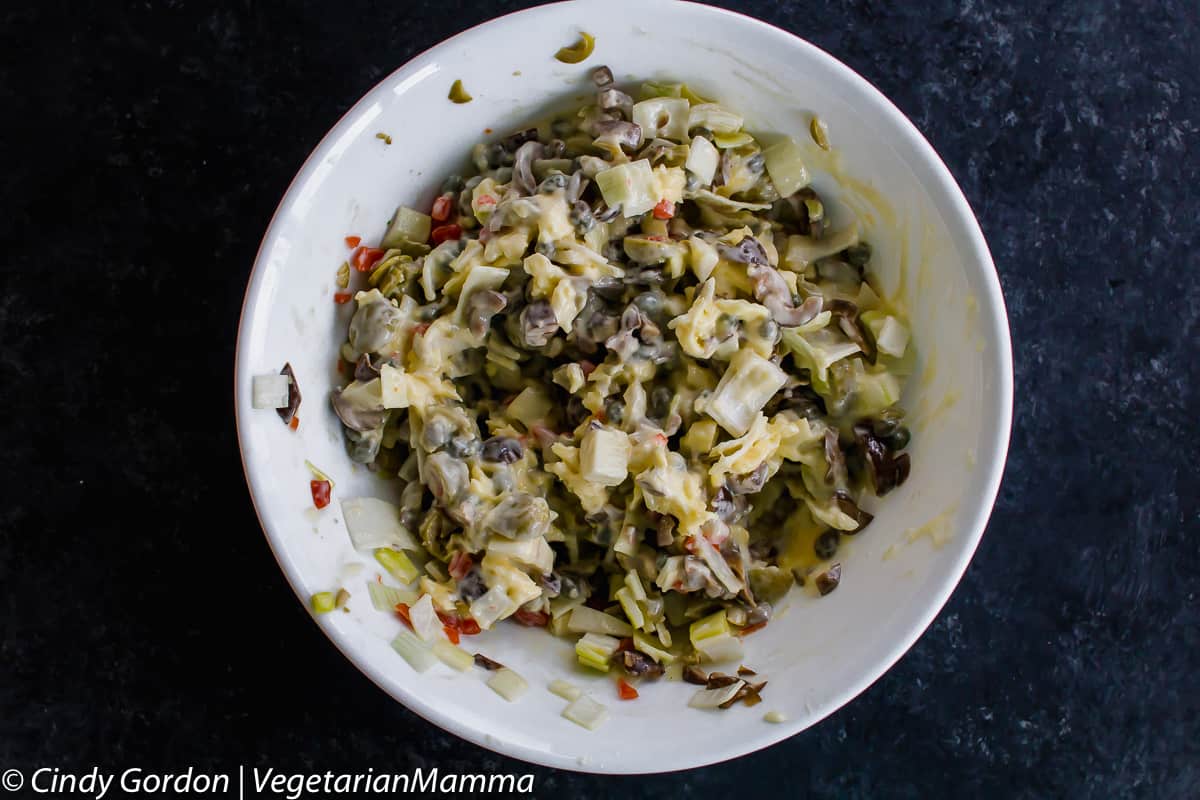 A few turns of the spoon and our spread for the cheesy olive bread is almost complete! The creamy spread is really coming together and I bet your belly will be grumbling with delight at this point!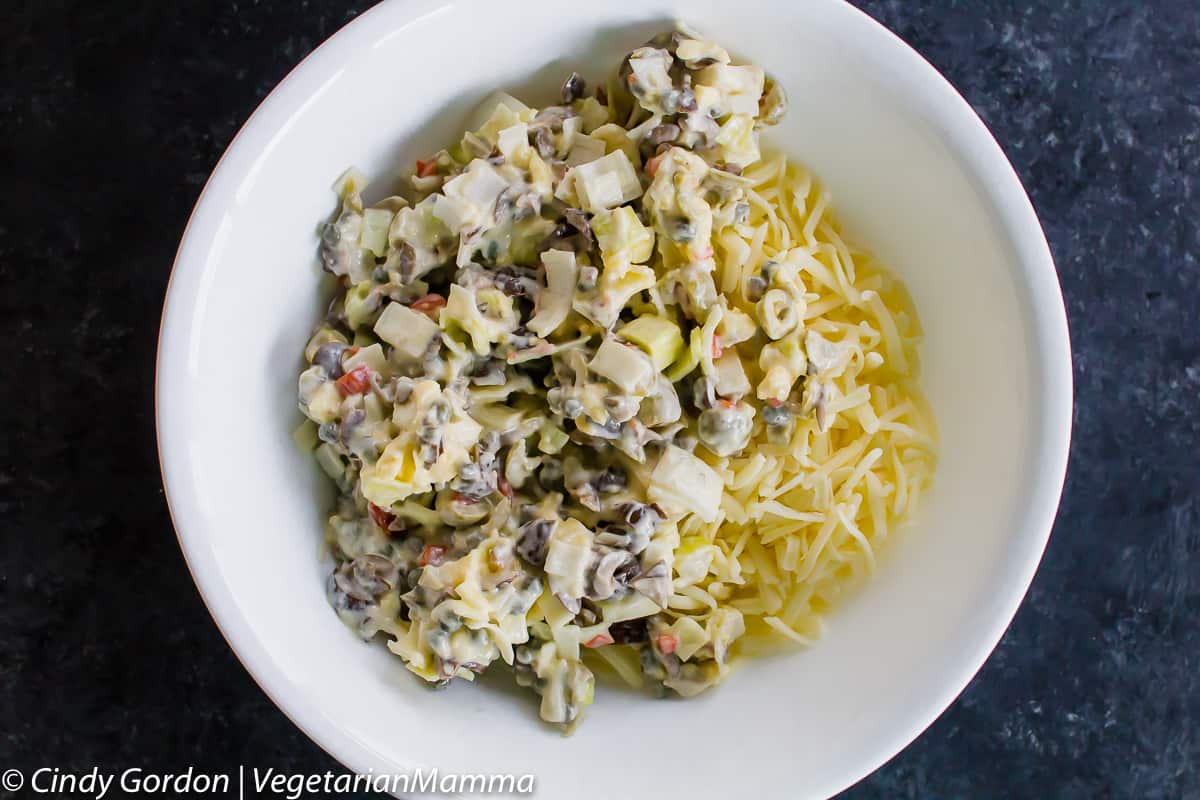 #7 Cheese
Hold up! We almost forgot the cheese! I mean it wouldn't really be cheesy Gluten-Free Olive Bread if we didn't add cheese!
For this cheesy bread, I used a shredded Monterey Jack cheese. Mont Jack is considered a semi-hard American cheese. It is typically white.
If you aren't a Mont Jack lover, I would suggest using Gouda in this recipe! I think it would be a delicious fit!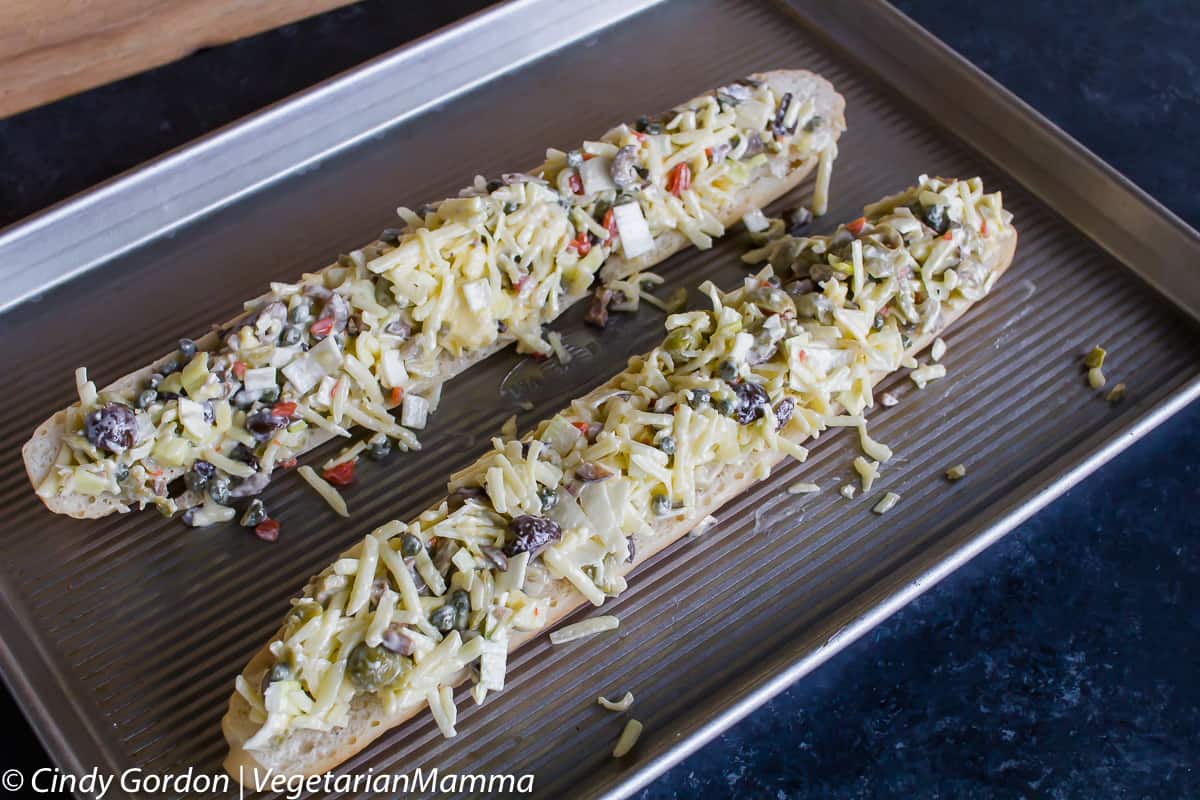 You are going to need to slice those gluten-free baguettes in half lengthwise. Use a sharp knife but be careful, of course! Then slather your mixture onto the halves.
This is a fun and messy part. I have not found a really good and clean way to do this. So I use a spoon and my hands.
End goal Make Sure The Bread is Covered
I think you get the picture. We are wanting to cover the baguettes with the delicious cheese and olive mixture! Next up, is warming all this up.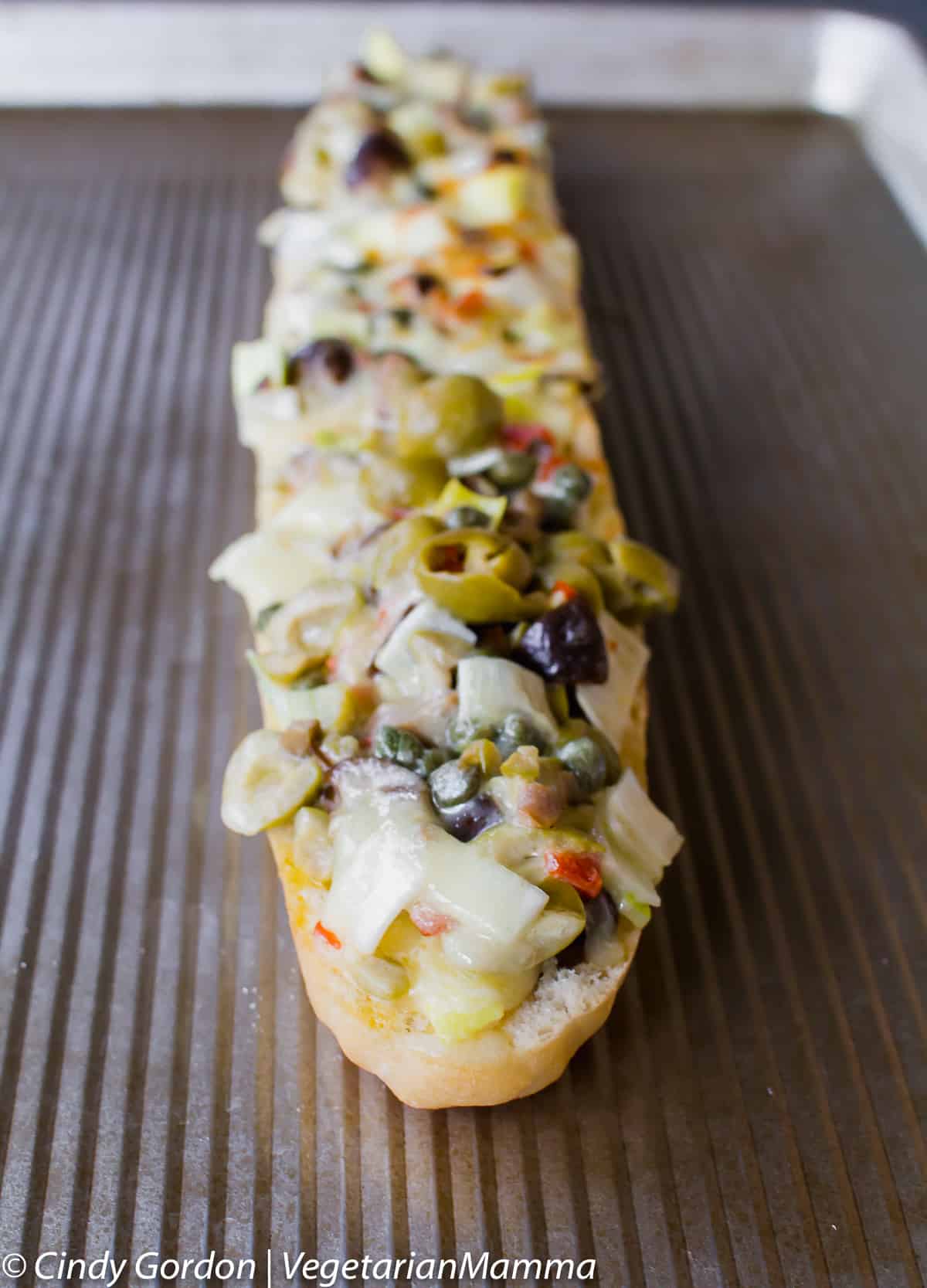 You can bake your cheesy olive bread, but I prefer to put it under the broiler. I feel that cooking it under the broiler until the cheese starts to brown up is best.
I feel that the use of the broiler keeps the baguette soft on the inside with a chewy outside. It also doesn't allow the baguette to become soggy! Nobody wants soggy Gluten-Free Olive Bread!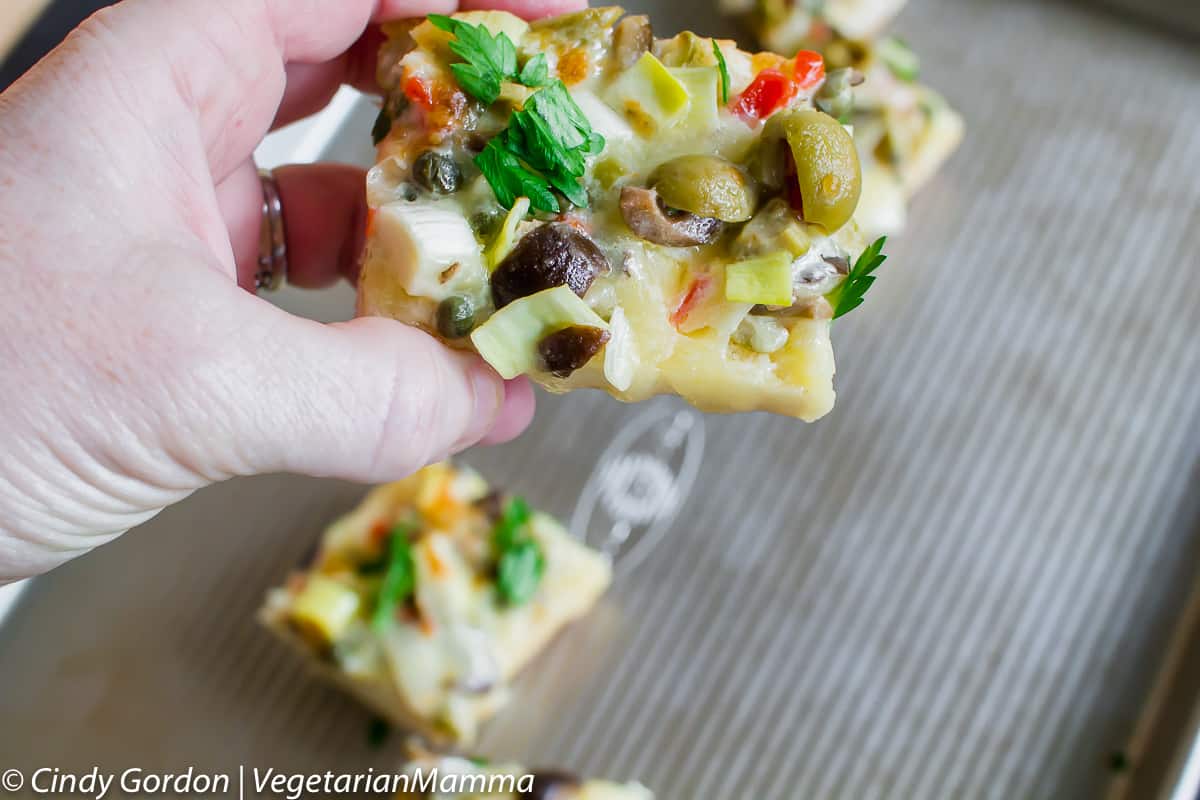 Once your cheese is starting to brown and all of the olive spread is warm, you can take out from underneath of the broiler! It is time to slice the bread.
I mean if you want to eat the entire long baguette slice and you can manage that…by all means go ahead. I personally am not that coordinated 🙂 You are truly going to love the taste of this cheesy bread! So ooey and gooey and full of olives! Who doesn't love Gluten-Free Olive Bread!?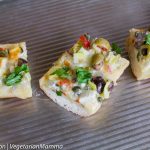 Print Recipe
Cheesy Olive Bread
Cheesy Olive Bread is loaded full of olives and cheese on top of crusty delicious bread. This olive cheese bread can be used as a starter, snack or lunch!
Ingredients
2

baguettes

(gluten-free from Schar)

1/2

cup

leek

diced

3/4

cup

Spanish green olives with pimentos

diced

1/4

cup

capers

3/4

cup

black olives

no pits, diced

8

T

butter

softened

1/2

cup

mayo

2

cups

Monterey Jack Cheese

shredded
Instructions
Slice gluten-free baguettes in half lengthwise and set aside on a lipped cookie sheet.

Combine the diced leeks, olives, caper, butter and mayo together. Mix well.

Add in the next last, mix well again.

Slather the cheesy olive spread onto the baguettes.

Put baguettes under the broiler until cheese starts to brown and mixture is warm.

Serve immediately and ENJOY!
Nutrition
Calories:
989
kcal
|
Carbohydrates:
66
g
|
Protein:
26
g
|
Fat:
69
g
|
Saturated Fat:
30
g
|
Cholesterol:
123
mg
|
Sodium:
2148
mg
|
Potassium:
213
mg
|
Fiber:
4
g
|
Sugar:
2
g
|
Vitamin A:
1465
IU
|
Vitamin C:
1.8
mg
|
Calcium:
550
mg
|
Iron:
4.7
mg
All though this website attempts to provide accurate nutritional information, the information should only be considered an estimate. Varying factors such as different product types, different brands, etc. can change nutritional information. It is your responsibility as a consumer to read all labels to make sure the ingredients fit your dietary needs as well as calculate your own nutritional information as a double check.
Let's talk! I've love to hear if you are an olive lover? How about an cheesy olive bread lover? Leave me a comment telling me if you've every made something like this before! I can't wait to hear what you think!
Thanks again for stopping by! Looking for other allergy-friendly recipes? All of our recipes are nut-free and gluten-free. We also have vegan recipes too!