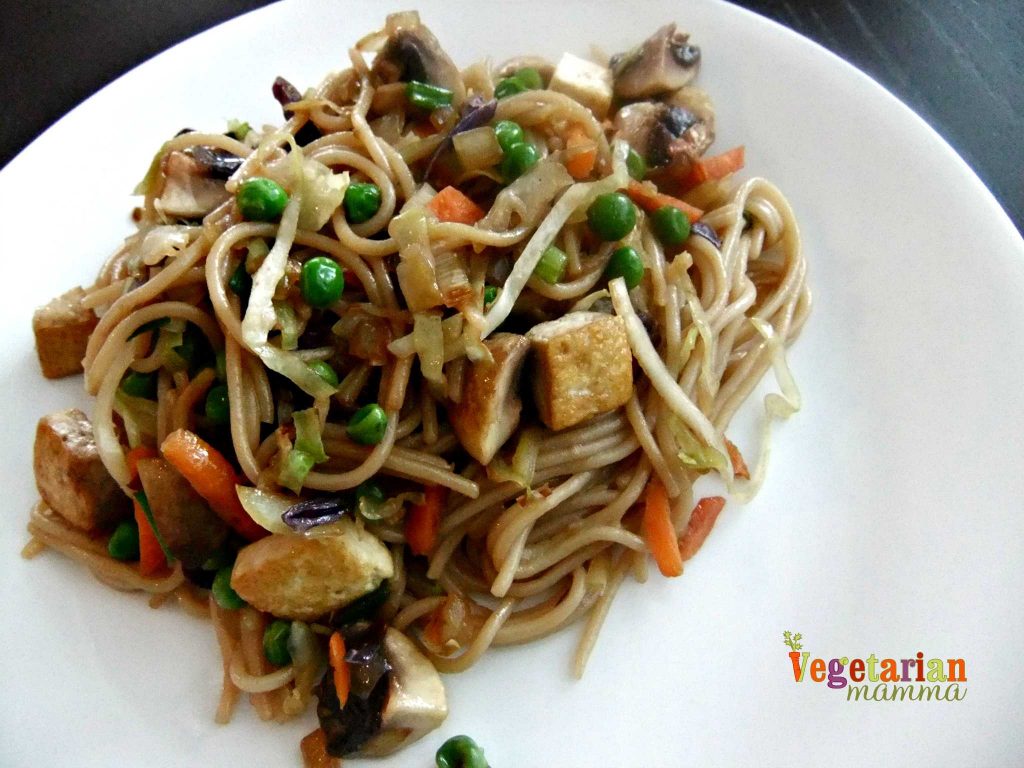 Gluten-Free Chow Mein – A True Family Favorite
I'm so excited to share this recipe with you! As you know, we are a gluten-free family, and we are always looking for recipes that complement our lifestyle and our taste buds. Low and behold, this Gluten-Free Chow Mein was an Instant Winner.
To be completely honest with you, I've been through a ton of different gluten-free recipes. Noodle recipes always tend to be a bit trickier to get the taste that I'm searching for, but thankfully this one was a home run out of the park.
Long gone are the days when gluten-free noodles have to be tasteless and bland. There are so many amazing gluten-free noodle options out there, keep trying your options until you find one that you love!
What is Chow Mein?
For those of you who have never had chow mein, you're missing out! It's a Chinese-style dish where the noodles are typically stir-fried and served with other veggies and sometimes meat. Found at most Chinese restaurants across the globe, chow mein noodles are so delicious!
I love this gluten-free recipe because it opens the door for so many other people to enjoy the taste of Chow Mein without the worry of gluten. Some people enjoy adding meat to their chow mein while others just prefer fresh veggies as their choice. And if your household is like mine and doesn't eat meat, you can always add even more veggies and just leave meat out of the equation altogether.
Different Types of Chow Mein
When it comes to enjoying the taste and texture of chow mein, there are two different ways to cook and eat it. One is to stir-fry up the noodles and serve them warm with a sauce and veggies or you can fry up the noodles while pressing them together to form a hard base and a more crispy texture.
Trust me, there is no wrong way to eat and enjoy Chow Mein!
If you want to know my opinion, I'd make the chow mein one way one night, and the next night try the other cooking method. If having chow mein two nights in a row is wrong, then I don't want to be right!
Have you ever shared recipes before?
In my mind, there are millions of recipes out there just waiting to be explored, but in all reality, I'll never even get to cook or try a fraction of them. Lucky for me, I'm able to network with some amazing other food bloggers that have some truly stellar recipes that I get to find, cook, and fall in love with!
I found this fantastic recipe because it was linked up at one of my recent Gluten Free Fridays parties! I LOVE looking at all the recipes that are linked up on Fridays! Its a fun party!
This recipe comes to us from Life Currents! I am a big fan of their blog and their recipes! I couldn't wait to make this recipe so I made it with goodies I had on hand! I didn't have any celery, so I left that out. I did add in some fried tofu cubes and some mushrooms. YUMMO!
Did I mention that chow mein is super versatile? You can even eat the noodles by themselves if you truly want to, but I do recommend adding in some sort of fresh vegetable if you have anything on hand.
And if you love spicy foods, don't forget to add the heat to the recipe! The gluten-free noodles do a great job of really soaking in all the spices and flavor, so rest assured that a little heat will go a really long way! Add in pinches and remember the rule, "You can always add more spice as you go, but once you add too much, it's too late to take it back."
Visit HERE at the Life Currents site to found this easy and yummy recipe!
And remember, if you have a chance to join in on sharing recipes with others, do so! You'll find some of the best tasting, most fun and unique recipes that you don't even have to look for. And if you have some fun recipes to share with me, I'd love to hear them!
Looking for other allergy-friendly recipes? All of our recipes are nut-free and gluten-free. We also have vegan recipes too!
And if are looking for gluten-free dessert options, visit the Recipe Index to see all of our recipes, or try one of these: Strawberry Rhubarb Crisp, Lemon Cranberry Cookies, Gluten Free Brownie Trifle, or Triple Chocolate Cake!
What recipe do you love and always have in your back pocket as your go-to?
Thanks for sharing it at GFF! 🙂