Creamy Vegetarian Coleslaw is a mouthwatering coleslaw recipe that is perfect for your next backyard BBQ. It can stand alone or be enjoyed on top of a burger!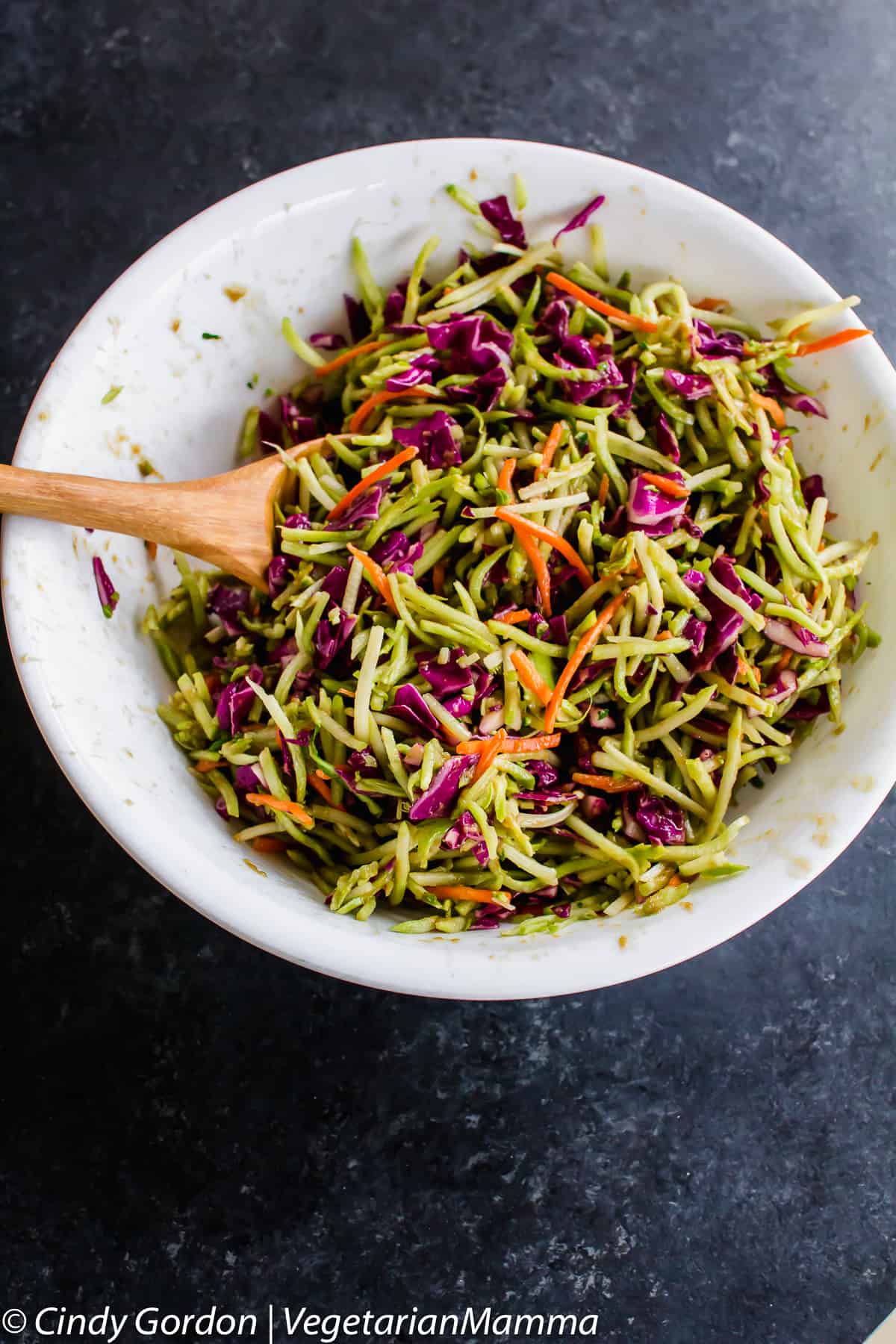 This recipe is sponsored by SunButter.
We LOVE coleslaw at this house. Any coleslaw recipe we have is a favorite. I think it is safe to say that we are coleslaw addicts! Is that a thing? 🙂
Today we are talking about this delicious creamy Vegetarian Coleslaw. When it comes to coleslaw, typically keeping the ingredients simple with ONE star ingredient, does the trick.
In the past we've played around with using different flavor profiles such as making jalapeno coleslaw but today we are using another delicious ingredient that will take center stage.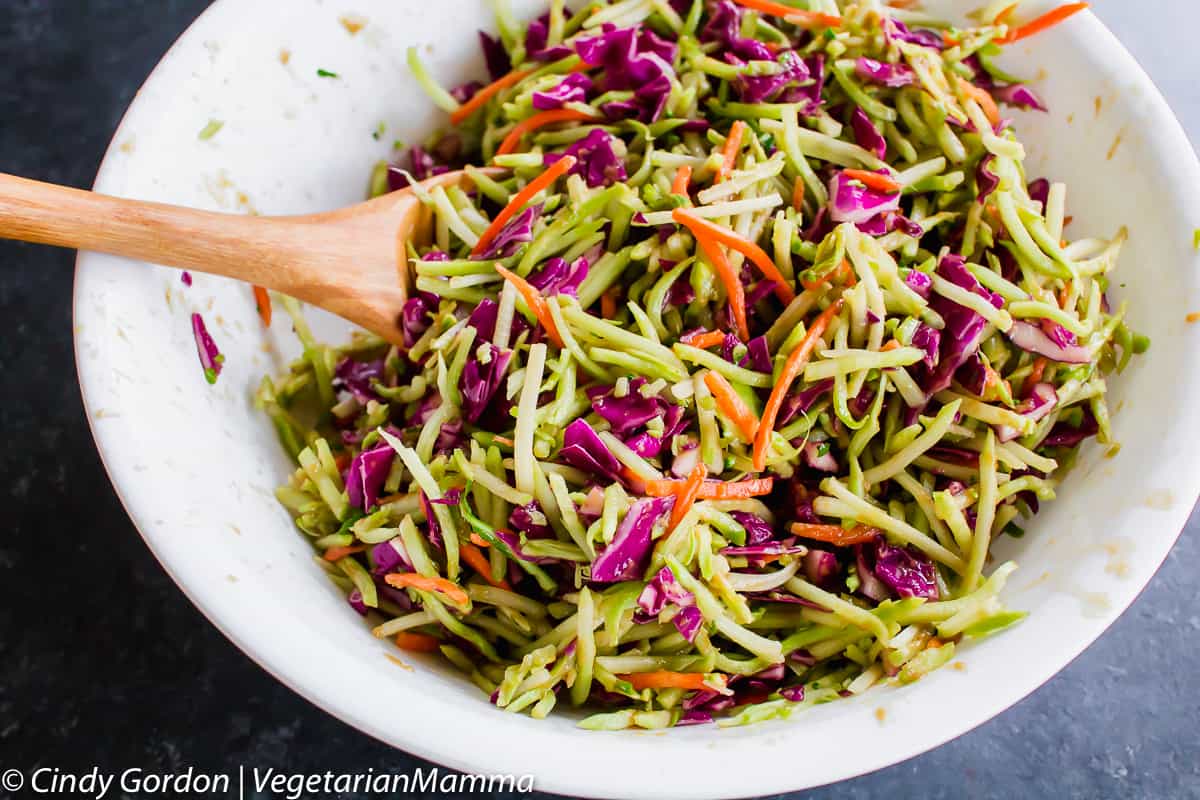 Use Sunbutter in Coleslaw
Wondering what the secret weapon is in this recipe? SunButter!!
We LOVE SunButter at our house so we incorporated it into this easy summer coleslaw recipe! You have probably noticed that we use SunButter a lot in our daily social media posts and in our recipes.
Other Ways to Use Sunbutter
You can see more delicious recipes that you SunButter right here on our site. Take a peak at our SunButter Banana Oatmeal, our Soft Gluten Free Chocolate Chip Cookies, our Sweet and Salty Tofu Bowls, and the Foolproof Cucumber Hummus.
SunButter is actually a peanut and tree nut safe spread that is made from sunflower seeds. SunButter is TOP8 allergen-free but gives food a "nutty" flavor.
Which is great and SAFE if you are a food allergy family or if you are looking to incorporate more healthy seeds into your life! This is a way to do it!
I was also lucky enough to be able to take a trip to see just how the sunflower seeds are grown and then turned into SunButter. You HAVE to check out this trip here.
Sunbutter Coleslaw Dressing
I guess you could say that the secret is in the sauce? Ha! It is true! The flavor lies in the sauce of this creamy coleslaw. One taste and I think you will 100% agree!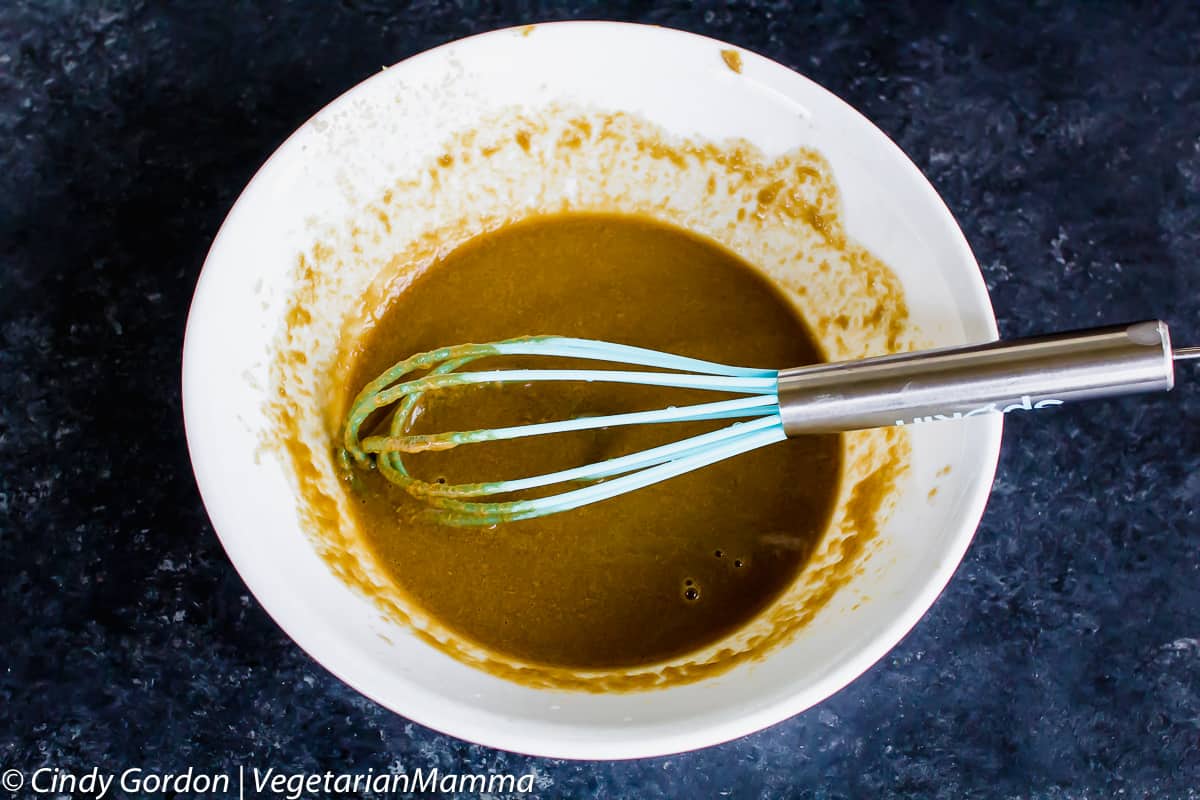 Be patient when you are whisking together the sauce ingredients. Go slow, so it doesn't get too messy. You are after combing liquid ingredients with an ingredient that is semi-solid.
This is actually a great job with your kids! Don't cringe too much, I promise they won't get your kitchen that dirty!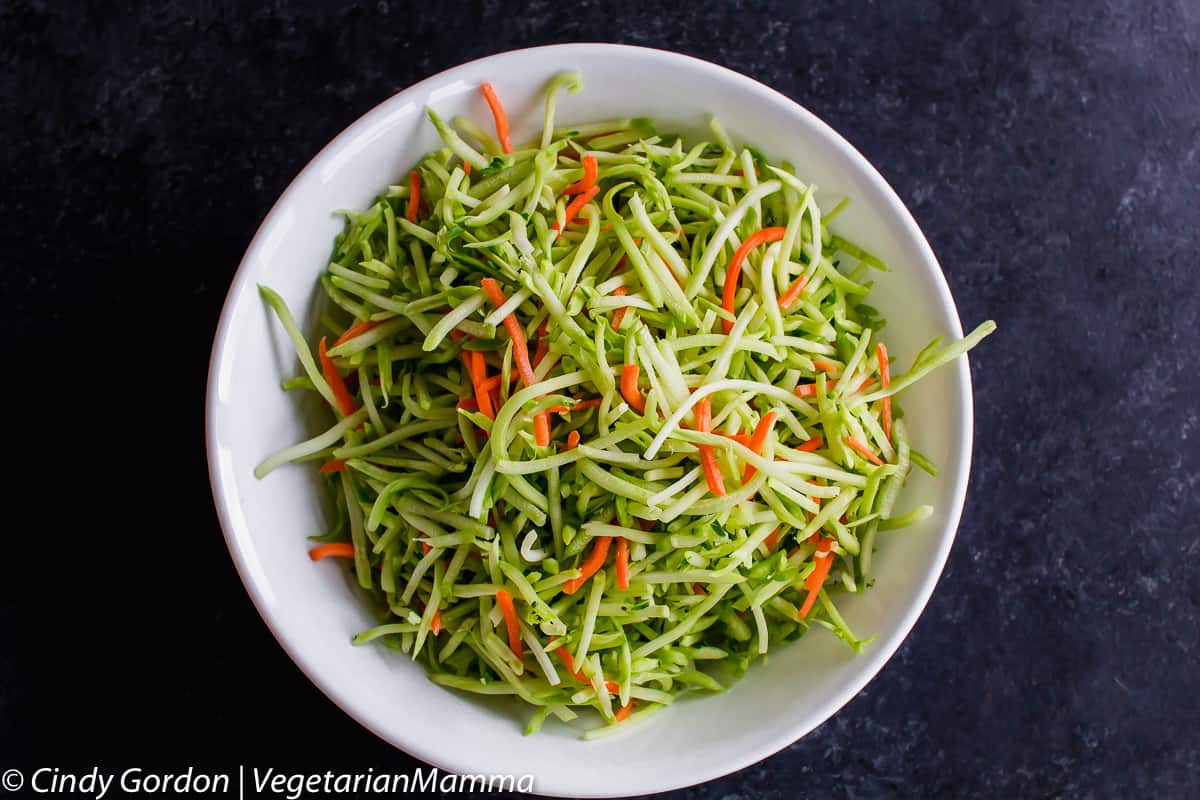 Save Time – Use Prepackaged Broccoli Slaw
I used a broccoli slaw for the base of this creamy coleslaw recipe. Broccoli slaw is pretty common and can be found in most grocery stores.
You can find it by the pre-packaged coleslaw and salad mixes. If you can't find broccoli slaw, that is okay! Just use a bag of coleslaw mix, just not their dressing! See how easy and carefree this summer coleslaw is?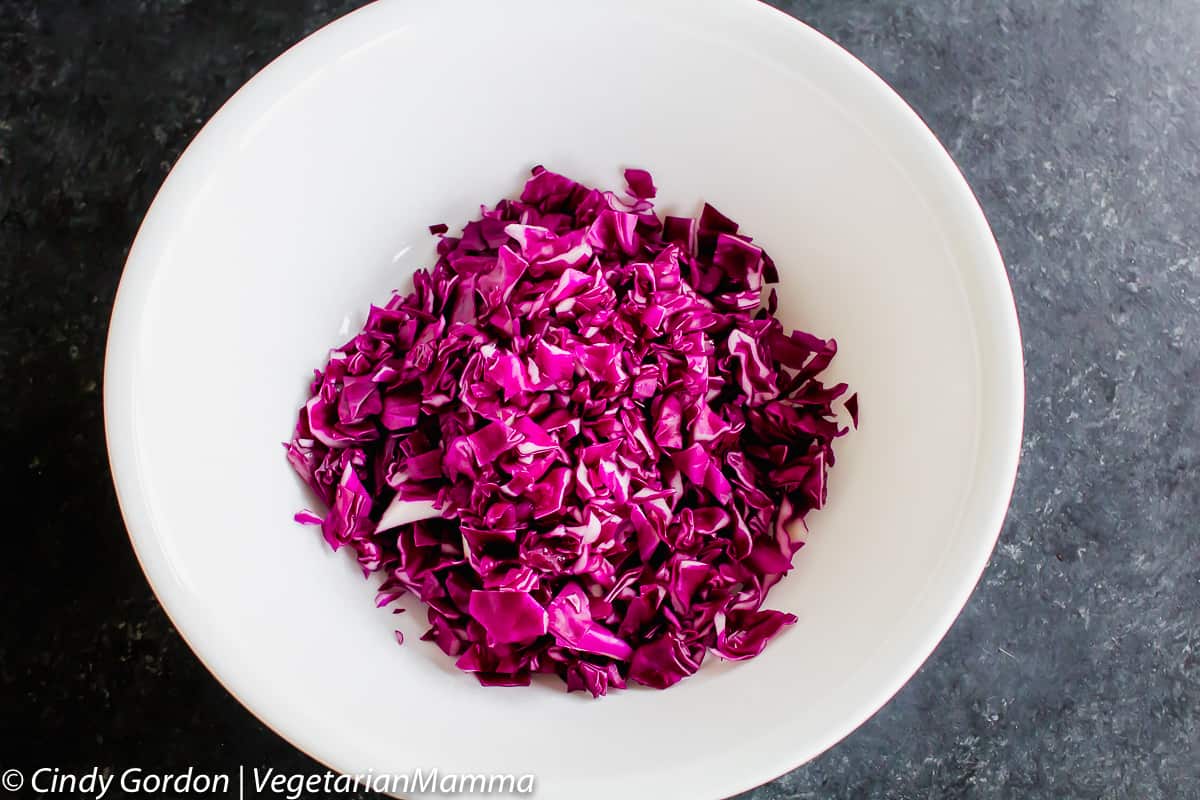 Add Red Cabbage to the Vegetarian Coleslaw
In addition to the broccoli slaw mix, I added some diced red cabbage. The red cabbage brings a beautiful color to our creamy coleslaw! The red/purple color pops! Not only is the red cabbage delicious but it's nutritious also! It is full of antioxidants!
I did some reading up on red cabbage and found that the color of red cabbage is dependent on the pH balance of itself. That is pretty interesting!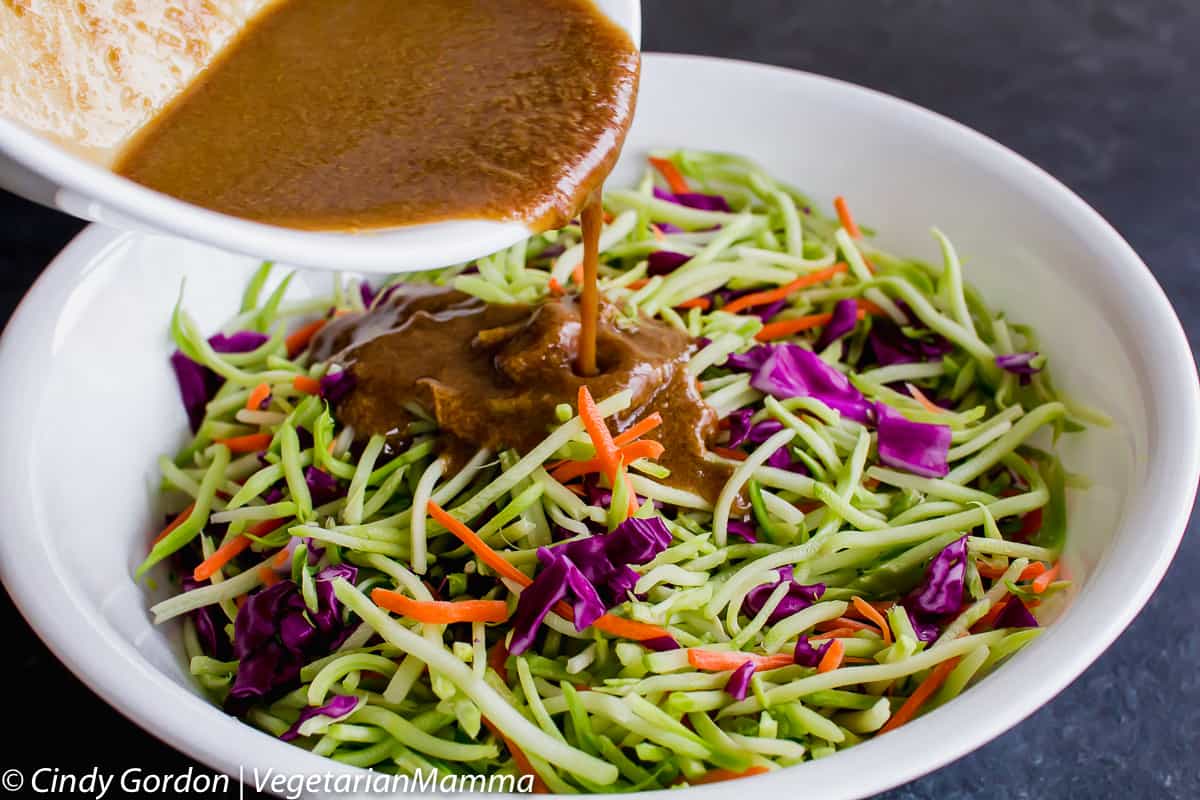 Coleslaw History
Time for a little look into the history of coleslaw. In my research, I learned that the word is from the Dutch language. The original Dutch word was koolsa, which meant cabbage salad.
When the Dutch came to America, they brought their amazing koolsa with them. As people mingled and shared foods, the name of the cabbage salad started to change into what we now call coleslaw. Always love to check out the history of the foods we eat! It is always fun to learn!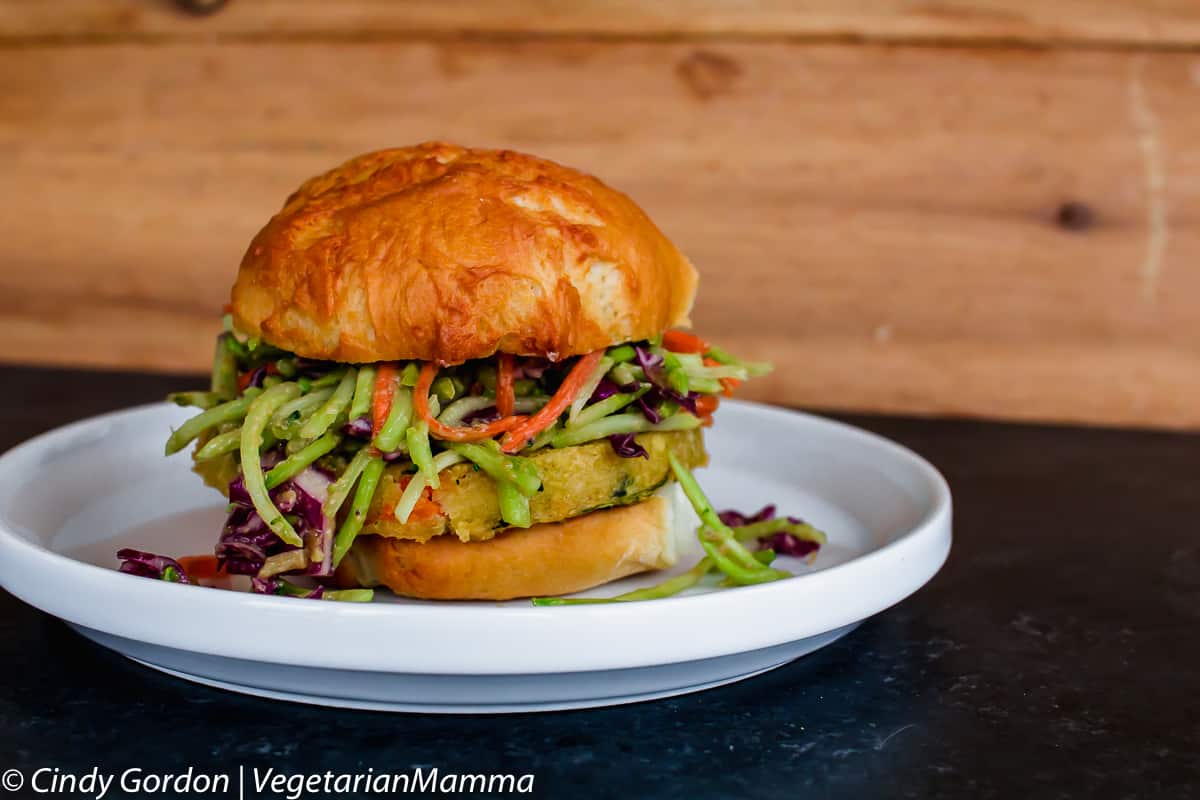 My personal favorite way to enjoy this creamy coleslaw is on top of my favorite veggie burger! Have you ever topped your burger with a slaw? If not, you are missing out and need to try this asap!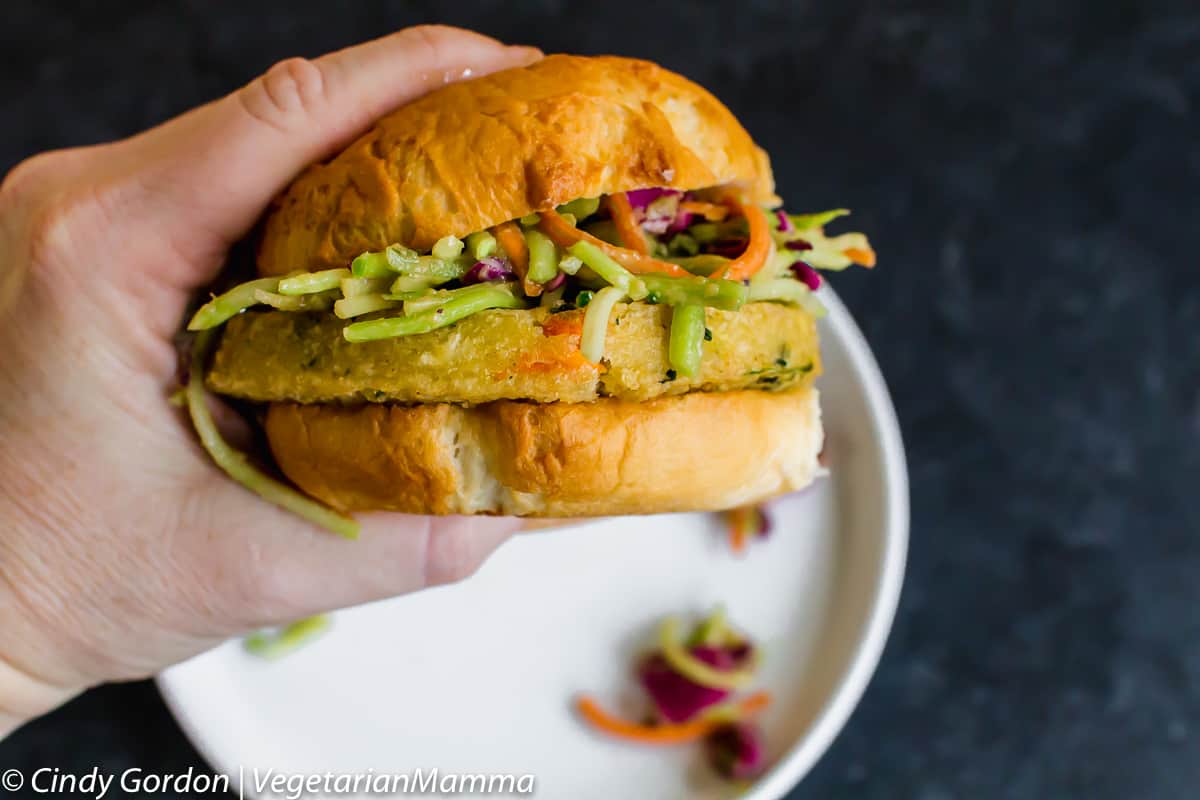 This is a perfect addition to any summertime picnic or cookout! Or if you don't want to share, that is okay too! Just keep it for your family!
Want more ideas to pair with your Vegetarian Coleslaw? You should check out some of our other salad recipes! We have a delicious Tomato Feta Salad and a Bean Salad.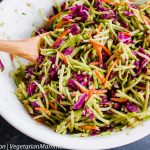 Print Recipe
Creamy Coleslaw
Creamy Coleslaw is a mouthwatering coleslaw recipe that is perfect for your next backyard BBQ. It can stand alone or be enjoyed on top of a burger!
Instructions
Whisk together sunbutter, vinegar, oil, brown sugar and Bragg's.

Add mixture to slaw. Stir until slaw is coated.

Cover and chill for at least an hour.

ENJOY!
Nutrition
Calories:
336
kcal
|
Carbohydrates:
48
g
|
Protein:
9
g
|
Fat:
15
g
|
Saturated Fat:
1
g
|
Sodium:
116
mg
|
Potassium:
1167
mg
|
Fiber:
3
g
|
Sugar:
30
g
|
Vitamin A:
2890
IU
|
Vitamin C:
312.1
mg
|
Calcium:
209
mg
|
Iron:
3.4
mg
All though this website attempts to provide accurate nutritional information, the information should only be considered an estimate. Varying factors such as different product types, different brands, etc. can change nutritional information. It is your responsibility as a consumer to read all labels to make sure the ingredients fit your dietary needs as well as calculate your own nutritional information as a double check.
I hope that this recipe gets you in the mood for warmer weather! Just think of the good times that are coming!
Let's talk! Leave me a comment telling if you have tried a creamy Vegetarian Coleslaw before? Have you ever topped your burger with coleslaw?