(Inspired) Creamy Mexican Pasta Salad
Creamy Taco Pasta Salad is an essential dish for your next cookout or backyard BBQ. This tasty recipe is super simple to make and tastes delicious.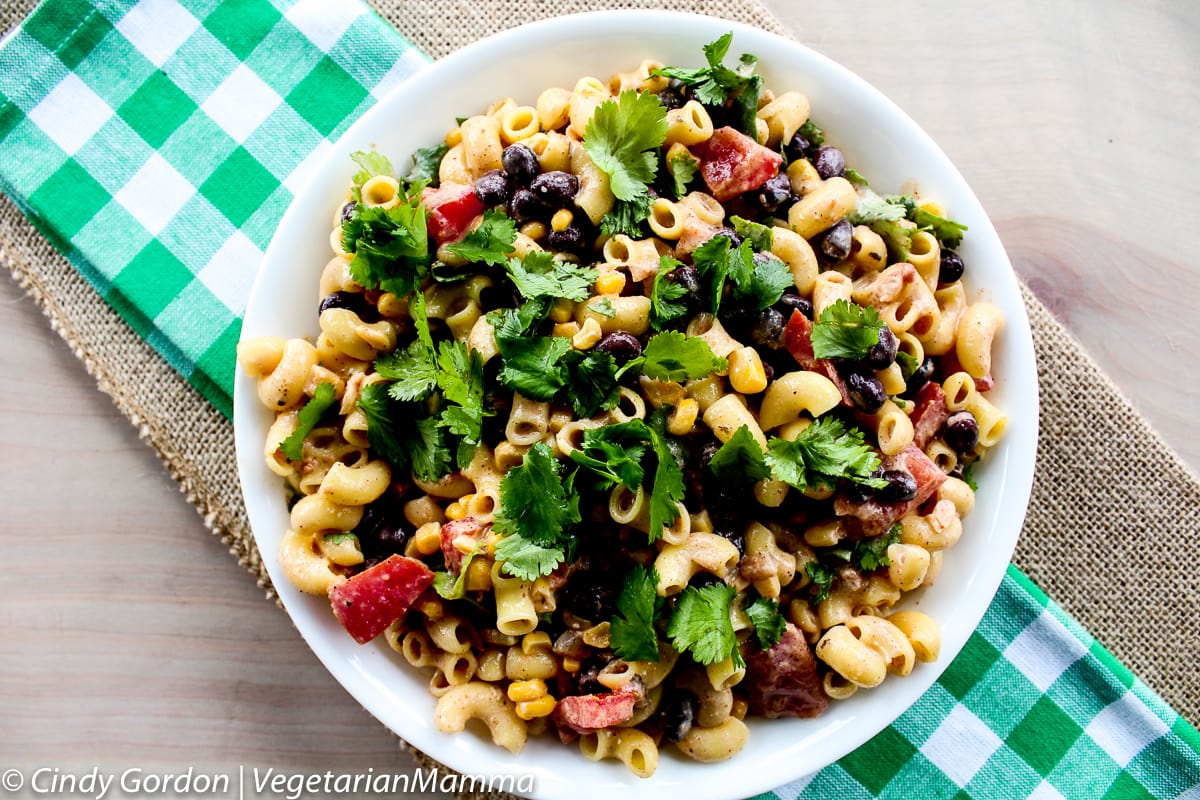 To say I love this taco pasta salad is an understatement. It's become one of my favorite summer dishes that I make. The first bite is truly a flavor explosion that will keep you begging for more. And I know that from experience.
This Creamy Taco Pasta Salad follows the same path as many of our recipes and contains very simple directions and has easy to find ingredients. In fact, I'd say it's a safe bet that you probably have the majority, if not all of the ingredients in your cabinets to make this dish…right now!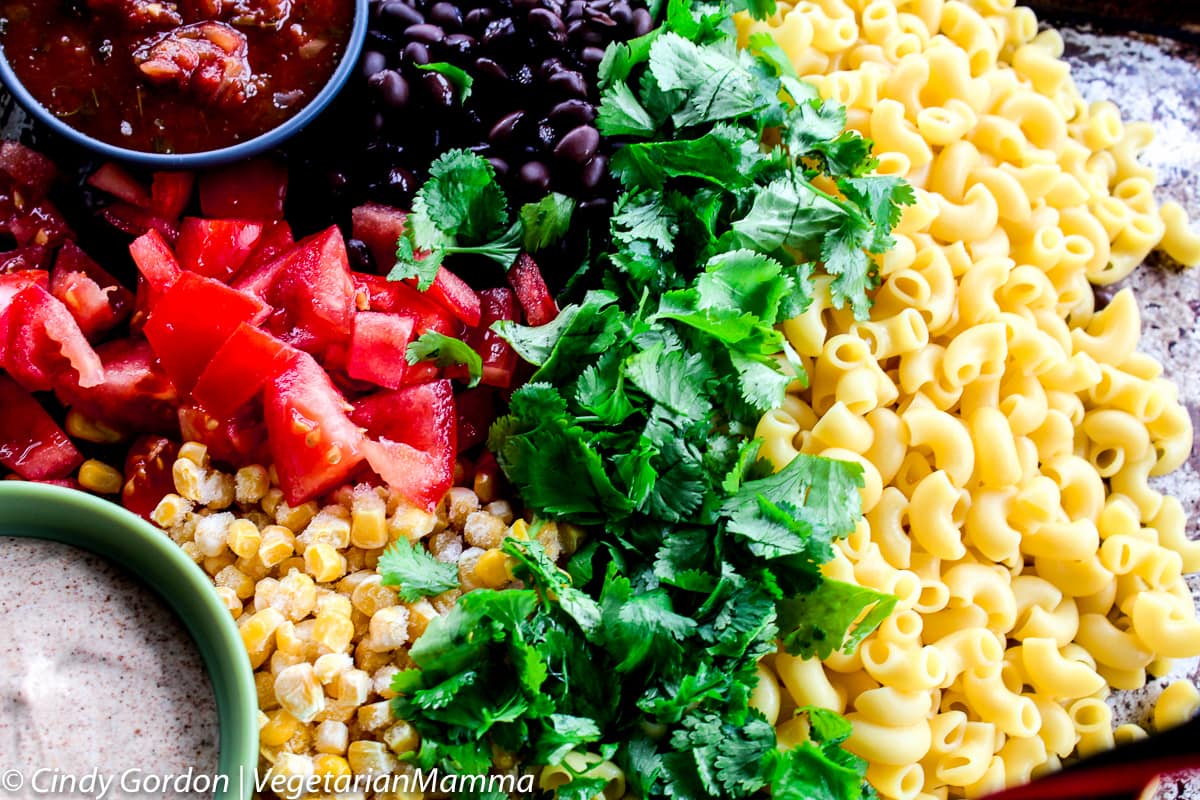 Creamy Taco Pasta Salad Ingredients
Don't blink or you'll miss this list…it's that small! But, it's a safe bet to say that in your cabinets you probably already have:
black beans
corn
tomatoes
salsa
Cilantro
And if you are currently wanting to make this recipe, and you have a garden…how awesome for you! Fresh corn, tomatoes, and cilantro straight from your garden will honestly take this recipe over the top!
Don't forget the option to add a bit of spice as well to your portion. It's such a fun recipe that allows each person the chance to add a little heat to their own bowl, should they choose to. A few dabs of hot sauce or a sprinkle of cayenne pepper, and this summer dish may be just as hot as the weather outside!
Hard to believe that those are the main ingredients to this taco pasta salad, right?
Trust me, I was just as surprised as you were, too. I grew up thinking that recipes had to be jam-packed full of a ton of ingredients and that recipes took a minimum of an hour to create from start to finish.
In fact, while this pasta salad is delicious, there are other pasta salads out there that have even fewer ingredients. These three, for example, only have 5! It's super simple to find recipes out there to fit whatever you may have in your cabinet.
And while some of those dishes with a ton of ingredients are still a few of my favorite things to cook, I just don't have the time anymore to take any longer than a few minutes for a meal for my family.
With how hectic our schedules are, this pasta taco salad recipe is seriously the perfect match for our busy days and our hungry tummies.
In fact, a little tip about this recipe is that it's great to sit and eat at the table or scoop up in a bowl and eat on the run. It's super easy to get a healthy meal on the go with this Creamy Taco Pasta Salad.
But what about the sauce for this Creamy Taco Pasta Salad Recipe???
Great question and an important part of the recipe that shouldn't be overlooked. I love the fact that the sauce of this creamy taco pasta salad is made from sour cream, taco mix, and lime juice. It gives the perfect zing to really balance out all the flavors.
I actually make this recipe using vegan sour cream, but you can use whatever sour cream works for you. And if I didn't mention before how user-friendly this recipe is…I'll do it again!
You can seriously alter the sauce to fit whatever your dietary needs or taste buds are craving.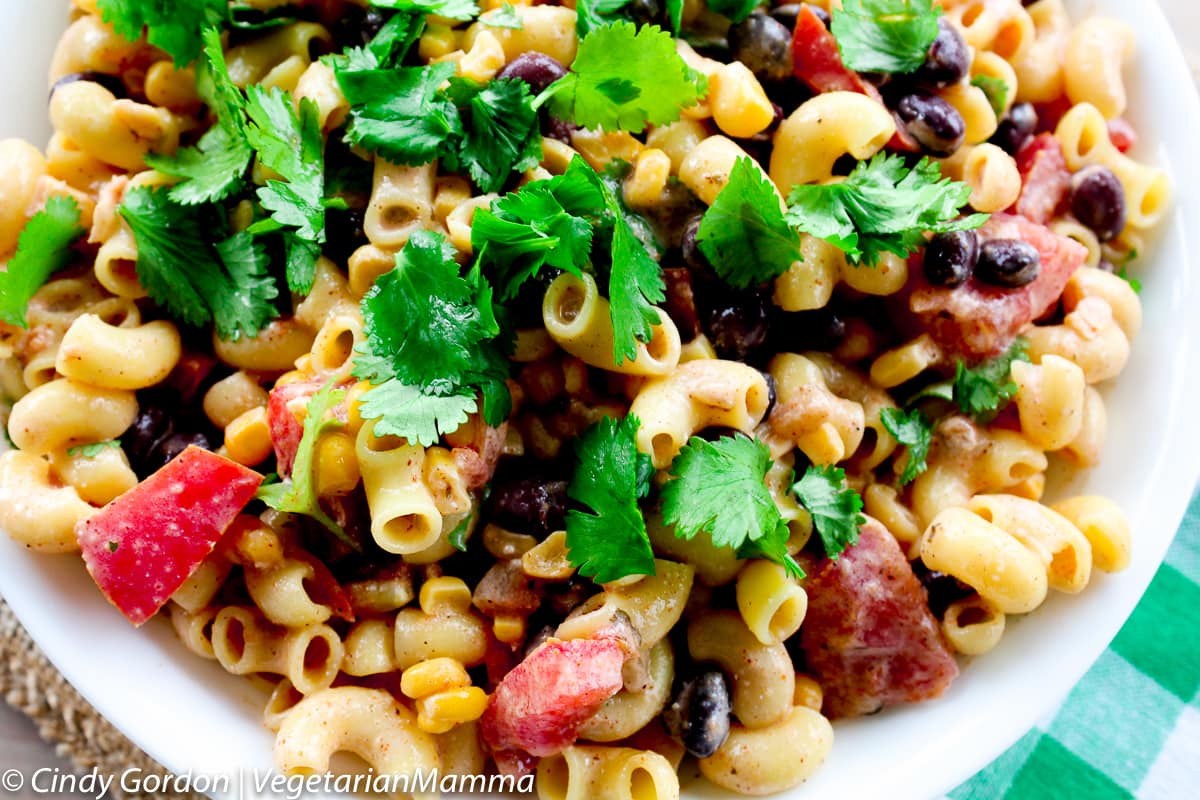 Don't just take my word for it. While I do love most food items, my family has voted to have this made time and time again. If it can satisfy the varying cravings of all the members of our house, there is no doubt that it's a great recipe that is worth sharing.
Creamy Taco Pasta Salad – The Perfect Dish for Summer BBQ's
I often feel that the summer is composed of travel, family, and eating at various outings and bbq's. As with all summer dining events, it's always a requirement for everyone to bring a dish to share.
You know where I'm going with this, don't you…Absolutely. My go-to dish to take to summer BBQ's and potlucks is this pasta taco salad. I love that I can make it up the day off to have a super fresh tasting dish. No matter where I take it, I always get a ton of compliments as well.
While it may look as though I spent hours upon hours working on it, it was mere minutes. The chilling in the fridge is the longest portion of the entire recipe, and that is completely hands off for you and me!
Don't be tempted to taste test along the way as you are making it, either. I found out the hard way that if you take one bite, you may not be able to stop…and while there is always a solution to every "problem", I ended up doubling up the recipe just to make certain that there was enough to share!
Do you have a favorite pasta salad to make?
Trust me that this recipe truly is one of the easiest and delicious recipes that you'll make!
Looking for more gluten-free recipes? You can check out all our recipes, that use Explore Cuisine pastas! Yummy recipes like: Kid Friendly Pasta Salad, Vegetable Bolognese, Warm Black Bean and Corn Pasta Salad, Spaghetti Stuffed Peppers, Roasted Cauliflower Alfredo and Vegetable Ragu.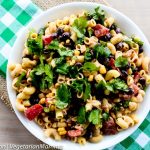 Creamy Taco Pasta Salad
Creamy Taco Pasta Salad is an essential dish for your next cookout or backyard BBQ. This tasty recipe is super simple to make and tastes delicious.
Keyword:
Creamy Taco Pasta Salad
Instructions
Prepare pasta per directions on box and put into large bowl.

Add beans, corn, tomatoes, salsa and cilantro to pasta. Toss to combine.

In a small bowl mix the remaining ingredients to create the sauce.

Gently add to the pasta mixture and stir to combine.

Chill for 1 hour, then serve.

ENJOY!
Recipe Notes
You can easily make this dairy-free by subbing out the sour cream.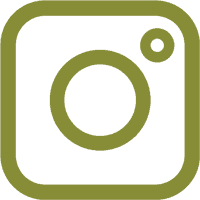 Did you make this recipe?
Be sure to snap a picture and post it to Instagram with the hashtag #VegetarianMamma! I love seeing our recipes being recreated!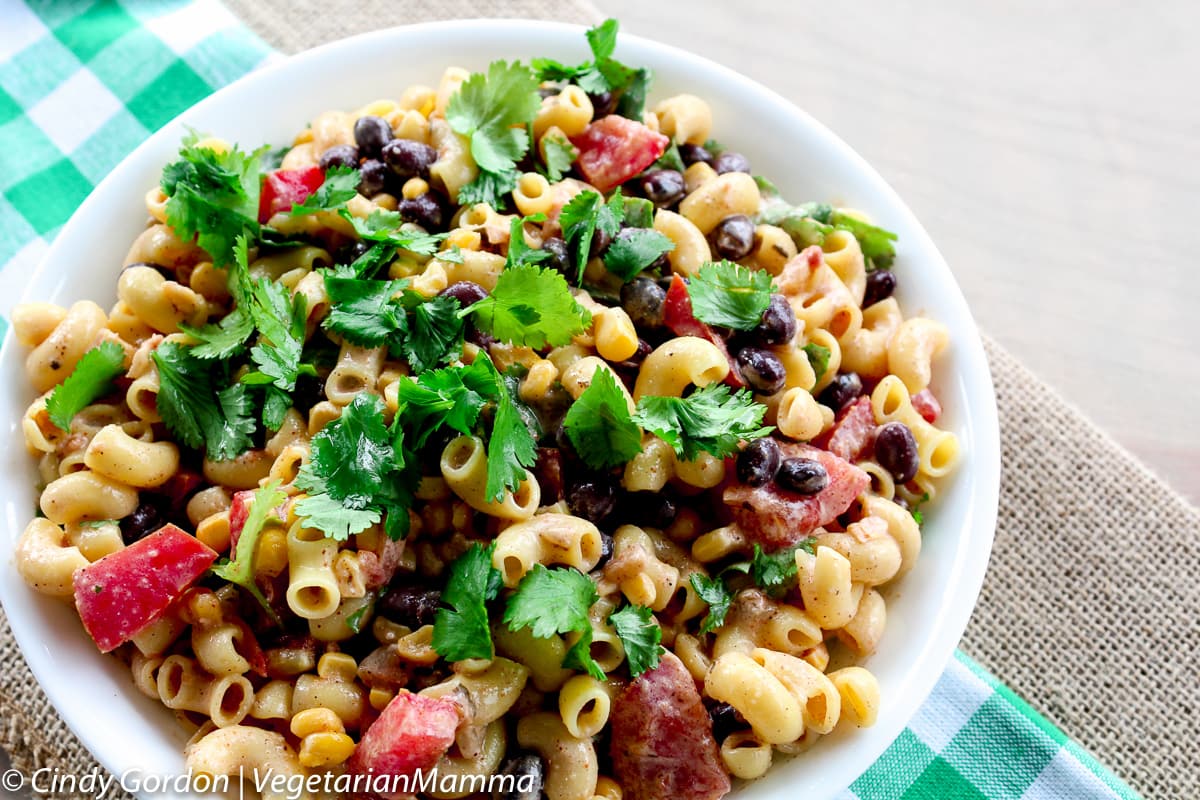 If you LOVE pasta salad, you need to check out our Warm Black Bean Corn Pasta Salad and our Kid Friendly Pasta Salad. Both are amazingly delicious!
Let's talk! Leave me a comment telling me your favorite pasta salad combinations? What do you love to take to cookouts to share?
PIN for later: