This Deli Style Potato Salad is a creamy delicious side dish that will add flare and flavor to any picnic. This iconic dish will bring back memories of your favorite deli.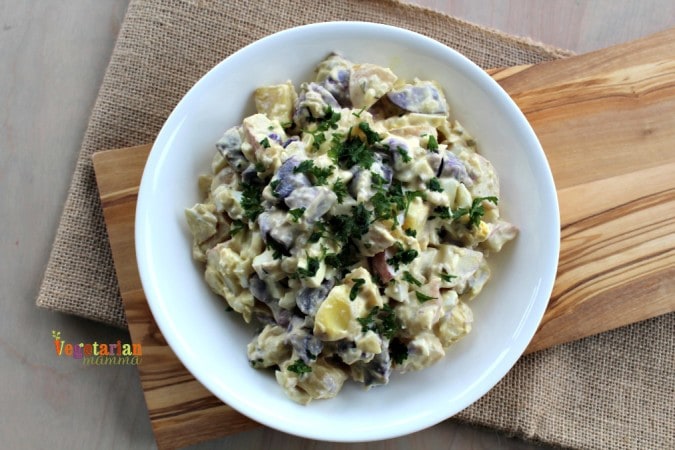 I remember shopping in the grocery store with my mom as I was growing up. Often times we would get items from the deli case.  This was my favorite. I loved getting the freshly made items from those giant bowls. The food always looked so pretty and always tasted so good. There is just something delicious about small town delis. One of my favorite items to get was potato salad.
I have created many potato salad recipes, really the options are endless! A little tweak here or there can make a huge difference.  This particular recipe is reminiscent of my childhood deli memories.  I hope that you enjoy this Deli Style Potato Salad as much as I do.
If potatoes aren't really your thing, consider checking out this Bean Salad recipe. It is chalk full of amazing beans and flavor. You should also check out some of our other salad recipes! We have a delicious Tomato Feta Salad, Cucumber Chickpea Salad and Bean Salad.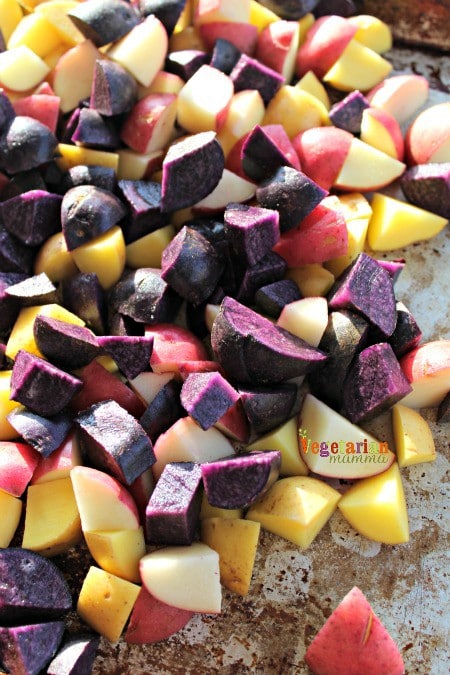 I did add my own flare to this Deli Style Potato Salad by using some rainbow potatoes.  Seriously, who can deny those beautiful potatoes! I just love that color.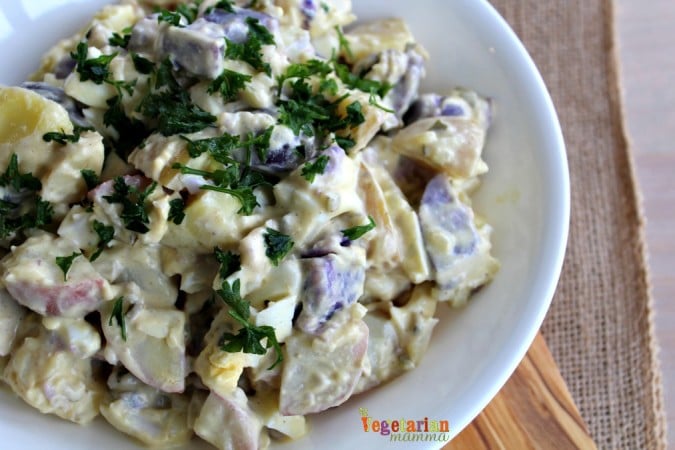 Deli Style Potato Salad
Author:
Cindy Gordon (Vegetarian Mamma)
Instructions
Bring a large pot of water to a boil. Cut potatoes into ½ inch sections. Boil potatoes until just barely soft. (be sure not to over cook, you don't want mushy potatoes) Drain and rinse with cold water. Let potatoes cool.
Add chopped eggs, dill relish and diced white onion to cooled potatoes, stir to combine.
In a small bowl mix remaining ingredients. Once blended, combine with potato mixture. Stir to combine.
Chill for at least 3 hours. Top with some chopped parsley for garnish and ENJOY!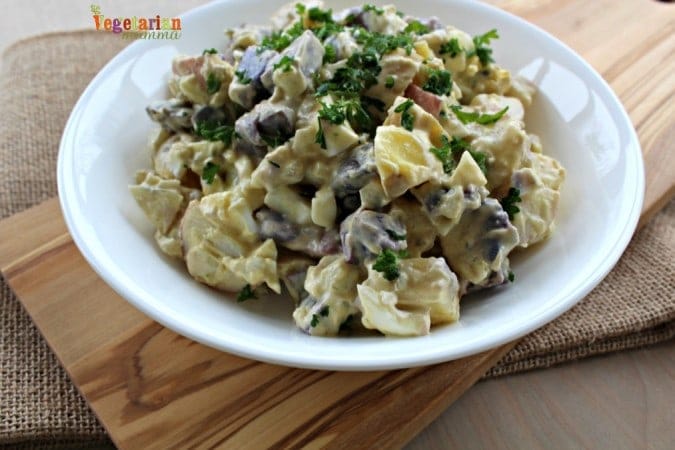 Let's talk! Leave me a comment telling me your favorite childhood deli memories! Where you more of a potato salad or macaroni salad kid?
*this post contains affiliate links
Looking for more gluten-free recipes? I share many of my recipes at FaveGlutenFreeRecipes.com  You can find some delicious recipes there!