Easy Lasagna Soup is a combination of two comfort dishes rolled into one. The comforting taste of lasagna paired with a soul warming soup.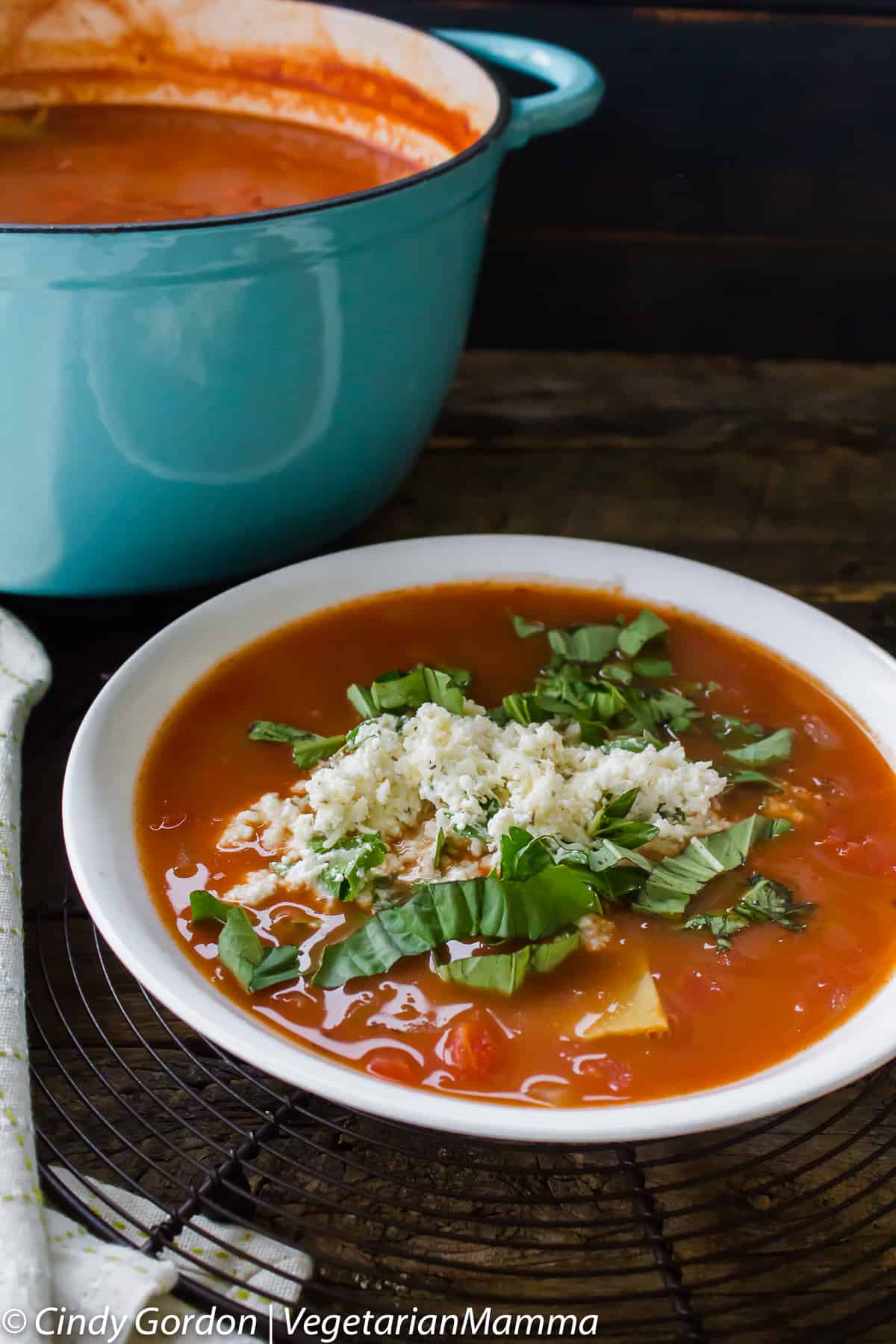 Let me be honest, I love soup any time of the year. Soup does get pretty popular when the weather turns cooler.
With the extremely cold, negative temperatures that we have been having now is the perfect time to share this soup with you. This easy lasagna soup is the ultimate comfort soup.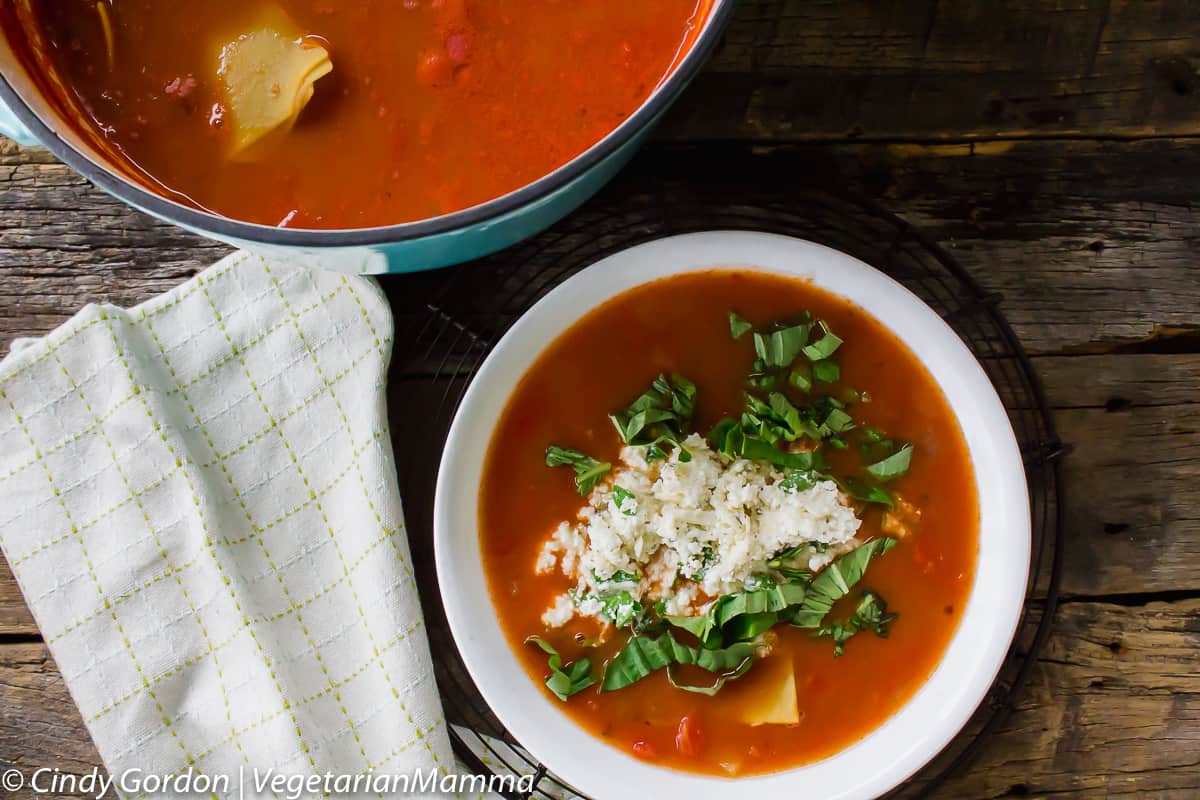 Why not pair two comfort foods together, right? We love soup and it is soul warming. We love lasagna because it is comforting.  BOOM! Now we have a soul warming comforting soup!
Genius, I tell you! 🙂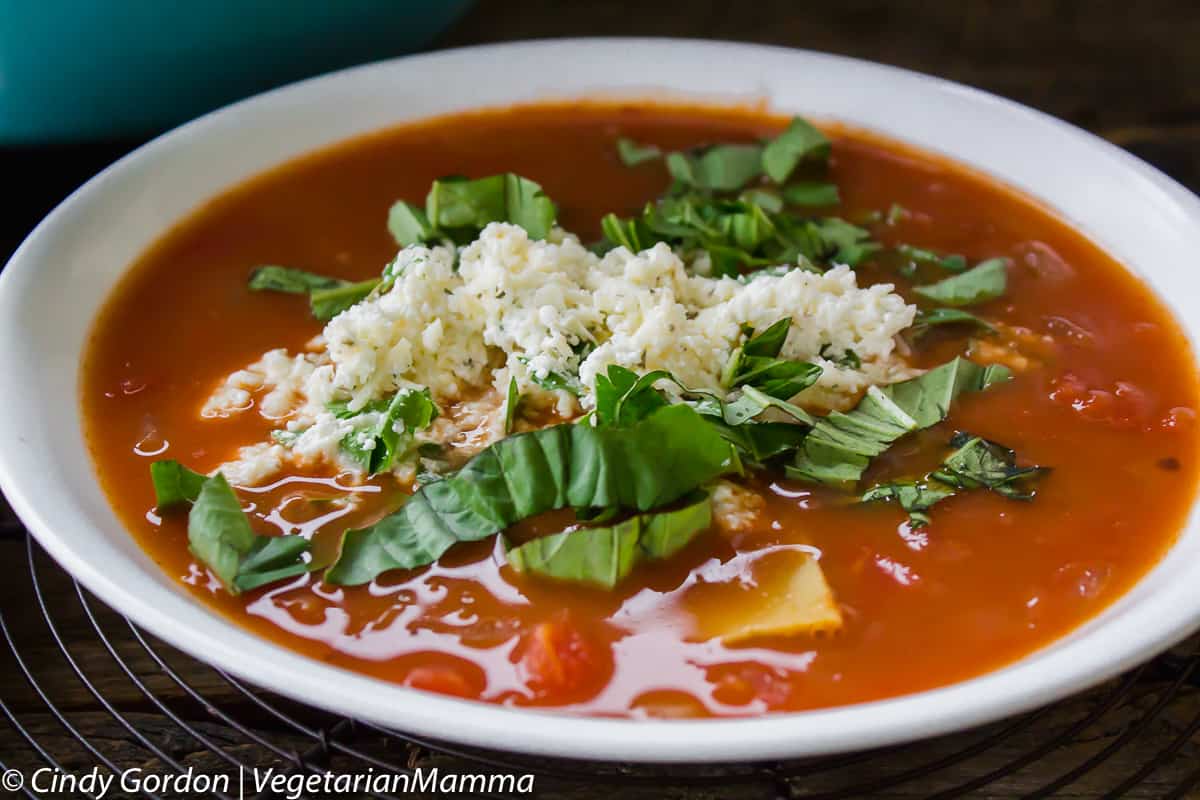 The soup starts with a base of lasagna noodles.  I happened to use a gluten-free brand that I often mention here on our site.
We used one box of 8 oz gluten-free lasagna noodles for this easy lasagna soup recipe. Break the noodles up into smaller pieces to make them easier to eat within the soup.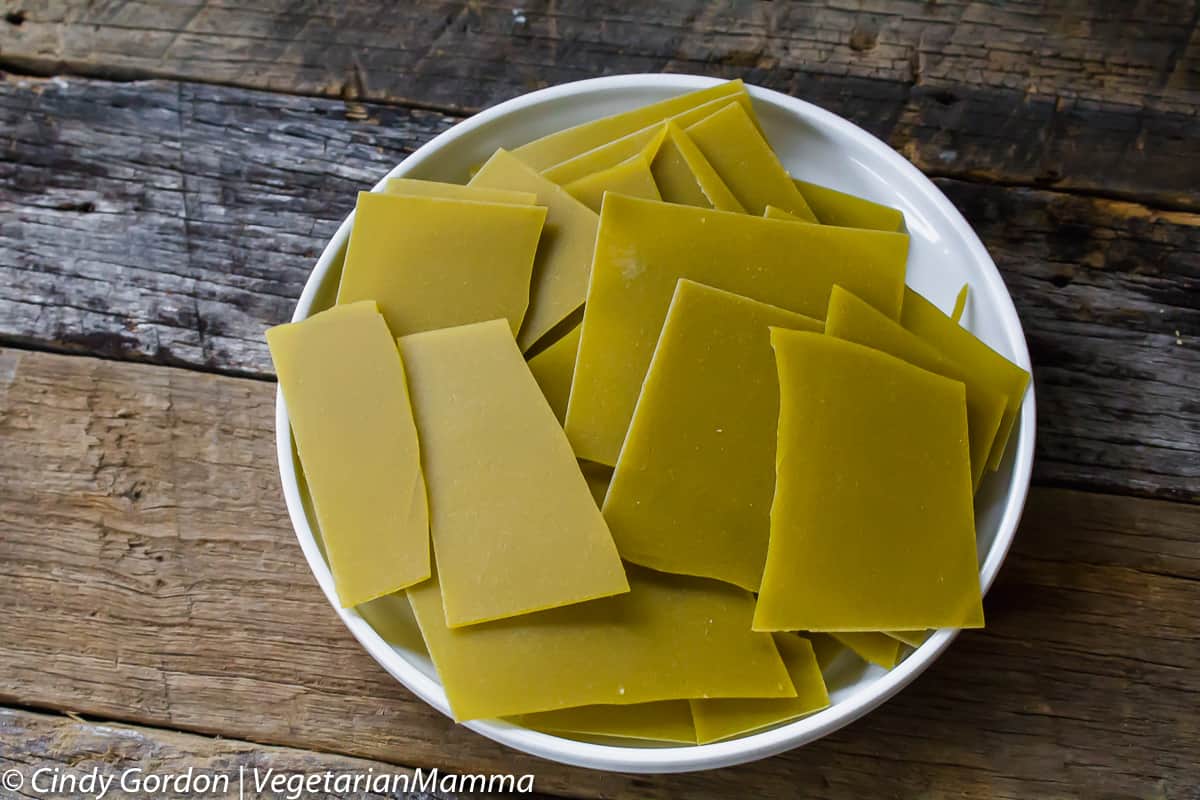 Next up is the comforting part, you know that goodness that fills a typical lasagna!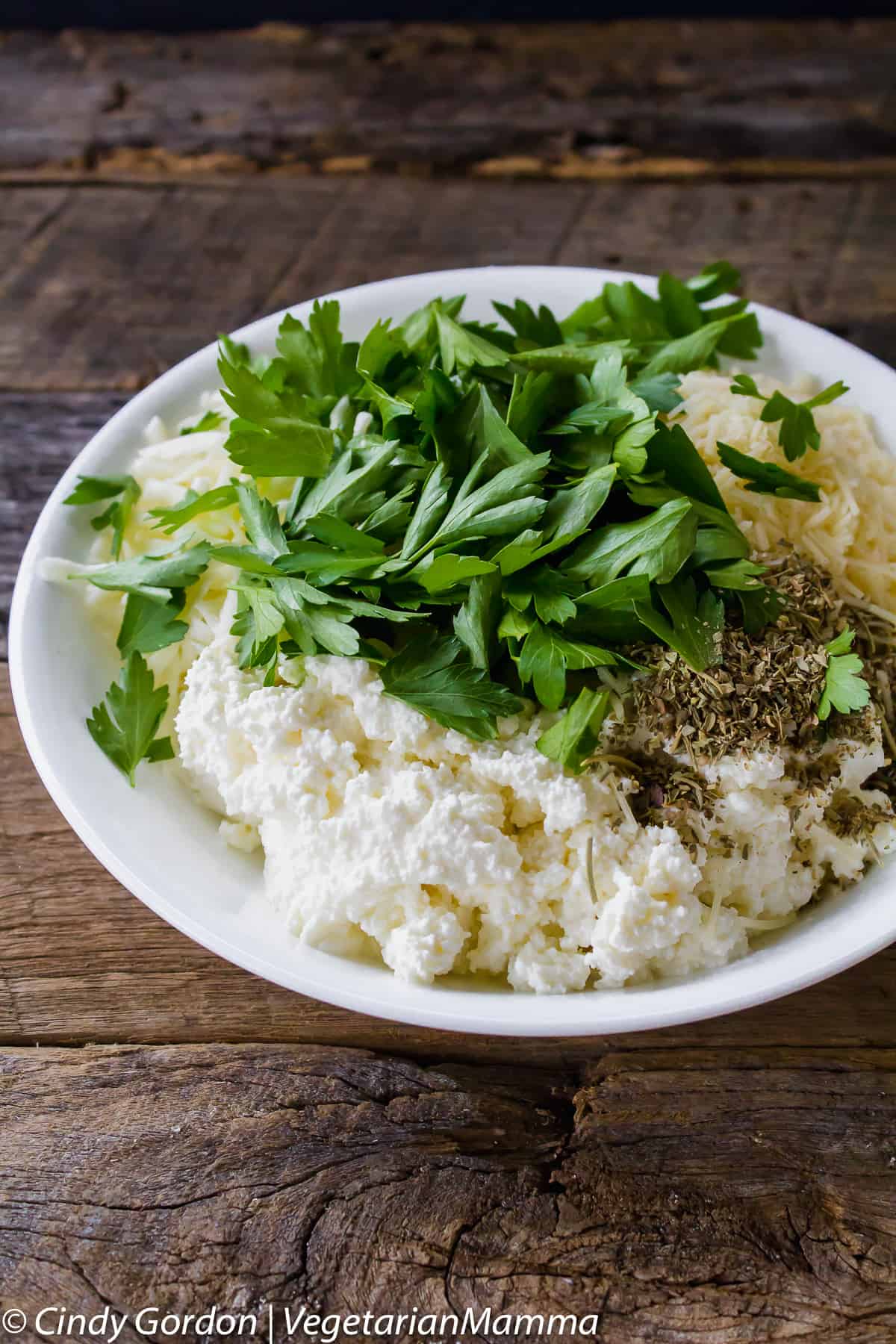 I added in some fresh herbs as well as some dry herbs to the mix.  We also included some ricotta and parmesan to this delicious lasagna soup recipe!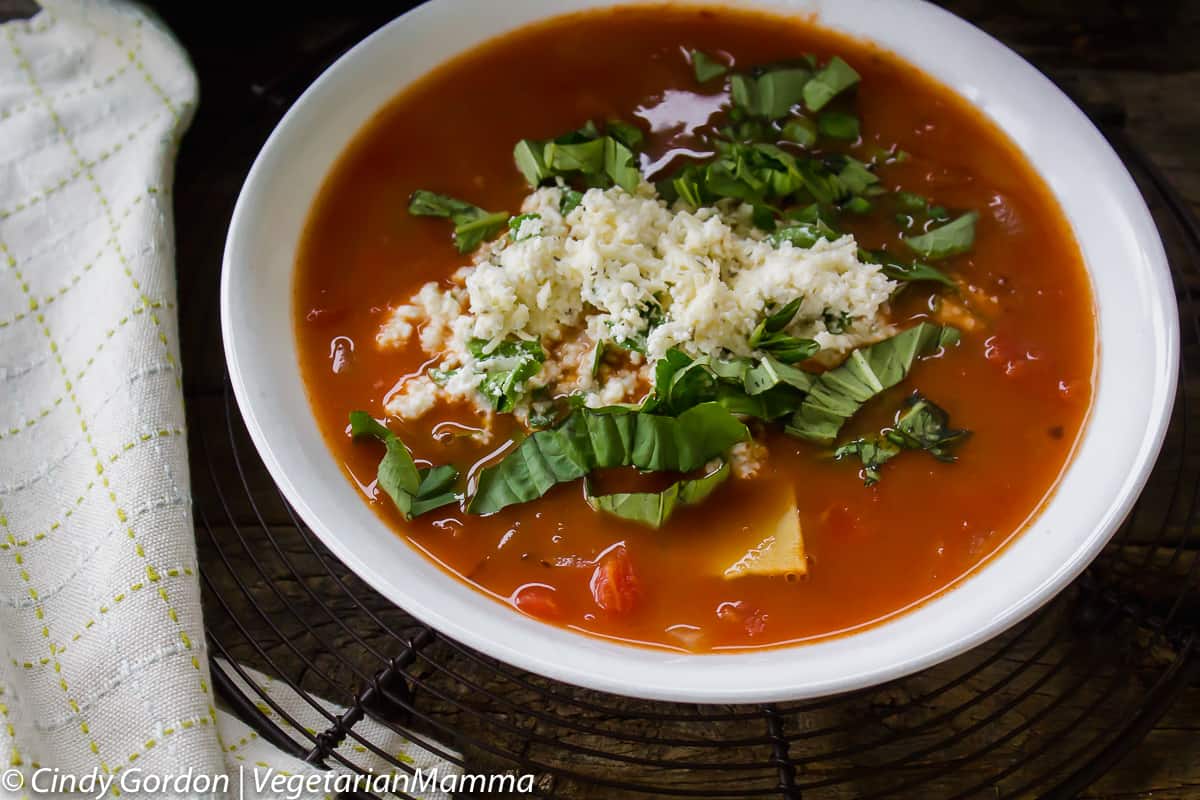 You can cook the recipe with the noodles in the pot. I have found that its easier to boil the noodles and set aside while you are preparing the soup base.
Then place the noodles into bowls and pour the soup base on top of the lasagna noodles.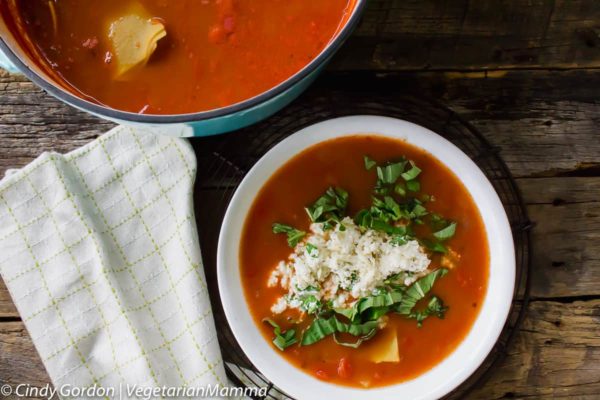 | | |
| --- | --- |
| | |
In a large pot over medium heat, warm the oil. Then saute the onions until hot.

Next, add in the lasagna noodles, diced tomatoes, balsamic vinegar, vegetable broth, sugar and bring to a boil. Boil for 6-8 minutes until noodles are cooked completely. You will need to stir so noodles do not stick together.

Next, add in chickpeas. Stir to mix.

In a bowl create your cheese mixture. Mix ricotta, parmesan, parsley, Italian Seasoning and mozzarella cheese.

Spoon soup mixture into bowls. Top with 1/4-1/2 cup of the cheese mixture. Top with fresh basil as a garnish! ENJOY!
If you'd prefer to cook your lasagna noodles by themselves, they seem to cook better and hold up better. Simply boil water first, cook noodles, drain and set aside.
The simply skip the step above where you add in noodles. You will still bring the liquid mixture to a boil and then simmer for 4 minutes.  After that continue with the recipe as - is.
See how easy that gluten-free lasagna soup recipe is? I told you it was simple and mouthwatering!
Hungry for more?
Looking for more gluten-free recipes? You can check out all our recipes, that use Explore Cuisine pastas! Yummy recipes like: Kid Friendly Pasta Salad, Vegetable Bolognese, Warm Black Bean and Corn Pasta Salad, Spaghetti Stuffed Peppers, Roasted Cauliflower Alfredo and Vegetable Ragu.
Let's talk! Leave me a comment below telling me if you are a lasagna lover? Have you tried a lasagna soup before?