Enjoy Life Foods ProBurst Bites – New Product Alert! You are going to want to check out this allergy-friendly snack!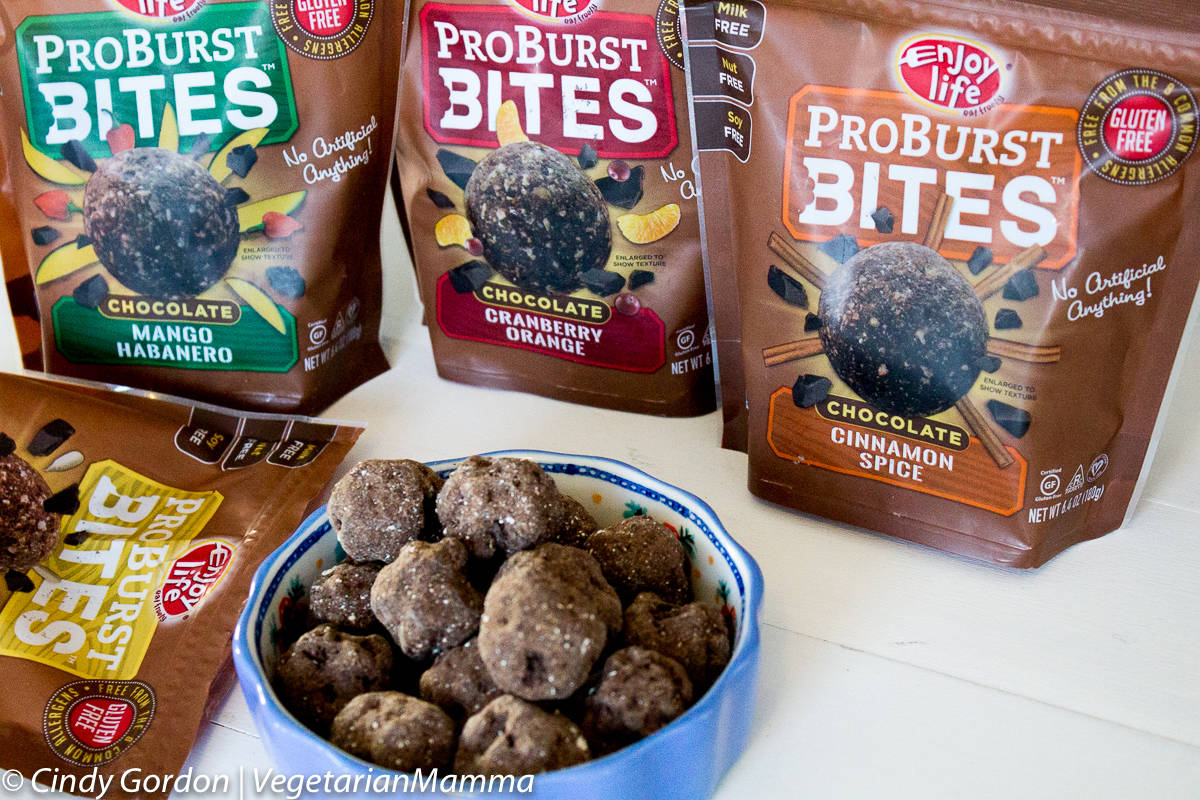 I am always looking for new allergy safe snacks for me and my family. They are not always easy to find, especially when they need to be free of most allergens in order to be safe for us.  I know that I can always count on Enjoy Life Foods to have a snack that works for us!  All of their snacks are allergy safe AND delicious, but this newest one is really special. I was thrilled to get a chance to sample these before they are even available in stores!
ProBurst Bites by Enjoy Life Foods are like perfect, little, protein-packed, chocolatey truffles! Each serving has a full 7 grams of vegetable-based protein designed to fuel you through your day.  The best part is that ProBurst Bites have a smooth chocolate center that tastes amazing and is as satisfying as eating a chocolate bar – but much healthier.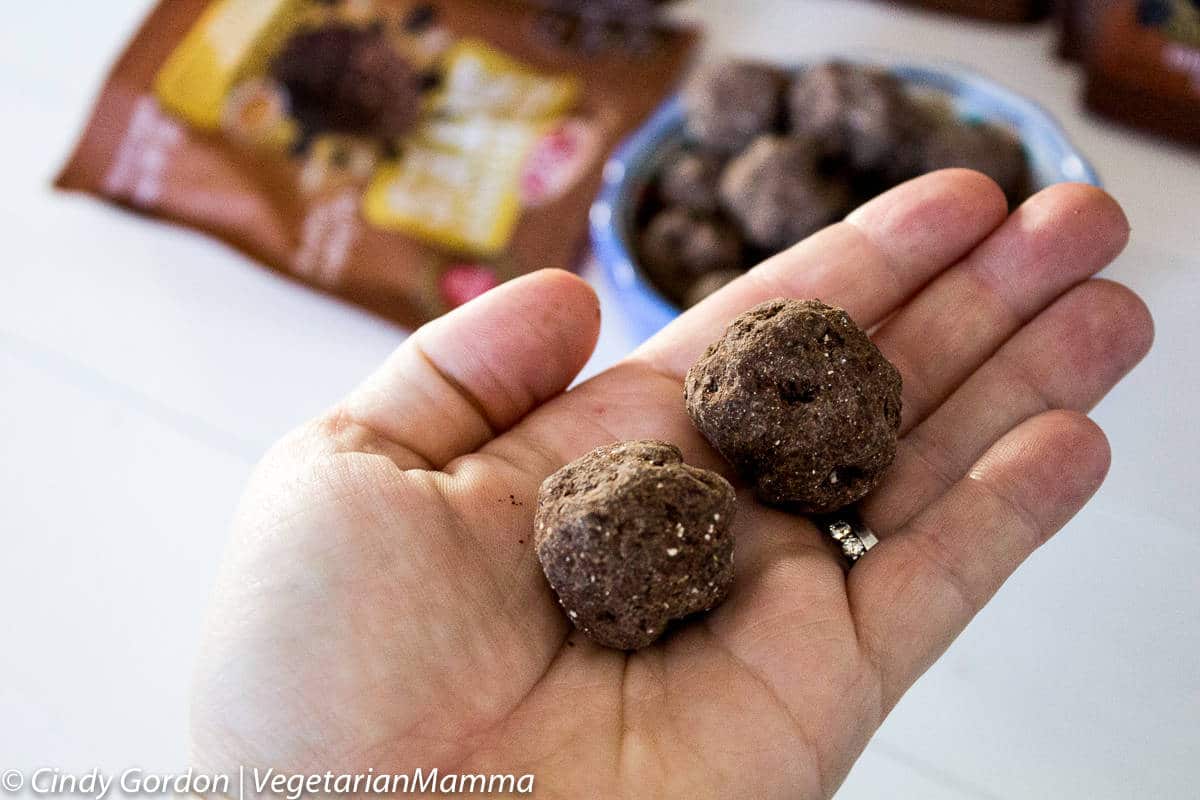 Each package of ProBurst Bites has 5 servings of 3 bites each.  That's enough for your whole work week, just pop the resealable bag in your desk drawer!  These treats are perfect for the afternoon slump, as they offer the two things that you NEED as a pick-me-up: Protein and Chocolate! They would also work great as breakfast, or an after workout snack.  At 170 calories per serving, these bites are a great addition to a healthy meal plan.
One of my favorite things about this snack is the unique flavors that they come in.  Enjoy Life Foods uses spices, fruit, and even hot peppers to make ProBurst Bites' exciting 4 flavors, and I've enjoyed each of them for their uniqueness.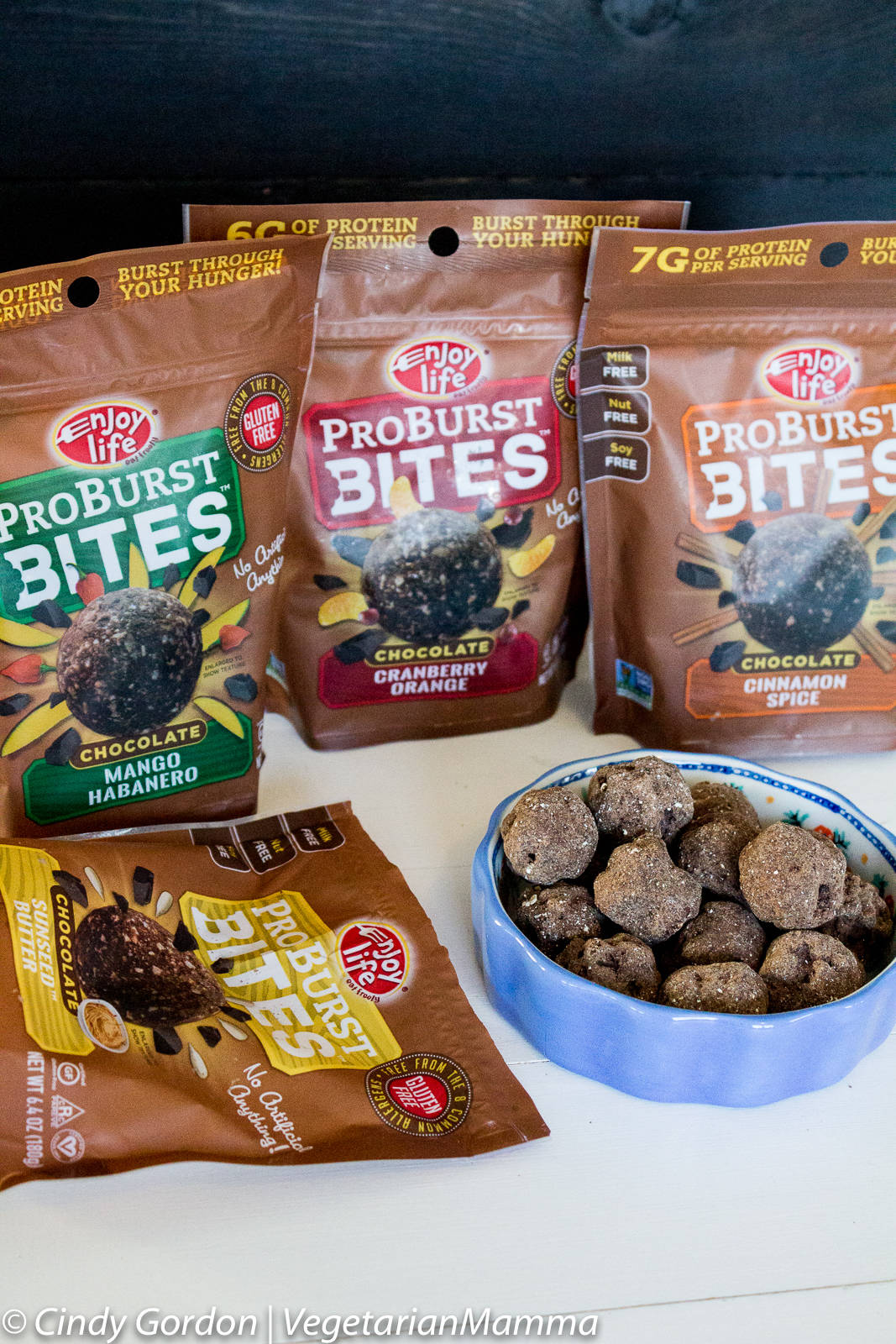 SunSeed Butter
This flavor uses SunSeed butter to mimic the classic PB and Chocolate flavor combo.  
Mango Habanero
You might not think that this sounds like it should go with chocolate, but it DOES!  Spicy, sweet, and salty all at once, it's totally amazing.
Cranberry Orange
Warm, bright, and sweet, this flavor is probably my favorite.  I love the zest from the orange and the tartness from the cranberries.
Cinnamon Spice
This more familiar combination is warm and inviting, and really nice for breakfast.  
I have to share that my husband is in LOVE with the Mango Habanero!  What a FUN flavor!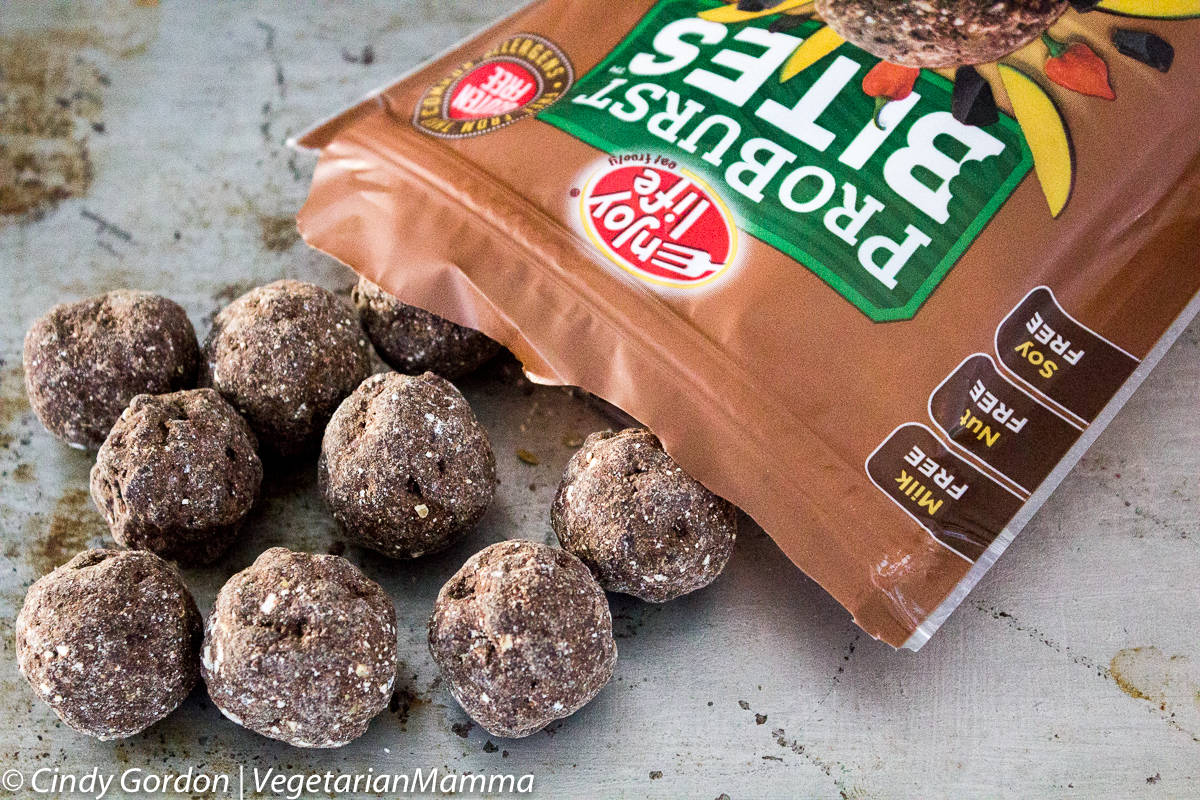 Just like all of Enjoy Life Foods' products, this one is free from the top 8 allergens, certified gluten free, verified non-GMO, halal, and kosher.  These snacks are also vegan friendly. Some of Enjoy Life's products include honey, these don't!  I can't say enough about how lucky I am to have found this company.  I feel completely safe eating all of their products and feeding them to my family.  You'll always see a bag of Enjoy Life snacks on my counter if you stop by.  
You can purchase ProBurst Bites online before they are available in stores!  They will be released to stores in March, but who can wait that long??  Connect with Enjoy Life Foods on Facebook, Twitter, and Pinterest, and Instagram.
Thank you to Enjoy Life Foods for providing us samples and sponsoring our post!
Want 10% off your order? Enter Code: PROBURST456 The coupon expires 3/31/17.
Looking for gluten-free recipes? Especially ones that use Enjoy Life Food products? Check out these recipes: Loaded Plentils Nachos, Creamy Corn Soup, Gluten-Free Fudgy Brownies, Gluten-Free Brownie Trifle and Gluten Free Cinnamon Roll Muffins.
Let's talk! Leave me a comment below telling me which flavor you'd like to try first!