Fajita Tofu Kabobs are a fun twist to add to your menu plan! This recipe can be made on your outdoor or indoor grilling unit!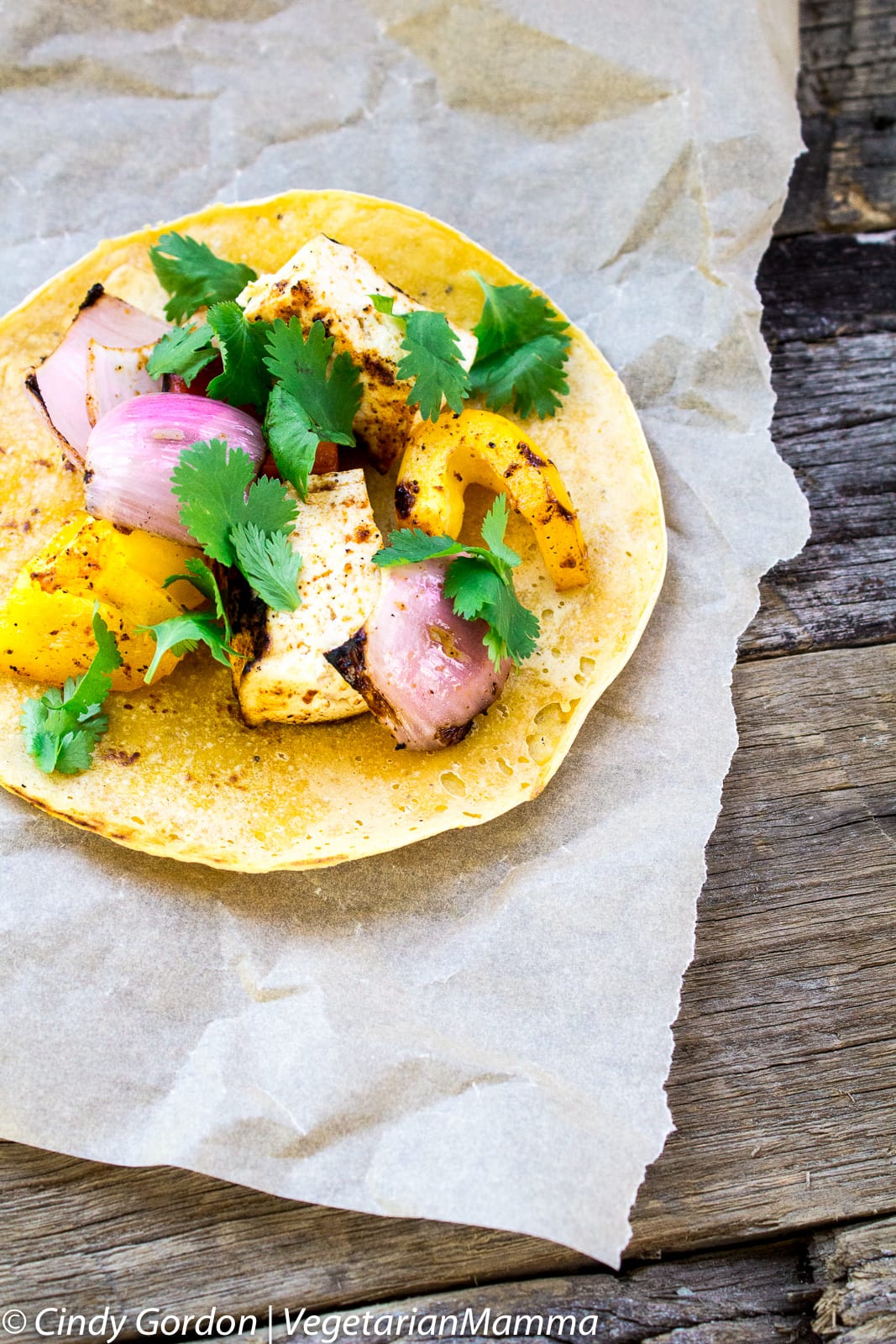 As you know, we love tofu recipe. We are always looking for fun ways to cook our tofu. Whether its Crispy Air Fryer Tofu, Balsamic Tofu and Mushrooms or Tofu Scramble Burritos, we got you covered.
We have even talked about the benefits of tofu and simple ways to cook tofu!
This recipe will not disappoint. While it features tofu, it also features some delicious, colorful and fresh bell peppers and red onion.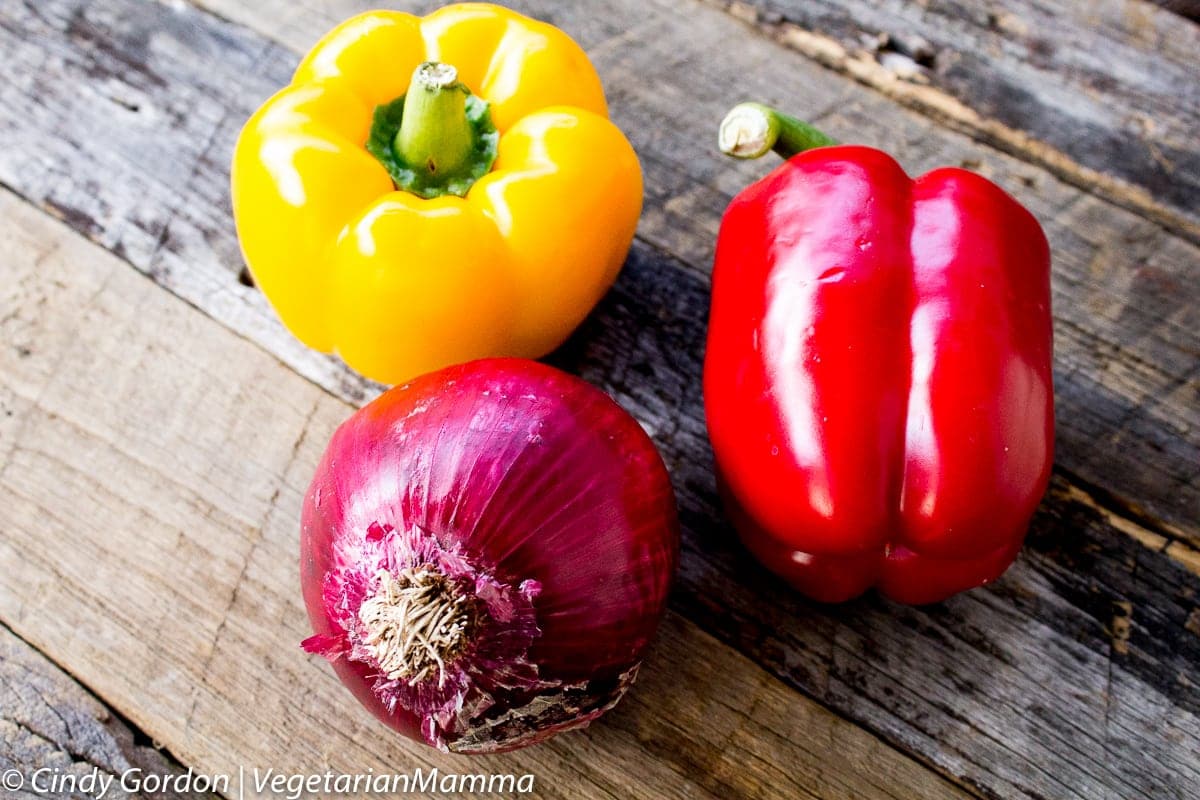 I love how colorful and beautiful these ingredients are when you cut them up. Don't you?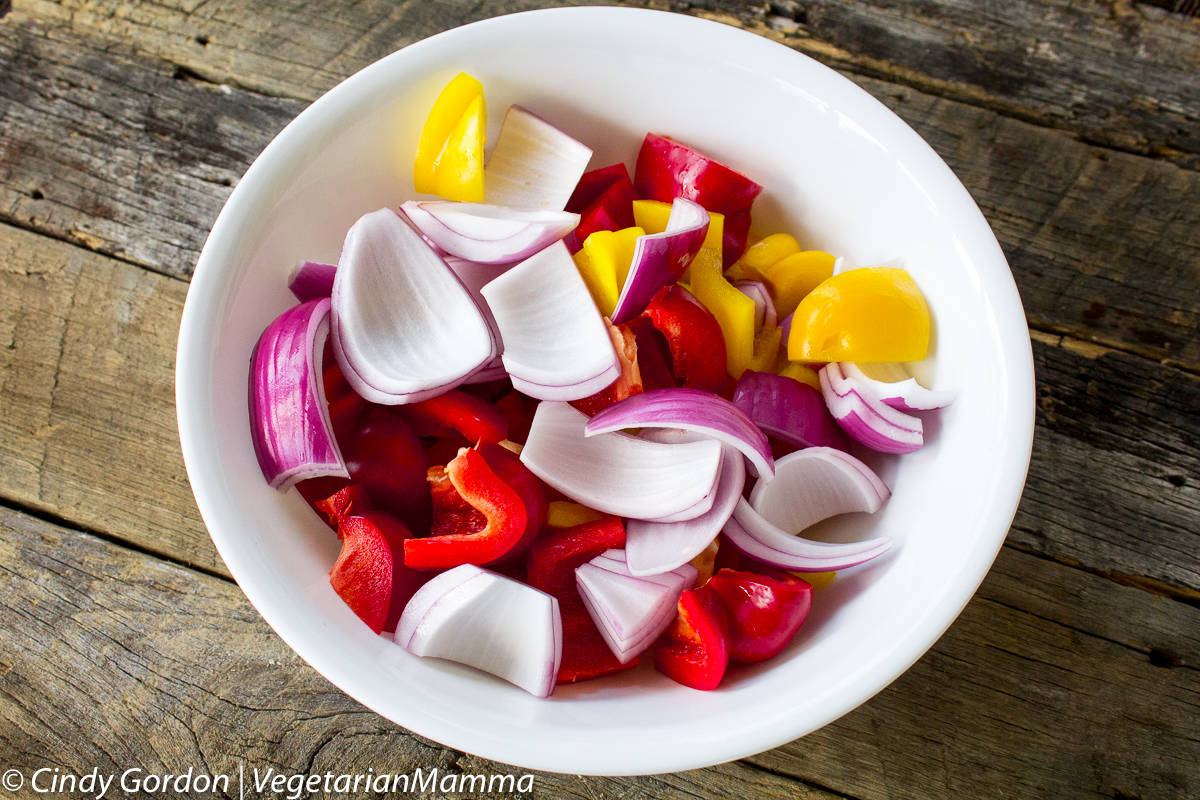 Next up is the seasoning. Seasoning can be tricky for those who have to eat gluten-free. Be sure to check labels to make sure the seasoning fits for you.
I would suggest going straight for a Fajita Seasoning or you would use a Southwest Seasoning like we used in our recent Seasoned Black Beans recipe.
Honestly, if you just want the deep southwest flavor, you can use taco seasoning, in a pinch 🙂 I mean that makes it more like Taco Tofu Kabobs, but it will work.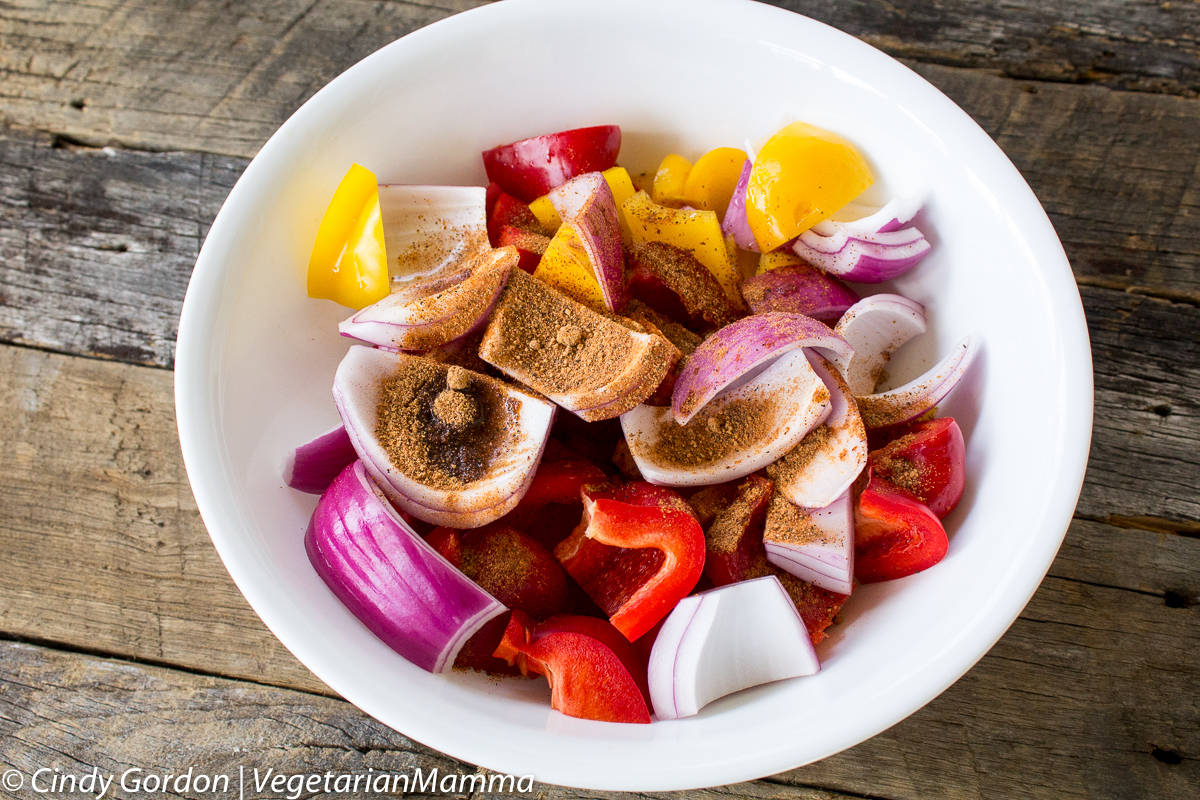 I even had a little helper for this one. She was on floor duty. She made sure that all scraps that fell on the floor was cleaned up asap! I mean in a super timely manner 🙂
What a good girl! Thanks Gia!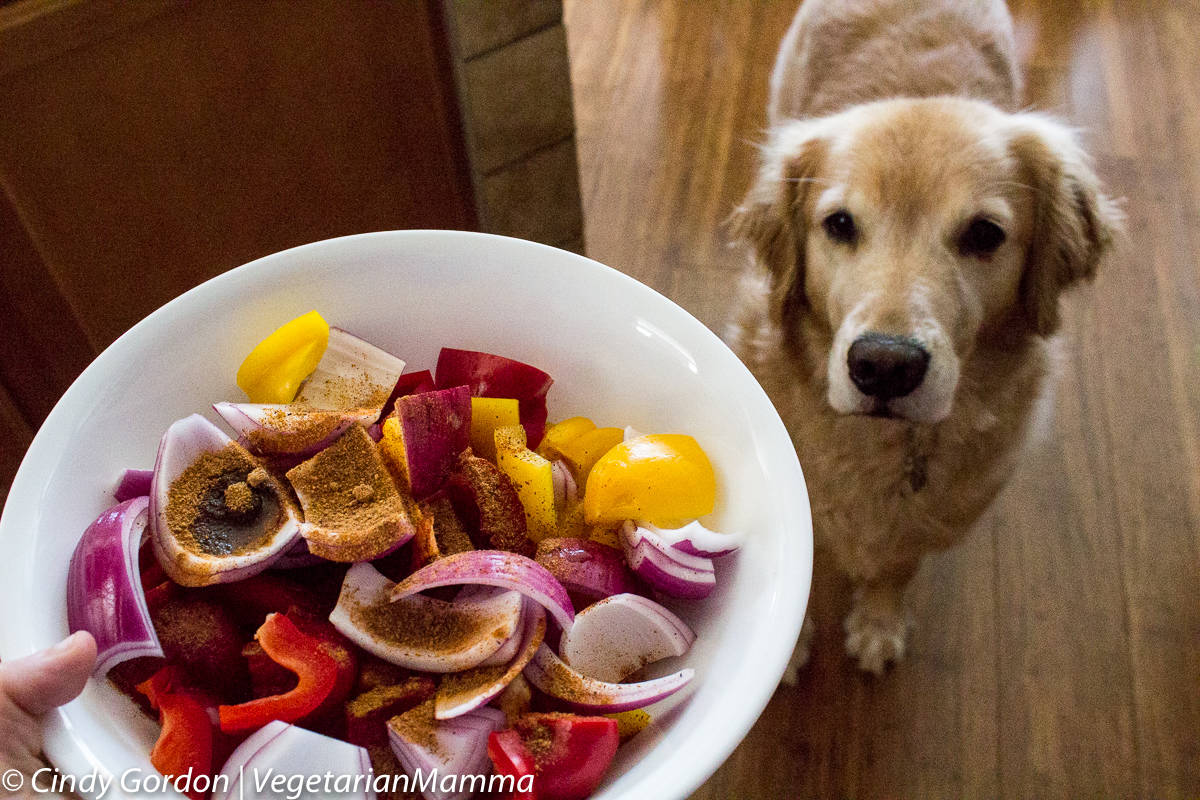 Get that seasoning on along with some oil and then stir it up. Make sure you stir until its coated all pieces!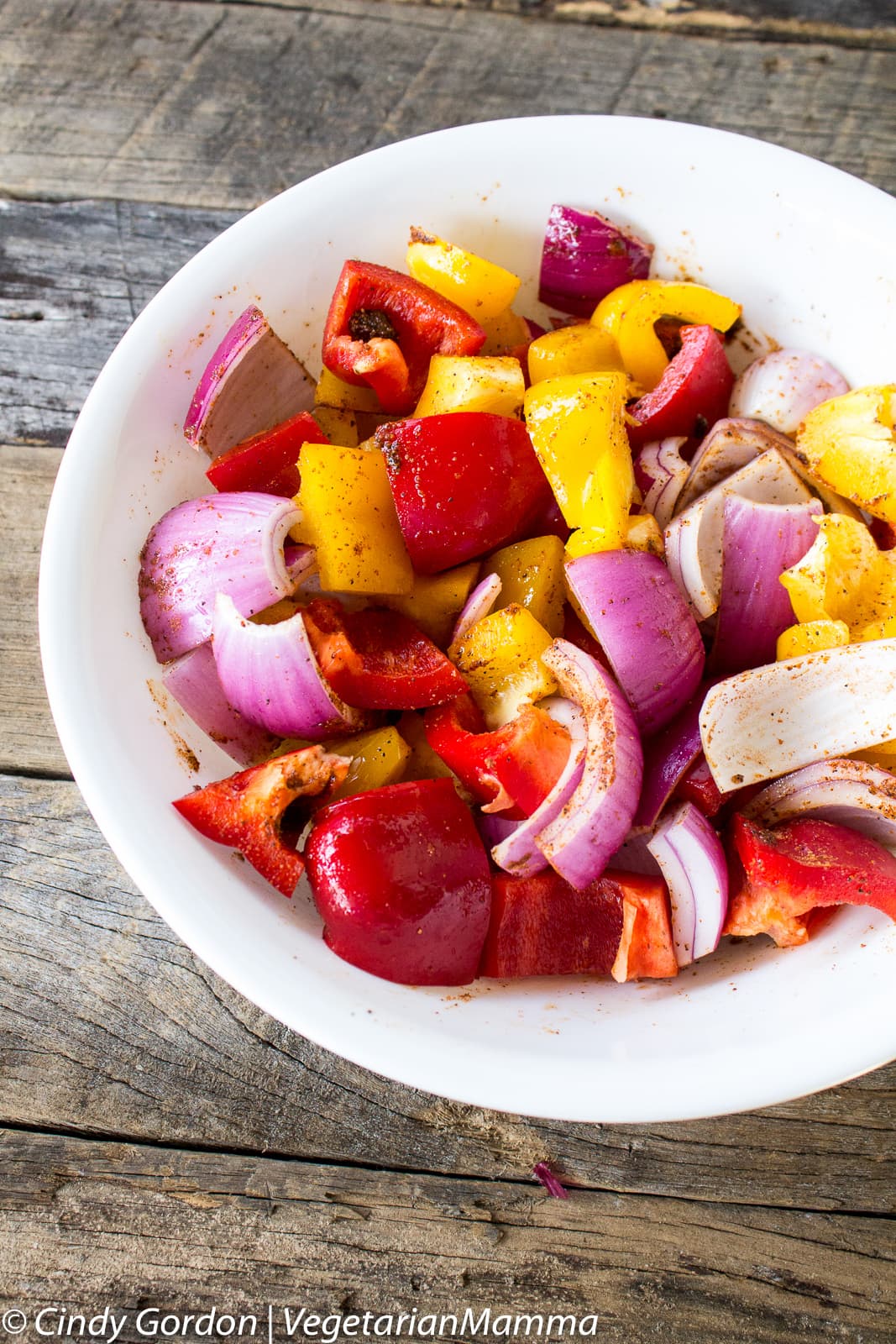 Once you've taken care of the vegetables, it is time to tend to the tofu! To make this dish we first pressed our tofu.
Pressing your tofu is important, did you know that?
I didn't at first, but throughout the years I've come to realize the need for pressing your tofu!
We use the EZ Tofu Press. The EZ Tofu Press has been the #1 selling Tofu Press on Amazon for quite a while!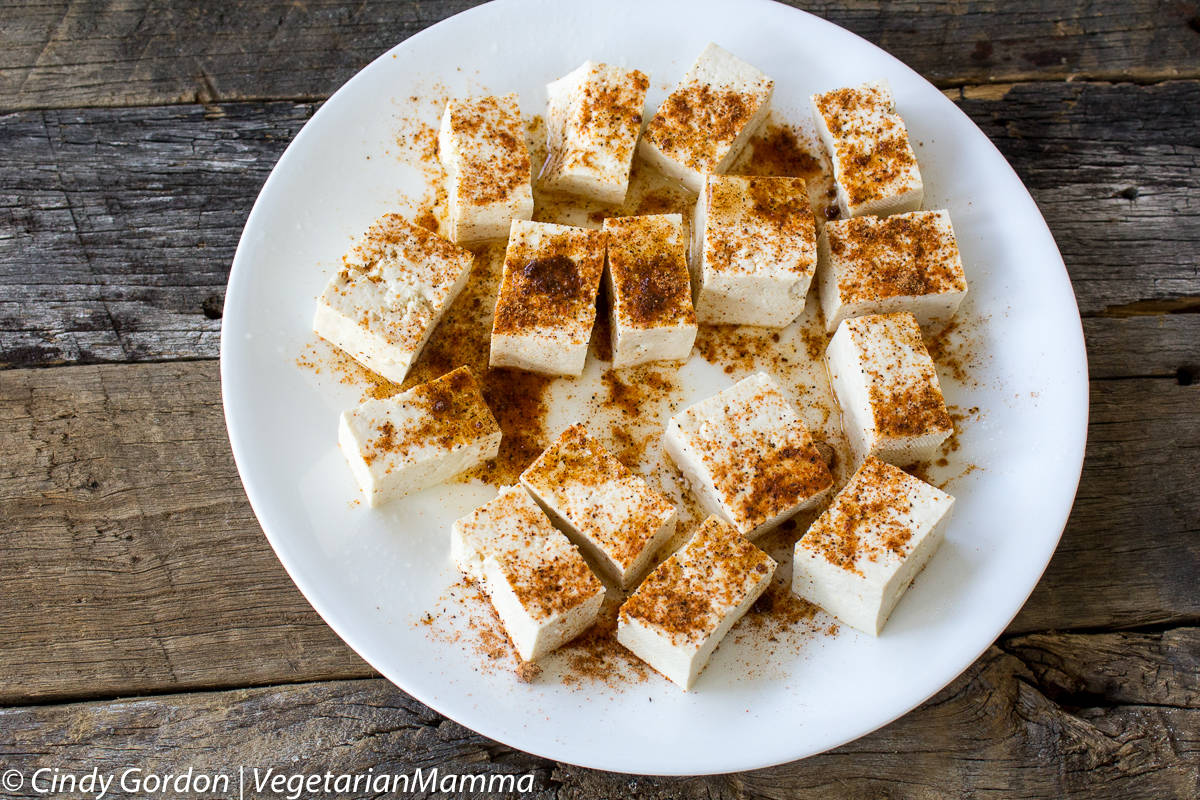 Time to thread the kabob skewers. I used metal ones, but you can also use bamboo. Just be sure to soak them in water first!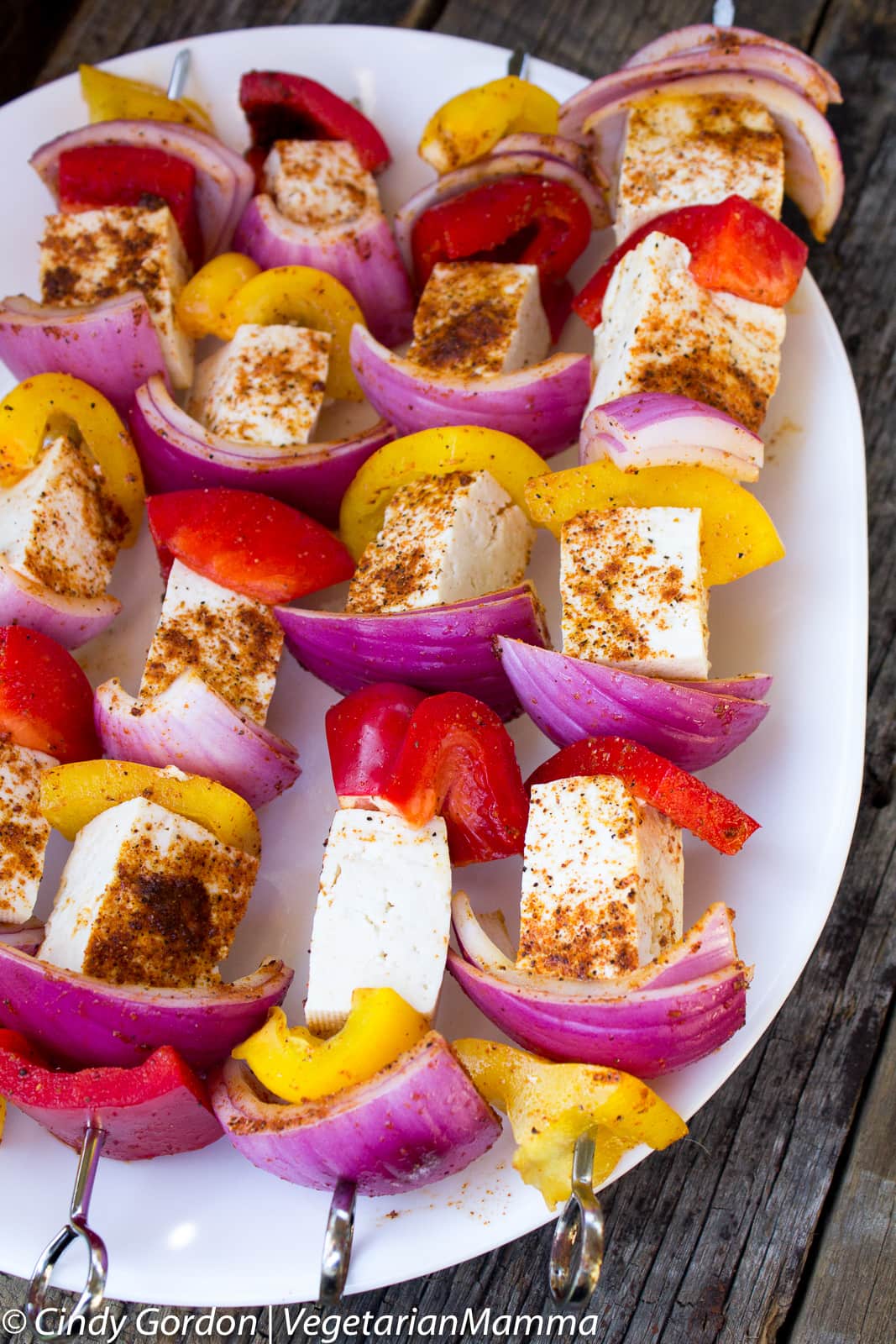 Fire up the GRILL, these babies are ready!
The grill
We are so excited to be using a new grill this summer. Our new Silverbac is from the Grilla Grills family! It is a wood pellet grill that provides you with the option to smoke your food or grill your food. I am in love with the size of this grill It has a huge surface for cooking! We have been playing and grilling up a storm this summer! It has been fun testing recipes and creating some new ones with our grill! If you are using a grill like this one, you will need to preheat the grill to 375 and grill your tofu 6 minutes on each side or until done.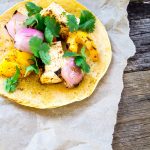 Print Recipe
Fajita Tofu Kabobs - make your grilling exciting!
Ingredients
1

block of extra firm tofu

pressed and cut into chunks

2

bell peppers

deseeded and cut into 1 inch pieces

1

red onion

cut into 1 inch pieces

2

T

fajita seasoning

1

T

oil

Juice of one lime

Corn Tortrillas

Cilantro

for garnish
Instructions
Press tofu with your EZ Tofu Press and cut into chunks.

Put your cut peppers and onions into a bowl. Mix oil and 1 T of seasoning on the veggies. Stir to coat.

On a plate, lay out your tofu chunks. Add remaining seasoning to the tofu. Squeeze lime juice onto the tofu. Let all ingredients sit for 15 minutes.

Load up your skewers. You should have enough ingredients for at least 6.

Preheat the grill to 375 and grill your tofu kabobs 6 minutes on each side or until done.

Place skewer ingredients onto corn tortillas. Garnish with cilantro and ENJOY!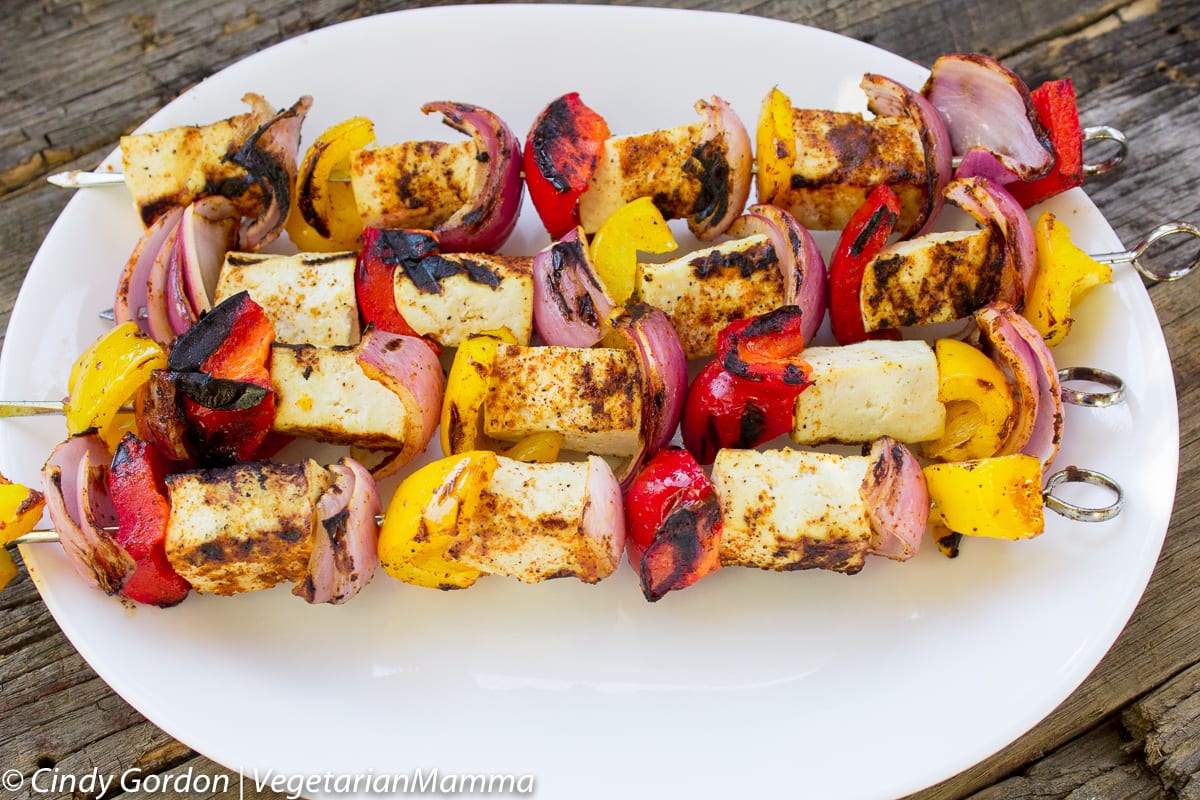 ---
It's that time again! We LOVE the EZ Tofu Press! You have another chance to win one of my favorite kitchen tools! This kitchen gadget is one that every tofu loving kitchen needs!
We have something special for you! An EZ Tofu Press Giveaway.
If you've spent some time following our little blog and our social media channels, you know that our household loves our EZ Tofu Press!
You've seen mine in action a lot on our Facebook and Instagram channels!
Every time I talk about the EZ Tofu Press, I share that it is something I didn't know that I needed. Now that I have one, I will never be without!
This device gets so much liquid from my tofu which allows it to cook up better!
---
Let's talk! Leave me a comment below telling me your favorite way to cook tofu? Have you tried Fajita Tofu Kabobs? What is your favorite tofu recipe? Have you grilled tofu before?