Geneva-on-the-lake is located in the northern part of Ohio! It is filled with attractions, events and fun stuff to do close to Lake Erie. Geneva-on-the-lake provides the perfect backdrop for A Girls Gluten Free Weekend.
This summer my friend Pam, from I'm A Celiac, and I took a girls trip! It was a Girls Gluten Free Weekend, to be exact! Sometimes you just need a girls weekend!
I had previously been to Geneva-on-the-lake area in Ohio before. I knew there was a lot of fun activities that we could do!
We decided that we would stay at The Lodge at Geneva-on-the-lake. We decided to stay there for a few reasons!
It is right on the lake! How beautiful!
It has a wine shuttle! WOOT- no driving for us!
They offered a delicious breakfast, that was safe for us!
We ended up getting a package which included 1 night of wine shuttle (we added a second night of the shuttle for an additional charge), 2 breakfasts with our stay. The breakfast was delicious. They had a special omelette station which was my favorite!
There is also a walking trail located close to the lodge! Pam and I enjoyed our walk through the scenic area!
So back to this wine shuttle idea…want to know more?
So basically there are many many wineries in the area. A few are within walking distance but most are not. A safe alternative is the wine shuttle offered by The Lodge.
For a small fee, you are assigned to a shuttle. The shuttle takes you to 4-5 pre-determined wineries, depending on the schedule. You spend about 1 hour or so at each place. When your time at the winery is up, you head outside and the shuttle picks you up. The first night, we had the shuttle all to ourselves. The second night we shared it with a bachelorette party. At first, we were a little nervous about this, but as it turns out they were great. The best part, they taught us how to use SnapChat! Ha!
We used the wine shuttle service both nights during our stay! We visited Chalet Debonné Vineyards, Ferrante Winery, Grand River Cellars, Harpersfield Vineyard, South River Vineyard, Kosicek Winery, M Cellars, and The Winery at Spring Hill.
Previously, when I had vacationed in this area, I had a hard time eating. That was NOT the case this time! Phew, we had some GREAT options! Laurellos at some amazing GF pizza and dessert! Grand River Cellars had a HUGE menu of gf items. Food was not something we were lacking in! We had a blast!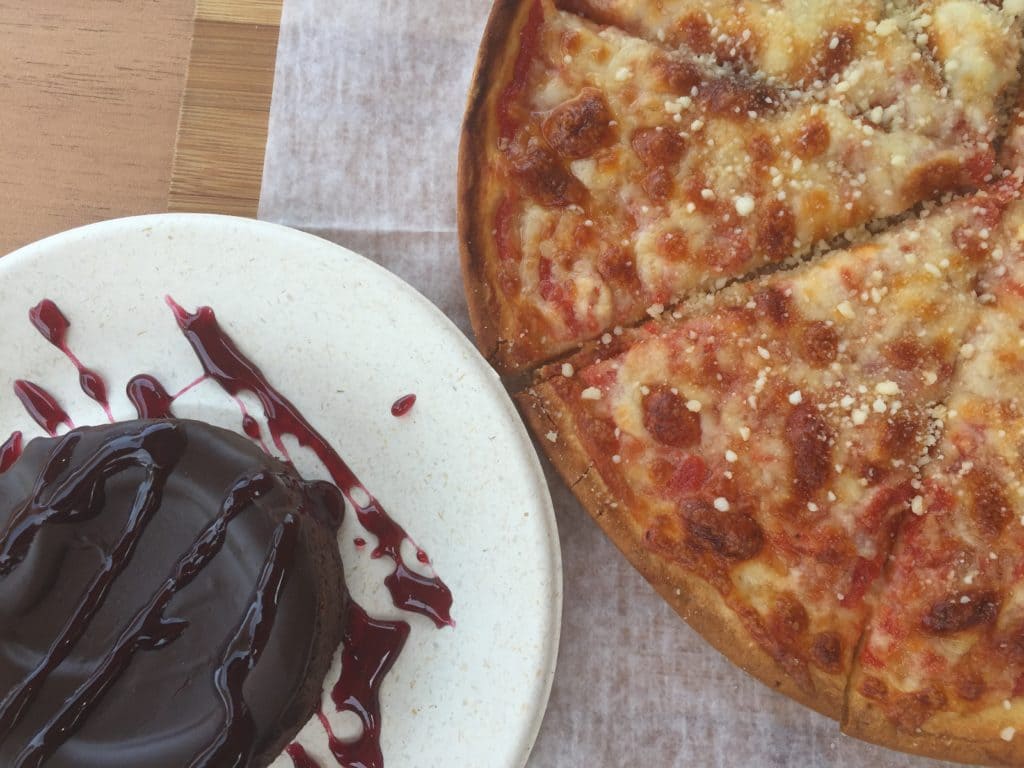 Want to have this kind of fun? Here are a few tips:
Book early, if you'd like to stay at The Lodge! (it books fast during the summer with wedding parities)
Use the wine shuttle! Be smart!
If you are flying, you can fly into Cleveland, the drive was about 45 minutes East.
This trip was not sponsored, it was just for pleasure and I wanted to share my experience!
Let's talk! Have you ever taken a girls trip? If so, where did you go? What was your most memorable moment?