Gervasi Vineyard is a taste of Little Italy, but in Ohio. Gervasi Vineyard boasts amazing gluten-free food, delicious wine and luxury accommodations.
My husband and I recently slipped away for a weekend to check out Gervasi Vineyard, located in Canton Ohio. I had heard great things about this destination. I did a little research and found that they offered many gluten-free food options.
I was most excited to escape for an entire weekend to one location. We stayed in a Villa on the grounds and dined onsite all weekend. I dined safely, all weekend. The grounds have 6 villas. Each villa has 4 suites and a common space. We secured the two story King suite!
The common space was beautiful. It had a mini kitchen, tables, chairs, couch and fire place. There was a patio outside as well.
One of my favorite parts was the stocked fridge in the common space. Thirsty? Grab a drink! For free!
In the morning, a wooden wine box with our room number etched upon the top was delivered to the common space. It contained our breakfast! The culinary staff was able to safely accommodate my vegetarian and gluten-free needs. You could dine in the shared space or take the food back to your suite. We choose to dine in our spacious suite.
Beautiful doesn't even cover it! Everything was high quality and top notch! We even had a couple massage right in our suite one morning! Worth every penny! There are many options to enhance your stay from spa treatments to private yoga sessions.
Our sleeping quarters were equally as stunning as the rest of the property! So relaxing, so luxurious!
The staff recognized every detail of our stay and did what they could to make it special!
Wanting some down time? You could pull up a chair next to their spring fed lake! Sip some wine and unwind!
Like a little more action? How about challenging your partner to a friendly game of Bocce? We played a lot of this game during our weekend away! So fun!
Maybe a walk through their vineyard is more your speed? That is an option too!
We dined at all three on-site locations. We loved sitting outside on the patio enjoying pizza and salad with our wine! We visited the Crush House and got food to take back to our Villa! If you order room service while in your villa the food comes from the Crush House.
We also dressed up and enjoyed the fine dining experience at the Bistro, where the chef made me a special dish! The tiramisu was amazing and only served gluten-free. It was so good that we left the patio (late one night) to grab another piece before the Bistro closed. I have never tasted anything like it before. A waiter at the Bistro told me that the owners wife has Celiac Disease. I am not sure if that is true but if so it would explain why they have such a delicious menu of gluten-free choices. While the food is prepared in a shared kitchen, great care is taken when preparing the food.
We enjoyed one meal, a few snacks and several glasses of wine on the patio! We loved to hear the live music. They had two great bands the weekend we were there.
I loved every moment of my stay. The entire stay was romantic, relaxing and luxurious! We can't wait to get back! It is just over a 2 hour drive from where we live!
If you'd like to learn more about Gervasi Vineyard, you can visit their site. This is a non-sponsored post. I paid for the entire trip. The opinions are my own, I just want to share how awesome of a place this is AND that you can eat delicious gluten-free food here!
Let's talk! After looking at the pictures what do you think you'd enjoy the most? The accommodations, food, wine, atmosphere?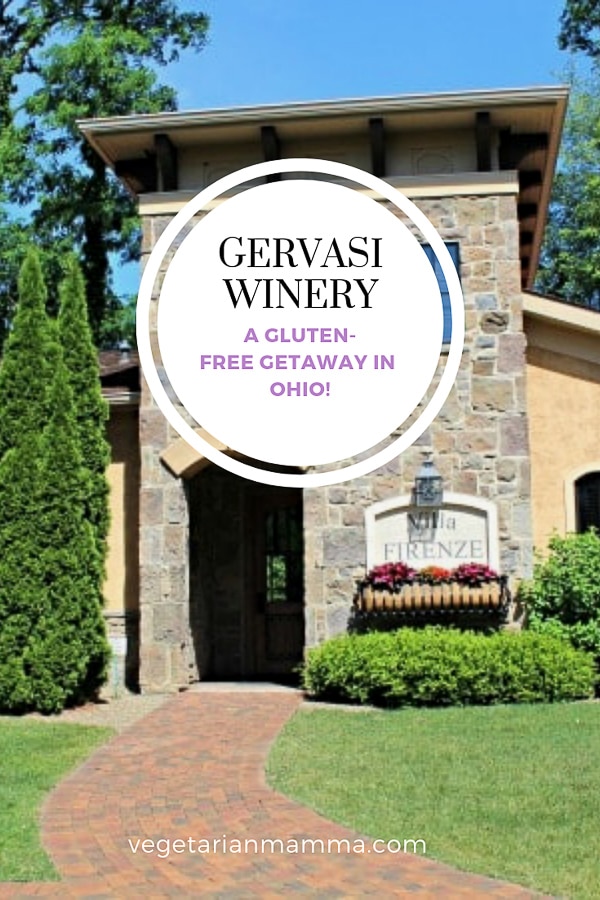 We recently went back to Gervasi in the summer of 2019. Here is a sneak peak into our time!