Welcome to #gfafgiveback!  We are SO excited to be celebrating 5 years of blogging!  We have made SO many great connections with readers and companies! Its time to share the wealth and give back! We have partnered with some GREAT companies to give you a month of GIVEAWAYS!   We will have a mixture of gluten free, allergen friendly food products, kitchen gadgets, books and MORE!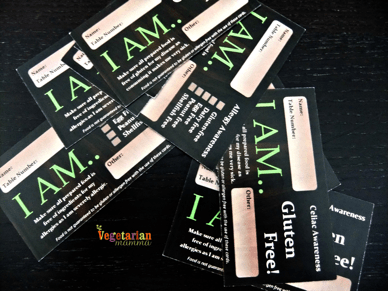 Today's giveaway is sponsored by Gluten Away. I am a huge fan of Taylors and a a HUGE supporter of him! He's a passionate 16 year old on a mission to educate the world!  I am so proud of him and his blog!  He has started to sell some products which are pretty awesome too!  He's giving away some of his I AM Cards to help keep us safe while we eat out!
What you need to know…
Prize Sponsored by: Gluten Away
Prize: Prize Pack: Pack of I AM CARDS
Restrictions: US SHIPPING ONLY

Enter using the rafflecopter below…give it a few seconds to load!