Gluten Free Mushroom Quiche
The secret to baking the most superb gluten free quiche is the crust! Your gf quiche crust should be light and flaky. This mushroom quiche recipe features a savory mushroom and shallot mixture coupled with milk, eggs and sour cream to make the impossible vegetable quiche a possible one!
Consider this: mission accomplished! You are going to love this gluten free quiche recipe!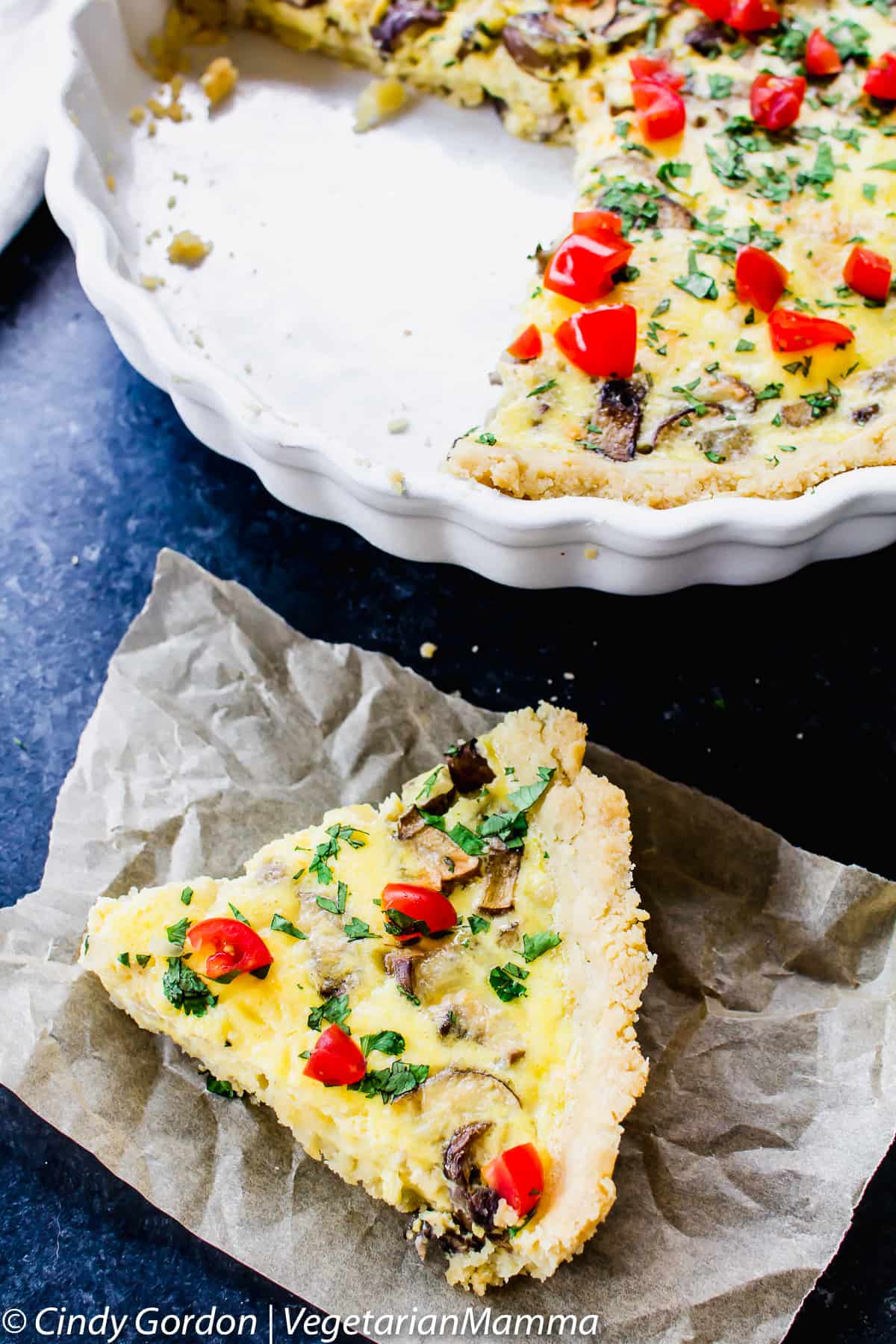 Thank you to Ryze Gluten-Free Flour Mix for sponsoring our post!
Quiche is a ritual that I could get used to. Just picture it, a delicious slice of gluten free vegetarian quiche and a cup of coffee! Just you, me and brunch! We all know that I love brunch and I do love my slices of quiche!
Actually quiche isn't just restricted to breakfast and brunch. Did you know that? You can easily serve this up for dinner. You could pair it with a lovely arugula salad and some red wine.  I vote for this to be paired with a pinot noir.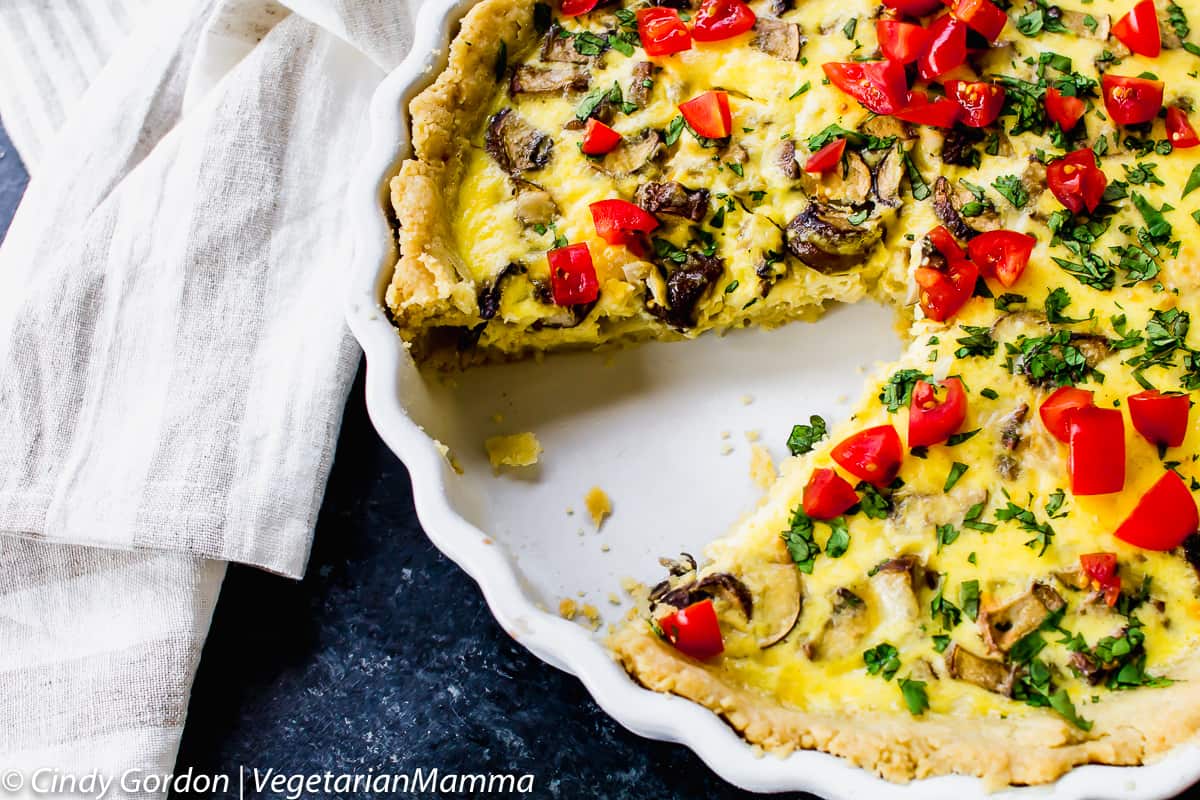 I think that quiche is honestly underrated. Quiche is actually not that hard to make, but people do not try. They do not take the time to create in the kitchen! Before I had to move to the gluten-free lifestyle, I would always visit a local French restaurant. I would have a slice of quiche with a cup of French roasted coffee!  Such deliciousness in those memories!
Those memories have inspired me to get to work in the kitchen! In the past, I have used pre-made gluten-free quiche crusts, but this time around we are going to make the entire thing from scratch! There is not any store bought crust in today's recipe!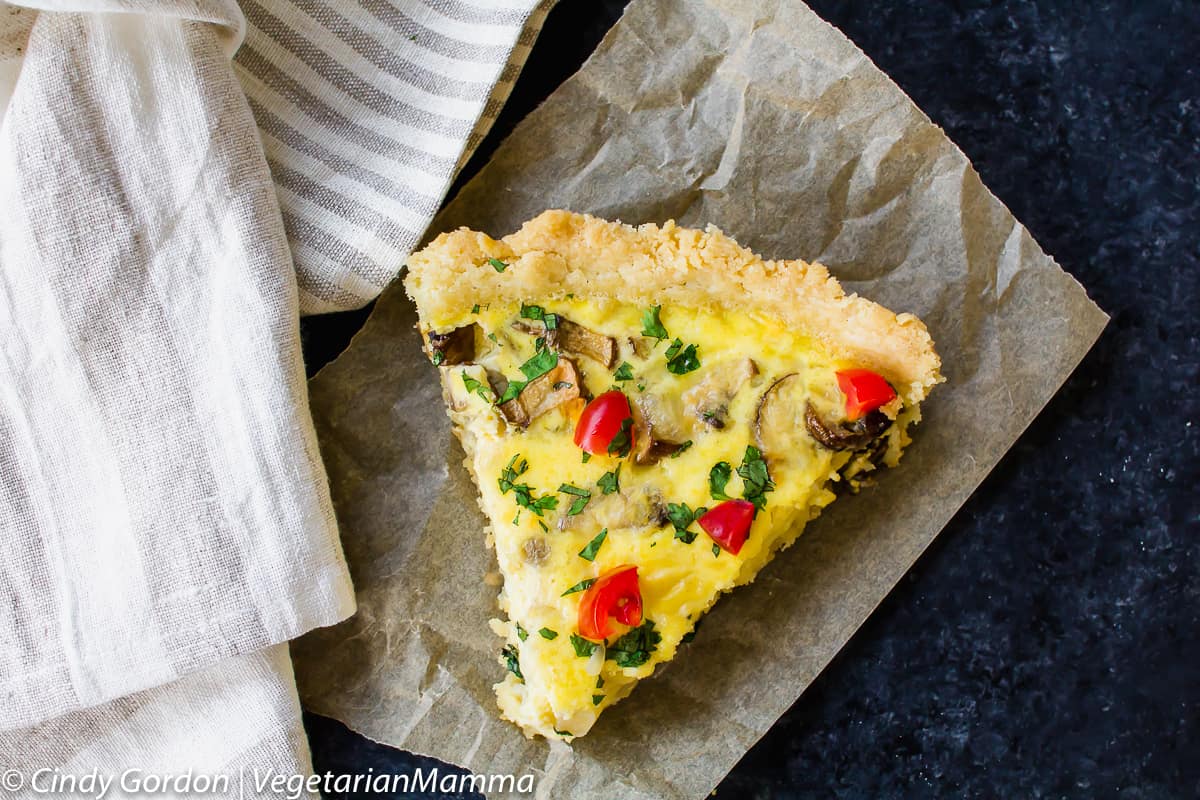 Gluten Free Quiche Crust
Our gluten-free crust is actually a "no roll" crust.  You will not be rolling out this gluten free dough. Once you get your dough mixture pulsed in your food processor,  (affiliate ad link) you will dump it into your oiled tart dish. Then using your fingers, gently press the crumbled dough into place. Press the dough on the bottom and up the sides. Make sure that the dough is as even as possible and not too thin in any places.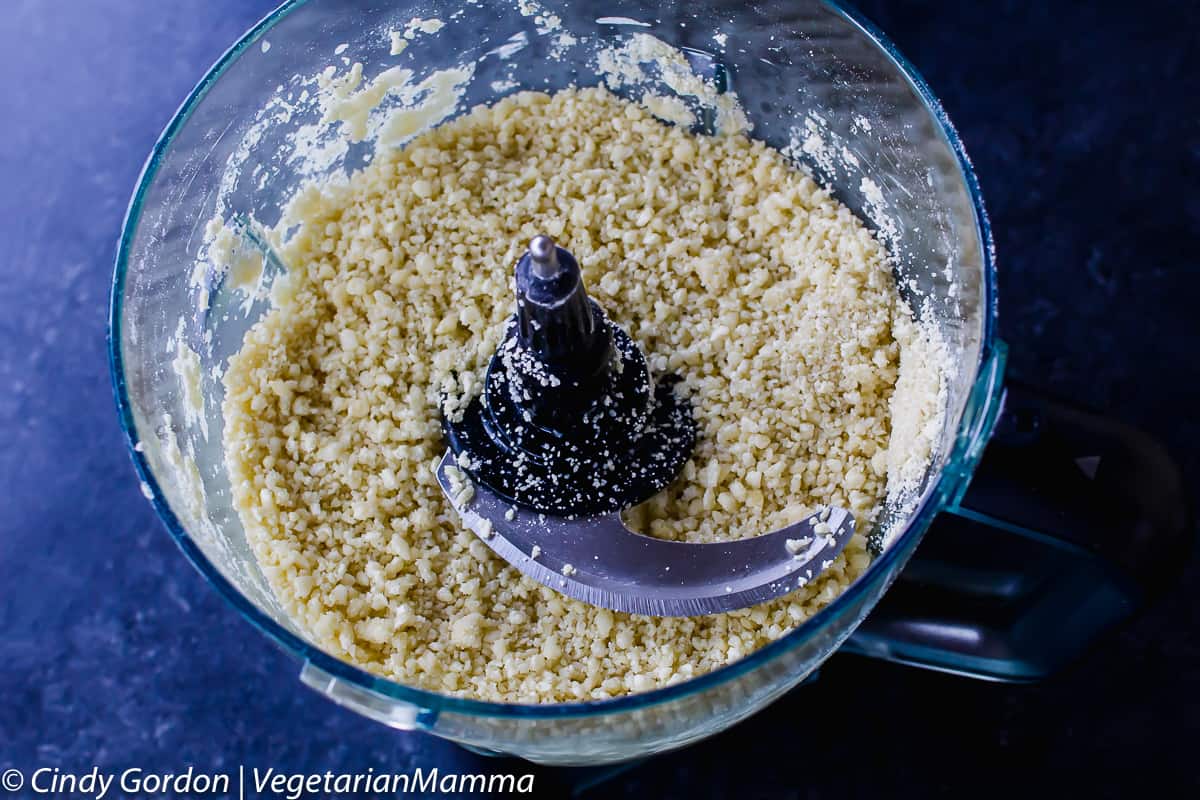 Wait, did you say a tart dish?  Yes, we made our quiche in a tart dish. (affiliate ad link)  I used a tart dish because I didn't want a very tall quiche. You are welcome to use a pie dish, I included some recipe adaptations in the recipe card.  Let's get back to this tart dish. It is a 1 ½ quart dish with scalloped edges (for cool points), it is oven safe up to 500 degrees and it measures: 1.4 IN x 4.5 INx  4.5 IN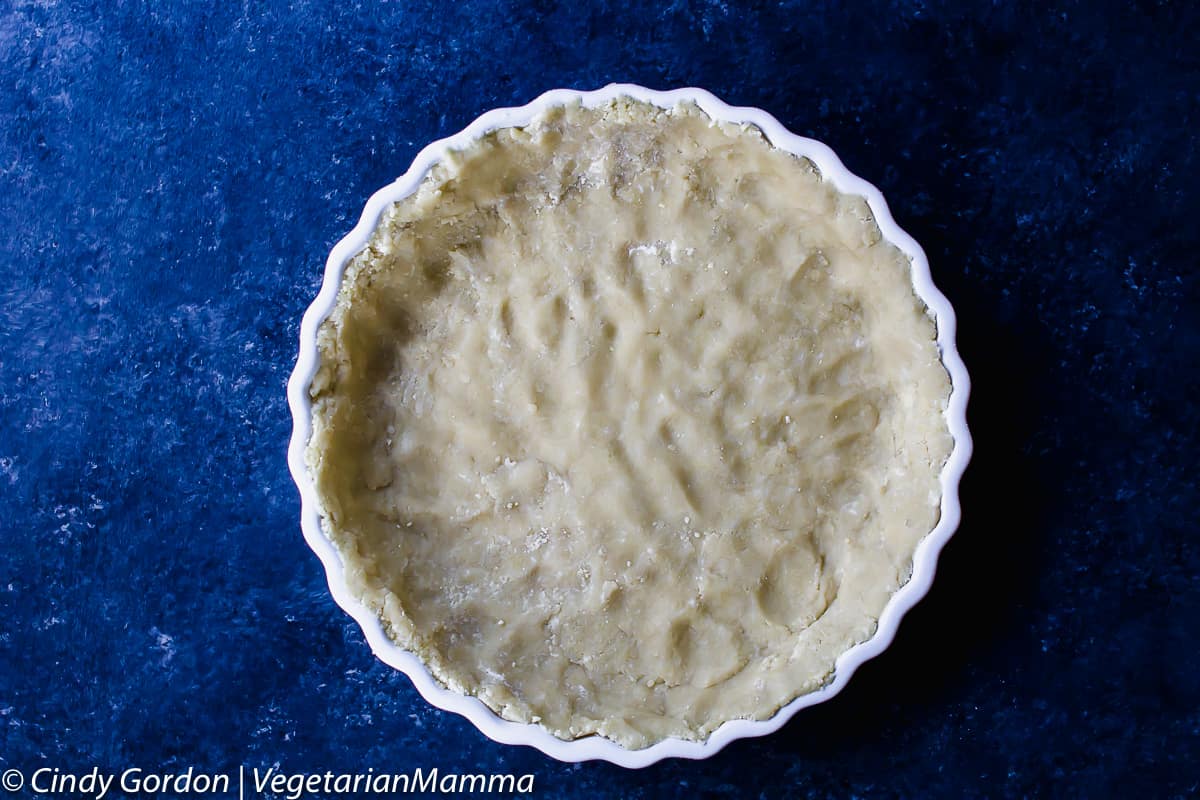 When it comes to the crust of a gluten-free quiche, you have a few options:
Crustless
Flourless (using hashbrowns)
Mixture with Almond Meal (that doesn't work for this almond allergic household)
Mixture using gf flours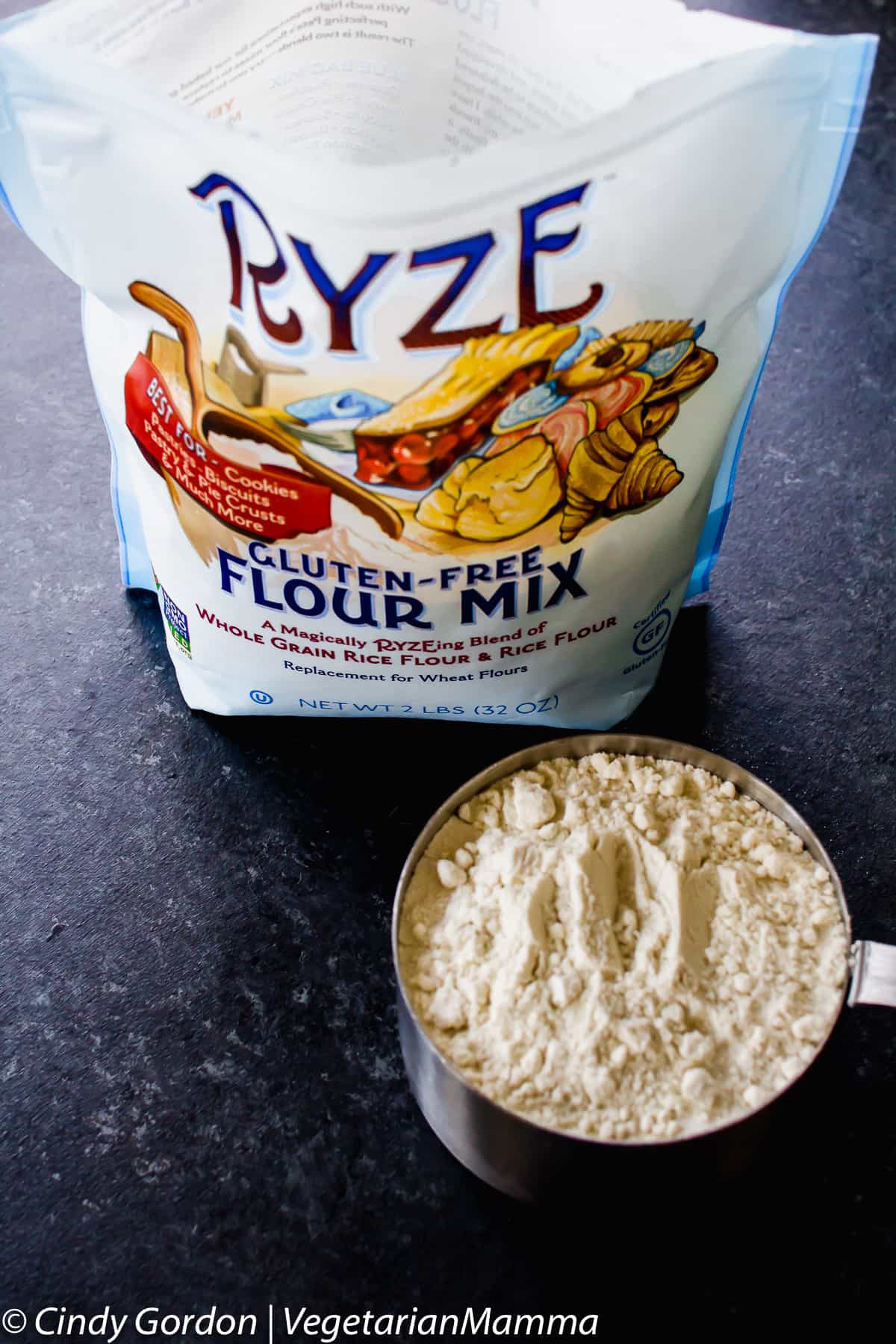 RYZE Gluten Free Flour
I used Ryze Gluten Free Flour Mixture. This is the second time that I have shared a recipe using this flour. I am pretty excited with the results that I've been seeing with this flour!  This gluten-free flour mixture was born in Boulder, Colorado (so many good products come from CO!). This mixture works perfectly as a cup for cup sub in most recipes that call for wheat flour.
The flour is certified gluten-free and non GMO project verified. The flour has no gums, no allergens and no refined starches!  RYZE offers it's flours in two options: The Yellow Bag and The Blue Bag. The flours are ground slightly different, which gives you an edge when baking different types of recipes. For this recipe, we used The Blue Bag.
How to make your gf quiche
The crust needs to rest and chill, so I always make that first.  Make your gluten free quiche crust and then pop it into the freezer for 30 minutes.
While the crust is chilling in the freezer, you are going to make the easy gluten free mixture to go inside your quiche.  Dice your shallot and fresh mushrooms, then saute over medium heat until soft. Put your mushrooms onion mixture aside.
Using a mixing bowl, combine the eggs, milk and sour cream. Whisk together.  Oh, it is time to preheat that oven!
Once your crust has been chilling for at least 30 minutes, remove it from the freezer. I like to put mine on a lipped baking sheet, (affiliate ad link)  to help prevent spills!  First put in the mushroom mixture into the pie crust, followed by the  cheese and egg mixture. From here you are going to bake until lightly golden brown, which should be about 40-45 minutes.
You can top your mushroom quiche with diced fresh herbs, diced tomatoes and even red pepper flakes!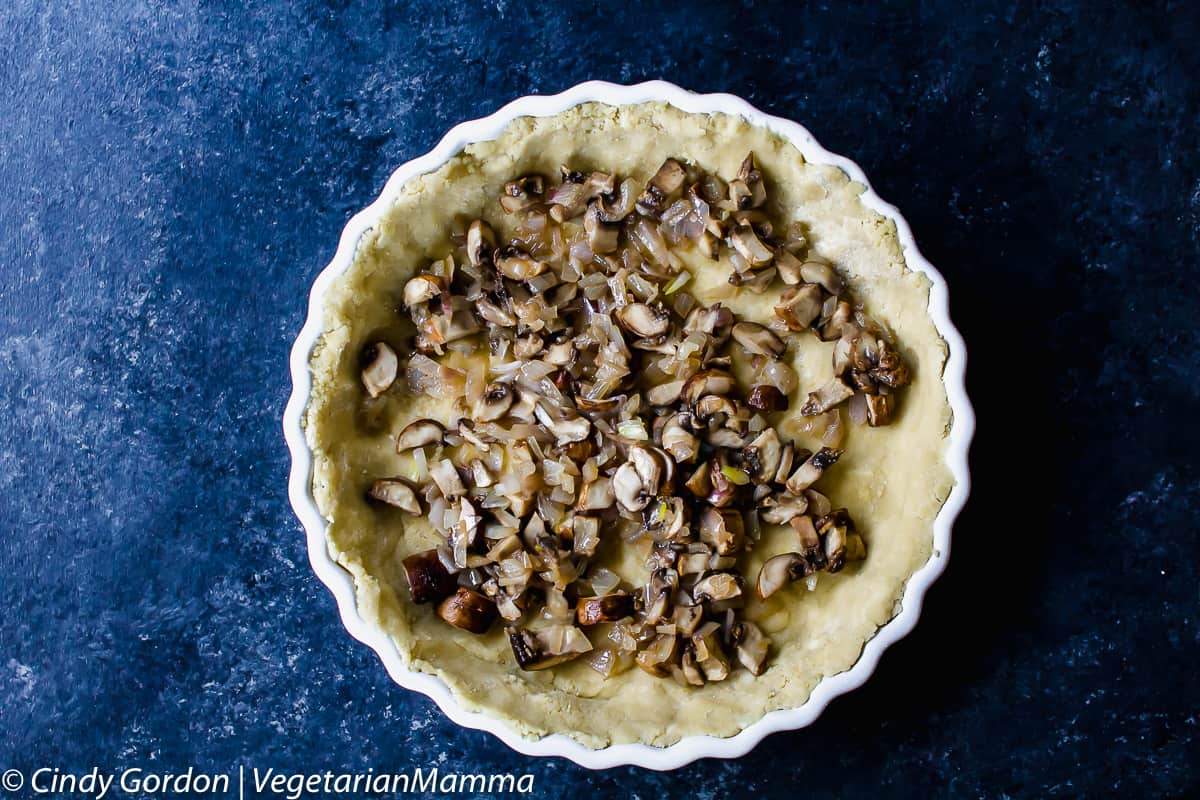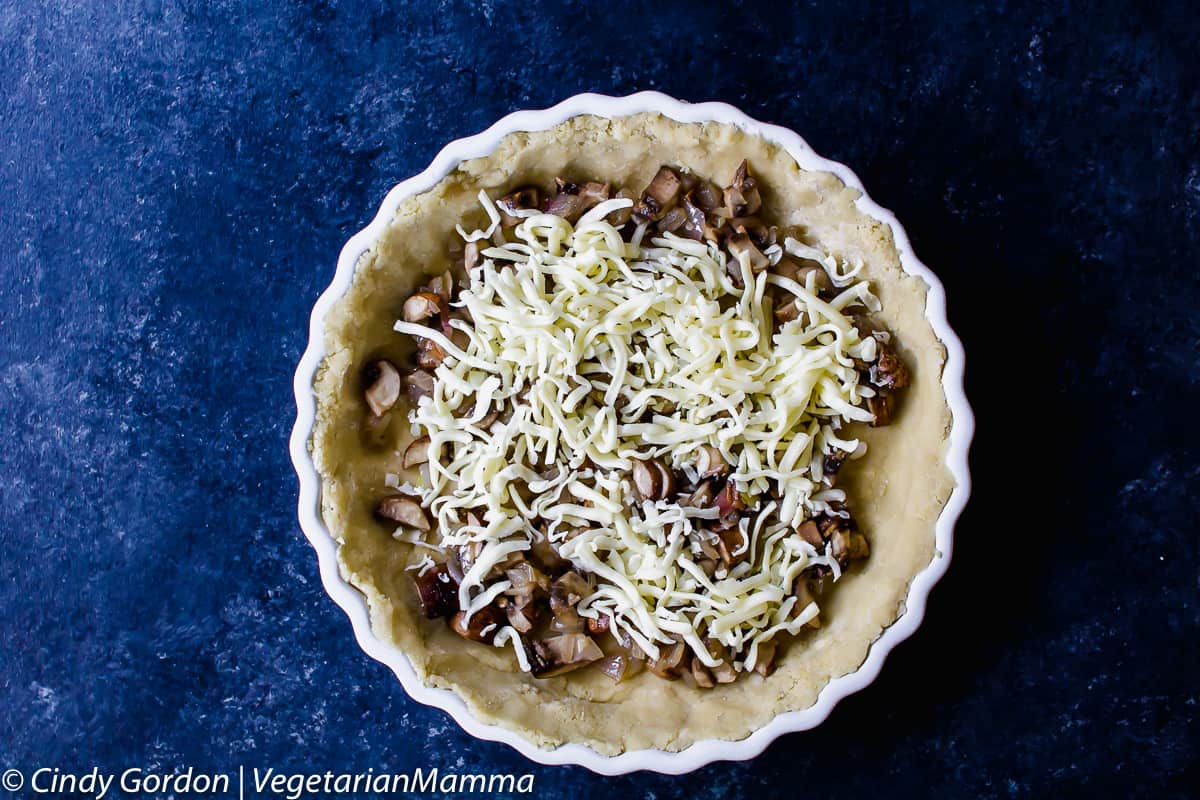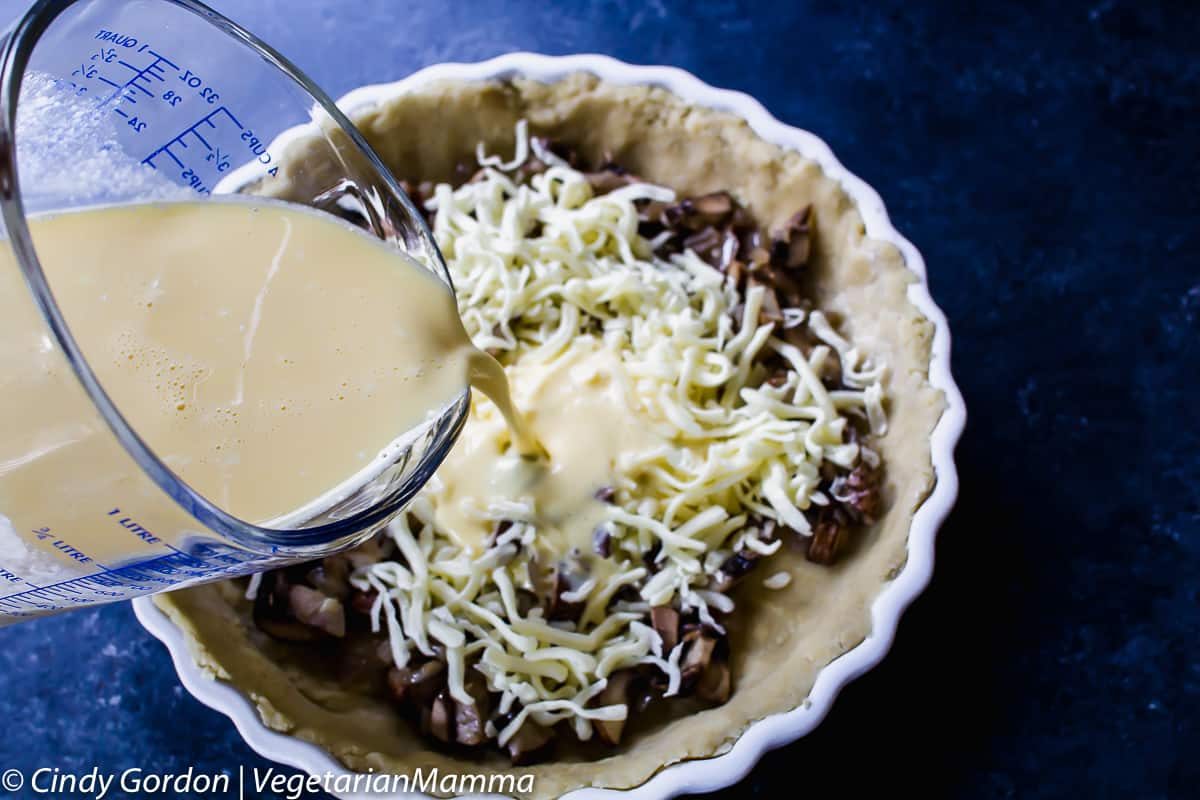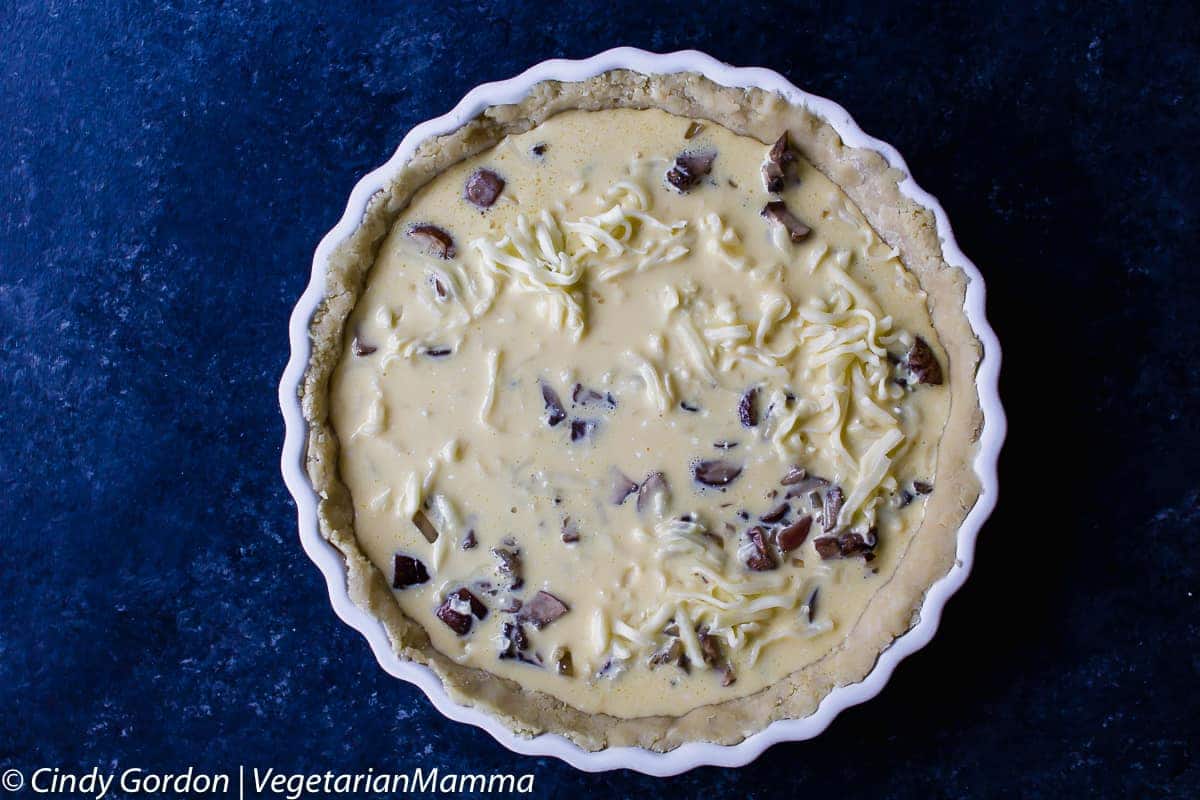 Does this gluten free quiche reheat?
If you are lucky enough to have leftovers, this mushroom quiche does reheat well. It is so delicious though, you might not have left overs!
Can I used canned mushrooms?
Yes, you can use canned mushrooms, but fresh will taste much better. If you use canned, but sure to blot them with a paper towel to remove most of the moisture and simply give them a light saute.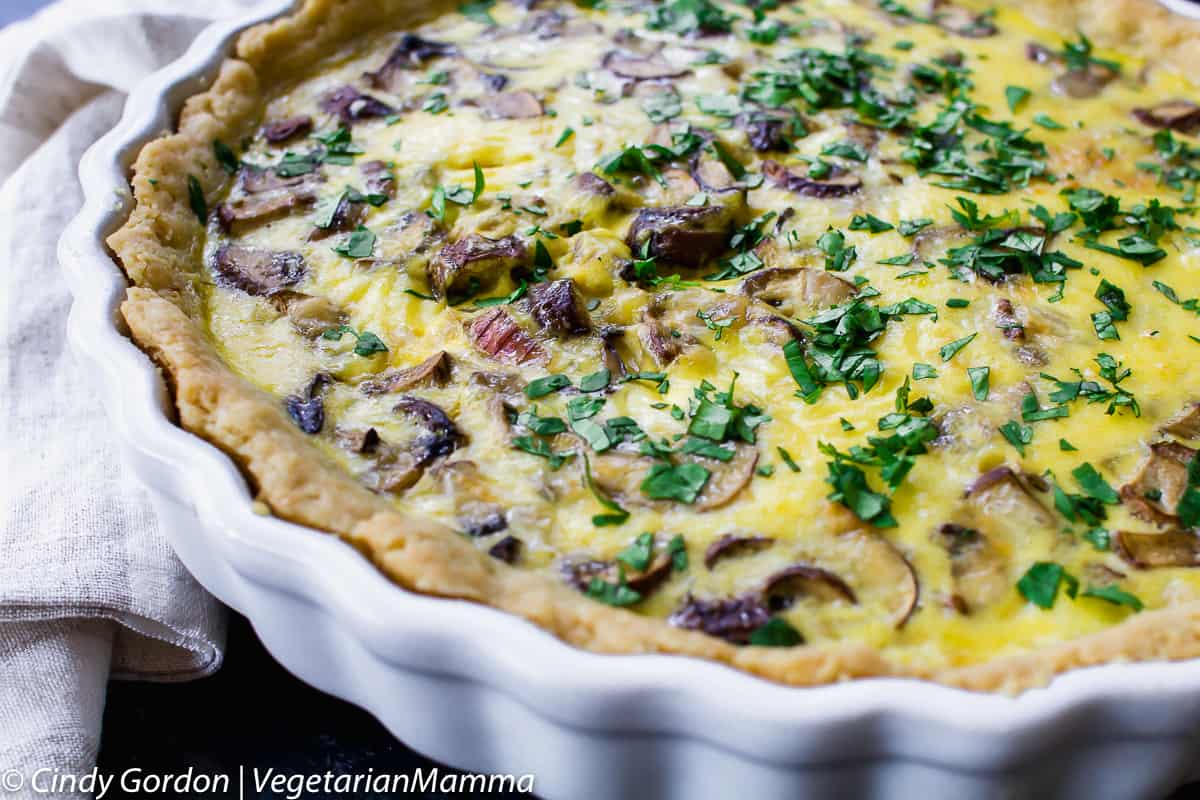 Can I use a different cheese?
Yes, I choose mozzarella because of its subtle taste. You are welcome to use mild or sharp cheddar if you please. Have another cheese you love? You can give it a try!
Looking for more gluten free quiche recipes? Try these: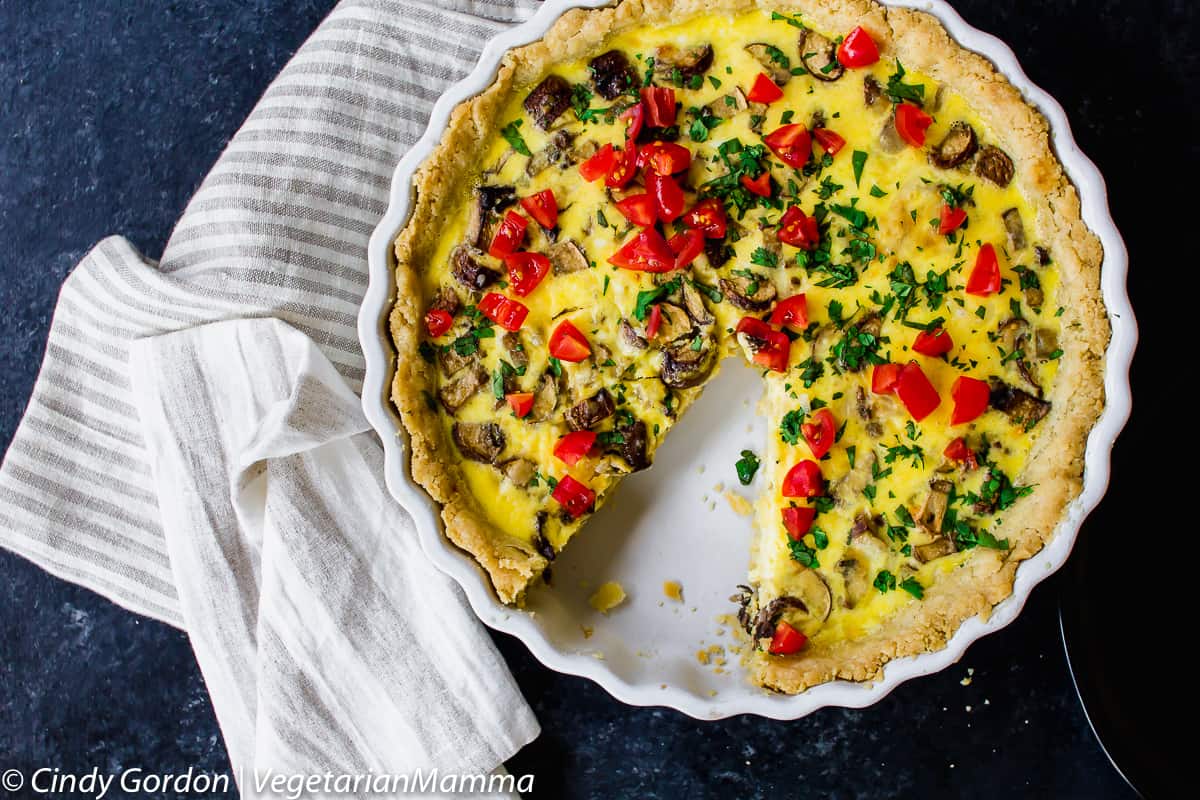 Get your gf quiche recipe below: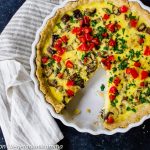 Gluten Free Mushroom Quiche
The secret to baking the most superb gluten free quiche is the crust! Your gf quiche crust should be light and flaky. This mushroom quiche recipe features savory mushroom and shallot mixture coupled with milk, eggs and sour cream to make the impossible vegetable quiche a possible one!
Keyword:
Gluten Free Mushroom Quiche
Instructions
Crust
Prep your ice water. Use a 1 cup measuring cup and fill it with ice and water. Let it sit a few minutes so that it chilled the water.

In a bowl, whisk together your measured ice water (3T) and 1 egg. Set aside.

In your food processor, pulse the flour, salt and sugar. Once mixed, add the butter and pulse again until you get a course mixture.

Add in your egg and water mixture and pulse again.

You are going to use a tart dish for this recipe. The one I used measured 1.4 IN x 4.5 INx 4.5 IN. This can affect your recipe, please use the correct size of dish. Lightly oil your tart dish and dump in the course mixture. Using your fingers press the mixture on the bottom and sides of the dish. Be sure to spread evenly and make sure there are no thin spots. Chill for 30 minutes.
Constructing your Quiche
In a skillet over medium heat, warm the oil and gently saute the shallot and mushrooms.

In the bottom of the quiche crust, gently place shallots and mushrooms.

Gently place cheese on top of quiche mixture. Whisk together the eggs, milk and sour cream. Pour into crust.

Bake (at 350 degrees F) for approximately 45 minutes or until a knife comes out clean from your quiche when inserted. Let sit for 5 minutes. (This helps to absorb any moisture.)

ENJOY!
Recipe Notes
**If you are using a full size pie dish I would adjust the measurements of the ingredients below:
The rest remain the same.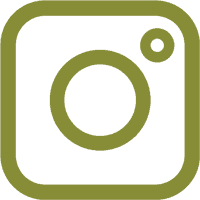 Did you make this recipe?
Be sure to snap a picture and post it to Instagram with the hashtag #VegetarianMamma! I love seeing our recipes being recreated!
Drop me a note telling me if you cook for scratch? How about quiche?
Pin for later, when you are hungry: