I was recently lucky enough to try several flavors of Mini Pops.  Mini Pops are a great popcorn alternative for many people, including those with corn allergies! (always check with your doctor)  Mini Pops are made from sorghum grain.  They are gluten free!  Whawhoo! They are small and hulless. Sorghum popping seems to be relatively a new concept in the US but people in India and Africa have been popping it for hundreds of years!  Mini Pops have their own facility that is organic, nut free, gluten free and kosher!
The Subatomic Sea Salt was my little guys favorite!  He asked for a spoon so he could shovel them in faster!  Silly kiddo!  I told him no, just relax and enjoy them! 🙂  They were great to take along as a snack in our diaper bag!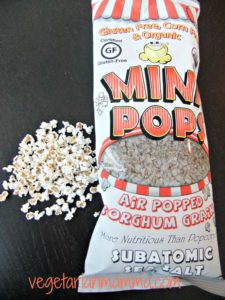 The baby white was my older sons favorite and mine too!  I was happy to have a little 'cheese' flavor to the popcorn.  It brought back memories of that yummy popcorn I used to eat as a kid around Christmas time.  It used to come in a fancy tin.  Happy to be eating something that tastes great and is a healthier option for me!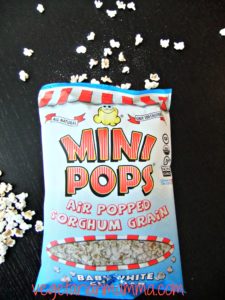 I was able to share this Petite Mini Pops with a friend who has a corn allergy.  She was so excited to be able to enjoy "popcorn" and movie night with her kids again!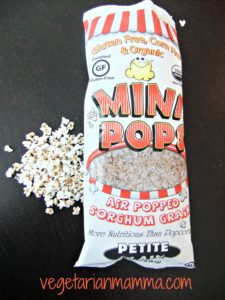 We give the products are 4 out 4 rating!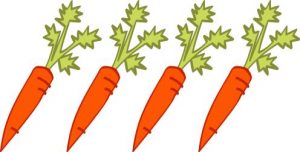 We were excited to try the Mini Pops and are thankful for the free samples!  If you want to check out Mini Pops see the links below!  Then them Vegetarian Mamma sent you!
You can visit the Mini Pops website: http://www.myminipops.com/
You can follow them on Twitter by clicking here.