This grilled BBQ Tofu Sandwich will make vegans and meat eaters drool with excitement. Slather on some bbq sauce, top your grilled tofu with a pineapple salsa and prepare your mouth for an on slot of amazing flavors!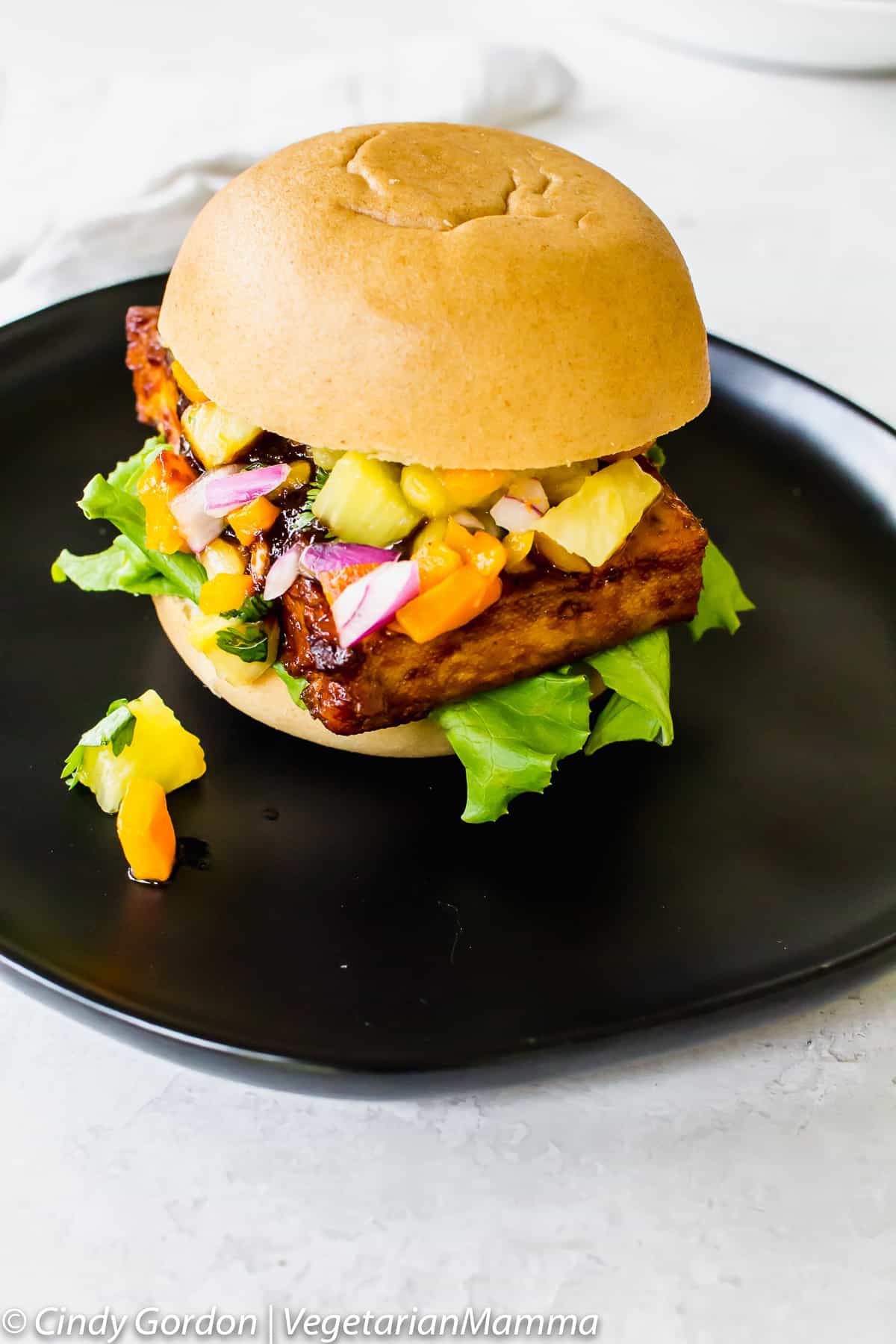 This post is sponsored by Schar! Thank you for making delicious gluten-free products.
Grilled BBQ Tofu Sandwiches
While tofu is seen mostly as an option for those vegetarian or vegan, it can most certainly be consumed by meat eaters. A food shouldn't be labeled for one type of eater.
I think the BBQ of this grilled tofu sandwich will appeal to all eaters! There is just something about the smell of a grill that makes my belly rumble! Throw in the amazing smell of BBQ and we have a party!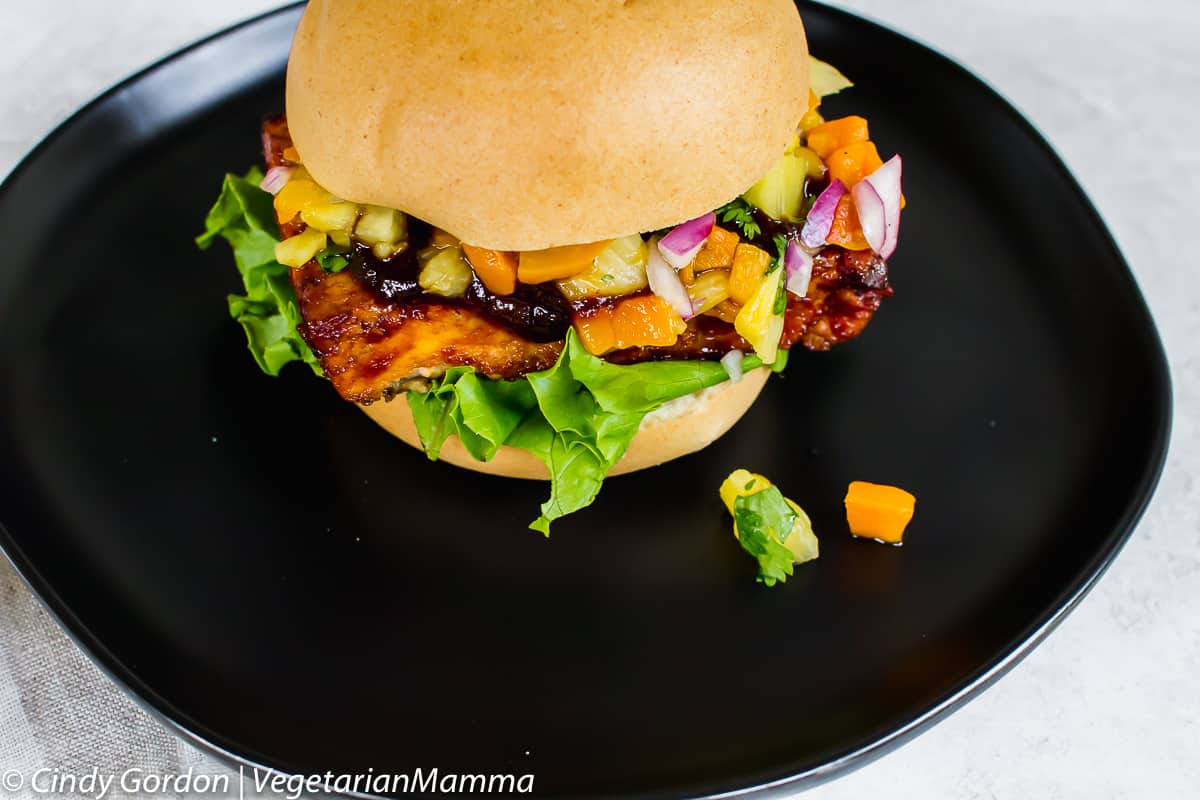 Prepping your tofu
Prepping your tofu is actually quite important. I didn't realize that until a few years ago. I often talk about the EZ Tofu Press (affiliate ad link) on my site. All my recipes are made using this press! You can read about it by visiting these recipes: Pineapple BBQ Tofu and Sweet Thai Chili Tofu Bowls.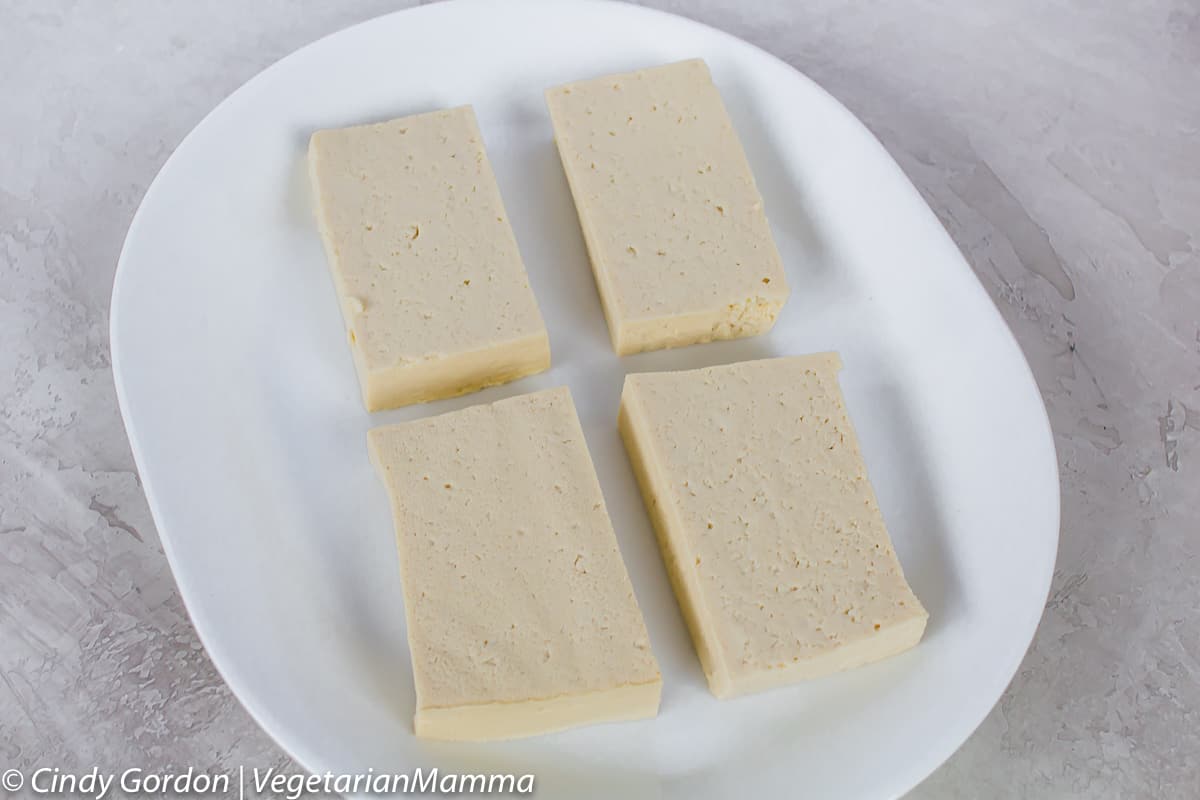 BBQ Tofu Marinade
Actually there is not any secret in this sauce. While we have made our own Easy Homemade BBQ sauce before. However, this tofu sandwich recipes uses bottled BBQ sauce! So grab your favorite sauce (gluten-free if you need it) and make life easier with bottled sauce! Of course, if you want to make it from scratch, you can find the recipe by clicking the link above.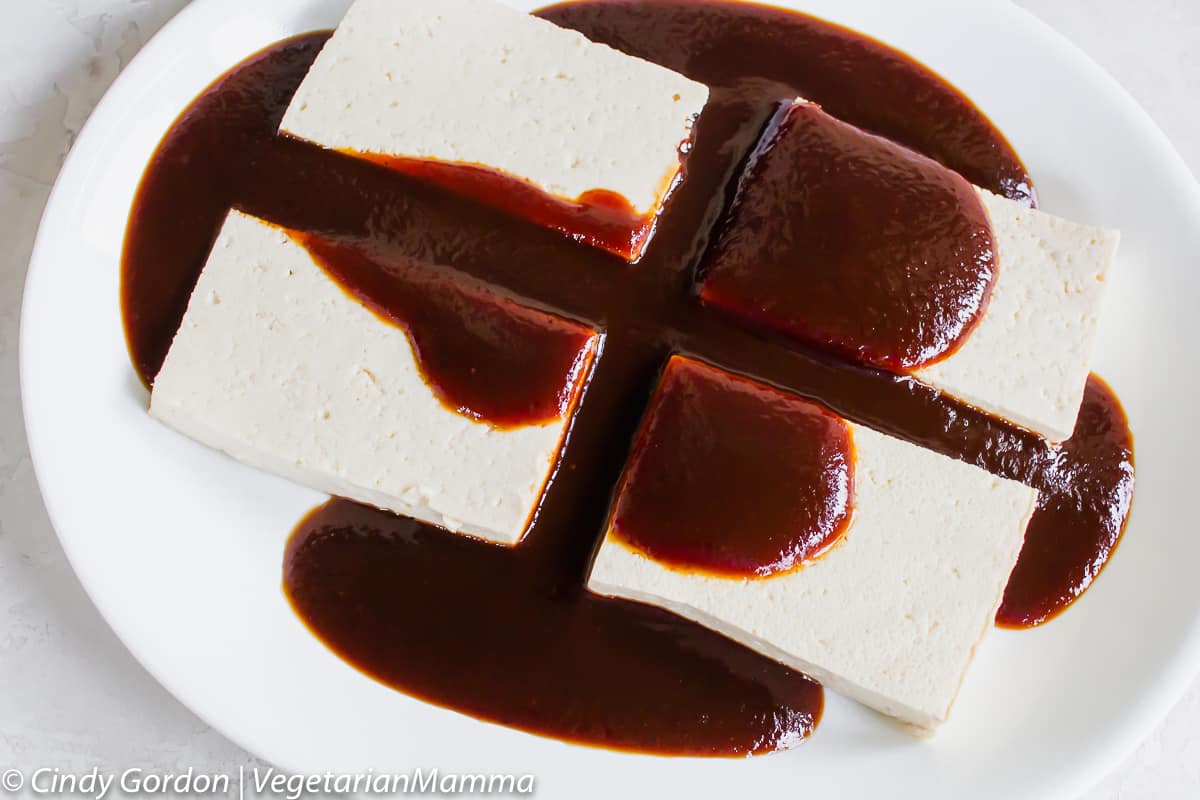 Tips for Grilling Tofu
We've been working on all the perfect ways to grill tofu and we have developed a list of some tips that we think will help you too! After you have read the tips, if you want to learn more about grilling tofu, you can visit this post.
Only grill extra firm, non silken tofu. This type is most likely to hold its shape on the hot grill.

Prep your tofu properly, and cut into thick slices. You must press the excess liquid out of your tofu before trying to cook it on the grill. If you skip this step you'll just end up with steamed tofu, and that's just not appetizing. Slicing it thick will ensure that the pieces are easy to handle on the grill.

Oil Your Grill. Tofu does not have any of its own fat in it to keep it from sticking to the grates, so you'll need to apply oil to the grill just before you start cooking. Use your grill tongs to rub an oil soaked paper towel onto the grill grates a few times and you'll be ready to go.

Cook Low and Slow. You might think that you need to put your tofu directly on the flames to get it to crisp up, but what it really takes is indirect heat for a longer amount of time. Once your grill is preheated, turn half of it to low. Put the tofu on the low half to cook.
The grill
We are so excited to be using a new grill this summer. Our new Silverbac is from the Grilla Grills family! It is a wood pellet grill that provides you with the option to smoke your food or grill your food. I am in love with the size of this grill It has a huge surface for cooking! We have been playing and grilling up a storm this summer! It has been fun testing recipes and creating some new ones with our grill!
Barbecue Tofu: It is a texture thing
Honestly, tofu is a lot of texture and a little about the flavoring you add to it. You see you can change up the flavor easily because tofu is pretty much like a chameleon it absorbs the flavors around it. The texture however, takes a little bit to change.
If you know that you do not like softer tofu, you are welcome to grill the tofu longer to crisp it up. If you want it a little more crunchy on the outside but still tender on the inside, just let it grill a few minutes longer on each side. Our kiddos like the softer texture of the tofu, which is what this recipe features.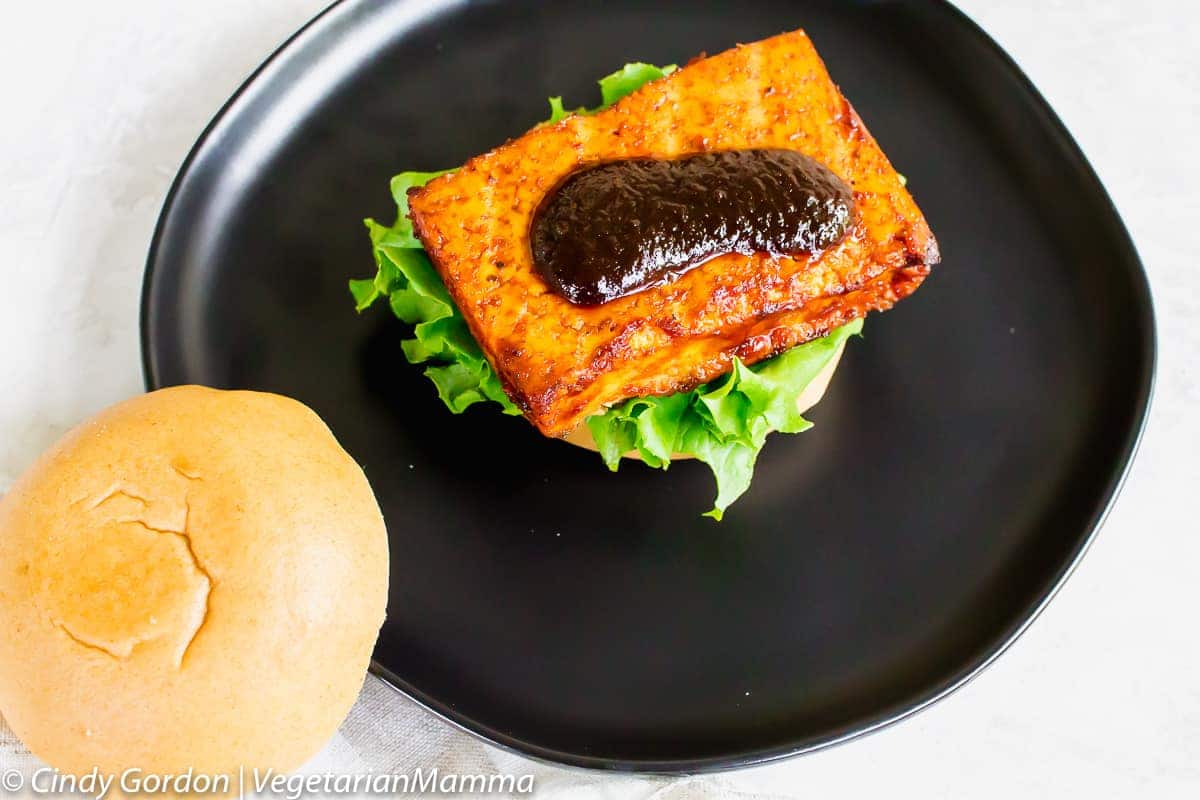 Picking the perfect bun for your Tofu Sandwich
Let's face it, you can have a delicious sandwich but if you do not have a delicious bun you are pretty much sunk! We used a Schar Gluten-Free Hamburger Bun as the carrier of this tofu sandwich. Spoiler alert: It was the perfect choice! These buns are gluten-free, wheat-free, dairy-free and nonGMO!
A huge bonus of these delicious gluten-free hamburger buns is that they have a shelf life. This is pretty huge in the gluten-free world. You are able to buy the product and store it in your pantry for a while until you are ready to use it! I love that I don't have to store it in my fridge until I use it!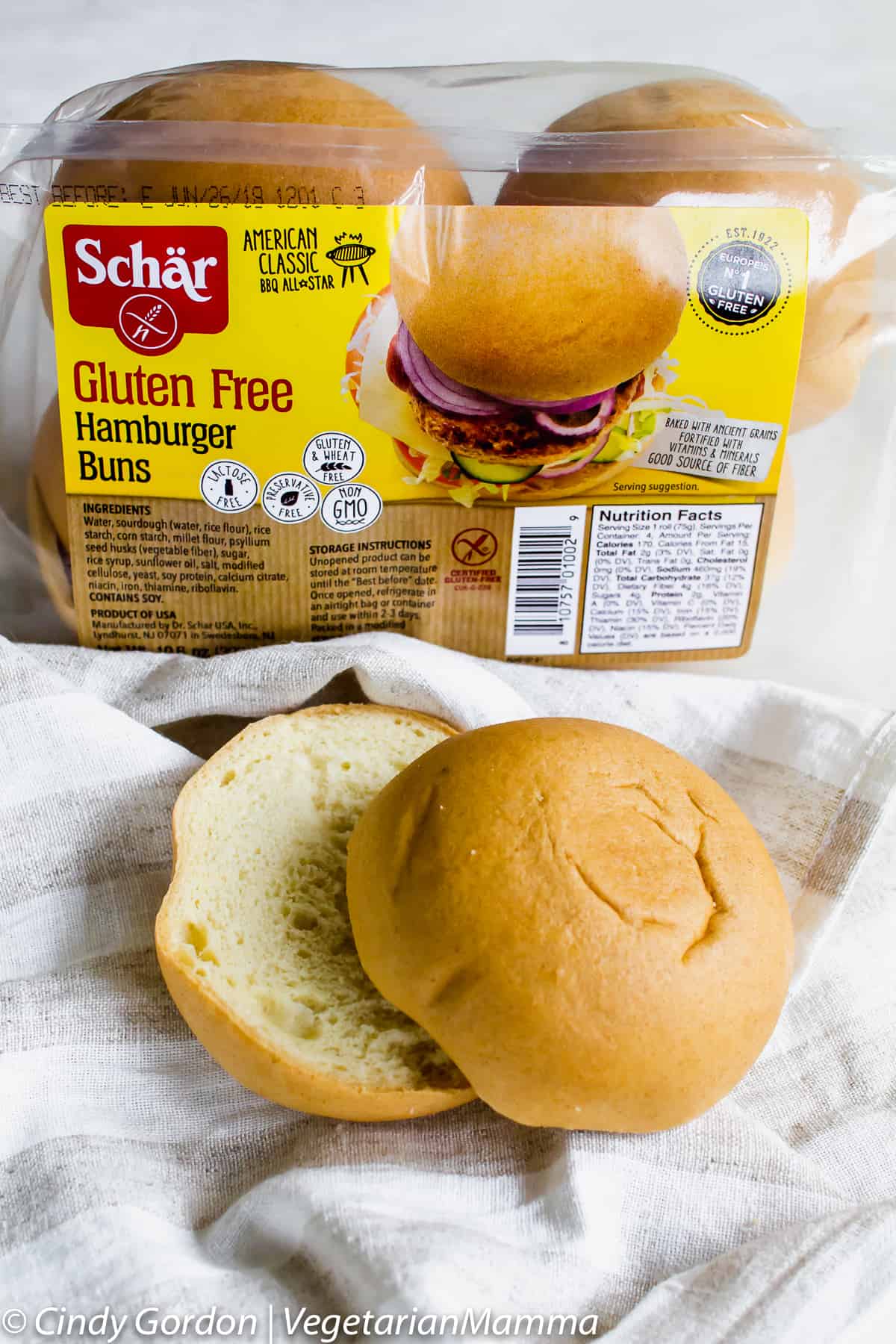 We truly love Schär and all they have to offer. Product diversity is another thing that Schär does really well.They have more individual products than I can count! You can find Schär products in the following categories, all around the world:
From the Bakery: Sliced breads, artisan breads, rolls, and crispbreads
Snacks: Cookies, crackers, biscuits, snack cakes, and snack bars
Italian: Pasta, pizza, and ready to eat meals
Baking supplies: Gluten free flours, mixes, and dough to make your own goodies.
Think: Meal Prep
Double this BBQ tofu recipe and use the leftovers as meal prep for the rest of the week. Keep the buns separate but you can put the tofu and pineapple salsa in the same container. Just put your bun in individual baggies so you are ready for later!
Run out of buns? Instead of having sandwiches, you could make some rice or quinoa. Then make bowls out of the leftovers: rice (Or quinoa), grilled tofu and grilled pineapple salsa.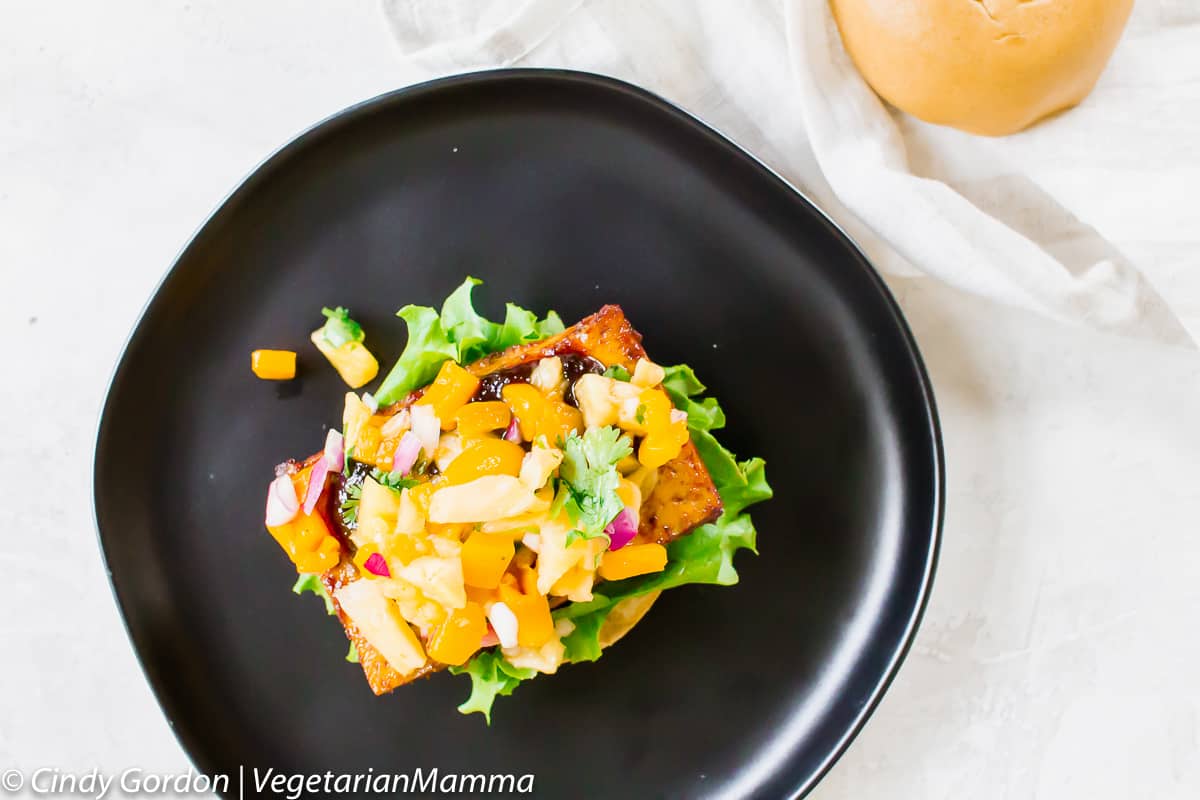 BBQ Tofu Sandwich Tips
Reserve some extra barbecue sauce so that you can slather it on when the tofu is done!

Grill your tofu in a single layer…no stacking.

Grill for about 8 minutes on each side.

Lay your tofu at an angle on the grill to ensure beautiful grill marks!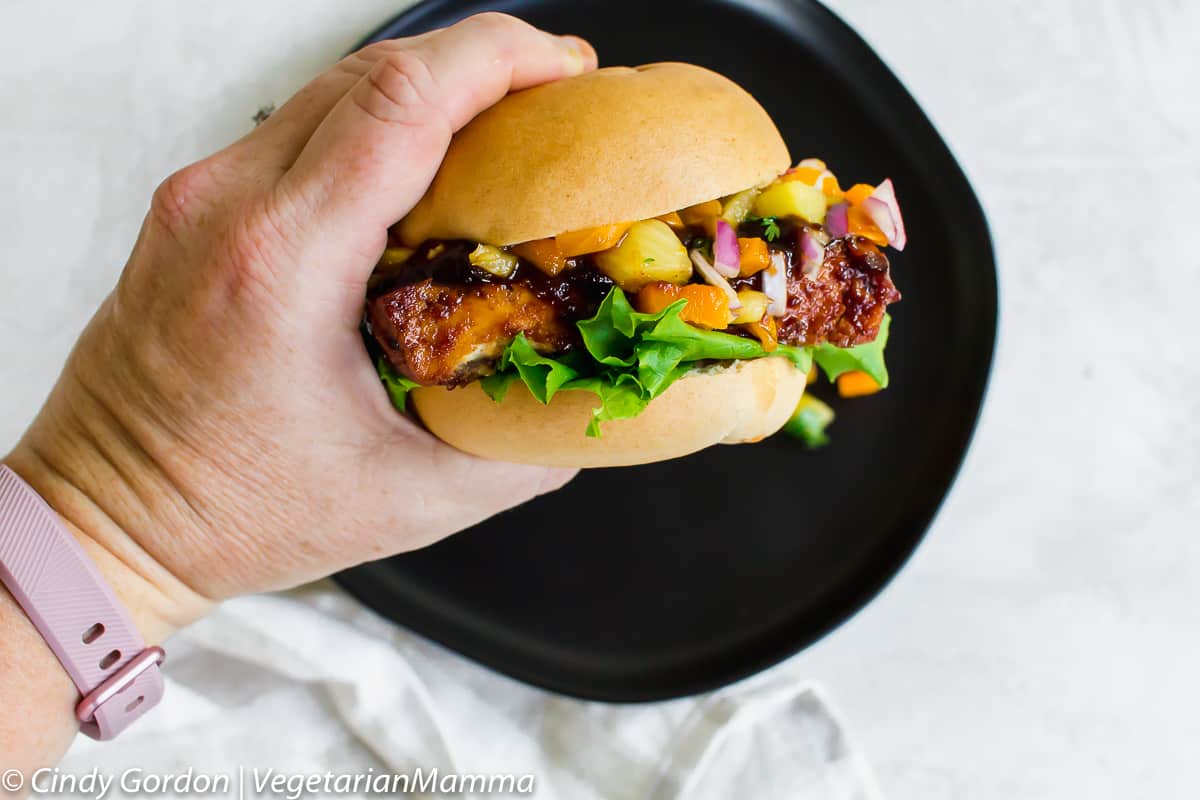 More Easy Tofu Recipes: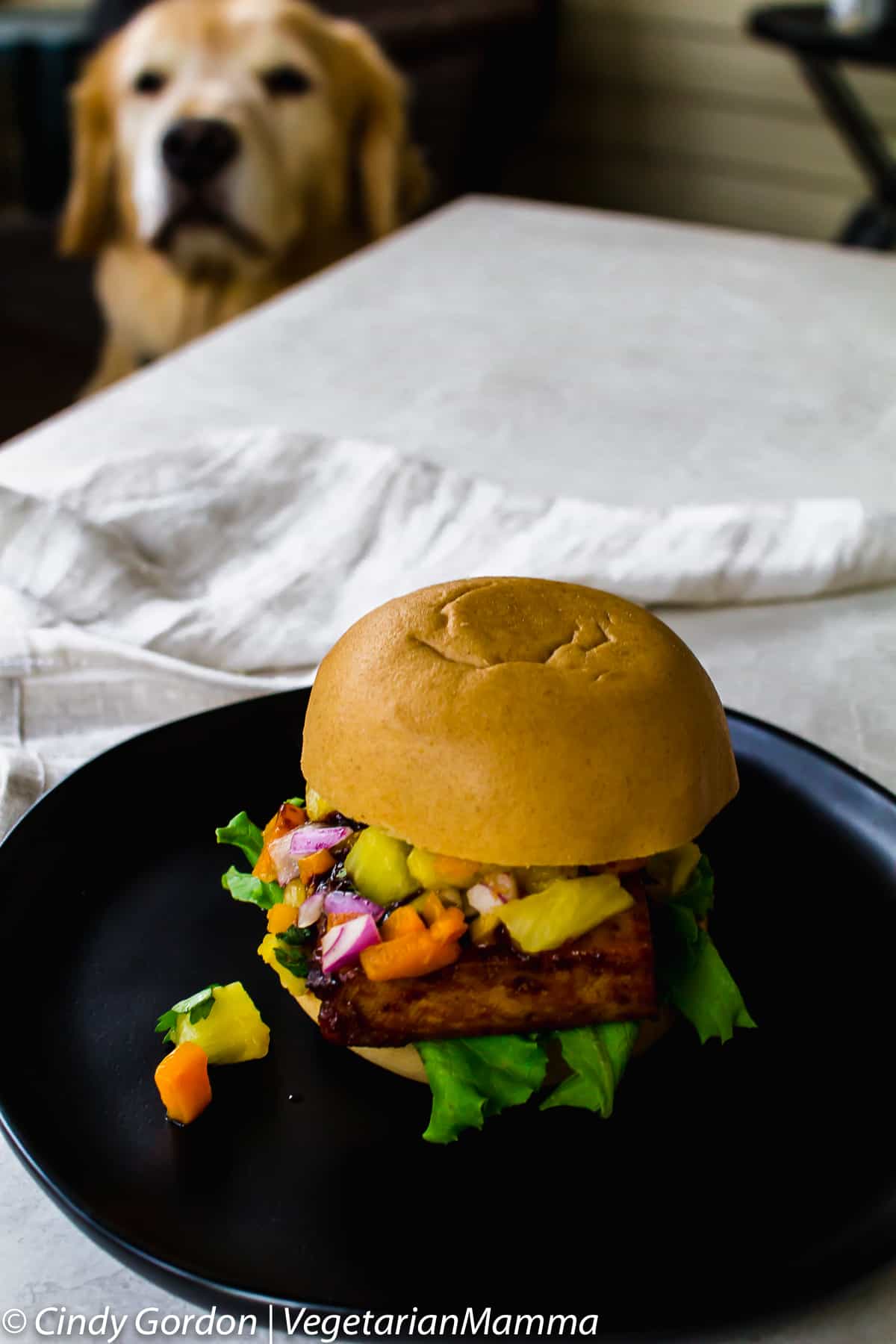 Even Gia The Dog was asking for a bite from the dinner table! She knew it smelled good!
Here is your grilled tofu recipe: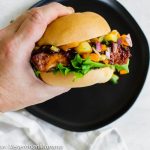 Print Recipe
Grilled BBQ Tofu Sandwich with Grilled Pineapple Salsa
This grilled BBQ Tofu Sandwich will make vegans and meat eaters drool with excitement. Slather on some bbq sauce, top your grilled tofu with a pineapple salsa and prepare your mouth for an on slot of amazing flavors!

Ingredients
1

block

extra firm tofu

pressed and cut into planks

1.5

c

BBQ sauce

4

Hamburger Buns

Schar (gluten free)

1

pineapple

cored, skin removed and cut into half circles

1/2

bell pepper

seeds removed

1/2

c

red onion

diced

1/4

c

HOT pepper of your choice

1

lime

1/2

c

cilanto
Instructions
Start by prepping your tofu. It will need to be pressed and then cut into 4 planks. Lay your tofu onto a lipped plate and pour BBQ sauce over tofu. Let the tofu rest in the fridge with sauce for 15 minutes. Then flip the planks and wait another 15 minutes.

Prep all your ingredients for the salsa. Your pineapple should be cored, skin removed and cut into half circles. Your bell pepper should have the stem and seeds removed. Remember you are only using 1/2 of the bell pepper. Dice the 1/2 cup of red onion and sit aside (it will not be grilled) Keep hot pepper whole.

Warm grill to medium heat. If you have a temperature gauge, I heated mine to 350 degrees F.

When grill has reached temperature, place tofu planks onto grill. Using a grilling tool gently move the tofu back and forth to help prevent sticking.

Add on the pineapple half circles, bell pepper and hot pepper. Grill for 8 minutes, then remove the HOT pepper and then turn over all other ingredients and grill for 8 more minutes.

When 8 minutes is reached for the second time, remove items from the grill. Remove seeds and stem from the hot pepper. Dice pineapple, hot pepper and bell pepper. Combine with red onion, cilantro and juice from one lime.

Divide tofu planks onto 4 buns. Top with pineapple salsa and serve! Oh yes and ENJOY!
Notes
You can certainly make the pineapple salsa a head of time.  It is pretty hot when you are going to dice it up (if you grill it at the same time as the tofu).
It makes a FULL batch, so you will have pineapple salsa left over for snacking!
Nutrition
Calories:
489
kcal
|
Carbohydrates:
101
g
|
Protein:
14
g
|
Fat:
4
g
|
Sodium:
1382
mg
|
Potassium:
780
mg
|
Fiber:
6
g
|
Sugar:
63
g
|
Vitamin A:
835
IU
|
Vitamin C:
134.7
mg
|
Calcium:
180
mg
|
Iron:
4.2
mg
All though this website attempts to provide accurate nutritional information, the information should only be considered an estimate. Varying factors such as different product types, different brands, etc. can change nutritional information. It is your responsibility as a consumer to read all labels to make sure the ingredients fit your dietary needs as well as calculate your own nutritional information as a double check.
Let's talk! Drop me a comment below telling me if you have tried tofu! If you have, have you tried to grill it yet? I'd love any tips you have to share with other readers too!
Pin for later: