Healthier Grilled Sweet and Sour Tofu with Vegetables
This isn't your typical sweet and sour tofu, this is a healthier recipe. We lightened up the sauce and we know you will love this grilled sweet and sour tofu with vegetables!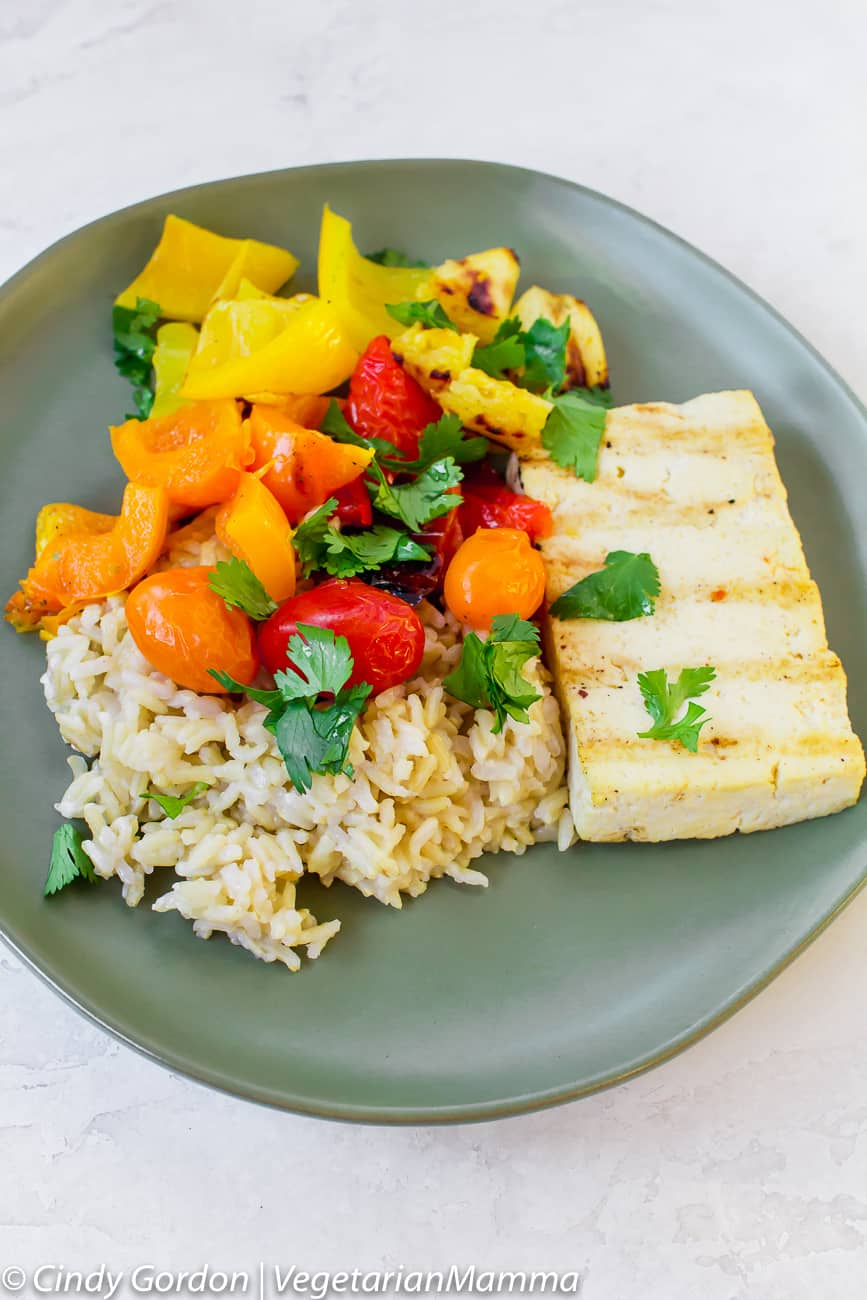 This post is sponsored by EZ Tofu Press.
We are always looking for new ways to prepare our tofu and new foods to pair together. This combination is a winner. We are simply in love with the flavors that this easy tofu recipe presents.
All the fresh ingredients taste wonderful today, but for me it is the marinade that does the trick! I adore the fresh ginger in this sauce! This isn't your typical sweet and sour sauce!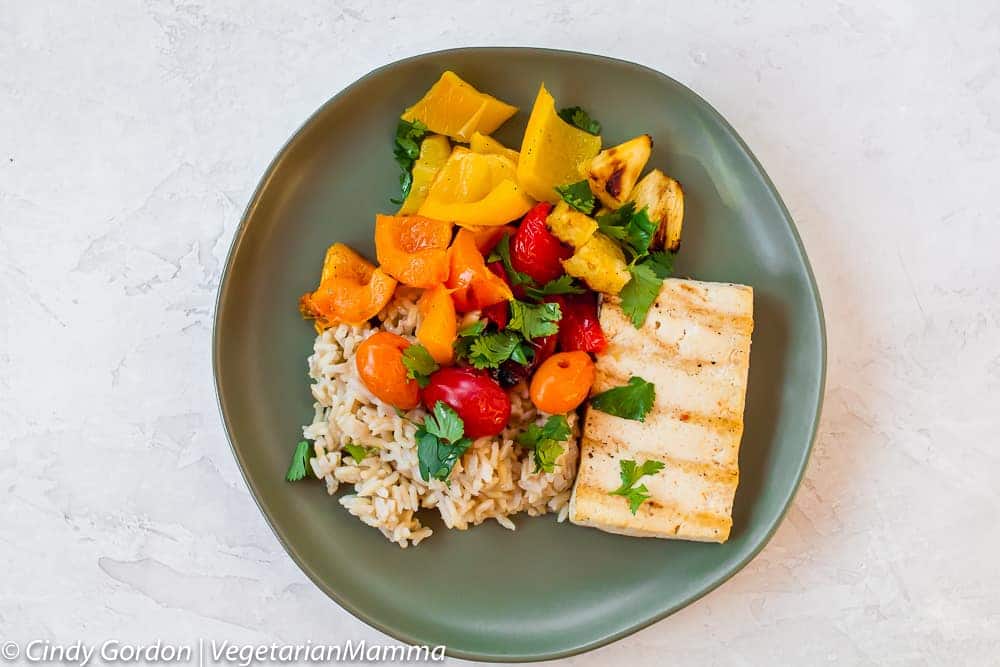 What in the sweet and sour tofu marinade?
Fresh ginger

Coconut aminos

Honey (agave if vegan)

Crushed red pepper flakes (optional)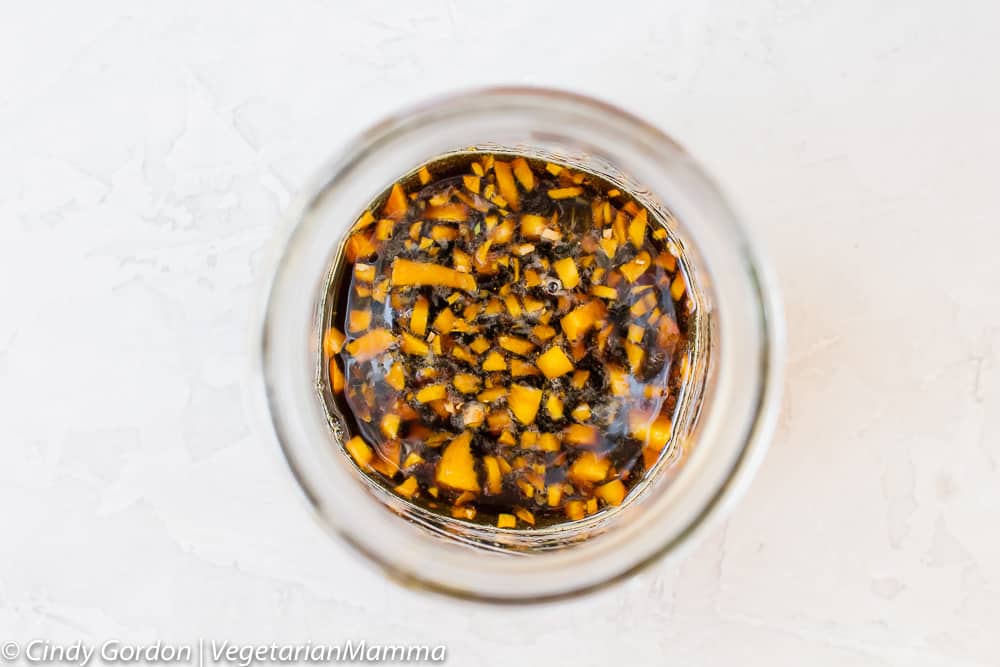 What are coconut aminos?
In the past I've used a gluten-free soy sauce or a Bragg's Aminos for this type of recipe. Lately, I've been loving the flavor of coconut aminos. So what exactly is coconut aminos? So the sauce is actually made from the "sap" of coconut palms.
The sauce is them fermented and typically blended with some sea salt. It is said to have a sweeter taste than soy sauce (I agree) and much less sodium than soy sauce! For some reason, I held out a long time before trying it and now that I've tried it…I love it! It is my new go-to!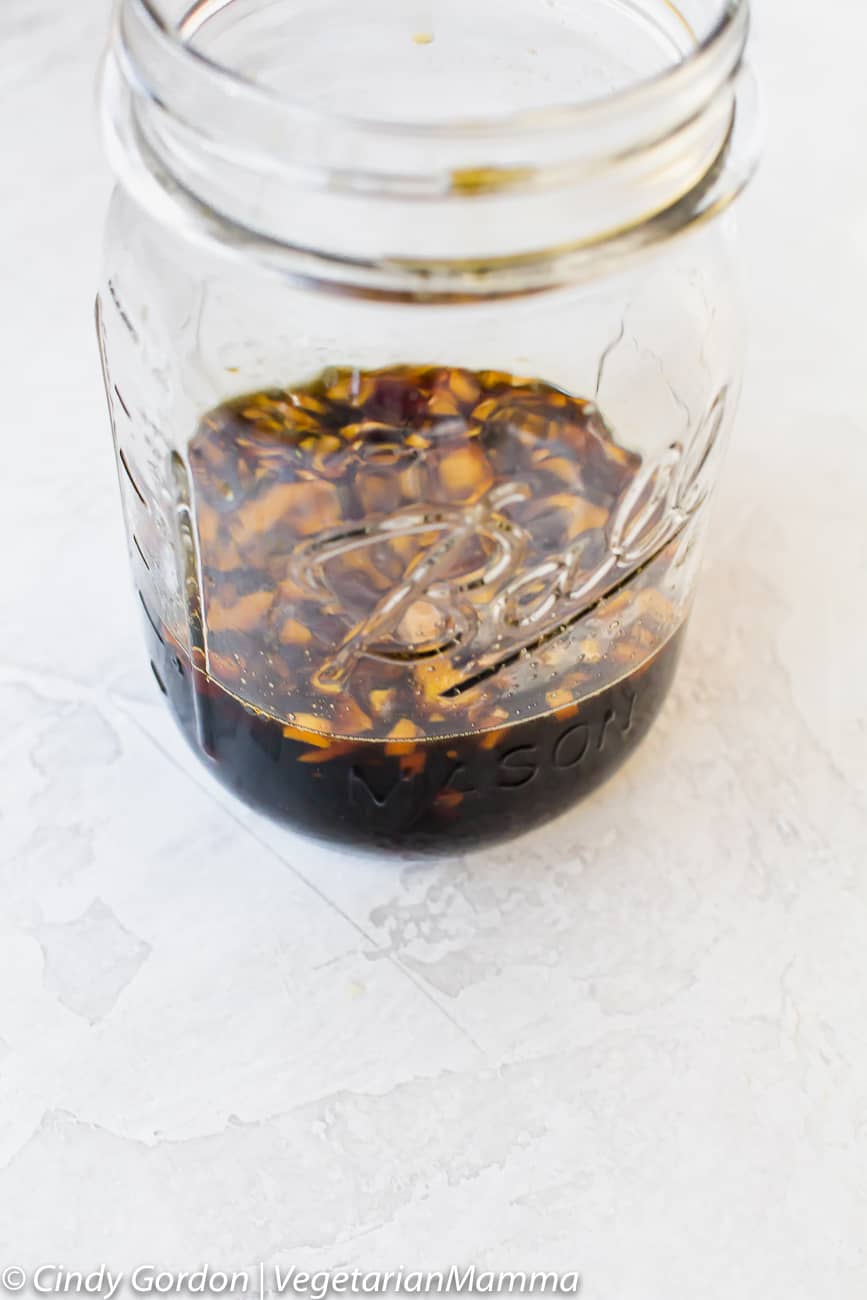 Benefits of ginger
It is said that ginger has possible health benefits that include reducing inflammation and nausea. Ginger can apparently help to stimulate saliva and bile products, which in turn helps to suppress gastric contractions as your food moves through your GI tract. It is also said that drinking a ginger team in the winter is a great way to keep warm. It promotes sweating and helps to warm the body from within!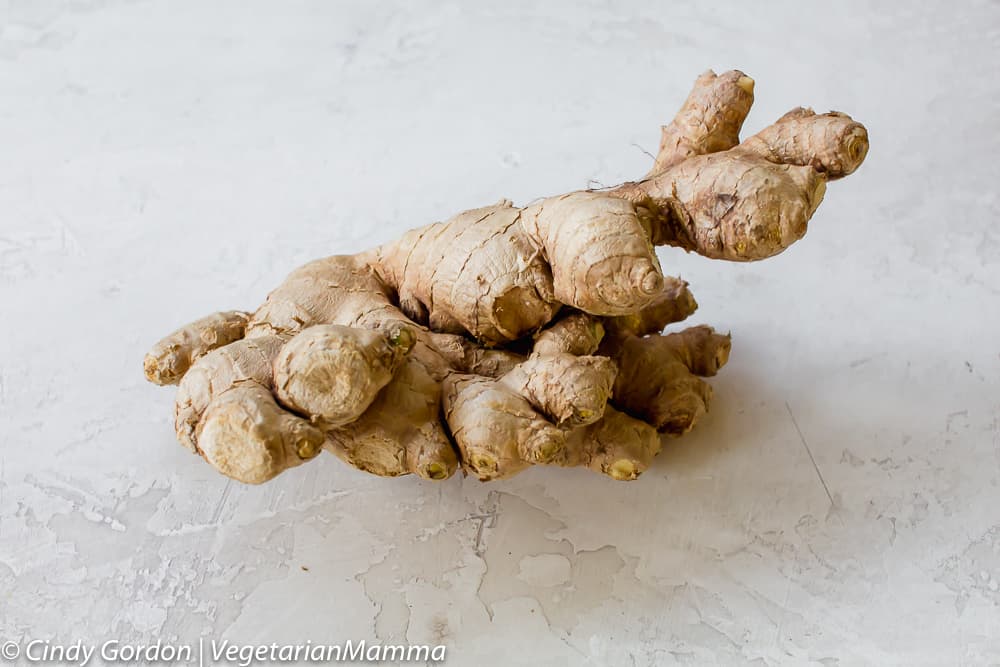 Is Tofu Gluten-Free?
Typically tofu is gluten-free. It is usually made from pressed soy and doesn't have much added in there. However, you should always be cautious and read the labels of your food packages. Sometimes food is produced in the same facility as your allergen and even on the same equipment. But generally tofu is gluten-free. You just need to be concerned if you have a soy allergy.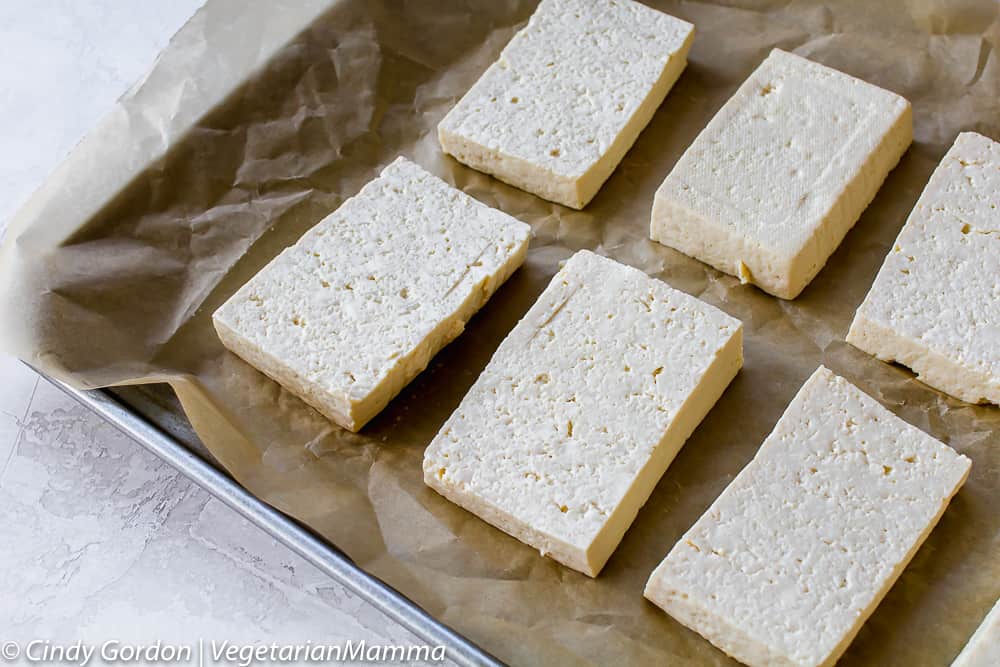 Prep your Tofu
We used the EZ Tofu Press (affiliate ad link) for this recipe. As you know, we eat tofu quite often in our vegetarian household! Using a Tofu Press is a must when cooking with tofu! It helps to get all the excess liquid out to really enhance the overall flavor.
New reader? We would love to tell you more about why we LOVE our EZ Tofu Press!
Giveaway at BOTTOM of post!
Simple Reasons Why the EZ Tofu Press is the Best
Provides better flavor and absorption

Pressed tofu in just a few moments of time versus other methods

Easy to clean

Dishwasher safe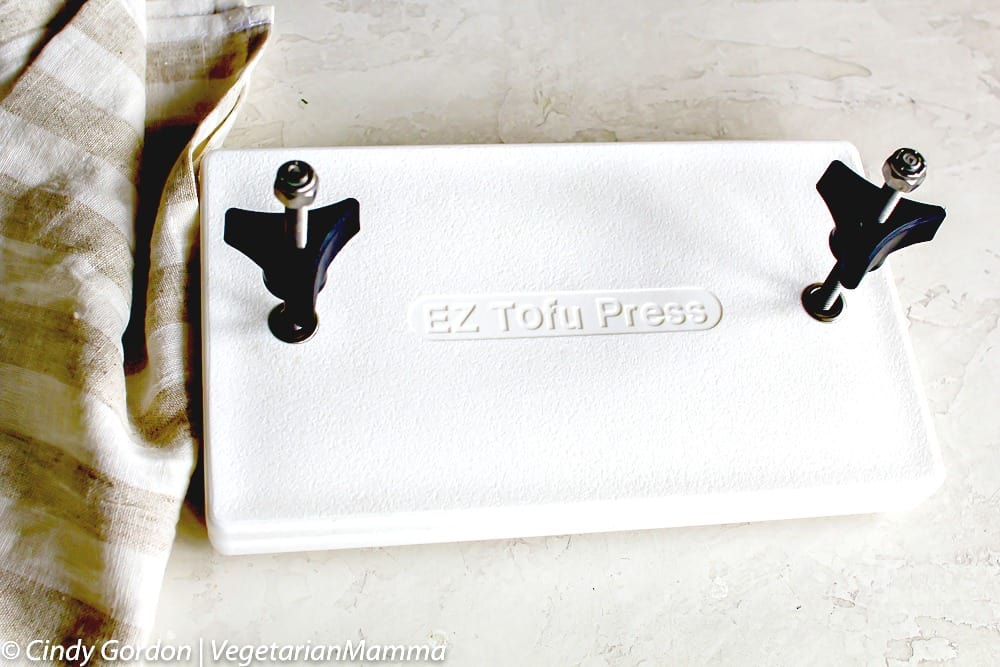 Tips for Grilling Tofu
We've been working on all the perfect ways to grill tofu and we have developed a list of some tips that we think will help you too! After you have read the tips, if you want to learn more about grilling tofu, you can visit this post.
Only grill extra firm tofu , non silken tofu. This type is most likely to hold its shape on the hot grill.

Prep your tofu properly, and cut into thick slices. You must press the excess liquid out of your tofu before trying to cook it on the grill. If you skip this step you'll just end up with steamed tofu, and that's just not appetizing. Slicing it thick will ensure that the pieces are easy to handle on the grill.

Oil Your Grill. Tofu does not have any of its own fat in it to keep it from sticking to the grates, so you'll need to apply oil to the grill just before you start cooking. Use your grill tongs to rub an oil soaked paper towel onto the grill grates a few times and you'll be ready to go.

Cook Low and Slow. You might think that you need to put your tofu directly on the flames to get it to crisp up, but what it really takes is indirect heat for a longer amount of time. Once your grill is preheated, turn half of it to low. Put the tofu on the low half to cook.
Tofu: It is a texture thing
Honestly, tofu is a lot of texture and a little about the flavoring you add to it. You see you can change up the flavor easily because tofu is pretty much like a chameleon it absorbs the flavors around it. The texture however, takes a little bit to change.
If you know that you do not like softer tofu, you are welcome to grill the tofu longer to crisp it up. If you want it a little more crunchy on the outside but still tender on the inside, just let it grill a few minutes longer on each side. Our kiddos like the softer texture of the tofu, which is what this recipe features.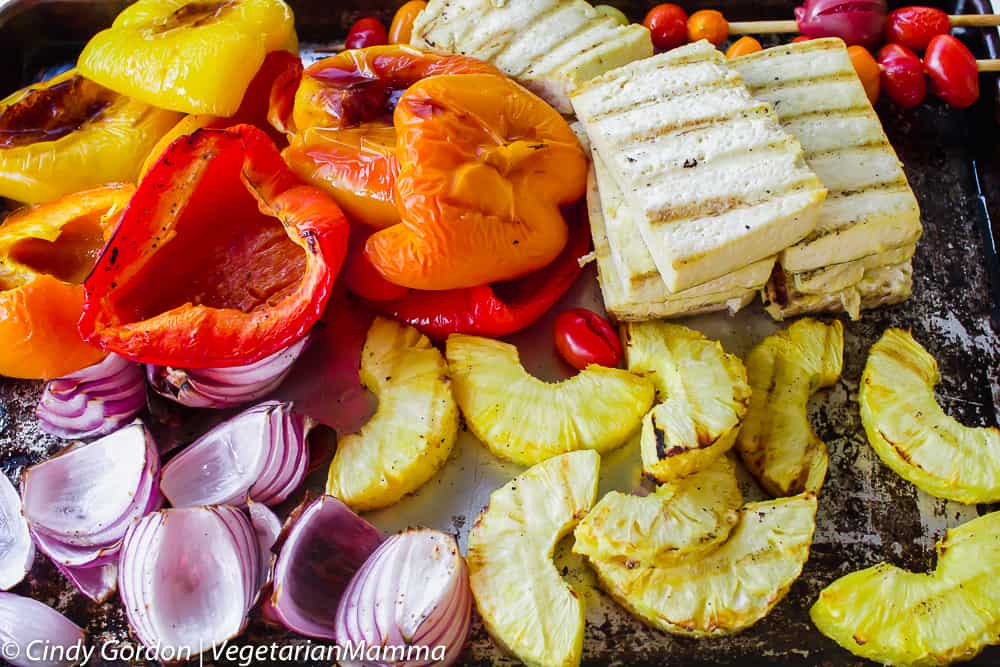 The grill
We are so excited to be using a new grill this summer. Our new  Silverbac is from the Grilla Grills family! It is a wood pellet grill that provides you with the option to smoke your food or grill your food. I am in love with the size of this grill It has a huge surface for cooking! We have been playing and grilling up a storm this summer! It has been fun testing recipes and creating some new ones with our grill! If you are using a grill like this one, you will need to preheat the grill to 375 and grill your tofu 10 minutes on each side.
Other methods to cook your sweet and sour tofu recipe
There are so many ways to cook tofu…. You can bake tofu, you can put it in the air fryer,  you can toss it under the broiler or fry it up in the skillet!
We even wrote a post a while back about cooking tofu, we included directions on the four ways to cook tofu!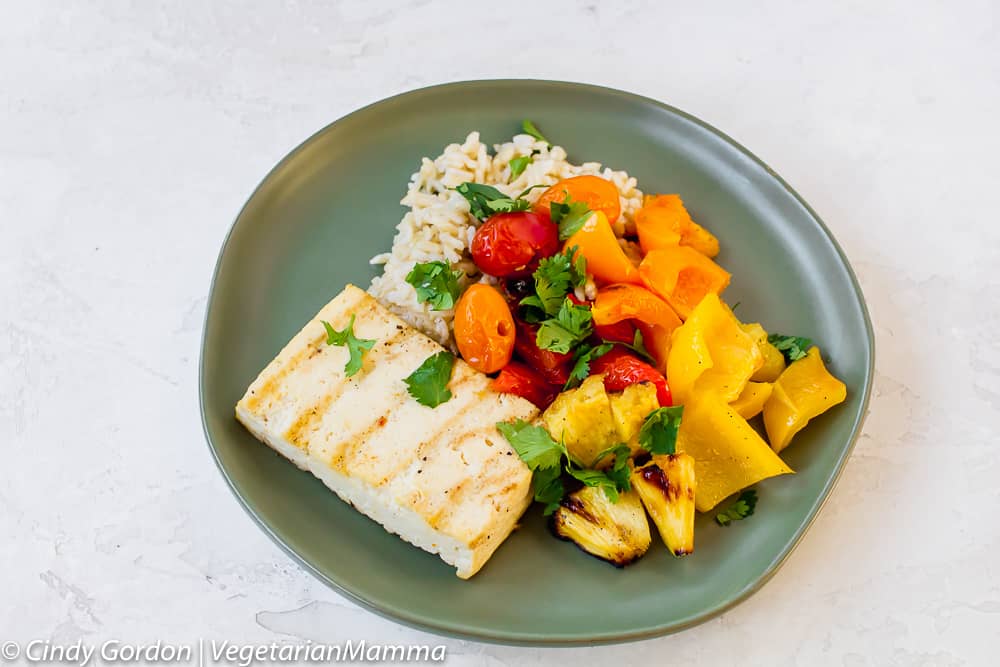 Topping your sweet and sour tofu with vegetables
Diced green onions (the whites and greens) are a great way to top off this grilled tofu recipe! Love sesame seeds? Those are great as toppers too! You can use brown, black or white sesame seeds.
Meat eater?
If you are a meat eater or have one in your family, you could certainly use this recipe and adapt it to include chicken.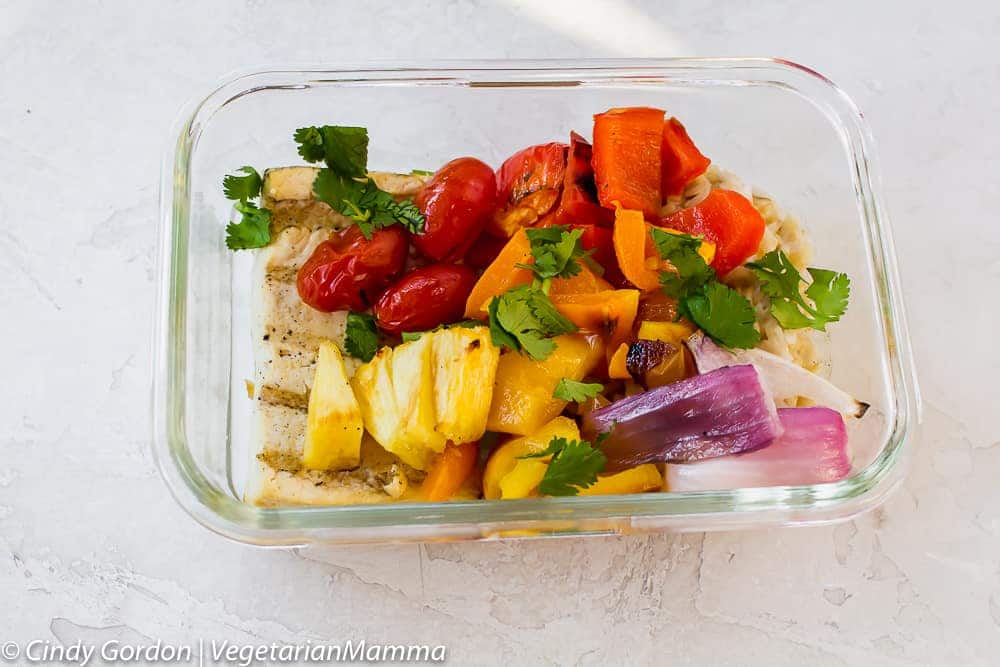 Think meal prep
I love this grilled sweet tofu because it is a double agent. It is perfect for dinner and perfect for lunches for the rest of the week. You can easily double the recipe if needed! It heats great! I love the sauce so much, that I usually make an extra batch. Be sure to shake the sauce if you store it separately.
Tofu recipe ideas:
Kid Friendly Tofu Bites (think crispy tofu!)
Just think…sweet and sour sauce, red bell pepper (or really any color of bell peppers) pineapple chunks! YUMMM You are just going to grill a few minutes on each side, over medium to medium high heat and you are going to love it! I promise, this sweet and sour tofu with pineapple is very good!
Even Gia The Dog gets in on the action. She made sure that no crumb was left behind, if I dropped any during food prep. She monitored the grill progress and also the photographing of this recipe. Really, she is here for you! 🙂
Vegan Sweet and Sour Tofu (How to make this)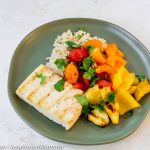 Print Recipe
Healthier Grilled Sweet and Sour Tofu with Vegetables
This isn't your typical sweet and sour tofu, this is a healthier recipe. We lightened up the sauce and we know you will love this grilled sweet and sour tofu with vegetables!
Ingredients
1/3

c

coconut aminos

1/4

c

honey

1

T

fresh ginger

diced thinly

1

block tofu

pressed

1

bell pepper

halved

1

c

cherry tomatoes

2

c

pineapples

slices

1

red onion, small

2

c

rice

cooked

cilantro

for garnish
Instructions
Prepare sauce by combing coconut aminos, honey and fresh ginger. Set aside.

Press and prepare your tofu, using the EZ Tofu Press. Press tofu for 15 minutes, turning the knob tighter every 4 minutes.

Once tofu has been pressed cut into planks (see picture above).

Preheat grill to 375 degrees F. Place cherry tomatoes on a skewer. Cut pineapple into half circles, bell pepper should be cut in half and seeds removed and red onion cut into chunks. Oil all ingredients. I use an oil spray just to coat them so they don't stick on the grill. Grill all ingredients for 10 minutes. Then fill ingredients and grill for another 10 minutes. (except tomatoes, grill for 8 minutes total).

If you like your tofu firmer, cook an additional 4-8 minutes. Remove veggies and tofu. Divide those ingredients among 4 plates. Add rice to places and top with sauce.

ENJOY!
Notes
I love to double or triple the sauce recipe to use more for even more delicious flavor and for salad dressing!
Nutrition
Calories:
574
kcal
|
Carbohydrates:
114
g
|
Protein:
16
g
|
Fat:
5
g
|
Sodium:
468
mg
|
Potassium:
391
mg
|
Fiber:
4
g
|
Sugar:
29
g
|
Vitamin A:
1160
IU
|
Vitamin C:
87.9
mg
|
Calcium:
171
mg
|
Iron:
2.7
mg
All though this website attempts to provide accurate nutritional information, the information should only be considered an estimate. Varying factors such as different product types, different brands, etc. can change nutritional information. It is your responsibility as a consumer to read all labels to make sure the ingredients fit your dietary needs as well as calculate your own nutritional information as a double check.
Drop me a note below if you are a sweet and sour lover! Have you had sweet and sour tofu before?
Pin for later: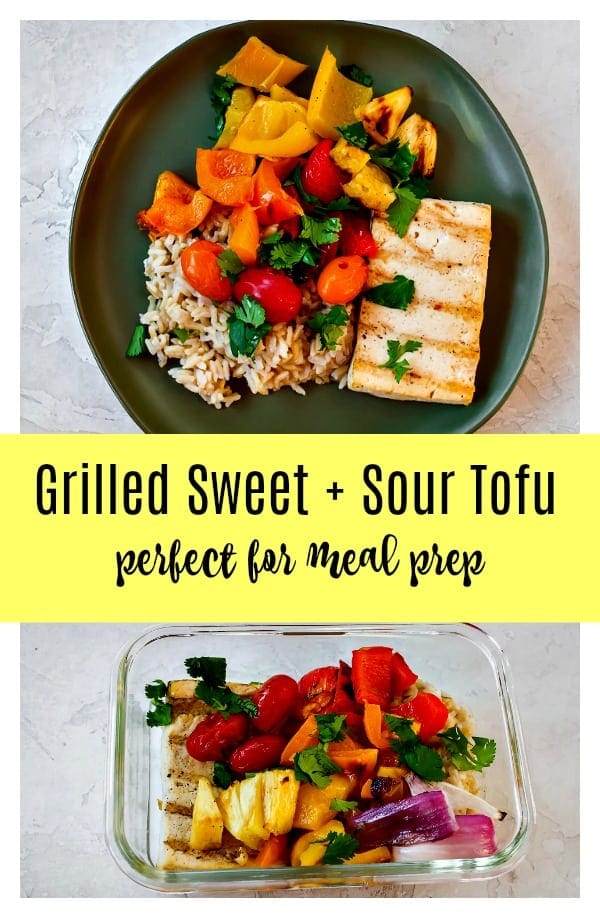 GIVEAWAY CLOSED = Winner = Robyn M!