How does an air fryer work? It is quite simple and we explain it here. Also learn about Cosori air fryers and why we love them.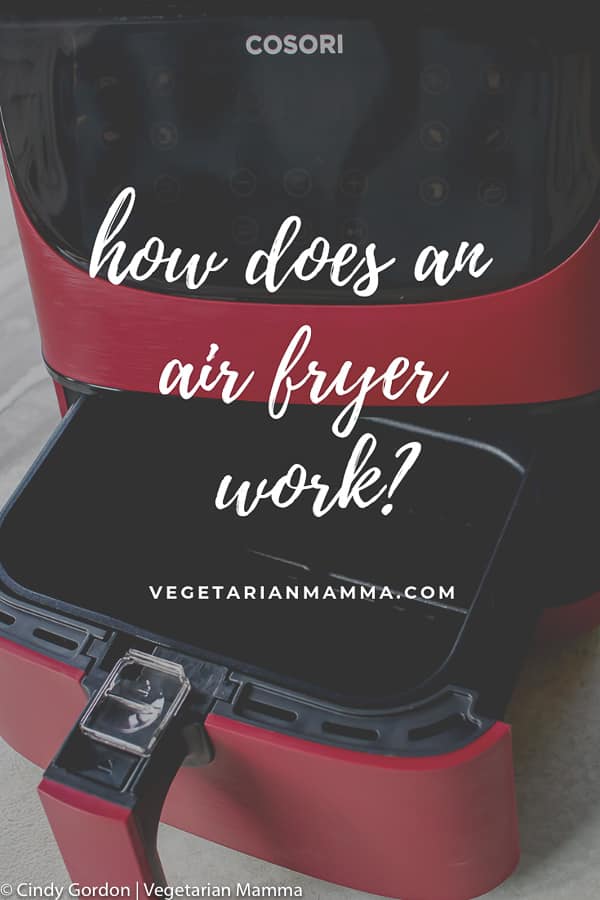 Thank you to Cosori for providing me a sample of this smaller unit to try!
Have you ever wondered, "How does an air fryer work?" Wonder no more! Learn more about how your air fryer works to create delicious meals, and learn some of my favorite air fryer recipes.
While the air fryer may seem to be a magical countertop appliance (Frying without oil? Amazing!), it's actually a pretty straightforward cooking machine. What you have in an air fryer is really just a smaller version of a convection oven.
What is Convection?
Okay, so first off in learning How Does an Air Fryer Work, let's talk about: Convection. Convection, if you remember your high school chemistry lessons, is the transfer of heat by movement. When it comes to cooking, that heat is typically transferred by the movement of air. If you have a convection oven, there is a fan at the back of it that will move heat around in a circular fashion. This makes food cook more quickly and often more evenly.
An air fryer works by convection too. The fan inside the unit blows air around that's been heated by an electric heating element. This is why you can effectively fry food with a very small amount of oil, since the fan blows the hot oil around to touch every surface of it, creating a crispy crunch.
Do Air Fryers Work Without Oil?
Yes and No. While technically, you can fry food in your air fryer with zero added fat, most manufacturers and cooks will tell you to add just a little bit to get the best results. The fat circulating around your food in a fine mist is what gives air fryer foods that perfect crispiness. With my Cosori Air Fryer I can cook both with and without added oil, depending on my mood and the recipe I'm working on.
I'm currently loving my 3.7 quart air fryer from Cosori. It's a great size for making small meals or snacks for the kids. I have the bigger version of this Cosori Air Fryer too. You can read my review to see how much I love it for making big batches of appetizers or whole meals for my family.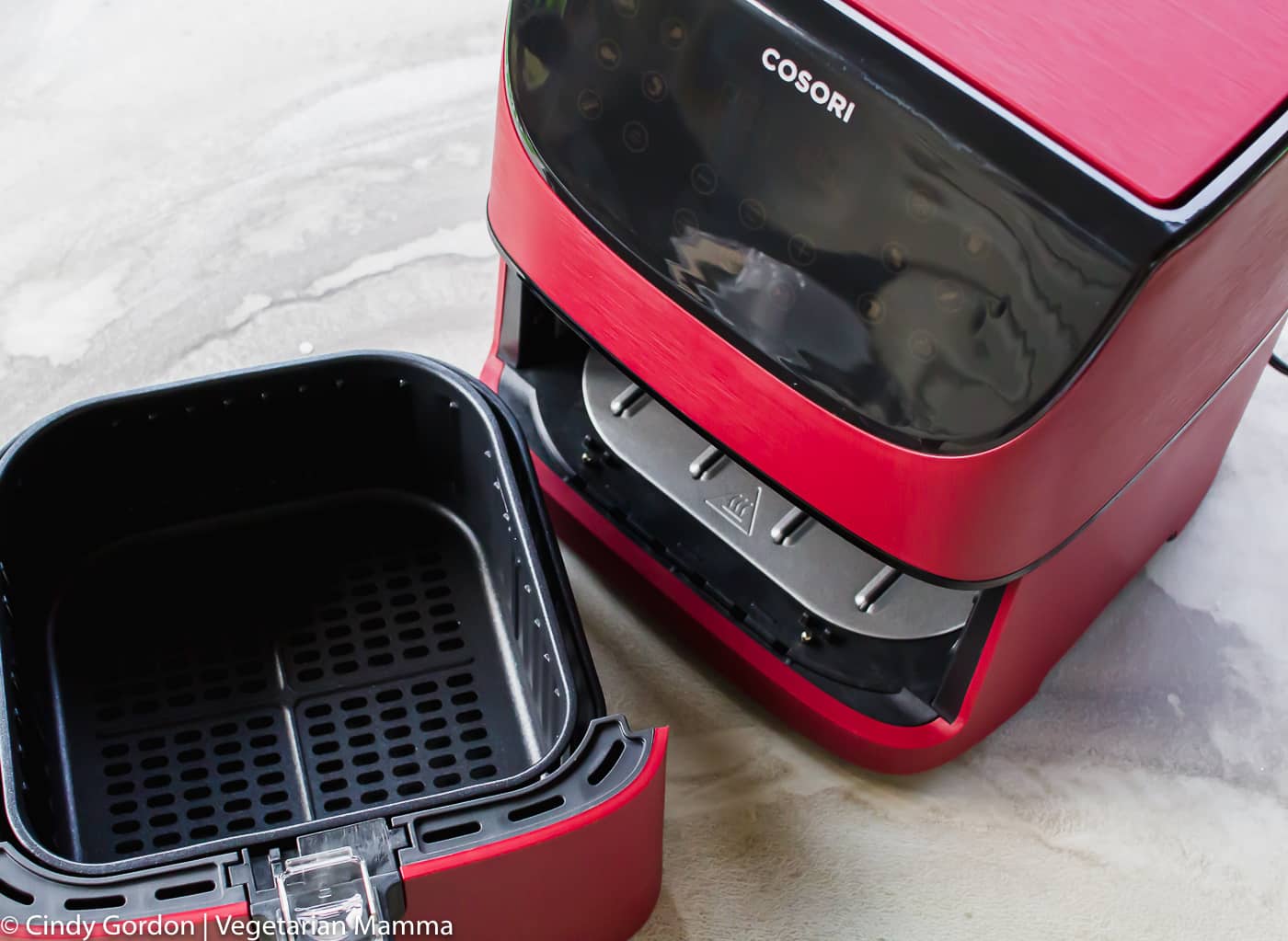 Cosori 3.7 qt. Air Fryer Features
Check out why I love this brand and their air fryers.
11 Original Presets let you easily and quickly cook a variety of foods without looking up the correct time and temperature. The presets are: Steak, Chicken, Seafood, Shrimp, Bacon, Frozen Foods, French Fries, Vegetables, Root Vegetables, Bread, Desserts. The french fry setting is my favorite – Yum!

One-Touch LED panel is easy to use and program.

Preheat, Keep Warm, and "Shake" functions allow you to better control the cooking of your food.

Dishwasher Safe – Both the inner and outer baskets are dishwasher safe and removable.

Square basket fits more food than its round basket competitors.

Nonstick – All surfaces are non-stick for easy cleanup. Basket materials are PFOA-free.

Temp Range: 170-400°F (77-205°C); Time Range: 1–60 minutes. The unit switches easily between Fahrenheit and Celsius

Recipe Book with 100 air fryer recipes is included.
I really love all of my Cosori small kitchen appliances. Read my reviews of the Blender and Electric Pressure Cooker. The Air Fryer works just as fantastically as the other appliances, and I love the wall all of them look in my kitchen.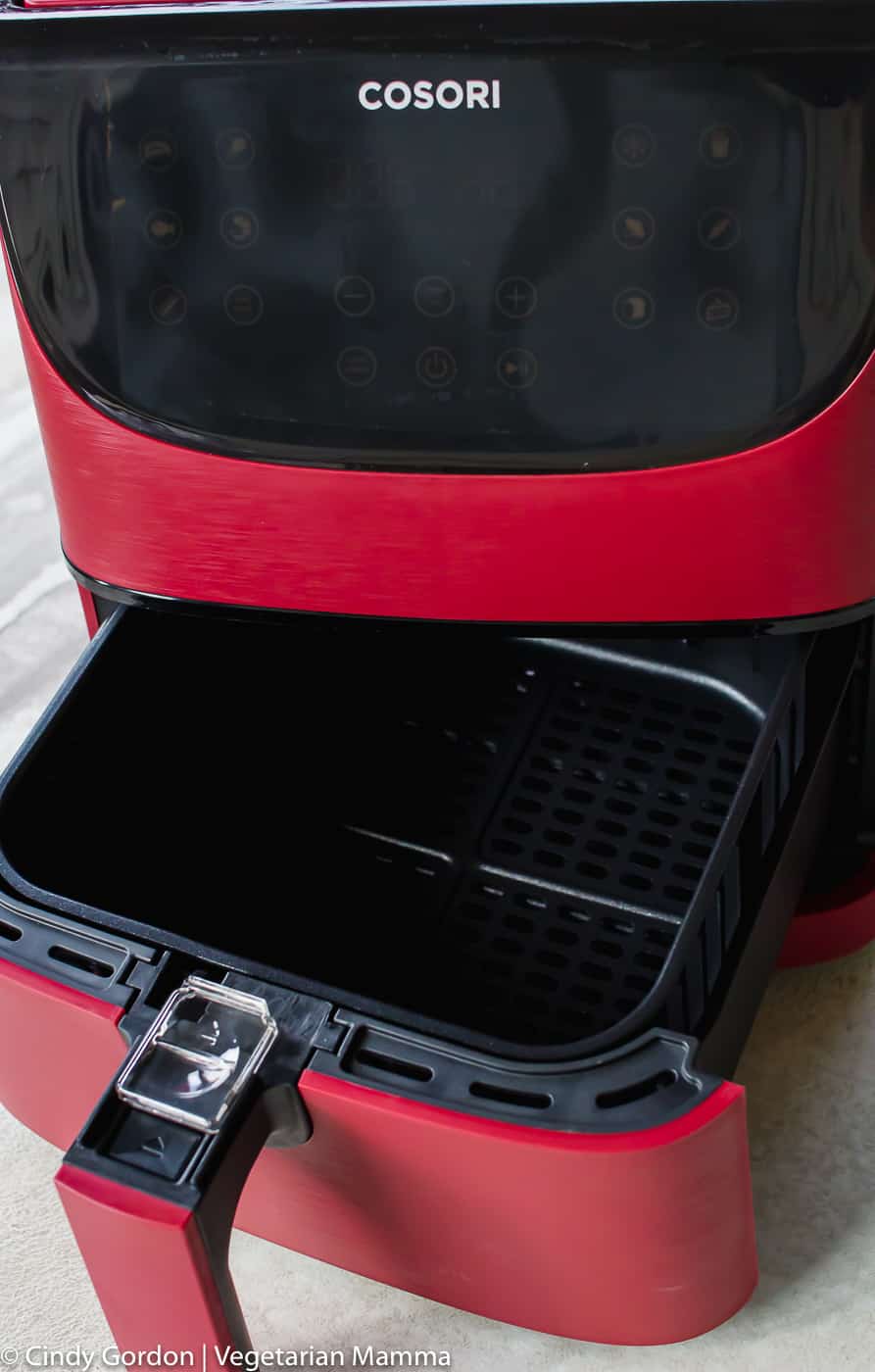 What Should I Cook in the Air Fryer?
Need to know what you should cook in your air fryer? I have got you covered! Find all of my vegetarian and gluten free air fryer recipes on the Air Fryer page!
I've even picked a few of my favorites to get your started:
If you love air fryer recipes, you need to check out our new site called AirFryerEats.com It has a variety of yummy and delicious air fryer recipes. The site features vegetarian, meat, gluten and gluten free items. You might want to check out: Air Fryer Asparagus, Air Fryer Grilled Cheese, Air Fryer Potatoes, Air Fryer Cupcakes and Air Fryer Tofu.
I hope you enjoyed learning about how air fryers work. If you are in the market for an air fryer, I definitely suggest that you check our Cosori and their line of square basket air fryers.
Where to Buy the Cosori Premium Air Fryer
You can go here to buy the Cosori Air Fryer Visit Cosori at their Website or connect on Instagram.