How do you eat out as a vegetarian? You think it will be tough but with a few tips and tricks eating out as a vegetarian doesn't have to be difficult, you can successfully it out as a vegetarian.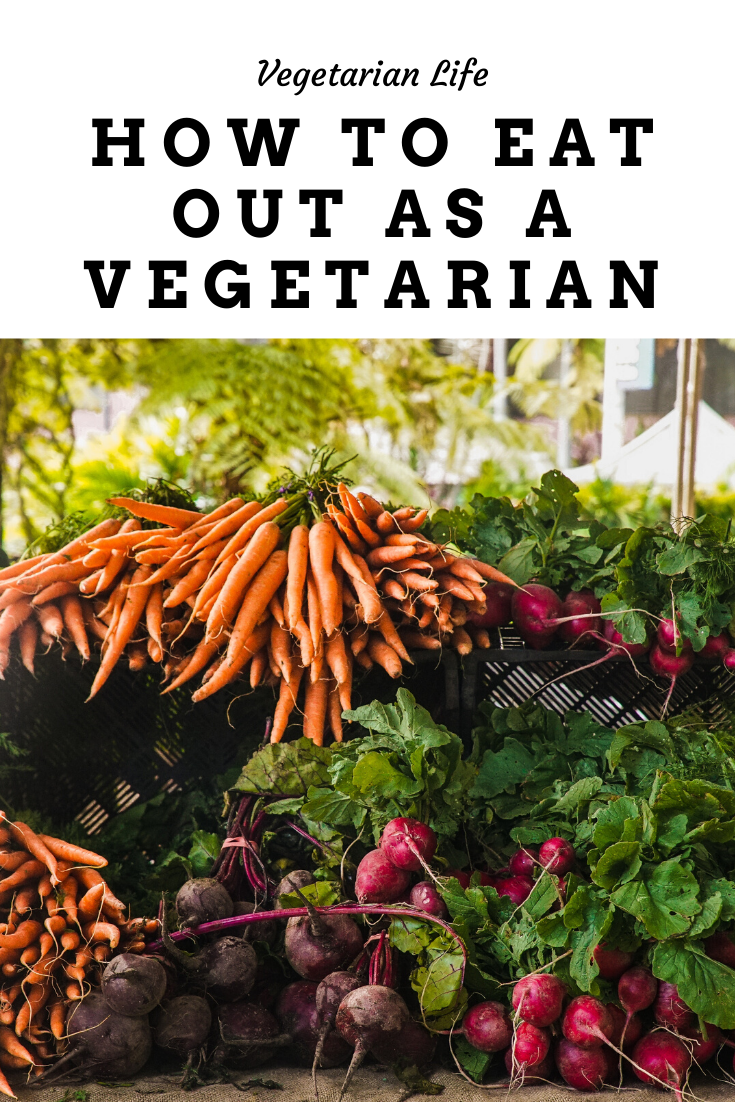 Eating Out As A Vegetarian – Tips And Tricks
When you become a vegetarian, one of the biggest fears is that you can never go out to eat again. You feel like you're doomed to eat at home forever and have to cook dinner every night. The reality is that nothing could be further from the truth. Eating out as a vegetarian doesn't have to be difficult.
Vegetarians and vegans are no longer relegated to the hippie crunchy restaurants of yesteryear – although there's nothing wrong with those places. Vegetarian and vegan restaurants are opening up everywhere. Most mainstream chains have meatless options available, too, although they may not be too creative.
It wasn't that long ago that if you wanted to eat at a mainstream restaurant chain as a vegetarian or vegan, you were relegated to salads. With most eateries having their menus online these days, it's really easy to check to see what's available 'off the menu' or with a small substitution. If you have questions about how something is prepared, or if a dish can be made meatless, you can even call in advance.
The hardest part of dining out while maintaining a Vegetarian diet is the hidden meat items that are used for flavoring. Ingredients that are used to boost flavor, like chicken broth or bacon, are sometimes not listed on a menu, but are still included in dishes that appear to be vegetarian, like rice pilaf or even fried potatoes and eggs. When in doubt, ask your server. If they don't know, they should be able to find out for you easily.
Eating Out As A Restaurant – Choose restaurants carefully
Don't plan on a dinner outing to a steakhouse and try to find a meatless entrée. There are lots of ethnic restaurants that have meatless main dishes that are flavorful and nutritious. Dining out while maintaining your meatless diet does not mean that you are relegated to the salad portion of the menu, either. Look for the meatless options on the menu, Many times, they are identified with a 'V' or a green leaf icon. You may also find some menu options that can be made vegetarian with a simple substitution.
Some of the best restaurants to find Vegetarian dishes are ethic cuisine. From Chinese to Japanese and Italian to Mexican foods, they all offer vegetarian options that are flavorful and most likely something that you don't already cook at home. That's one of the main reasons of dining out, isn't it? To try new dishes? Some options might include –
Chinese – Since Tofu is most likely on the menu, ask about substituting it in any of the dishes that include meat. Don't overlook eggs as a protein source, too.
Italian – Check for a meatless sauce option like marinara, alfredo, or pesto. There should be several choices. Eggplant Parmesan is a great and satisfying meal that can be ordered straight off the menu, or you might see if they can make a mushroom scampi. Watch for hidden meat, like anchovies used for flavoring. And don't forget the meatless appetizers.
Mexican – Most every dish from tacos to burritos and fajitas can be made with veggies; just ask. Cheese enchiladas or quesadillas are good, too. Don't overlook egg dishes, even for dinner. Check for hidden meat in the beans. If they're safe, bean burritos and rice are a great option as well.
Greek – There are many Greek options from Hummus to Baba Ghanoush to falafel and eggplant and vegetable dishes. Even a great salad with feta cheese, kalamata olives, and fresh veggies served with fresh pita bread makes for a satisfying dinner.
Last, for American food/diner options, check to see if they have a vegetarian burger option. Also, check for side dishes like macaroni and cheese. You might be able to make a tasty and filling meal from appetizers, salads, and side dished served with other meal choices. How about a baked potato served with a cheese sauce and steamed vegetables?
With a minimal amount of forethought, you can have a successful dinner outing to almost any restaurant. Just take the time to consider your options. Most eateries have, or at least can accommodate meatless meals. Eating out as a vegetarian can be fun!
More Tips For Living A Vegetarian Lifestyle