Figuring out turn current meals into vegetarian meals can be daunting. Check out our simple tips and you'll become a pro in no time!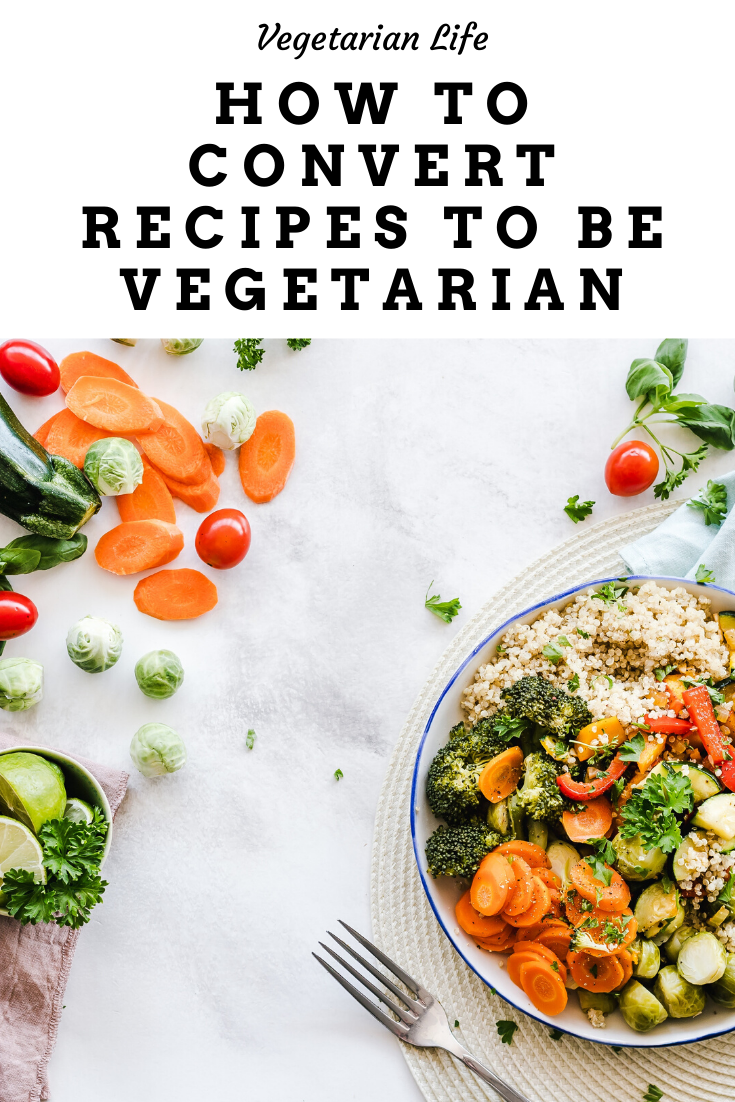 There are a lot of tasks and new experiences for people converting to a vegetarian diet. One of the most difficult tasks for a person, or a family, is how to convert your favorite dishes to meatless meals that everyone will still enjoy. It's not Taco Tuesday without tacos.
It doesn't have to be difficult, though. With a little planning, as well as some trial and error, you should be able to please every member of the family.There are a number of ways to achieve a meaty texture in your recipes without using meat. Here are a few ideas to get you started on how to turn current meals into vegetarian meals.
Fake Meats
Prepared fake meat. There are companies that make everything from a vegetarian roast to chicken, lunch meat and almost any type of meat you can think of. They are pretty tasty and have a similar texture to actual meat. Generally, these items are made from soy, texturized vegetable protein (tvp), or seitan (wheat gluten). However, some are made of corn. Depending on the type you purchase, it can be added to your recipe just the same as you would add meat. They are a great convenience item, and nice to have a package or two in the freezer. But they are heavily processed, and you can make great meat substitutes in your own kitchen.
Make your own seitan meat replacement. Seitan is made from the gluten in wheat flour and is extremely easy to prepare at home. It can be flavored and shaped to mimic many meat dishes from pastrami to meatballs to chicken fried steak. Seitan is a wonderful way to satisfy the umami flavor cooked to your family's tastes, while getting that satisfying meatiness and chew that meat-eaters crave once in a while.
Other Protein Alternatives
Another great steak alternative is cauliflower. The cauliflower can be sliced into steaks or chunks and will hold its shape and texture when cooked. It will absorb the flavors of what is has been cooked with, and can be grilled, oven-roasted, or used in stews. The cauliflower can even be used as a topping for pizza! Cauliflower is a versatile vegetable to add that meatiness to your meals.
Add in beans and legumes. Beans will increase bulk and fiber, and lentils make a wonderful burger replacement. In fact, lentils make a pretty tasty ground beef replacement for tacos, sloppy joes and other ground meat fillings. Beans retain their shape and absorb the flavors of the other ingredients they are cooked with, too. Garbanzo beans or chickpeas add a slightly nutty flavor, and can be coarsely ground and used as an ingredient in a meat replacement mix.
Vegetables are a good meat replacement
Vegetables can offer filling and nutritious meat replacements. Many vegetables absorb the flavors of the foods they are cooked with, and many add impart their own subtle taste to your dish. Potatoes make a nice base to stews or meatless pot pies as well. Start by choosing vegetables your family already enjoys, and expand your variety as time and curiosity allows. Mushrooms, especially the large Portobello, make a tasty meat substitute. They can roasted, grilled, sliced into meaty strips, chopped, marinated, and stuffed. They also make a darn good burger patty substitute.
Do not rule out nuts for protein
Nuts and seeds. These add a nice chewy texture and mouthfeel to your cooking, and work great in a hamburger replacement mixture. Walnuts, almonds, cashews and peanuts are used in cooking throughout the world in various cuisines for their flavor, texture and nutritional boost.
There are so many choices when you begin to trade the meat components with non-meat alternatives in your favorite family recipes. It will most likely take some trial and error to find your family's favorites, but once you get some practice, this task becomes easier. Don't forget to use herbs and spices and sauces to add flavor, too. A little spice, or a teriyaki or soy sauce can add quite a bit of flavor!
If you are wanting to know more about a vegetarian lifestyle, I am here to help! We recently wrote a post about Tips for a Vegetarian Lifestyle. You might also like to learn about how to eat out as a vegetarian.
Let's talk! Drop me a comment below and let me know what questions you have about how you turn current meals into vegetarian meals