Inn at Cedar Falls Yurts now available. I was lucky enough to get a sneak peak and stay in a yurt. I think you'll love this!
Last night was my first time staying in a Yurt! What great new additions to The Inn at Cedar Falls in Hocking Hills. Ohio has some pretty fun and amazing places to stay! The Yurts are 20 feet in diameter.
The yurts have a king sized bed or two twin beds. They have a full bathroom, seating area with gas log stove, microwave/under counter fridge and a wooden deck with chairs that overlook the woods.
The yurts do not have a tv. While others might cringe this actually made our experience even more relaxing. They have two comfy rocking chairs to relax in!
I loved the gas log stove!
I came down with my travel buddy, so we spilt the beds into two. It was really like a giant adult sleep over! Ha! But the lack of tv made for great conversation time.
No televisions in the Yurts!
They even had a deck of conversation cards which was great and led to lots of talking and laughing! The lack of tv also led us to listen to our surroundings and enjoy the silence and sounds of nature.
The yurt has a clear dome on top, which lets the moonlight in at night. It can also provide for some star gazing, if the skies aren't too cloudy.
I loved the small kitchen area. It had a mini fridge, freezer and microwave. Perfect for snacks and drinks for the weekend.
Circle type shelters have been long used by others in other countries. There are many designs of yurts currently out there. The Inn at Cedar Falls uses a modern Pacific style structure.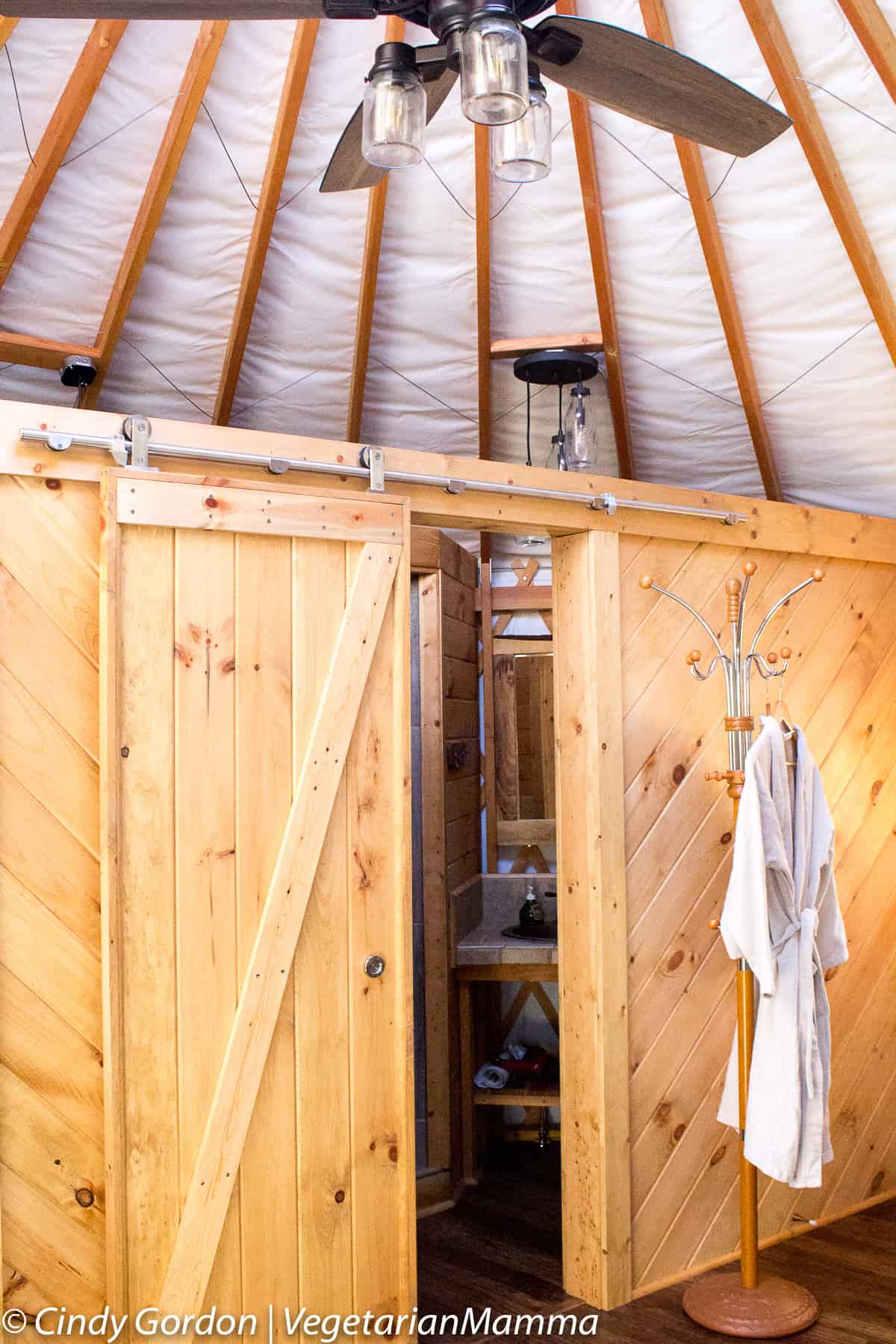 The yurts are made with Douglas fir and also wrapped with a special insulation developed by NASA. The yurts are year round. We visited in December and it was plenty warm and cozy!
I would highly recommend heading to Hocking Hills for a few days. There is SO much to do and you have so many options to stay at, especially at the Inn at Cedar Falls. The Inn, cabins, cottages and now YURTS!
---
Thank you to the Inn at Cedar Falls for hosting us. We appreciate it! Be sure to check out our post about their amazing Cookie Baking Class and our last Girls Weekend Trip. Gluten free? Check out my post of the TOP gluten-free places to eat in Hocking Hills.
---
Let's talk! Have you ever stayed in a Yurt? Do you love nature?