Gia or #GiaTheDog is our number 1 dog co-worker around here! She is always happy to lend her sniffing skills or her palette to test recipes.
Gia is a golden retriever. Her birthday is in September. She will be four this year.
Meet Gia The Dog
Like we said when we introduced you to Chianti the Cat…sometimes the perfect co-worker isn't a human. Sometimes it is an animal. I have to say that I have two pretty awesome co-workers at my home office.
I mean, for real. This dog. Oh this dog!  We embarked on quite a journey to get her. You see, she is quite the expensive dog. Gia actually is a service dog. She is a scent detection dog.  While her scent detection skills are still quite on point, she is not active working the scene. We got the free and clear last summer from the life threatening nut allergies. However, she may get back into the detection game again. We believe that we have some tree nut allergies reappearing, but that is a different story…for a different day.
Gia loves to detect, it is a game. She loves her people.  We are forever grateful to those who helped us raise money to get her. She has been a lifesaver in many ways.
Gia is completely faithful to her entire family. She knows when somebody is scared, hurt or anxious. She becomes elated when we experience JOY. When we are excited and happy, she often matches our behavior. She loves to run, play fetch with a tennis ball. Oh yes and eat. She loves to eat. Did I mention that she loves to eat? She is a very food driven dog.  So of course she is always willing to test sniff our recipes. Who can blame her, they are pretty good!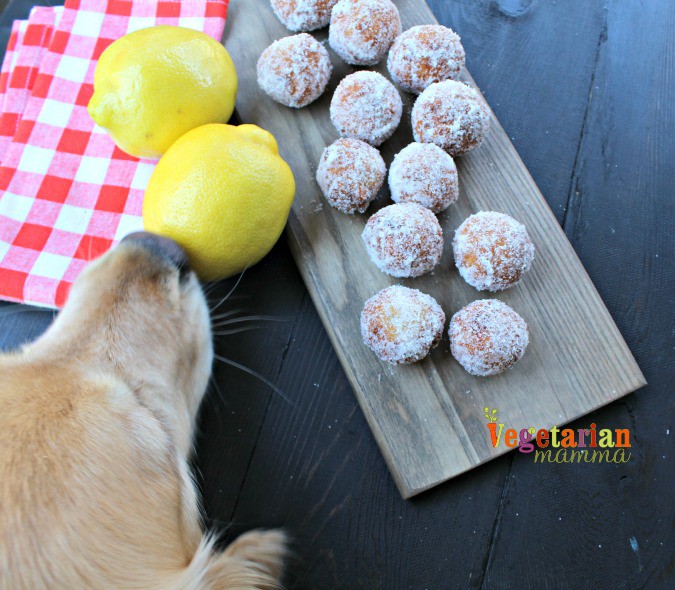 Gia says, "Wow those lemon donuts are Top 8 allergen free?"  "Mom, you rock!"
Honestly, she is just amazing. She knows me, she knows the entire family. Her detection skills are more than a scent. She detects emotions, she comforts. She is simply amazing.
She likes to go with us, when we go places. She loves to hang out in the yard. Here she is supervising our campfire brownies that we baked in oranges!
While we are sharing some adventures of Gia the Dog, we do like to keep some of the information about her private. Please respect our privacy when it comes to how she is trained, who trained her and questions about how you can get a dog like her. If you are in need of a dog that can detect a scent, our best advice is to do your research for local dog trainers in your area. Google is your friend, references are important.
LET'S TALK! I'D LOVE TO HEAR ABOUT YOUR FURBABIES! WHAT TYPES OF ANIMALS DO YOU HAVE AT YOUR HOME?