Mexican Vegetarian Tater Tot Casserole is a fun dish that the entire family will love! Spice up Taco Night and have this meatless tater tot casserole instead!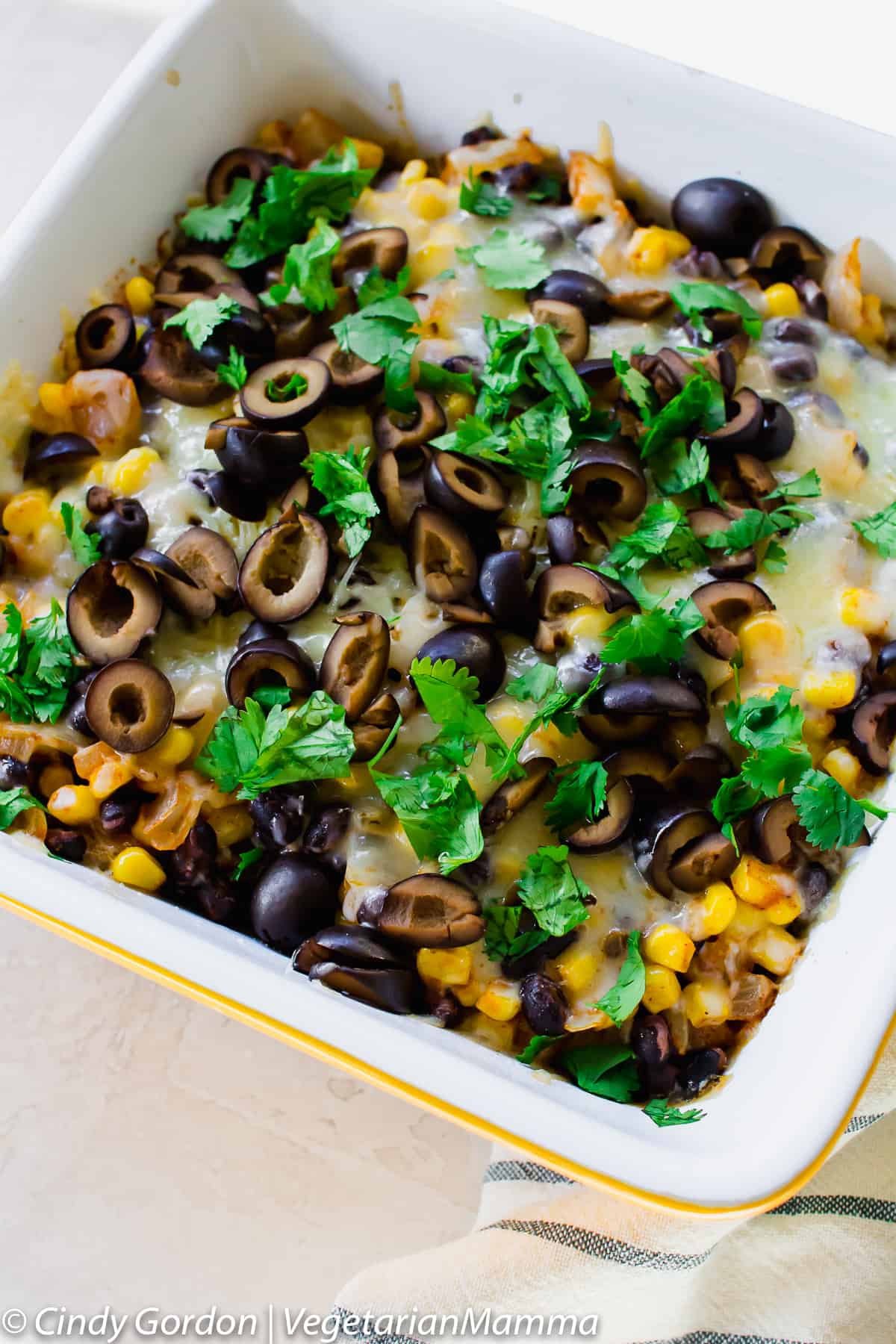 Vegetarian + Mexican Tater Tot Casserole
Depending on where you live, you might want to call this recipe a hotdish instead of a casserole. "Vegetarian Tater Tot Hotdish" has a certain ring to it that I like! The traditional tater tot hot dish comes from the Midwest, specifically Minnesota.
There, a hotdish would include tater tots, ground beef, and a vegetable. This hot dish is, of course, vegetarian, and gets its protein from black beans instead of meat.
Tater Tots never go out of style on the dinner table. Did you know that? It's true! You can dress up a tater tot in so many ways. For this vegetarian tater tot casserole recipe, we decided that we'd put a Mexican spin on our tots, so we created a Mexican Style Tater Tot Casserole.
What I love about this tater tot hotdish recipe is that it's classic comfort food. It's a simple vegetarian recipe instead of beef mixture and it has such a delicious flavor. (If you wanted to add in meat to brown the ground beef up – you could, we just don't eat meat in our home)
This tater tot casserole with cheese is seriously going to be a favorite in your home.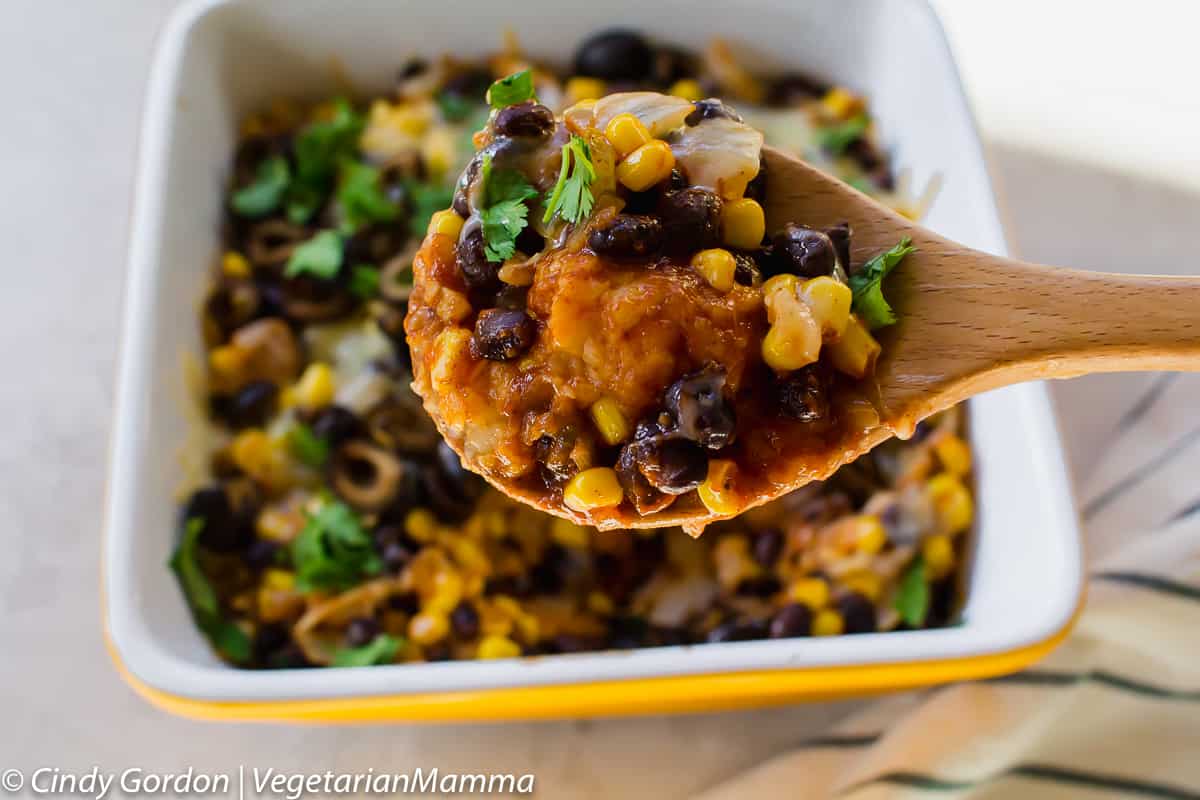 It is the tots that our entire family loves, including adults and kids. But it takes the flavor up a notch. It adds a Mexican inspired flare to this comfort food dish.
The base of this recipe is packed with tasty and filling vegetables. We mixed sauteed onions, black beans, and corn – traditional Mexican taco fixings – with gluten-free enchilada sauce to make the top layer of the casserole.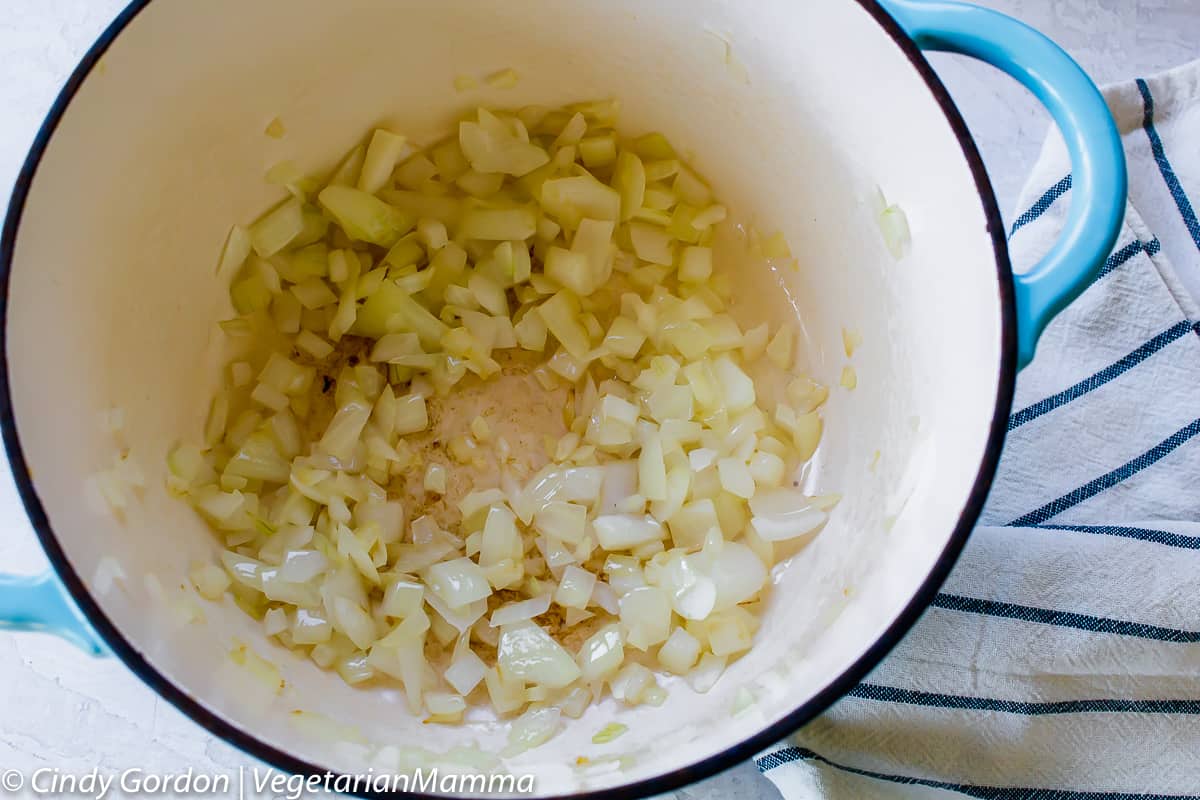 Onions
Onions create a great flavor base for this dish. Aside from being delicious and versatile, did you know that they pack a big punch of nutrition? Onions provide vitamins C and B6 as well as Folate and various necessary minerals.
I love to cook onions in a skillet over medium heat and toss in a little garlic powder as well. Really, really good and versatile to add to almost any recipe.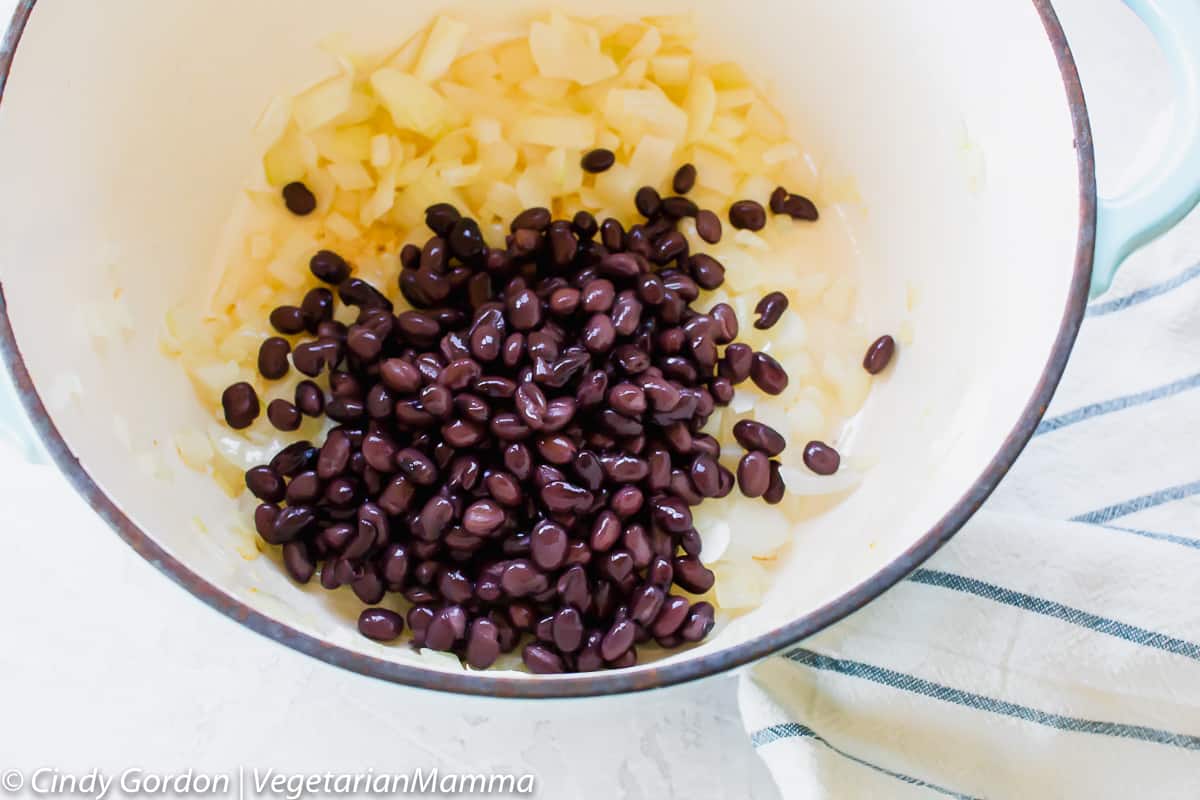 Looking for more Kid Friendly and Allergy Friendly recipes?
Black Beans
Black beans are one of my favorite beans to cook with, and I almost always use them when I'm making tacos or enchiladas. Fun bean facts: Black beans are actually a variety of kidney bean, and are called "turtle beans" in some places.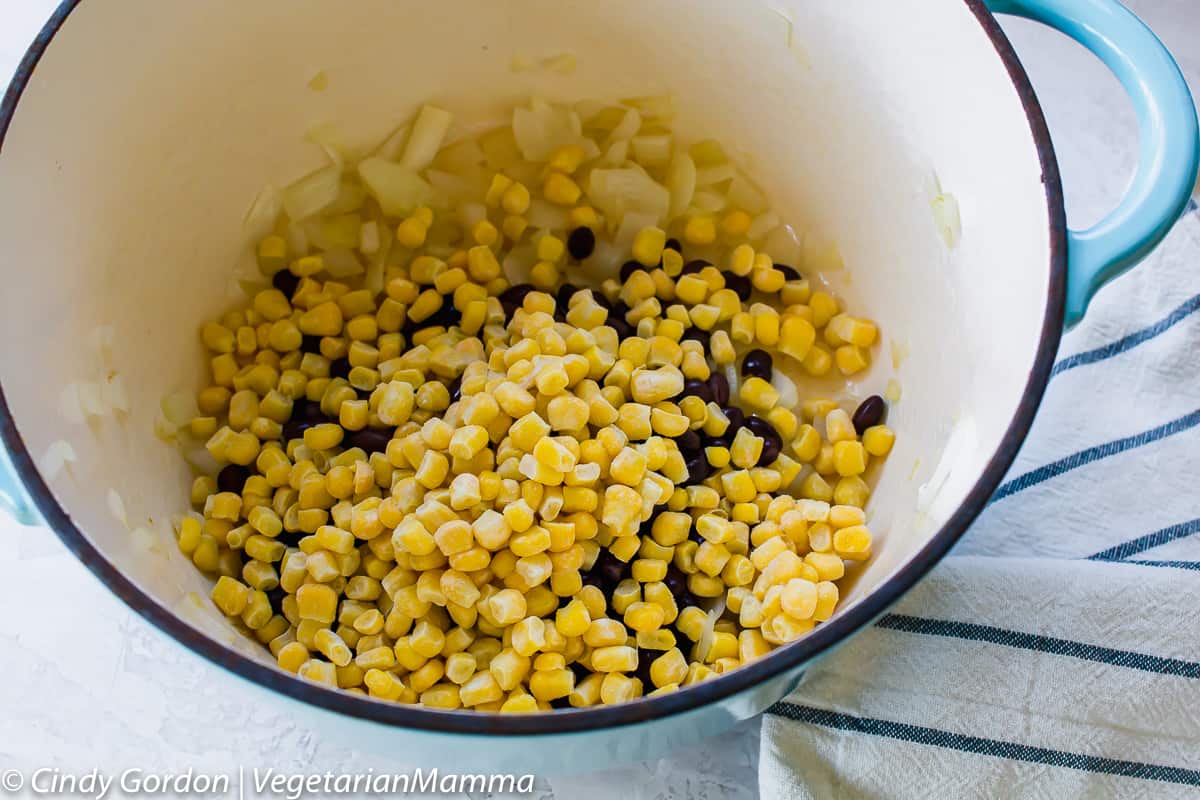 Corn
Mexican style tator tot casserole would not be complete without corn. Corn adds bulk and sweetness to this somewhat spicy dish. Corn, like black beans, is a crop that is native to the America's. This is why you see it in Mexican and South American dishes so often.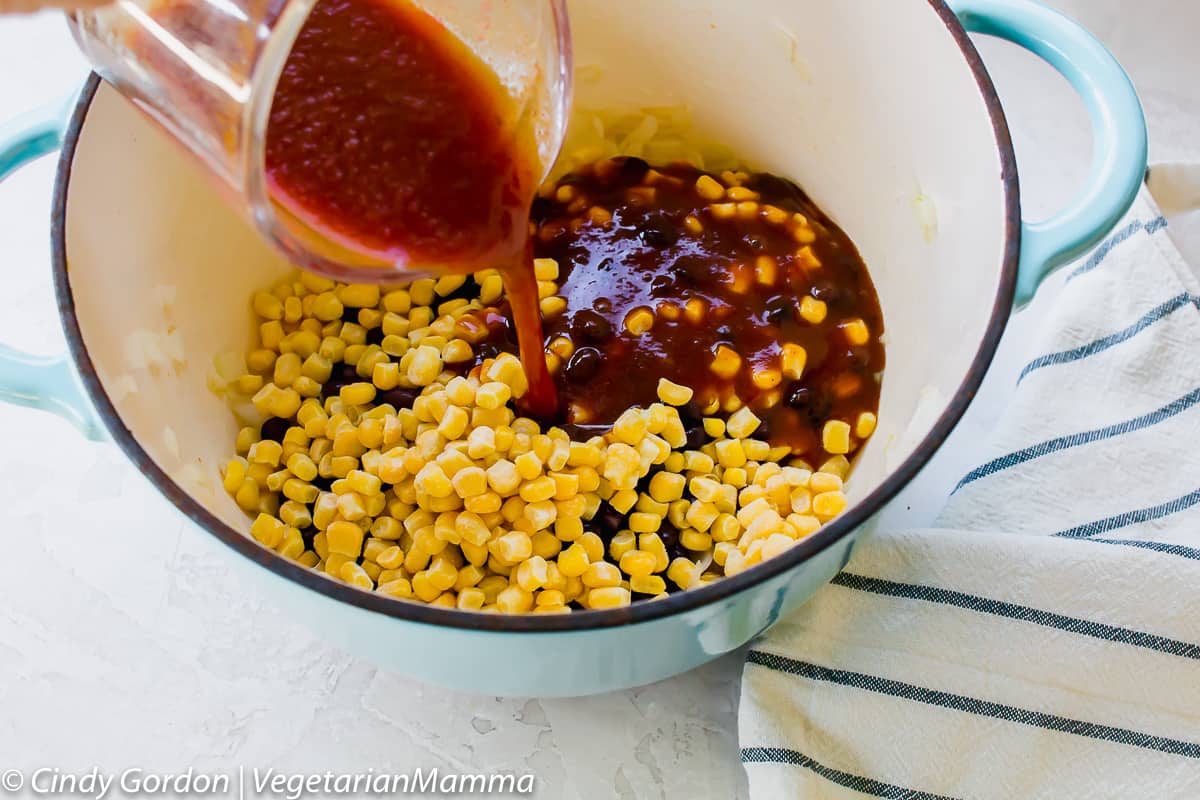 The Simple Recipe
This is such a simple dish to put together. Just place your frozen tater tots in your baking dish, and spoon the veggie mixture on top. Throw it in a preheated oven to bake for about 40 minutes.
A large skillet would work as a baking dish too. I love making casseroles in cast iron pans.
My kiddos love to help put down the layer of tater tots as well, so that is always their job to do. Once you get that oven to 350 degrees, you know it's time to rock and roll and get to cooking!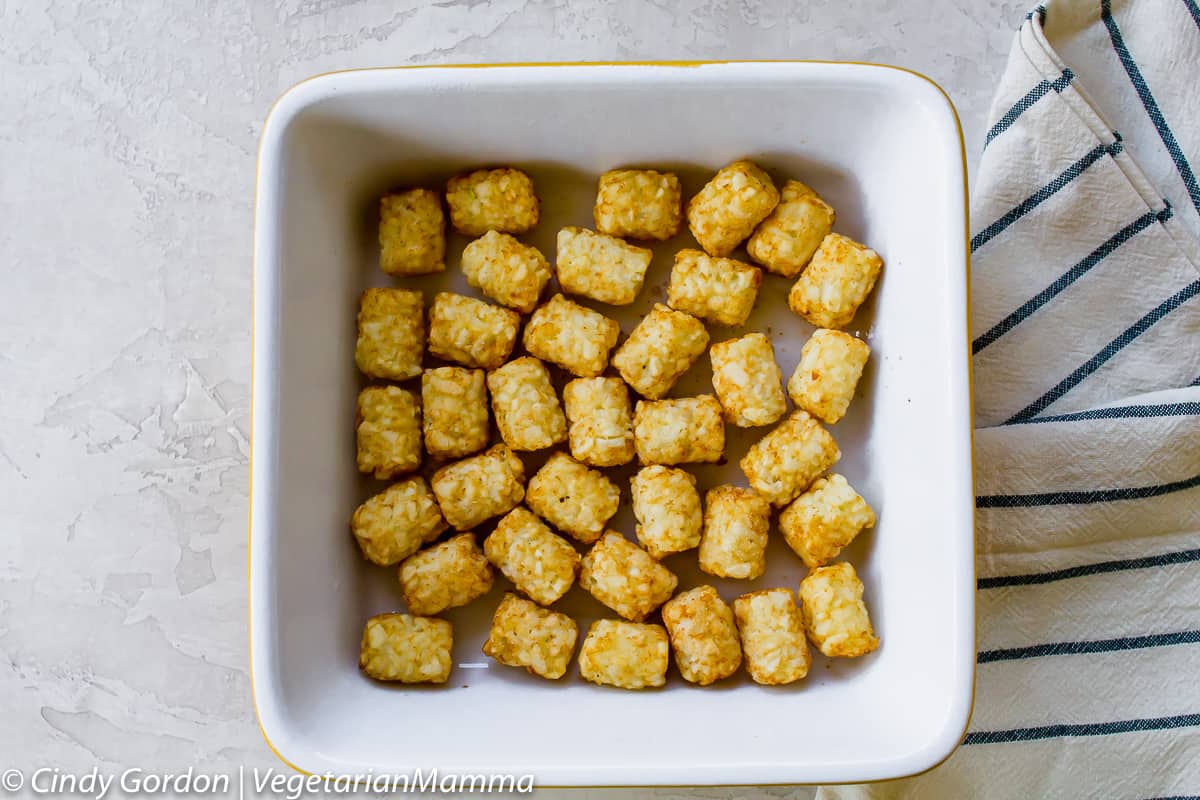 Such a simple recipe, isn't it?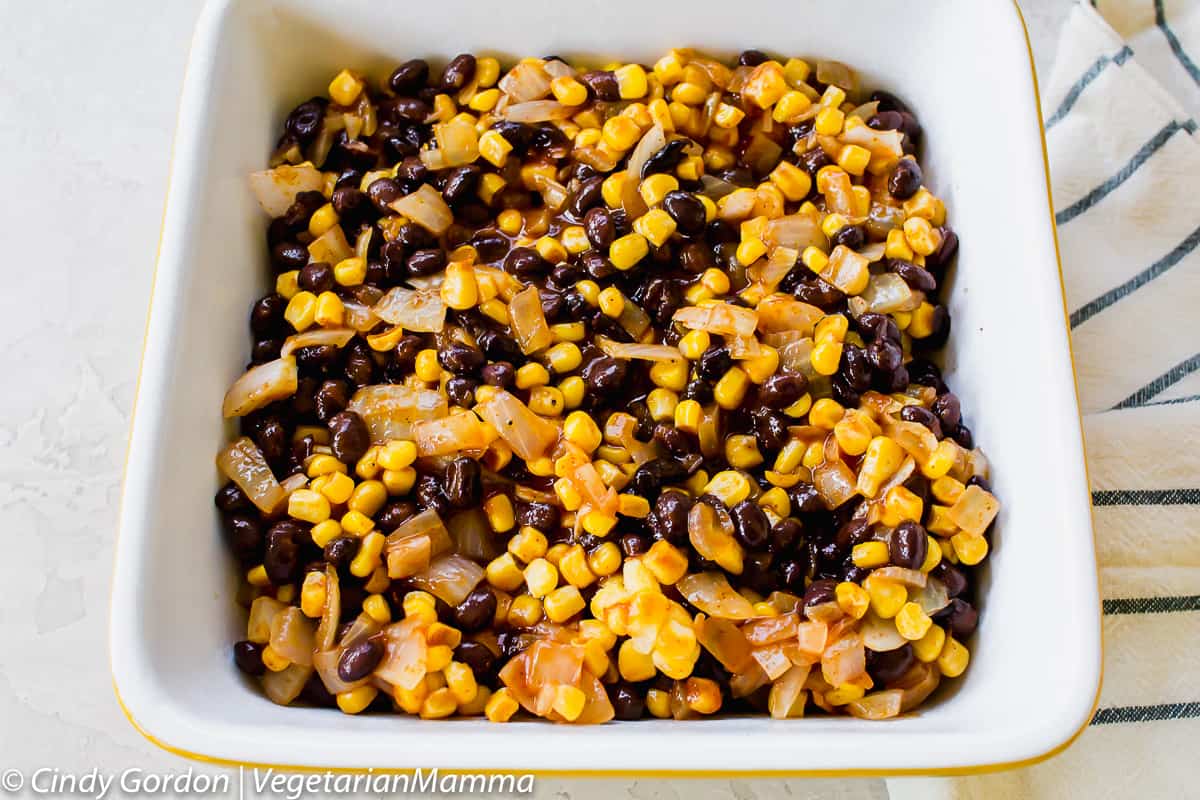 As a final touch, add cheese and chopped black olives and bake just until the cheese starts to melt. Garnish with cilantro and enjoy!
Make this recipe vegan by swapping out the cheese for a non-dairy cheese. I like Daiya or So Delicious shredded cheese. You could also leave out the cheese entirely and this meatless tater tot casserole would still be delicious.
Can I freeze this recipe?
I actually have not tried freezing this recipe, but I think it would work well. It would be a delicious make-ahead meal that you could pop in the oven. I would, however, package the cheese, olives, and cilantro in their own container so you can throw those ingredients on at the end.
Do I need to thaw the tater tots for this casserole?
Nope! And actually, I wouldn't recommend it. The tots would get mushy and start to fall apart if you let them thaw too much. Just put them in frozen. They will cook perfectly that way.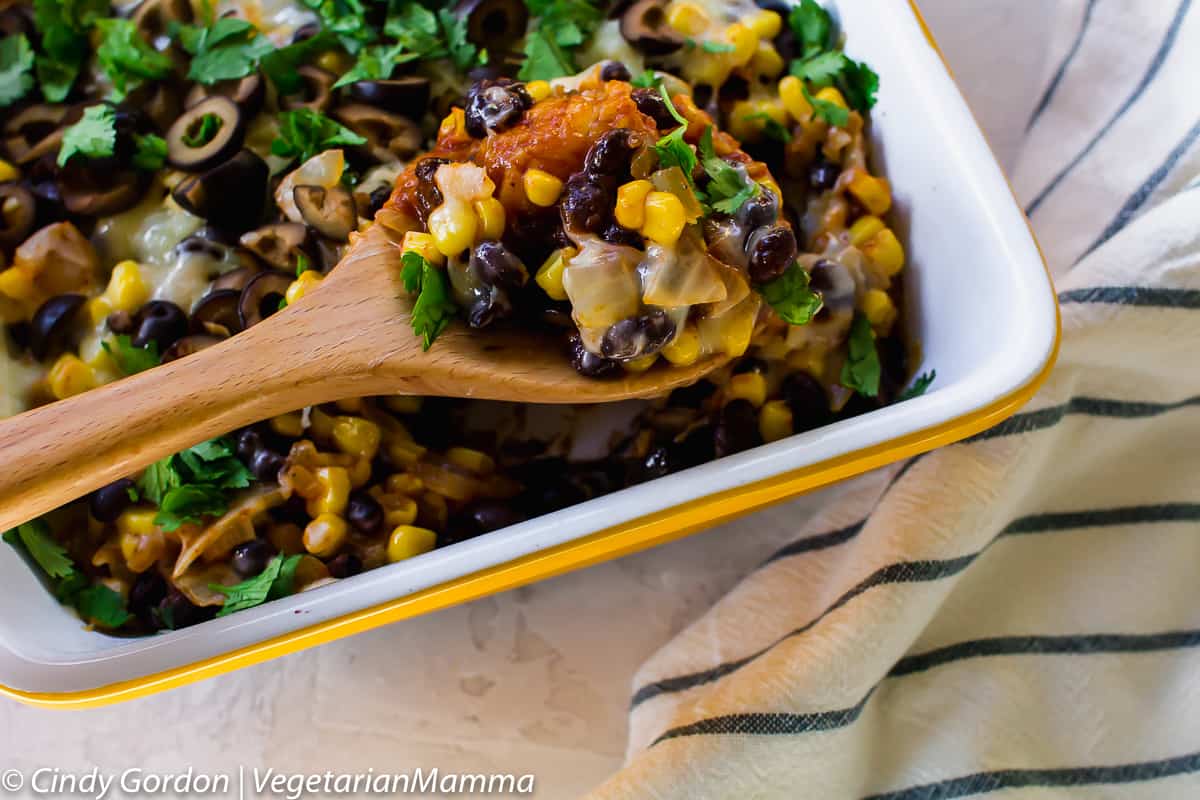 Looking for more Kid Friendly and Allergy Friendly recipes? All of our recipes are gluten free and nut free!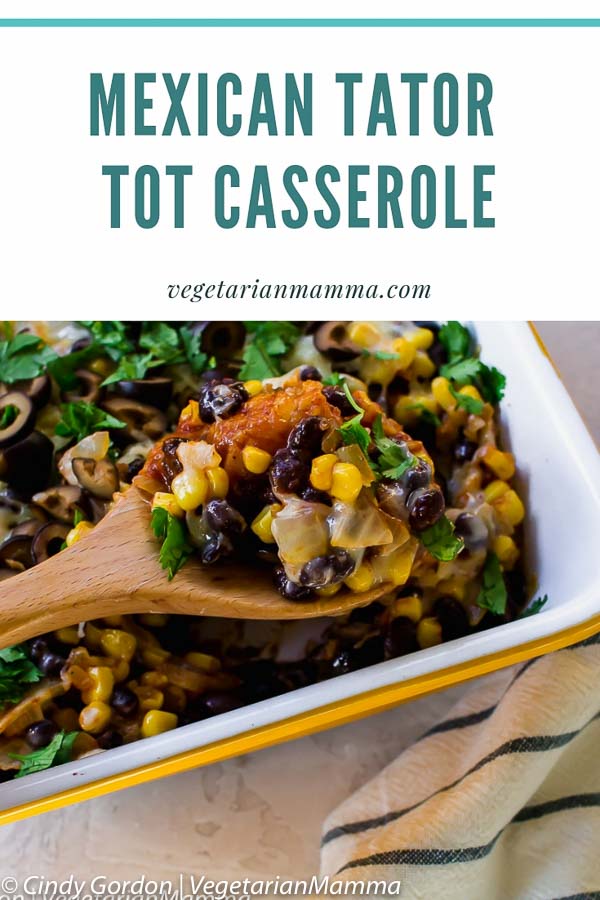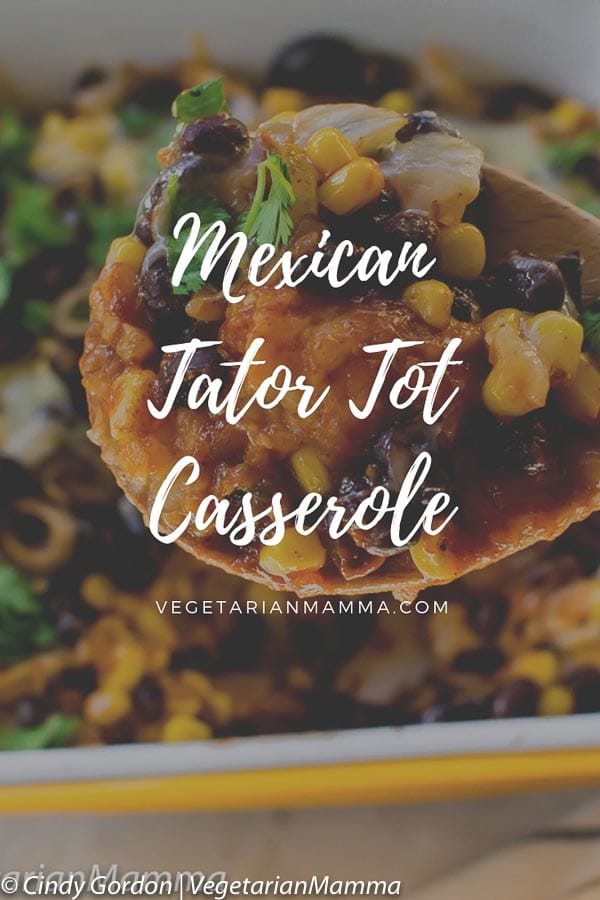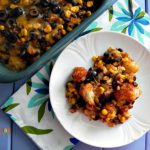 Mexican Tater Tot Casserole – Tots never go out of style on the dinner table!
Keyword:
Tater Tot Casserole
Ingredients
1

cup

onion

diced

1

T

olive oil

1

cup

frozen corn

1

can black beans

drained and rinsed

1

cup

enchilada sauce

1/2

bag of tator tots

8 oz

1

cup

shredded cheese

Mexican blend

3

oz

of diced black olives
Instructions
Heat over in skillet over medium heat. Saute onions until soft.

Add corn, beans and sauce to the skillet. Stir to mix.

Put frozen tots into a lightly oiled 8X8 square dish.

Pour skillet mixture on top of tots.

Bake at 400 degrees for 25 minutes (covered).

Remove from oven. Top with shredded cheese and olives. Place back into over until cheese is melted.

ENJOY!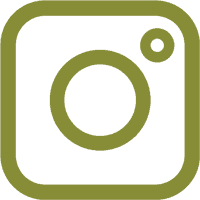 Did you make this recipe?
Be sure to snap a picture and post it to Instagram with the hashtag #VegetarianMamma! I love seeing our recipes being recreated!
Does your family love casseroles? Check out our favorite casserole recipes!
Please pin this vegetarian tator tot casserole for later.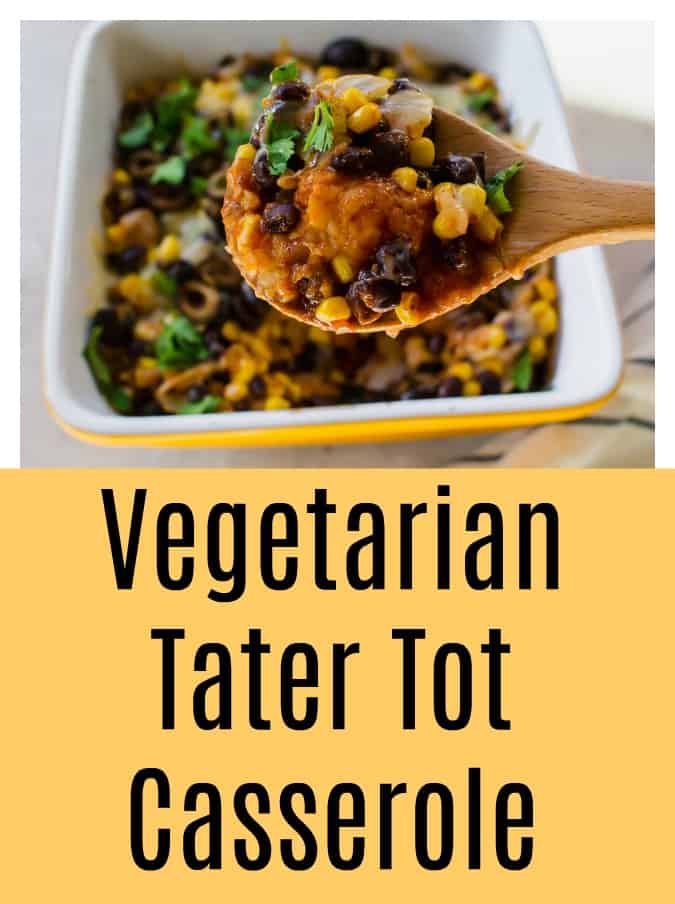 Take a peek at the older pictures of this recipe, we didn't want to delete them!