Corndogs anyone? How about these vegan mini corndogs? They are the perfect size for snacking! Oh and even better, they are gluten-free too.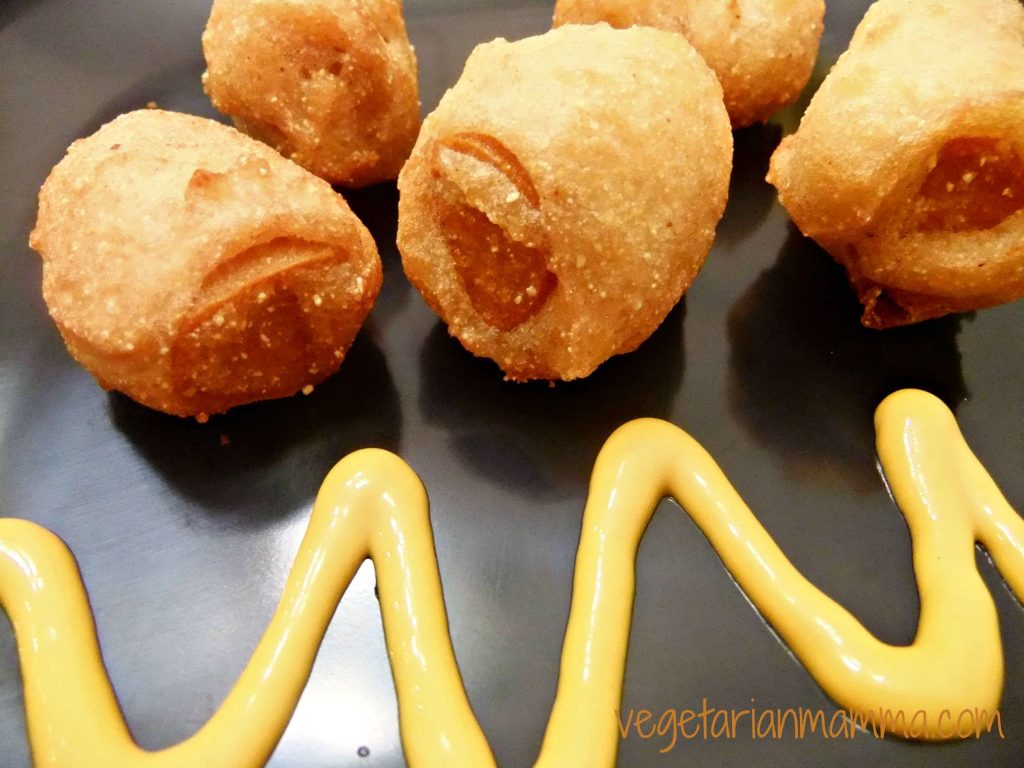 Mini Corndogs: A Happy Snack
There is just something about corn dogs that makes me happy! I think it just brings back memories of my childhood.
Growing up I used to dance at one of the studios in my town. As a fundraiser, they started a corn dog stand. The stand would visit all sorts of events and serve their delicious corndogs. I have no idea what was in that batter but it was yummy!
I created a gluten-free, vegan version of mini corn dogs. If you aren't vegetarian, feel free to use your own favorite hotdogs. If you aren't gluten-free, you can most certainly use your favorite flour! For me, I am sticking with my favorite All Purpose Gluten Free Better Batter Flour!
How to Make Vegan Mini Corndogs
This is such a simple recipe! But it isn't one that I'd suggest kids make. This involves deep frying in hot oil. But older kids that know how to work around hot oil can certainly make them.
Ingredients
Here's what I used to make my vegan corn dogs. They are some of my favorite ingredients and I keep them on hand for lots of other recipes too.
Tofu Pups
Cornmeal
Gluten-free All Purpose Flour
Club soda
Maple Syrup
Sugar
Smoked Paprika
Oil
That's it! The entire recipe is below. I hope you enjoy them.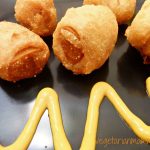 Print Recipe
Vegan Mini Corndogs Made Gluten-Free
These are gluten-free and vegan mini corndogs. They are the perfect snack or party appetizer.
Instructions
Place 1 1/2 inches of oil in pot on stove. Heat oil until warm (not a boil)

Remove dogs from package and cut into thirds.

Combine cornmeal and flour.

Stir in 1/2 can of club soda, maple syrup, sugar and paprika to dry mixture.

Evaluate the batter, if its too thick slowly add in more club soda until the batter is a desired thickness. You don't want the better too thick or too think. Typically, I use most of the can of club soda.

Take a 1/4 t of batter and drop into oil. If the batter starts to cook up, then your oil is hot enough. If not, let oil warm more.

When oil is ready, carefully dip mini dogs into batter and carefully place into oil. I typically cook 3-4 at a time depending on the size of pot I am using.

Cook until golden brown. This should happen very quickly.

Remove from oil and gently dab with a paper towel to remove any extra oil.

Serve with dipping sauce and ENJOY!
Notes
I use a small pot so that I don't have to use much oil. It does take a bit longer to cook the mini dogs but I save on oil. Be careful the oil will be VERY hot!
What to Serve with Vega Mini Corn Dogs
Here are some more party foods and finger foods that you should eat with these yummy corn dogs.