Myths of the Vegetarian Diet is a common topic when you are looking to lead a vegetarian lifestyle. Check out these myths and help educate!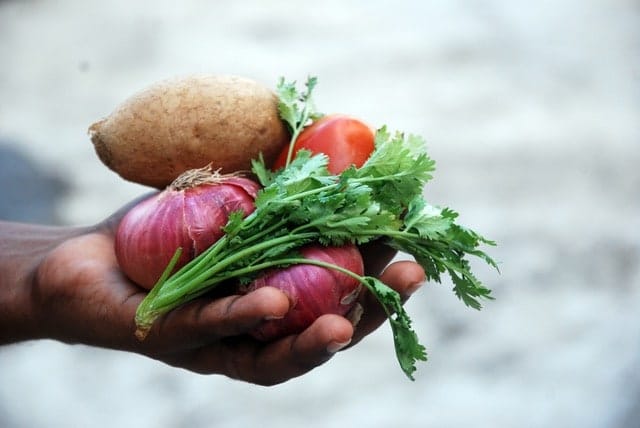 A Vegetarian Diet Doesn't Provide a Balanced Diet
We've all heard it at one time or another – 'How can you be healthy if you don't eat meat? You'll never get enough protein in your diet from vegetables!' Suffice it to say that yes, a complete and balanced diet is possible with a Vegetarian diet.
You do, however, need to make sure that you're consuming the necessary foods every day. Even when you're eating the suggested serving sizes, you still need to include a variety of grains, beans, fruits, and veggies to ensure a balanced diet. You can't live on pinto beans and grapes alone.
You'll also be glad to know that a balanced Vegetarian diet is usually higher in many nutritional elements that are lacking in a meat based diet, like fiber, magnesium, folate, and Vitamin C.
A Vegetarian Diet Will Cause You to Lose Weight
Although a Vegetarian diet can help with weight loss, many people gain weight by eating more grains and legumes. Others indulge in junk food; ice cream, chips and Oreos are all vegetarian, but do not provide much nutrition for their calories consumed.
The key to any diet is to eat with a balanced diet in mind. Be sure to choose enough fruits and vegetables to provide a mix of nutrients and fiber, as well as the grains, beans and seeds necessary to maintain good health.
Try to avoid processed foods, including the commercial meat substitutes for your best health choices. You'll want to read labels, and opt for choices that are less processed, contain lower levels of sugar, fat and salt.
You Won't be Able to Work Out as Much
Many of the world's top athletes are Vegetarians, and I'm sure they wouldn't agree with this sentiment. Venus Williams, Prince Fielder, and Carmelo Anthony fall into this category.
The only requirement for strenuous workouts is to increase your intake of protein (from plant-based sources) and Vitamin B-12. B-12 can be found in milk, cheese and other dairy products, as well as soy and nutritional yeast. Just a little shift in thinking will make your workouts productive!
Pregnant Women Can't Get Enough Nutrition from a Vegetarian Diet
Although pregnant women have specific health needs for themselves and their unborn child, it's definitely possible for them to maintain great health through their pregnancy while eating a Vegetarian diet.
They'll need to increase their caloric intake, as well as certain nutrients for the development of their unborn child. As with anything affecting your health, you should discuss your diet with your doctor, especially if you're pregnant.
Pregnant women also need to increase their intake of B12 and D, iron and calcium; their doctor will help them with nutritional choices.
Being a Vegetarian Means Eating Weird Health Foods and Fake Meat
False! Being a Vegetarian means eating a balanced diet containing the proper nutrients derived from regular foods. Consuming fake meat is a choice, just like eating hamburgers.
Some vegetarians find it easier to get their protein from the meat like substitute products because they like eating something that's familiar. But if you want to eliminate the processed foods, the fake meats will need to go, and you'll find a wide variety of healthy and protein rich choices for your daily menus.
As for the weird health foods, there will be new foods that are introduced into your diet, but they aren't necessarily weird. As they say, variety is the spice of life, and it's always good to try new things!
Consuming Soy Products Will Increase Your Chance for Breast Cancer
Although this information has been around for several years, there really isn't any documentation to prove that soy does indeed cause a breast cancer risk. In fact, girls that consume soy throughout their childhood and adolescence have a lower risk of breast cancer. Soybeans and the other soy products like soy milk, tofu, and tempeh are great non-animal sources for protein.
The bottom line is that a Vegetarian diet can be tasty, nutritionally bountiful, and your lifestyle won't suffer. You can raise healthy children on a Vegetarian diet. Many well-known athletes, as well as those in other countries, maintain a Vegetarian lifestyle and they still win in their respective sports. It's a safe and healthy choice to make.
---
Looking for some meal ideas? We have plenty of good main dishes, side dishes and dessert recipes!
Be sure to check out our other articles in this vegetarian series: Types of Vegetarians, Myths of a Vegetarian Diet, Building a Balanced Vegetarian Diet and Vegetarian Recipes to Get you started!
Let's talk! Which of myths above surprised you the most?
I'd love to know, leave me a comment!