Do you have a young athlete? Nutrition for Young Athletes is key and we've got some experience with feeding young athletes with food restrictions.
This post is sponsored by OWYN.
I think I've let on a few times the secret life that I lead. I am a soccer mom. While it might not be as exciting as a spy or a secret agent, it does get pretty thrilling at times. (Sometimes those sidelines can get intense! 🙂 ) It also takes a lot of my time.
So I appreciate you following along our journey and I'll be sharing more as we go along. I have two boys that play soccer. One is a 2010 and one is a 2007.
With the level of soccer they play, comes figuring out what to feed them to fuel them for training and games, what to feed them to recover, what to pack for travel, what food to bring to tournaments and more.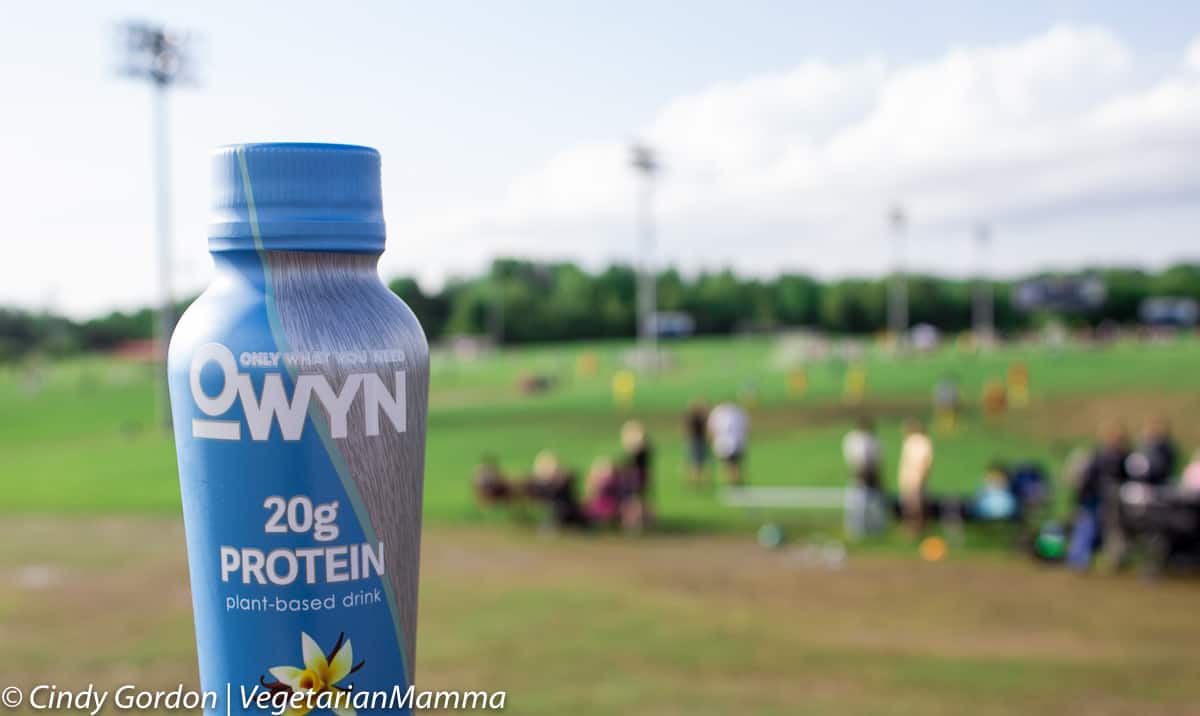 It has been quit the learning experience for our family to learn what foods fuel and what foods help to recover. At times it has been a challenge to find the right combination of items, especially when you are dealing with sensitive bellies and food restrictions.
So here are some things that I've learned along the way. Remember, this is a journey, we are continually learning. This is a lot of information, but consider it your toolbox.
Not everything in the toolbox is going to be a perfect fit for each person in every situation. Take what you need, try it and see if it works for your child and for their belly!
As parents we know that feeding our children healthy and nutritious food is one of our main jobs. And as our kids get older and involved in physical activities like sports, it becomes even more important to help them get the proper nutrition so that they can feel great while they're playing.
Let's dive in!
Feeding your young athlete well requires both knowledge and planning. You have to ensure that they are getting the nutrients needed for growth and the proper amount of calories in carbs, proteins, and fats to give them energy and endurance.
As I'm writing this, we are in the middle of soccer tournament season, and we've been away from home most weekends with my son playing multiple games per day.
Keeping up with my kiddo's regimented eating plan while on the road has made a big impact on his performance. Here are my top suggestions for feeding your athlete well.
Push Fluids
Kids already have a tough time getting enough water and fluids during their day, but when they are active they'll need even more, so you really need to pay attention to their intake. Water is always a good choice.
Often times we will use Rehydrate Powder (affiliate ad link) or a Pedialyte (affiliate ad link) after an intense game, especially if it is hot out. It helps to replenish the body. My kids use a 64 oz insulated jug (affiliate ad link) for their water. But when they use a Rehydrate or a Pedialyte, we pour directly into a single serving water bottle.
Add More Calories
Active children need more calories than their inactive peers, somewhere in the range of 500-1500 more calories, depending on the child. To meet those needs without keeping track of every calorie, start by making sure that you are feeding your athlete 3 balanced meals and 3-5 healthy snacks each day. That includes pre and post training/game fuel!
Make Healthy Food Choices
Nutritious food is key in ensuring that your active child is both growing properly and able to give their best during athletic performances. Need some ideas for healthy snacks and meals? I've got you covered.
Before a Game
Serve a breakfast or lunch that includes complex carbs and protein.

Scrambled eggs with whole grain toast with a side of avocado (Or gluten-free if you need it)

Yogurt with fruit and nuts

Turkey (for the meat eaters) and cheese on a whole grain wrap (Or gluten-free if you need it)

Add in some milk (dairy, nut or non-dairy) or a smoothie made with greens to bump up the nutrition on these meals!
After a Game
After playing, your kid will need to replenish and refuel his muscles. Serve a dinner that includes all 5 food groups with a focus on healthy proteins, whole grains, and vegetables.
Snacks
It's likely that you'll need snacks before, after and during some games. Snacks should be light, easy to digest, and somewhat quick to eat. Here are some suggestions:
Fresh fruit – apples, bananas, oranges, berries, etc.
Hummus or nut butter with veggies, crackers, or pretzels to dip.
String cheese
Trail mix
Whole grain granola bars (Or gluten-free if you need it)
Snapshot
So that gives you a little snapshot into eating, but let's be realistic…games happen at all times of the day. Sometimes our report time is 7:30 am. Sometime the soccer game is at 7 pm.
Here are some basic tips that we have found that work well for our athletes:
Eat a meal 1-3 hours before game.
Have a fueling snack 45 minutes before game. (this is typically a half of bagel with a nut/seed spread)
Within 45 minutes of the game replenish with water and a snack. Our coach says that chocolate milk and pretzels are the best. So we always have a Ready To Go chocolate protein shake AND pretzels on hand for recovery.
If we are at a tournament all day and our athletes need to eat lunch between games (and there is a decent amount of time to digest) we typically offer up things like olives and avocado for healthy fats, paired some some cheeses or nuts for protein among other items listed above. (Notice, I didn't include snack bar items!?)
We have found for our little men that timing is everything. Timing the belly to be not very full when they are running on the field. It takes a bit of trial and error but is is easy to find the right combination.
Simple is better, especially when it comes to eating meals on the road. I typically have a cooler with drinks and the snacks that need refrigeration, plus a bag of shelf stable snacks that I know everyone will enjoy.
Let's dive in a little deeper, shall we?
Food Restrictions
So the balancing act of what to eat when can be tricky enough…then add in food restrictions and that is another ball game. So in our family, we have a few variations of food restrictions.
We are all vegetarian. That is at least is the same for the entire family. Then 2 out of the 4 family members cannot consume gluten. 2 of the 4 families members have a dairy intolerance, more of a threshold to dairy. So they only consume in small amount, if at all. We also have an almond allergy in the house. All other nuts and peanuts are a-okay! Phew, we are thankful to have outgrown many food allergies, but we will struggle and we still real and see the struggle of others!
So whether we are driving two hours (one way!) for a game or driving 8 hours or more for a tournament, I always pack food. I invested in a rolling cooler (affiliate ad link) which was one of the best purchases of my life! If you get one of these your arms AND back will thank you! I promise!
So let's take a look into my cooler! What do I have in there? This happens to be what I packed for our most recent tournament in Memphis! (Did you get the social posts from that? How FUN!) They were in the highest bracket for their age and WON every game!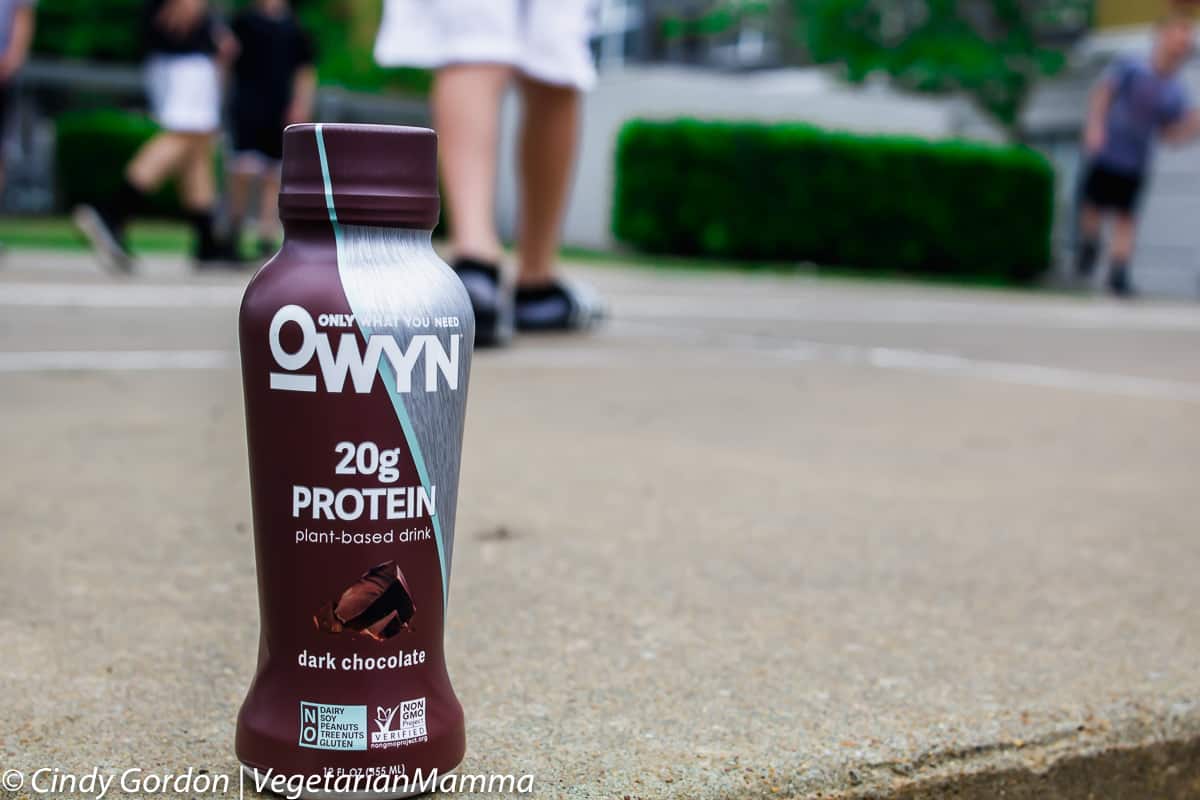 One thing I bring a LOT of are Ready to Drink protein shakes. OWYN (Only What You Need) is my go-to shake. This shake is not only delicious but is completely allergy free and allergy tested.
OWYN is actually 100% plant based! It provides you with nearly 1/2 of your daily Omega needs, which is also very important to athletes! (Think coordination)
The OWYN drinks are considered superfood blends! They are full of organic kale, spinach and broccoli but you'd never know it! OWYN drinks are low in sugar content too! Only 4 grams per serving.
No allergens here! OWYN tests all their products to make sure that even though their products are made in an allergen free facility that there is NO unintentional cross contamination! That is amazing!
Looking deeper into my cooler…
So that gives you a little sneak peak into my soccer cooler that fuels my little athletes. On a weekly basis for training, they refuel with a chocolate protein drink and pretzels after each training!
Want to save this for later? Go ahead and pin this image below!
Do you have a little athlete that works hard? What do you do to refuel them? Drop me a comment below telling me!