Portia's Cafe –
Gluten Free, Vegan, and Delicious Food in Columbus Ohio.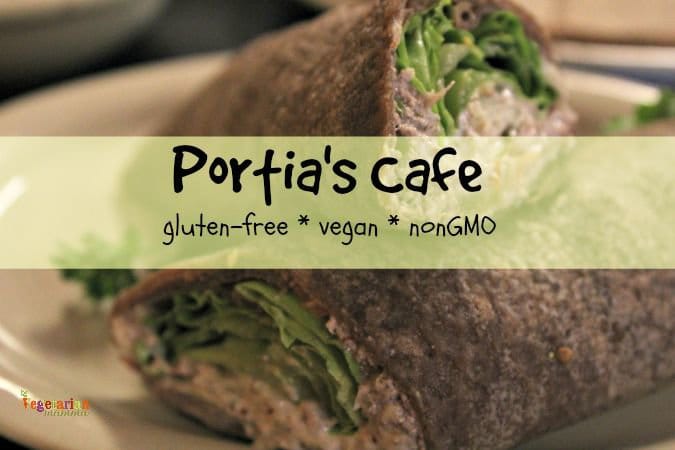 I was recently able to dine at Portia's Cafe in Columbus, Ohio. You see, I knew this little gem of a place existed and got to sample some of their food, thanks to the Gluten Free Food Allergy Fest in April 2015, but I was waiting in hopes that my boys outgrew their tree nut allergy so I could take them along! This summer, we got the best news that they outgrew their tree nut allergy. So knowing this, I headed off to the cafe with my Little Chef.
Portia's Cafe boasts a bountiful gluten-free, vegan, nonGMO menu. The atmosphere is fun, calm, accepting and just right for our experience. Portia's is totally kid friendly, and would work equally well for an adults only lunch too.
What To Order for Lunch at Portia's Cafe
There were so many items on the menu that I wanted to try! I definitely need to plan about 10 more trips here so that I can try everyone on the menu. Choosing was SO hard. For our appetizer, I was very excited that on the dips and starters menu they offer samplers so that I could try more than one. We choose a 1/2 of sampler which was our choice of two dips. We had traditional hummus and spinach artichoke dip. Both were beyond amazing. The spinach artichoke dip, which is also called Spanko is made with spinach, collard greens kale and more! YUMMM You can choose your scoopers so we choose tortilla chips and rice crackers. Both Little Chef and I enjoyed our starter!
Portia's Cafe has a great drink menu as well. It includes smoothies, coffee, teas, kombucha, and house made sugar free sodas. Something for everyone! Little Chef chose the Strawberry Smoothie, it was delightful! You can see that he was very impressed with his drink.
For our lunch Little Chef choose black beans and brown rice with a quesadilla. (with white cheese) The dilla was made on a homemade vegan gluten-free tortilla wrap. He loved it and the portions were very large! This was honestly the BEST dairy-free gluten-free dilla I've had! They also make Pizza-dillas with Daiya cheese. Next time we will have to try one of those.
For my lunch, I choose the Notuna Wrap. It is their Sunny Walnut Pate which has a texture similar to traditional tuna salad. It is a special blend of nut, seed and vegetable pate with pickle, tomato and all the fixings! I had it in a GF tortilla! It was hard to choose between this wrap and the other wraps on the menu, such as the Super Power Wrap and the Mediterranean Wrap. Everything on the menu sounds so good!
We didn't have soup or salad during this trip, but Portia's menu definitely includes homemade soups and delicious looking salads too. Of course they make their own salad dressings, and I've read rave reviews for their creamy cashew dressing. Just another mental note of things to try the next time I go here.
We did box up half of our lunch so we could enjoy dessert! We choose to try the Chocolate Mousse, which was made with avocado and raw cacao, and both the chocolate and blondie macaroons. All of these were great choices! The Blondie was my favorite! Portia's menu also has a vegan cheesecake which sounded amazing.
Why Should You Choose Portia's Cafe?
If you are vegan, dairy free, vegetarian, or gluten free, This restaurant is for you! They also use organic and GMO free ingredients, and filter all of their water. Portia's makes real, healthy food, and they make it delicious!
Portia's Cafe is also very sensitive and responsive to food allergies, and they will do everything possible to accommodate yours. They have separate menus that are onion-free, nightshade-free, garlic-free, and fat/oil free. Just tell them about any allergies you have and they will do what they can to give you a safe and delicious meal.
Portia's Cafe menu choices are amazing and bountiful. On Sundays they serve gluten-free vegan waffles. Yes, I am pretty sure we need to return on a Sunday with the entire family!
To learn more about Portia's Cafe Columbus and to check out their menu, visit their website here.
I'd love to hear from you if you visit Portia's Cafe. What did you order? How was it? Leave a comment here or connect with me on Facebook or Instagram.
Leave me a comment, telling me your favorite meatless or vegan dish?