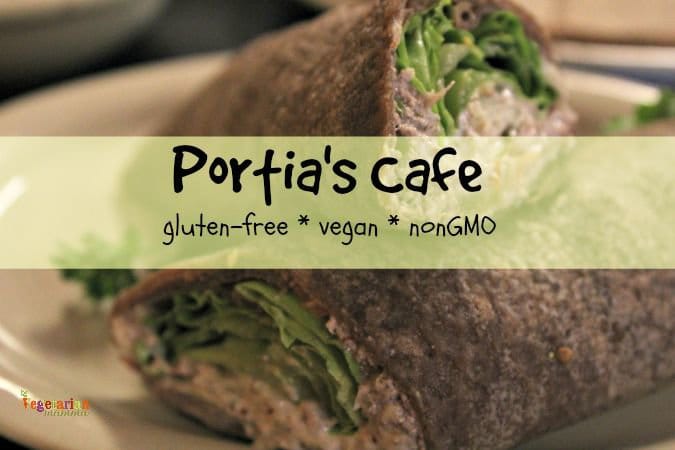 I was recently able to dine at Portia's Cafe. You see, I knew this little gem of a place existed and got some sample some of their food, thanks to the Gluten Free Food Allergy Fest in April 2015, but I was waiting in hopes that my boys outgrew their tree nut allergy so I could take them along! This summer, we got the best news that they outgrew their tree nut allergy. So this, I headed off to the cafe with my Little Chef.
Portia's Cafe boasts a bountiful gluten-free, vegan, nonGMO menu. The atmosphere is fun, calm, accepting and just right for our experience.
There were so many items on the menu that I wanted to try! I was very excited that on the dips and starters menu they offer samplers.  We choose a 1/2 of sampler. We had traditional hummus and spinach artichoke dip.  Both were beyond amazing.  The spinach artichoke dip, which is also called Spanko is made with spinach, collard greens kale and more! YUMMM  You can choose your scoopers so we choose tortilla chips and rice crackers. Both Little Chef and I enjoyed our starter!
Portia's Cafe has a great drink menu as well. From smoothies to teas and more.  Little Chef chose the Strawberry Smoothie, it was delightful!
For our lunch Little Chef choose black beans and rice with a quesadilla.  (with white cheese)  The dilla was made on a homemade gluten-free tortilla wrap. He loved it and the portions were very large! This was honestly the BEST dairy-free gluten-free dilla I've had!
For my lunch, I choose the Notuna Wrap. It is their Sunny Walnut Pate. It is a special blend of nut, seed and vegetable pate with pickle tomato and all the fixings! I had it in a GF tortilla!
We did box up half of our lunch so we could enjoy dessert! We choose to try the Chocolate Mousse and both the chocolate and blondie macarooms.  All of these were great choices!  The Blondie was my favorite!
The menu choices are amazing and bountiful. On Sundays they serve gluten-free vegan waffles.  Yes, I am pretty sure we need to return on a Sunday with the entire family!
To learn more about Portia's Cafe and to check out their menu, visit their website here.
Leave me a comment, telling me your favorite meatless or vegan dish?