Pour On The Goodness is a simple campaign geared towards spreading goodness. Sometimes the difference between a good day and a not-so-good day is a little goodness.
Sometimes the difference between a good day and a not-so-good day is a little goodness. That is right. Sometimes by adding a little goodness to somebody's day, it can turn their entire day around.
Just imagine if everybody shared some goodness every day! Imagine what our world would be like. Goodness is what Good Karma is all about.
We recently sat down with our children and brainstormed to create a goodness sign. We will share more about that and how you can create one at the end of the post!
Good Karma also inspires goodness by making milk and yogurt alternatives that are perfect for my family. Not only are they free of all major 8 allergens, but they also feature mighty nutrition – like up to 8g of plant-based protein and 1,200mg Omega-3s perfect to support brain health.
And, it doesn't stop there, we particularly love the Flaxmilk as it has a surprisingly delicious flavor and creamy texture that makes it perfect to pour over cereal or combine into a breakfast smoothie. You can't go wrong.
That is a lot of goodness and they have recently inspired my family to spread the goodness through their new campaign:  Pour On The Goodness
I love Good Karma for many reasons! I love that the company practices what it preaches, taking small but mighty actions to make a difference.
That is exactly what spreading goodness is about!
How can YOU pour on the goodness?
Good Karma encourages you to "pour on the goodness" every day, spreading positivity by celebrating the little things you do to make a difference, from paying someone a compliment, buying a stranger's coffee or offering a friend a ride.
As a young girl, my mom always taught me to be kind to others, no matter the situation. I've tried to instill that into my boys as well.
Our family makes doing good a priority in our lives.
Just think on these words for a moment…
Treat those who are good with goodness, and also treat those who are not good with goodness. Thus goodness is attained.
Loa Tzu
We should treat everyone with goodness that we come in contact with. Goodness comes from spreading goodness.
Our family loves lazy weekend breakfasts. This is something that has not been happening lately due to all the soccer games the kids have been playing in.
But we love those soccer games too!
Recently, we had a Saturday morning off. This meant getting up when our bodies were ready and gathering at the table for a lazy family breakfast.
The kids requested the simple things this time around.  Toast, jelly, sun seed butter, fruit and milk.
The basics.  You can't argue with the basics.  This particular Saturday we talked to the kids about goodness. We had a discussion about what goodness is.
How does it make us feel?
Each day, we already talk to each other about the good we saw in the day.  But let's take that a step further.
We asked the kids, what can you do tomorrow that will help make a friend smile?  What can you do tomorrow that will help a friend to have a good day?
The questions are simple but once their little minds start to think about it, the possibilities are endless.
As the kids started to come up with ideas, we wrote them down. We created a goodness sign.
Ideas to spread goodness:
Listen
Hold a door
Hug a friend
Smile
Compliment a friend
Make a new friend
Do a task without being asked
Email, text or call a friend
This sign is currently hanging on our garage door. We can look at the sign each time we leave the house. It is a simple reminder of how we can spread goodness.
As we think of more ways, we will add to our sign.
Making a goodness sign is a great way to remind yourself to spread the goodness each day!
I'd love to spread some goodness your way in the form of a coupon! Want to try Good Karma? I'd love to hook you up!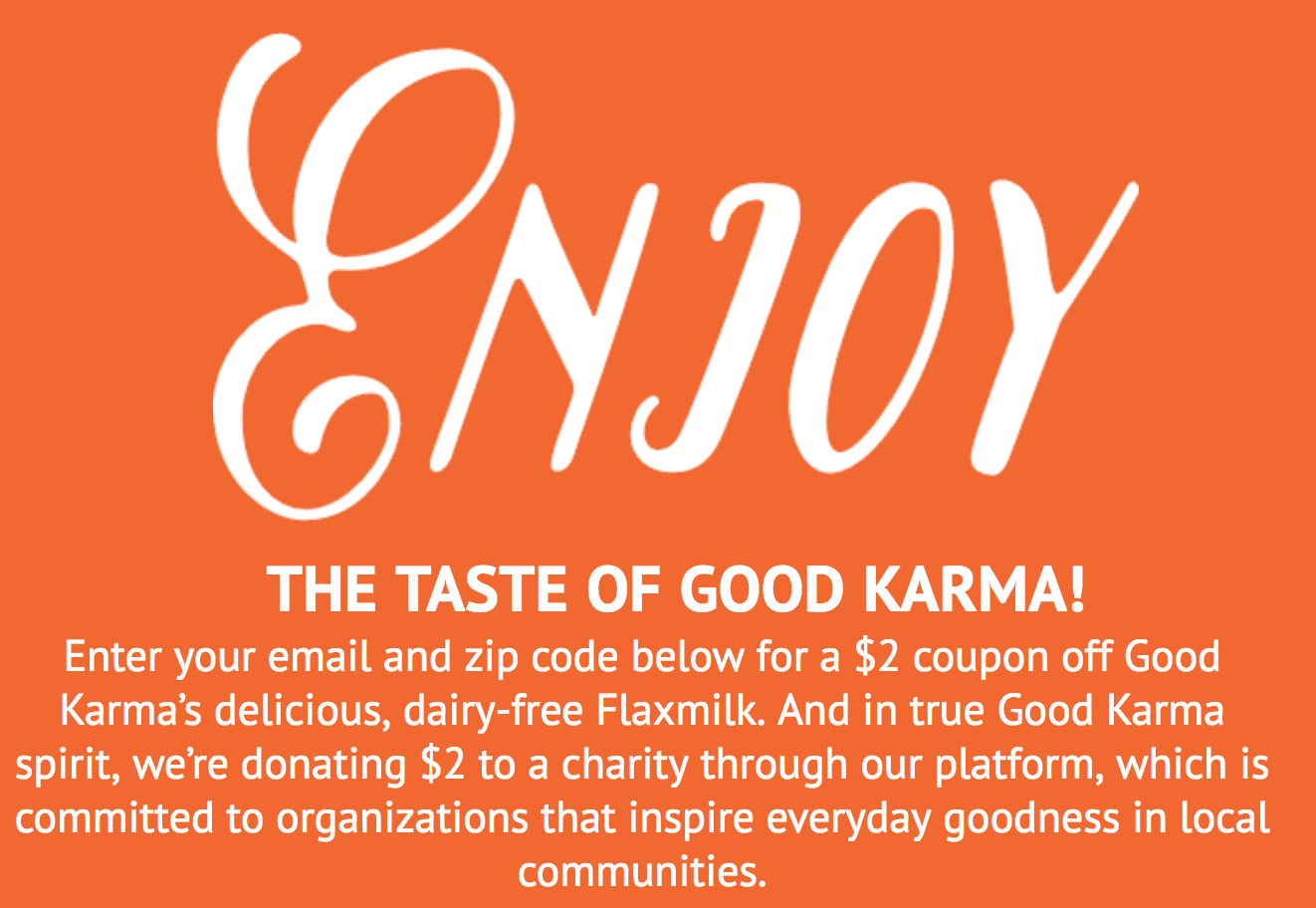 On behalf of Good Karma, I'm honored to Pour On The Goodness to you by sharing a $2 for $2 offer. Click HERE to download a $2 Good Karma Flaxmilk offer (a ½ price value). Once you download the coupon, Good Karma will match the coupon with a $2 donation to community organizations that are inspiring and activating goodness everyday, including FARE's The Teal Pumpkin Project, The GrowHaus and The Gangsta Gardener. We love this charitable initiative!
Good Karma products are available nationwide in natural foods stores, mainstream supermarkets and superstores. Visit the Store Finder on the Good Karma Foods' website to find a location near you. I have purchased mine locally at Kroger, Meijer and Whole Foods!
I hope that you will start to spread some goodness. I hope that you sit down with your family and brainstorm ways to spread goodness.
Thank you to Good Karma for providing us coupons to enjoy even more of the product, giving us ideas on how to spread goodness and for sponsoring this post!
---
Leave me a comment below telling me ONE way that you plan to spread a little goodness?