If you've been on the search for Gluten-free breakfast options, these Pumpkin Chocolate Chip Mini Donuts will be a true treat for your taste buds!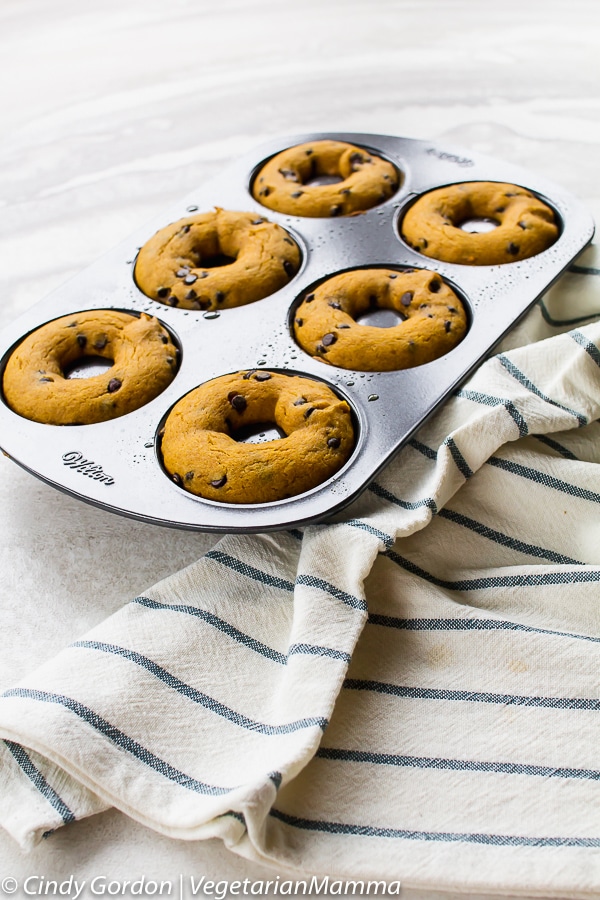 Gluten Free Pumpkin Chocolate Chip Donuts
We all have those days, right? Those mornings where we wake up, and just can't quite put a finger on what it is we are wanting to eat…Do we want pancakes? Maybe… Donuts? Possibly… Muffins? Tempting… but in all reality, if you're gonna be 100% honest with yourself, you want them all!
If calories weren't an issue, I wouldn't judge you at all but starting your day with a mini version of all three combined in one nice neat little mini donut actually sounds just about perfect! These gluten-free Pumpkin Chocolate Chip Donuts are a petite sized cross between a muffin and donut. With an option like this, you don't have to worry about narrowing it down anymore!
Pumpkin Chocolate Chip Mini Donuts – Just in time for Fall
I would be lying if I said I wasn't crazy of the Fall flavor of pumpkin. I know, I know…it's one of those love/hate things for so many people. But for me? The flavor and taste of pumpkin make me think of bonfires, cool fall evenings, football and gearing up for some good food to get my belly full for a great night's sleep.
I seriously can't get enough of the pumpkin flavor. The good news? The pumpkin flavor in these donuts is paired perfectly with chocolate chips. Pumpkin and chocolate, together? Yes, my friend. Yes.
My children often ask if these HAVE to be served for breakfast, and my answer is simple:
"Pumpkin Chocolate Chip Mini Donuts were created to eat at any time during the day or night."
And I believe that 100%. My kiddos are actually super happy about it as well. Having a mom that lets you eat mini donuts for breakfast, lunch or dinner is a dream come true, right?
Not only is the pumpkin flavor out of this world but these soft muffin donuts will be a hit with everybody at your house! They literally almost melt in your mouth. I love to enjoy mine with a cup of coffee and the flavors pair perfectly.
No matter how you like to eat them, make sure you grab one or two because they will go fast!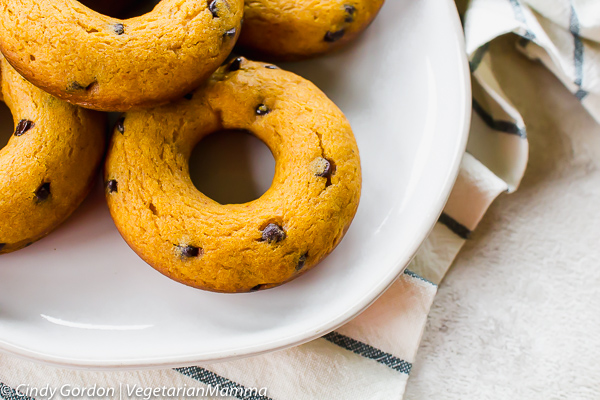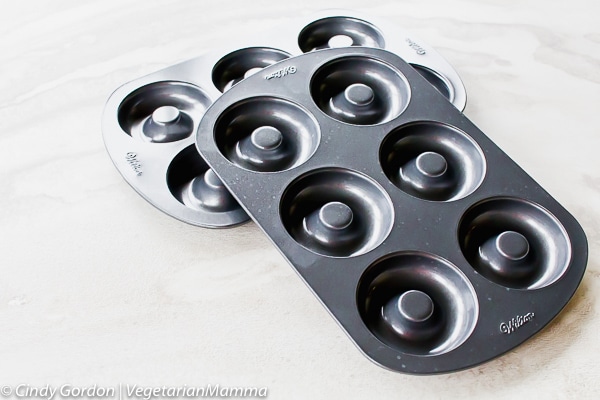 What to Use to Make Pumpkin Chocolate Chip Mini Donuts
Everyone always asks me what I use to make these adorable treats. While I wish I had the skill set of making those donuts perfectly round by hand, I'll let you in on a little secret…
We used a mini donut pan that we scored from amazon. (affiliate ad link) See how much easier that makes things? With the use of the donut pan, each and every chocolate chip donut turned out uniform and looked beautiful!
When searching online for the perfect donut pan, there are so many choices and any of them are good. I found one that can cook this entire batter in one baking!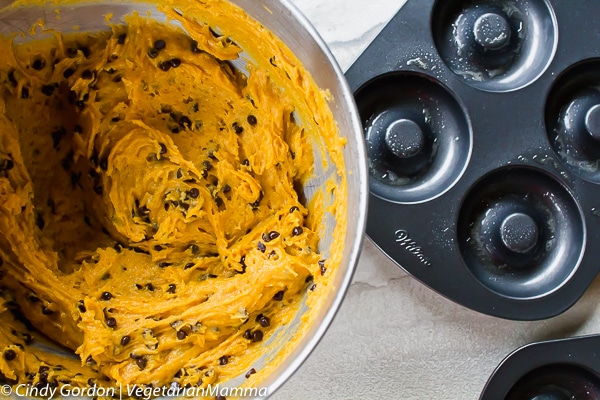 For me, I like to use my time efficiently so it was a huge bonus that I could use the donut pans to make uniform and neat donuts in a jiffy!
Would I turn away a donut that was shaped differently than the others? Absolutely not, but I must admit that they do look prettier when they're all shaped the same!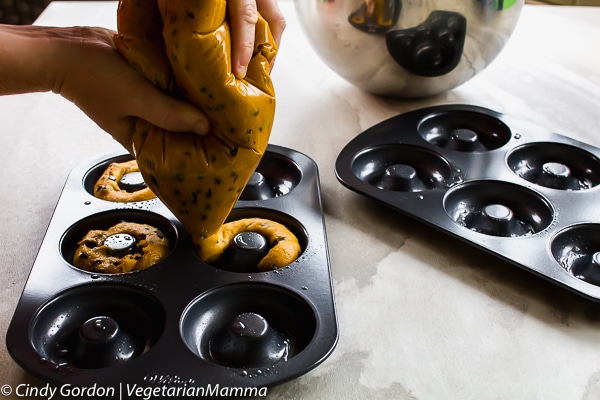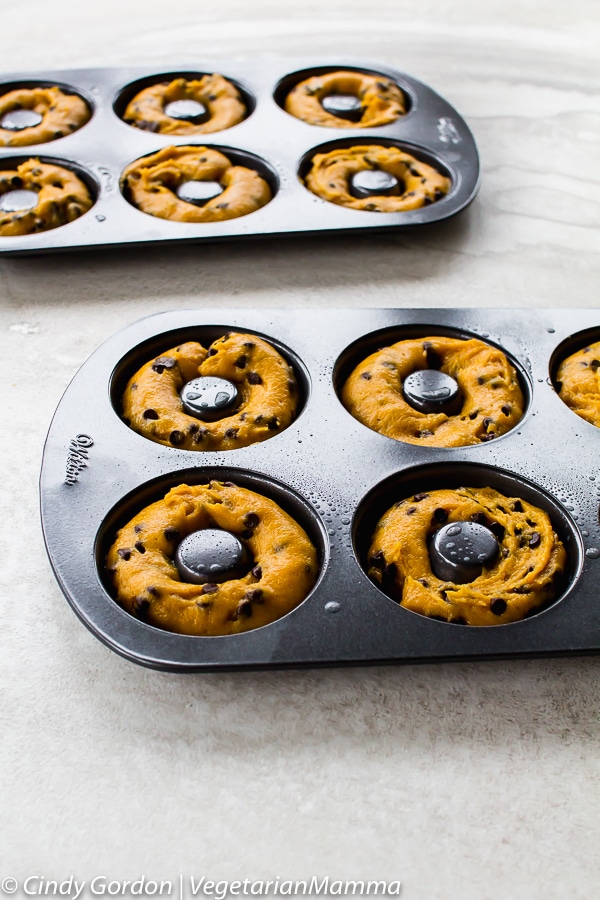 Helpful Tips for Cooking Gluten-free Pumpkin Chocolate Chip Mini Donuts
Sometimes, recipes are cooked and there's a ton of trial and errors. Luckily for you, I've made this recipe enough to know a few tricks of the trade that I'll happily pass along to you!
No matter what, don't forget to spray your donut pan before adding your pumpkin donut batter! Trust me…they'll stick no matter what if you don't. And no one wants to eat donut crumbles for breakfast. Donut holes? Maybe. Donut crumbles? No.
Don't just set your timer and walk away. For whatever reason, these donuts like to cook quickly! Set your timer but stay close and check on them every couple of minutes.
Once the mini donuts are cooked, let them cool completely before serving. Everyone is always so hungry to bite into one that we all seem to forget just how hot those cooked chocolate chips are. If you're not careful, that chocolate can really burn your mouth!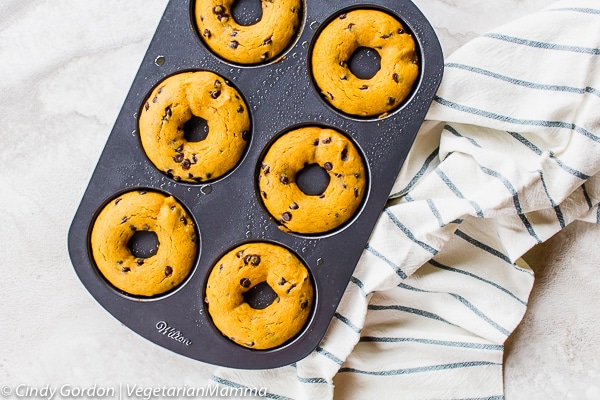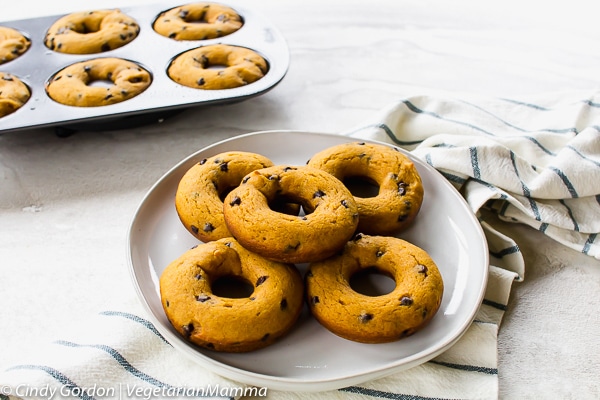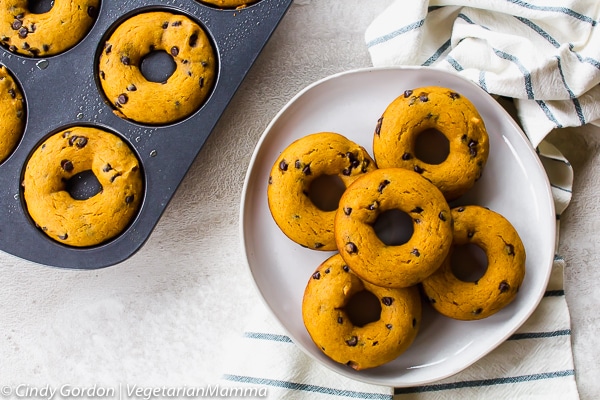 And my biggest tip of all? Doube (maybe even triple) the recipe. Trust me. They'll go fast because they are mini and delicious. Plus, even if they don't all get eaten, you can always freeze the extras for later!
I actually like to make a few extra for that reason alone. I freeze them in bags of 2 or 4, and then when we are going to be traveling on the road for sports or other activities, I'll just pull a couple of bags out of the freezer and pack for our trip. By the time anyone gets hungry, they're thawed out and perfect to eat!
While these mini donuts are great on their own, what would you pair them with for a balanced breakfast meal?
Pin for later: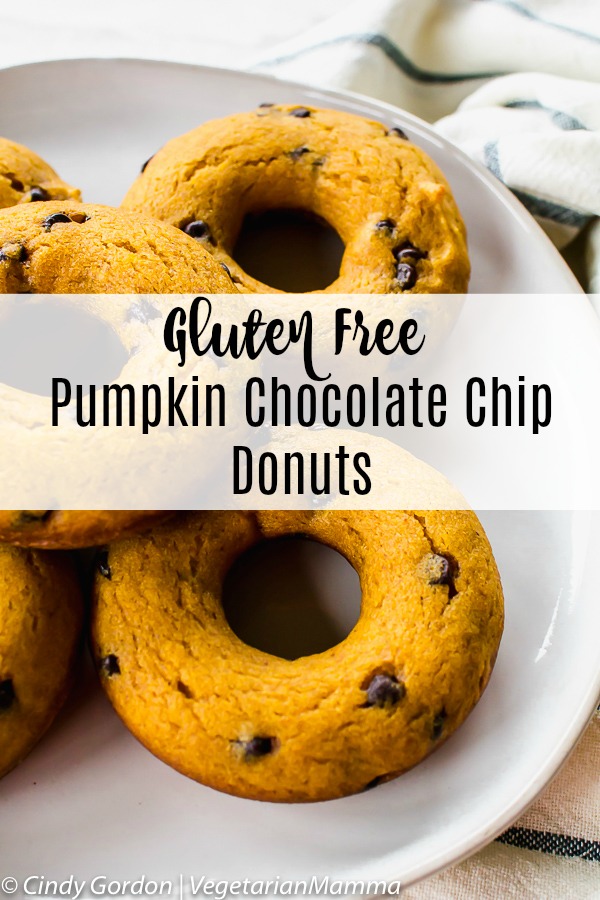 Other Breakfast Recipes to Try:
If you are looking for more allergy-friendly breakfast or brunch recipes, check out Tofu Scramble Breakfast Burritos, Leek and Pepper Breakfast Casserole, Raspberry Breakfast Casserole, or Chocolate Chip Coffee Cake.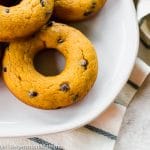 Print Recipe
Pumpkin Chocolate Chip Mini Donuts
Gluten Free Pumpkin Chocolate Chip Donuts are a petite sized cross between a muffin and donut. The pumpkin flavor in these donuts are paired perfectly with chocolate chips.

Instructions
Preheat Oven to 350 degrees F.

In a large mixing bowl, beat eggs, sugar, pumpkin and oil until smooth.

Add in dry ingredients and mix well.

Stir in chocolate chips.

Lightly spray your mini donut tins with oil. Fill each spot 1/2- 3/4 full.

Bake 10-12 minutes. Be sure to check on them often, they will burn quickly!

ENJOY!
All though this website attempts to provide accurate nutritional information, the information should only be considered an estimate. Varying factors such as different product types, different brands, etc. can change nutritional information. It is your responsibility as a consumer to read all labels to make sure the ingredients fit your dietary needs as well as calculate your own nutritional information as a double check.