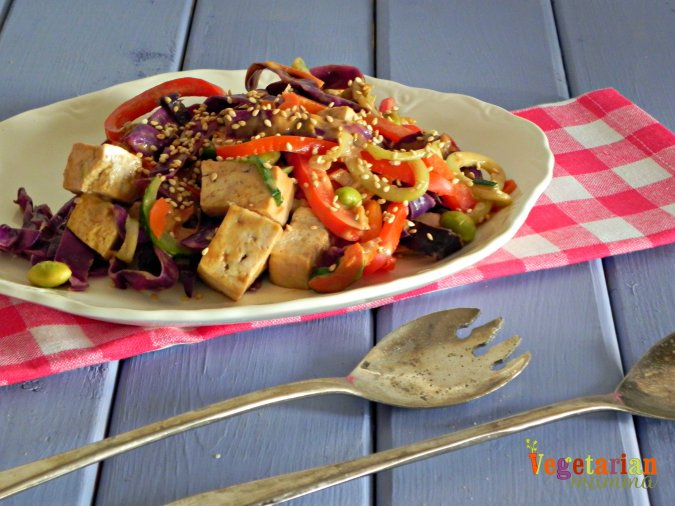 This recipe is full of beautiful colors and can be made any time of the year!  It is stocked full of flavor and is gluten and nut free.  It has a blend of fried tofu and edamame as a protein source.  All of the flavors blend together to make an even more tasty dish the day after!  Who doesn't love leftovers? I found an amazing recipe for Rad Rainbow Pad Thai, which was raw.  I adapted this recipe from here.
Rainbow Pad Thai ~ A colorful gluten and nut free dinner
Ingredients
One block of extra firm tofu
2 T olive oil, divided
Bragg's Aminos to season
1 medium zucchini, spiralized
1 large carrots, cut into thin circles
1 red pepper, thinly sliced
1 cup thinly sliced red cabbage
¾ cup frozen edamame, thawed
2 green onions, thinly sliced
Dressing ingredients:
½ cup Sunbutter (sunflower seed butter)
2 tablespoons fresh lime juice
2 tablespoons Bragg's Amino
2 tablespoons water
2.5 teaspoons pure maple syrup
½ t of ginger powder
Instructions
First prepare the tofu. Using a press, press out the extra liquid from the tofu. We use the EZTofu Press.
Cube tofu. Heat 1 T of olive oil in skillet, saute tofu until golden. Season with desired amount of Bragg's Amino. Set aside.
Using a clean skillet, heat remaining olive oil. Saute spiralized zucchini, carrot circles, bell pepper until slightly softened.
Add in red cabbage, edamame and green onions.
Once entire mixture is warm, mix in cooked tofu. Set aside.
Mix together all dressing ingredients. Pour dressing into tofu/vegetable mixture.
Top with sesame seeds, if desired. ENJOY!