Eat Dairy Free is the new long awaited book from Alisa Flemming. It is perfect for new to dairy free eaters as well as seasoned veterans!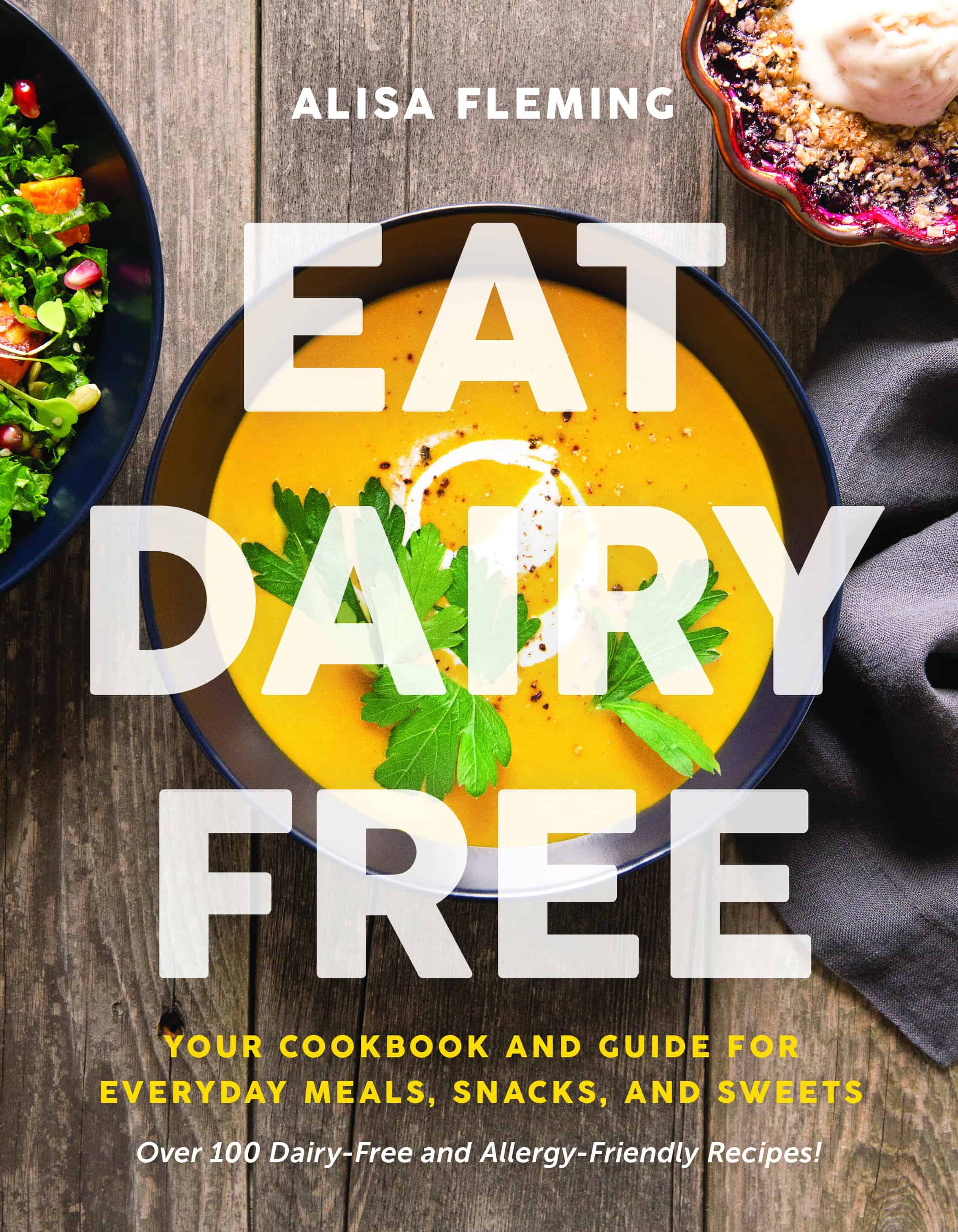 Alisa Flemming is well known in the food allergy community as an expert and pioneer of the dairy free movement. She started her online magazine, GoDairyFree.org, in 2005. Back then, there really was not much information on the web for people looking to remove dairy from their families' diets.
Alisa changed that. She brings her personal experience, research, and passion for her work to the dairy free community every day, and is someone who I personally admire very much for her humble yet amazing contributions.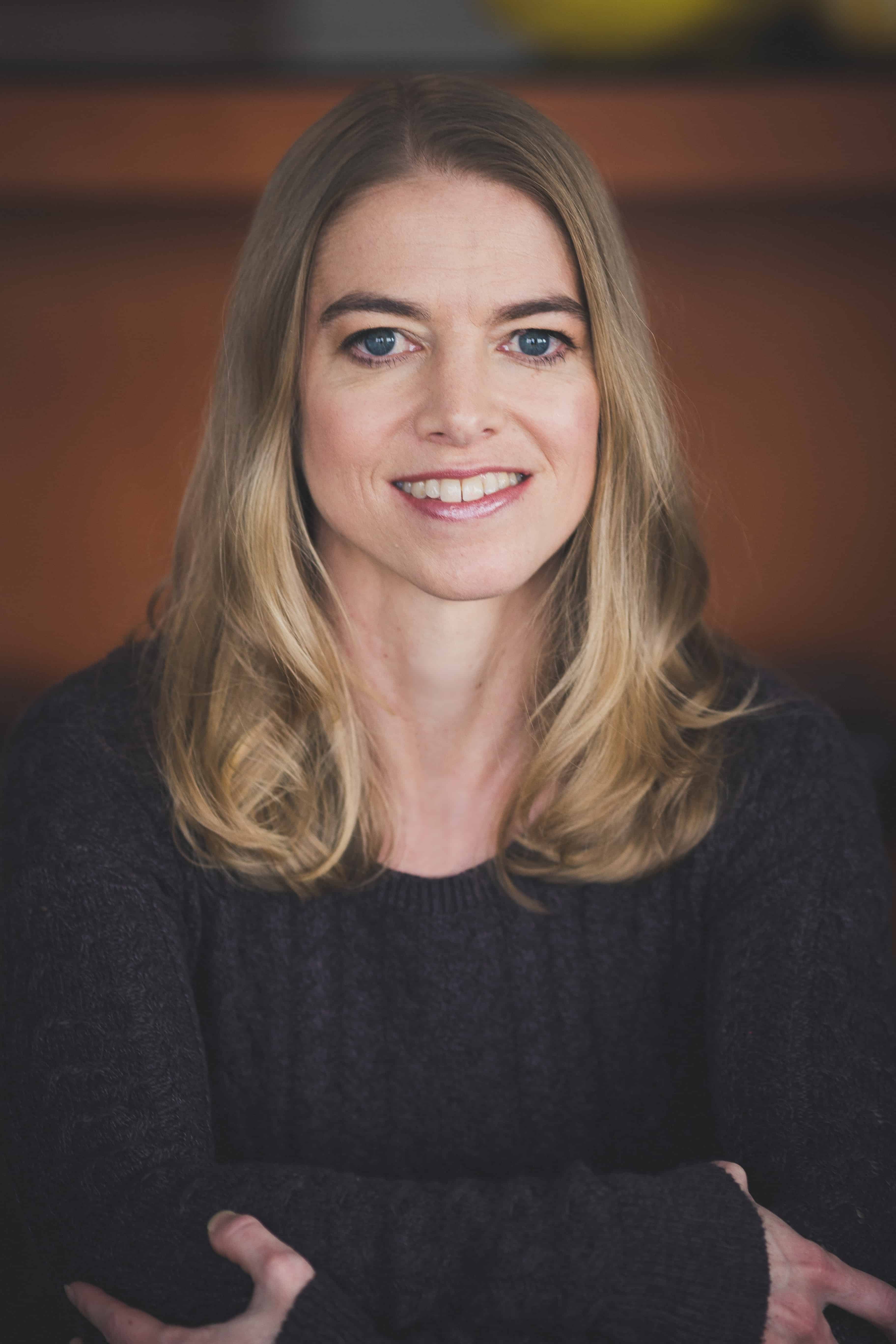 Her previously published book, Go Dairy Free: The Guide and Cookbook for Milk Allergies, Lactose Intolerance, and Casein-Free Living (affiliate link) is like the bible for anyone interested in going dairy free.
It's definitely a must-buy if you are struggling to make a diary free diet work for you and need some guidance, and it includes some great recipes too. Alisa's newest Book, Eat Dairy Free,(affiliate link) is sure to be another must-have.
Eat Dairy Free (affiliate link) is a full color cookbook with 110 dairy free recipes for all types of dishes. There are 10 chapters ranging from drinks to main dishes to desserts.
The majority of the recipes are not only dairy-free, but also vegan friendly and nut-free, and all of the recipes have fully tested options for gluten-free, egg-free, nut-free, and soy-free.
One of my favorite things about this cookbook is that it has dairy free recipes that don't require the use of dairy substitutes. There is no need to go out shopping for vegan cheese or other processed alternatives to make these recipes.
Alisa even includes a recipe for making a dairy free milk drink from scratch! I also love that all of these recipes are approachable and achievable for the average home cook.
You will flip through this book and think, "I can make that", or "my family will enjoy that". The recipes feel familiar and most are quick and easy to make. That being said, the recipes are all well thought out and full of flavor and variety too.
I'm sharing one of my favorite recipes from Eat Dairy Free, Roasted Carrot Bisque. This soup is simple to make and a perfect pot of comfort food on a cold winter day, and I love the flavor options included at the end of the recipe – it's like 5 recipes in one!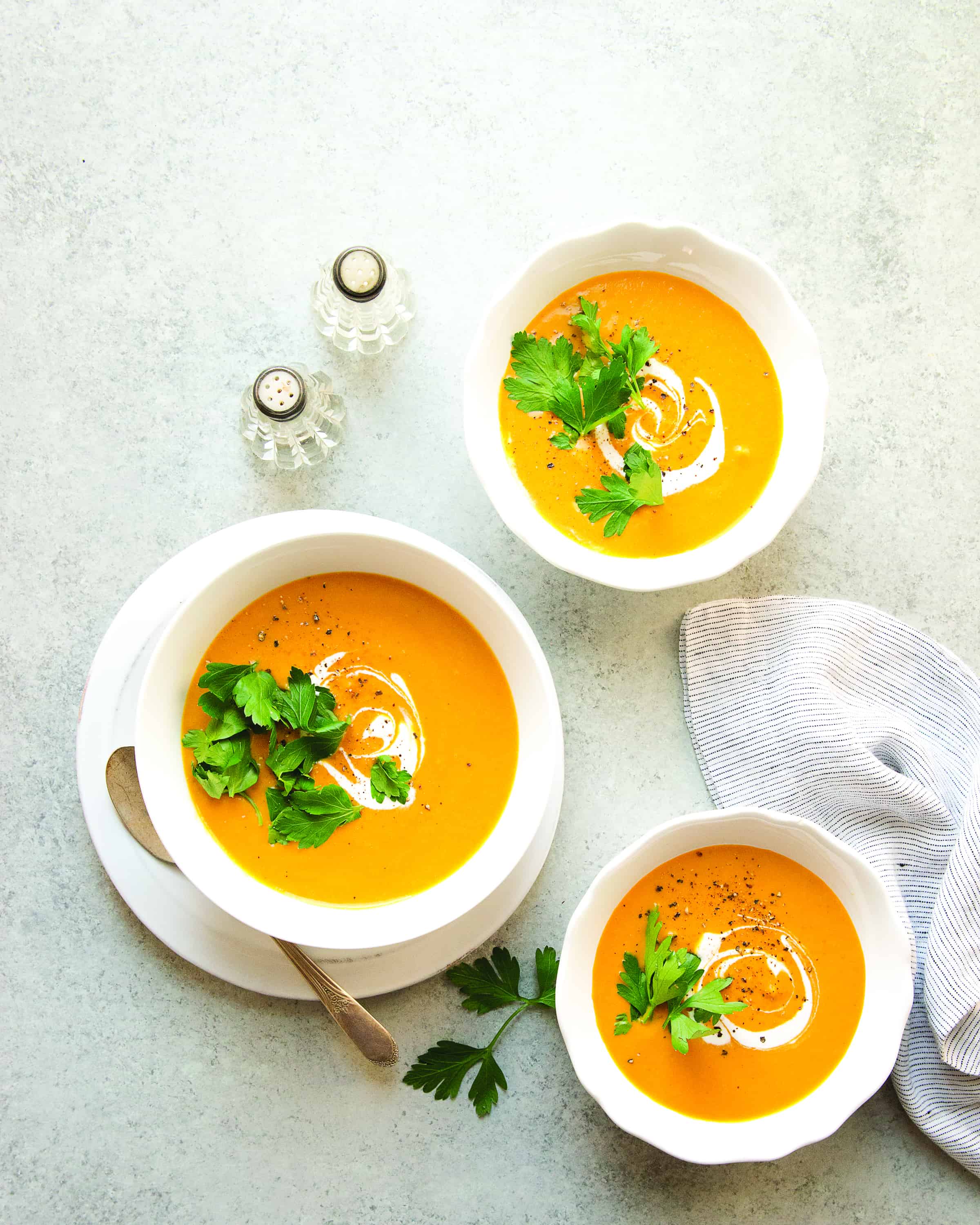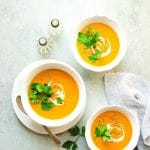 Print Recipe
Roasted Carrot Bisque from Eat Dairy Free by Alisa Fleming
This simple soup is a great way to showcase fresh carrots. It's slightly rich, naturally sweet, a little rustic, and very comforting.
Ingredients
2

pounds

carrots

peeled and cut into 1-inch chunks

1

medium

onion

halved and then quartered

2

garlic cloves

1 1/2

tablespoon

melted coconut or olive oil

1 1/2

tablespoon

honey or maple syrup

4

cups

vegetable broth

14

oz

full-fat coconut milk

1 1/2

cup

water

more or less as needed

1 to 1 1/4

teaspoon

salt

1/8 to 1/4

teaspoon

black pepper

Coconut cream or additional full-fat coconut milk, for garnish (optional)

Chopped fresh parsley, for garnish (optional)
Instructions
Preheat your oven to 425.F.

Place the carrots, onion, and garlic cloves on a large rimmed baking sheet and toss with the oil and sweetener to coat.

Spread out the vegetables into a single layer. Roast for 20 minutes. Stir and spread the vegetables back into a single layer.

Roast for 20 to 25 more minutes, or until soft and browned around the edges, but not burned.

Transfer the roasted vegetables to your blender or food processor and add the broth. Blend for 2 to 3 minutes, or until relatively smooth. This may need to be done in two batches.

Pour the carrot mixture into a large saucepan over medium-low heat. Stir in the coconut milk and desired amount of water to thin.

Season with the salt and pepper to taste. Cook until heated through. Ladle into bowls. If desired, swirl with a little coconut cream or coconut milk and sprinkle with parsley.

Store leftovers in an airtight container in the refrigerator for up to 2 days.
Notes
Flavor Variations
       

Curry:

While heating in step 5, stir in 2 to 3 teaspoons of your favorite curry powder.

       

Smoky:

While heating in step 5, stir in 1/2 to 1 teaspoon of smoked paprika, or to taste.

       

Herb:

Garnish each bowl with 1 tablespoon of chopped fresh herbs, such as basil, thyme, or rosemary, or add the herbs to the vegetables during the last minute of roasting.

       

Winter:

For a creamier seasonal finish, substitute sweet potatoes or squash for the carrots.
Credit for this Recipe:
This recipe is reprinted with permissions from
Eat Dairy Free
: Your Essential Cookbook for Everyday Meals, Snacks, and Sweets
by Alisa Fleming (BenBella Books, 2018). Photo by Nicole Axworthy.
Eat Dairy Free is available now on Amazon and as an e-book on Kindle. Barnes and Noble, Target, and Walmart have the book online and many Barnes and Noble stores will have hard copies as well! Go get a copy of Eat Dairy Free today, and start the new year with some amazing new dairy free recipes in your toolbox.