Roasted Red Pepper Hummus is made without tahini. This nut free hummus is not only delicious but food allergy friendly.
Roasted Red Pepper Hummus is easy to make at home and will take your snacking up to the next level of taste! Using fresh, wholesome ingredients, this hummus will quickly become a favorite!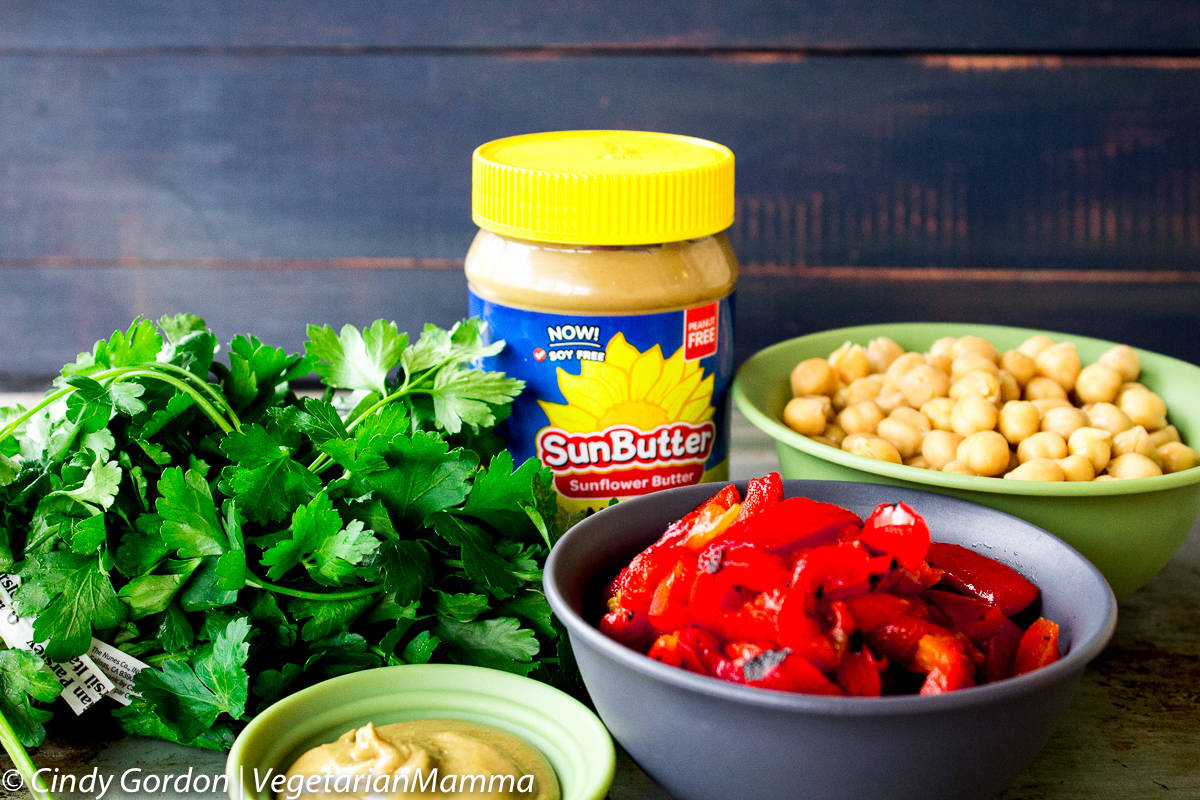 This recipe was sponsored by SunButter. All opinions are our own.
Roasted Red Pepper Hummus
Hummus has always been a favorite at our house. Whether we are dunking veggies or crackers, we love hummus. Roasted Red Pepper Hummus has quickly become our favorite.
In my opinion, homemade hummus is so much more delicious than store bought. This isn't your average hummus. This one is extra delicious!
We prefer to make our own hummus and use SunButter in place of tahini. I think you'll enjoy this roasted red pepper hummus without tahini. By using SunButter which is free from the TOP 8 most common US allergens, we knew that we were making a safe allergy friendly choice. When you live with food allergies, you have to be extra careful!
Did you know that there are NO peanuts or tree nuts allowed into the SunButter processing plant? I had the pleasure of visiting SunButter headquarters last year! You can read more about my trip and the extensive procedures in place make sure this product is allergy friendly.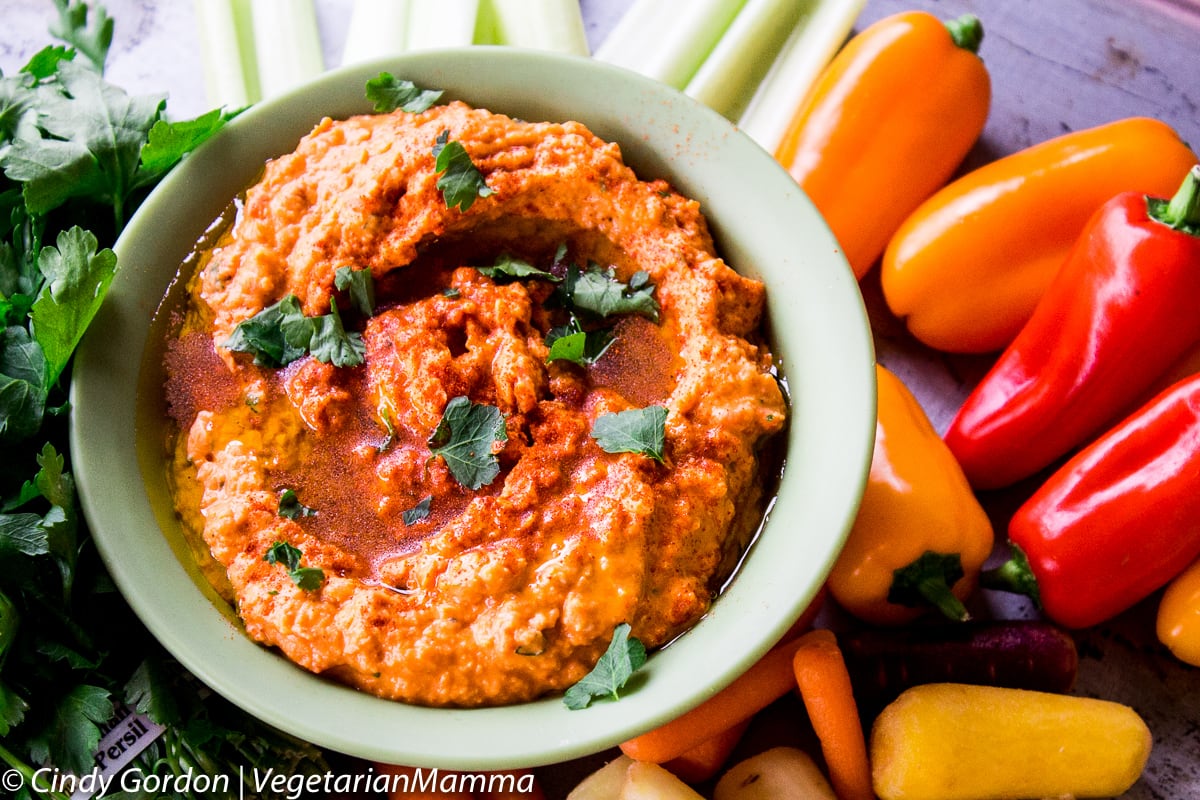 Nowadays, most stores will sell roasted red peppers in a jar. You can also roast your own red peppers at home.
How to roast red peppers:
Place the peppers skin side up on a baking sheet. Now it is time to "roast the peppers". Actually you are going to be using the broiler! Broil until the pepper skin is charred, then peel the charred pepper skin off. That's it!
How long does this nut free hummus last?
I have keep this hummus in my fridge for a week and it has held up just fine. Sometimes it does need an extra stir to recombine things. But a week is the max! I bet it won't last that long, after all it is mega delicious!
Can you freeze hummus?
I have! You can freeze it and then thaw it when you are ready to use it! If you have froze hummus drop me a comment below with any tips you have!
I can't wait for you to make this recipe. Just one try and you will be in love! Wondering what the best part is? Love the pepper flavor? You can add more or less depending on what you like. Make it your recipe!
So what types of things can you dip in your hummus without tahini? Well the options are actually endless! Just think: carrots, celery, crackers, you can spread it on toast….the options are endless!
PIN FOR LATER: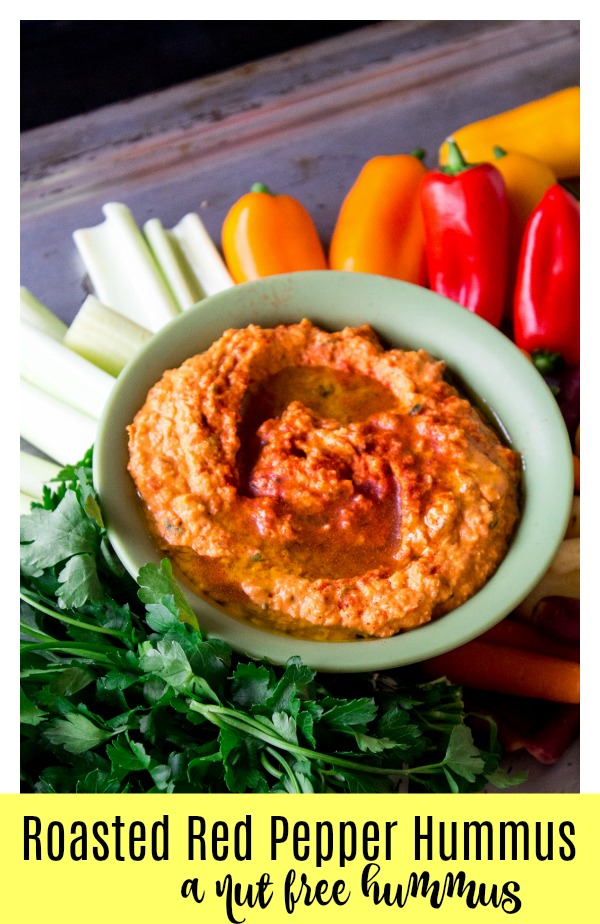 Are you ready for this delicious, easy-to-make recipe? Check this out! Get your roasted red pepper hummus recipe here…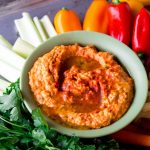 Print Recipe
Roasted Red Pepper Hummus
Roasted Red Pepper Hummus is made without tahini. This nut free hummus is not only delicious but food allergy friendly.
Instructions
Put all ingredients into a food processor. Blend for 1 minute.

Remove lid and stir items.

Blend again until completely mixed.

Put hummus into a bowl. Garnish with a drizzle of olive oil and smoked paprika.

ENJOY!
Question: Let's talk! Leave me a comment telling me what your favorite dipper is? Celery, broccoli, carrots, crackers? What do you like?
Thank you to SunButter for sponsoring this simple yet delicious recipe. Be sure to check out all of the SunButter products!