Roasted Vegetable Pasta! Looking for an easy to make dinner that will fill your belly? This hearty Roasted Vegetables with Pasta is a gluten-free and vegan dish.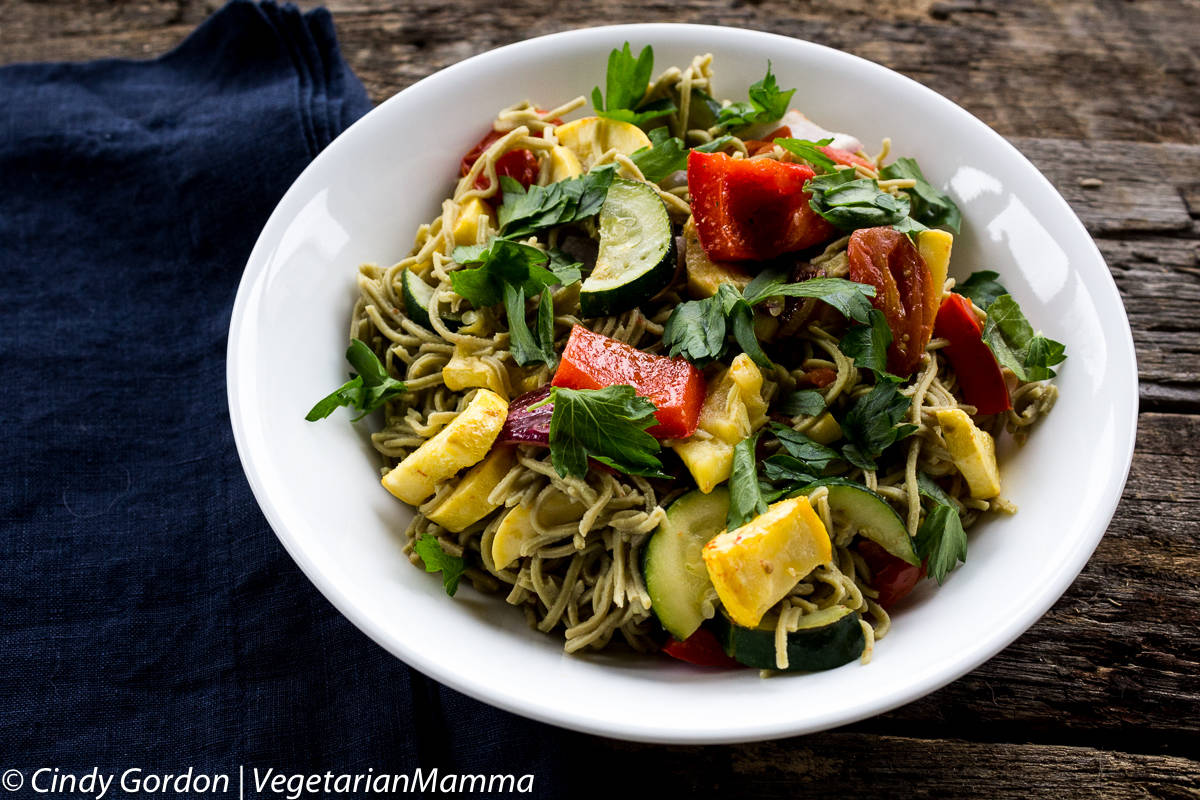 Roasted Vegetables Pasta – The Perfect Family Dish=
For our family, dinner always seems to be a busy part of the day.
People in our family are just getting home, some are grabbing dinner before they head off to sports…you get the picture.
It can get hectic.
And by hectic, I mean that no one seems to have the time to sit down and enjoy a meal together.
In my mind, family meals together are an important part of the day! It's a time to talk, bond, and reflect on everything that we've done and accomplished for the week, while also looking ahead on what still needs to be done as well.
Our family tries to find and create pasta recipes that are quick and use simple ingredients but pack a bunch of goodness into the meal. I also tend to look for recipes that have roasted veggies and take less than 20 minutes to cook. (C'mon, I need simple!)
Thankfully, we've created just that with this cooked pasta recipe!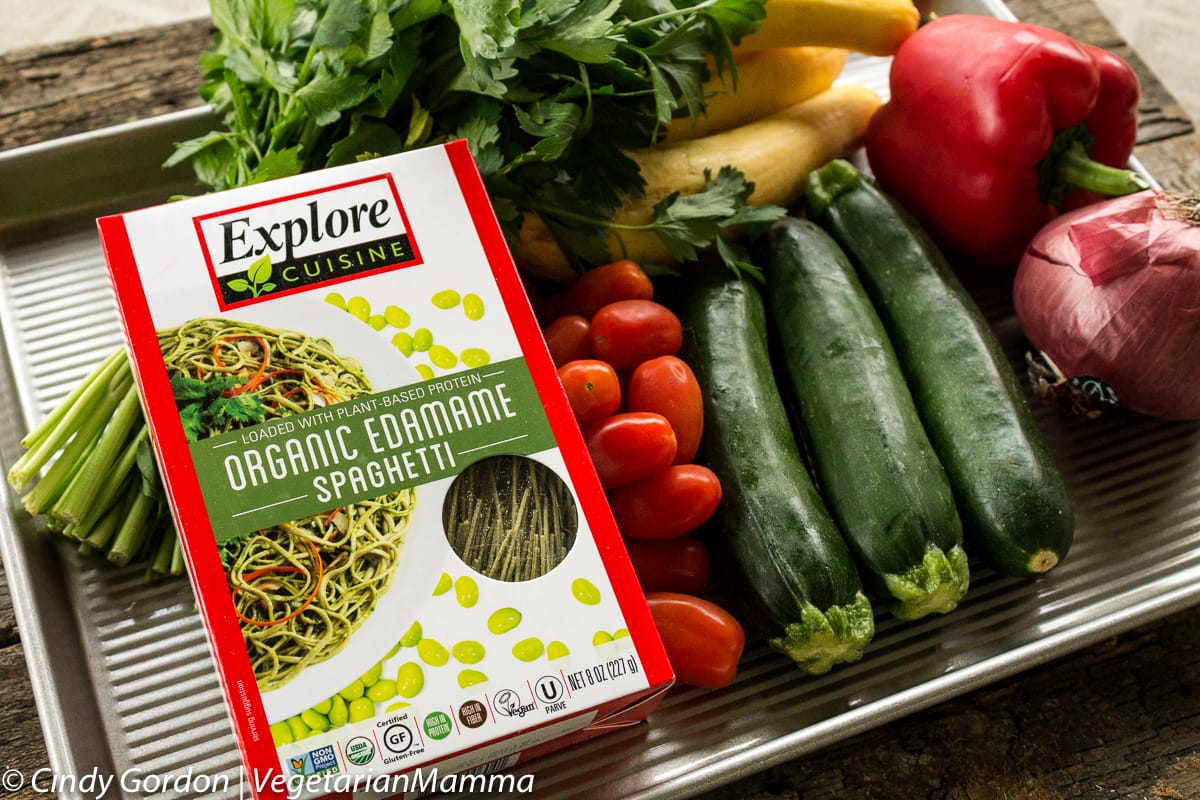 Just how Simple is this Roasted Veggie Pasta Recipe?
Let me break it down for ya!
Simple ingredients = CHECK
Common ingredients = CHECK
Flavor = CHECK
Recipe packed with goodness = CHECK
Seriously, so very simple and quick to do! If you're going to do "fast food" for your family, why not make it these vegetables and pasta dish?
As you can see, we've used some Organic Edamame Spaghetti in this recipe.
This certified gluten-free pasta is delicious. It is nonGMO, vegan and organic.
It also provides some protein in our dish! We love Explore Cuisine products!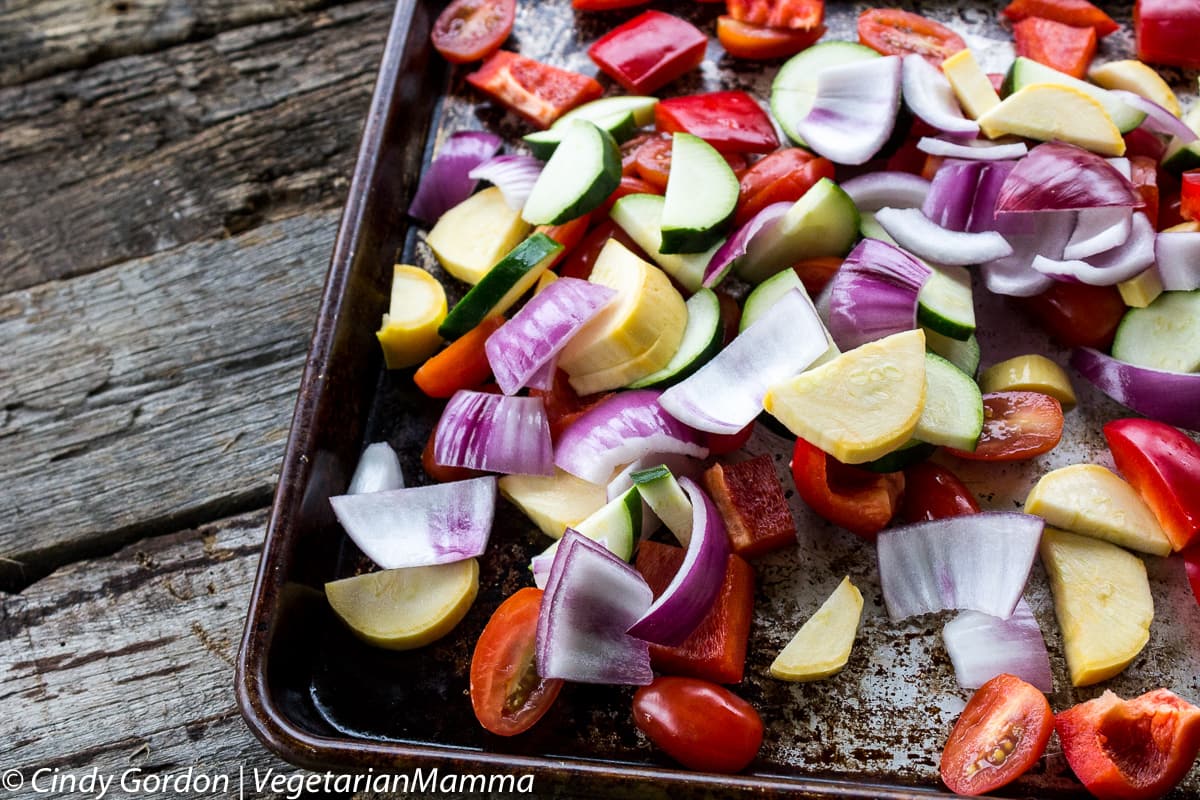 More Roasted Red Peppers, please!
I love, love, love the flavor of roasted red peppers and parmesan cheese.
And to be honest, there is just something about freshly roasted vegetables! YUM! Toss your vegetables with some olive oil then season with salt and pepper before you roast!
If you are a garlic lover you can even toss with garlic salt instead of salt and pepper.
Seasoning is a huge part of the dish. Many people forget to add in salt and pepper.
It is amazing what this simple act can do to the flavor of the dish.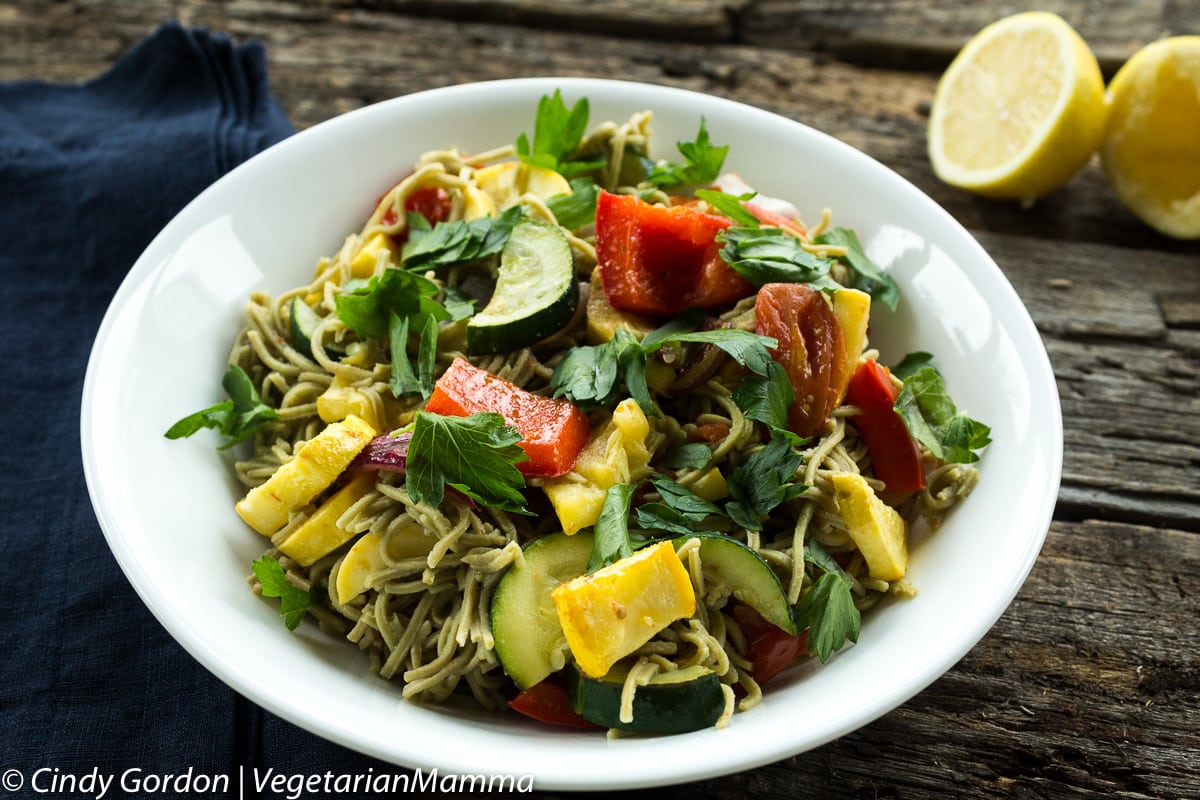 Tips for Cooking this Roasted Vegetables Pasta Recipe
While the recipe isn't hard, there are a few tips to keep in mind to make it even that much easier!
Don't forget to add your pasta noodles to salted water to help them keep from sticking when cooking!

Spread out your veggies on the baking sheet so that they all get roasted!

Season with anything that hits your tastebuds! If you like olive oil, pasta sauce, or even balsamic vinegar, all are great options for this delicious dish!
Don't forget to share this recipe with all your family and friend. I love to make and take this to BBQ's, potlucks or as a fun dish to serve guests when they come to our house.
It's the perfect way to show people who aren't vegetarian that eating veggies can be delicious and flavorful as well! And if you do decide that you want to add meat into it, it's absolutely versatile for that, too.
Again, with the ease and simplicity of this recipe, the options of how you can cook and serve it up will be truly endless!
Change it up each and every time that you make it to keep it fresh and new! I love to cook it up and use the veggies that are in season to give it a different taste each and every time.
Plus, if you have garden veggies coming out of your ears, this is the perfect dish to use them up!
Ready for this recipe? I bet you are getting hungry? I know that I am! I am pretty sure you will love the roasted flavors in this dish!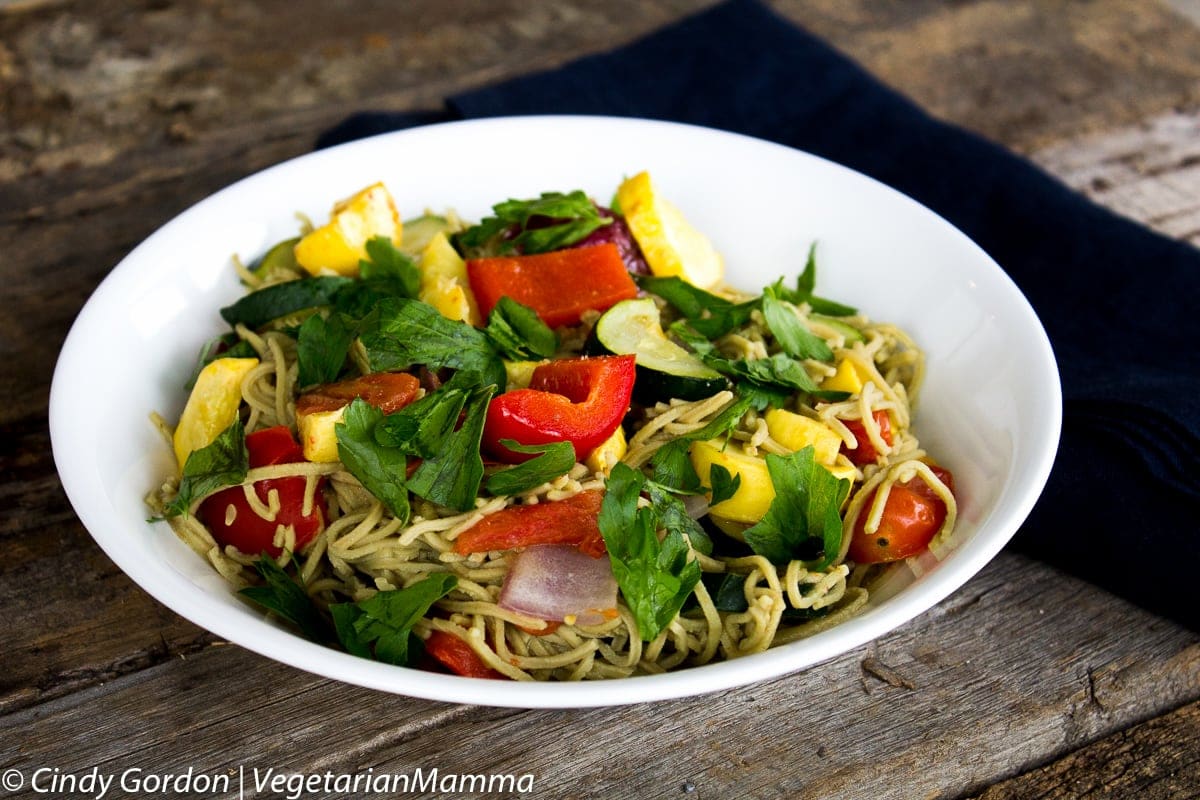 Looking for more gluten-free recipes? You can check out all our recipes, that use Explore Cuisine pastas! Yummy recipes like: Kid Friendly Pasta Salad, Vegetable Bolognese, Warm Black Bean and Corn Pasta Salad, Spaghetti Stuffed Peppers, Roasted Cauliflower Alfredo and Vegetable Ragu.
Let's make this roasted vegetable pasta!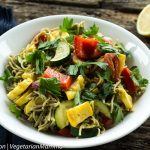 Print Recipe
Roasted Vegetables with Pasta
Ingredients
1

box of Organic Edamame Spaghetti by Explore Cuisine

1

c

of yellow squash

diced into 1/2 inch pieces

1

c

of zucchini squash

diced into 1/2 inch pieces

1

c

of red onion

diced into 1/2 inch pieces

1

c

of red bell pepper

deseeded, diced into 1/2 inch pieces

1

c

of cherry tomatoes

halved

1

t

garlic salt OR salt and pepper as needed

1

T

olive oil

1

c

of fresh parsley

lemon
Instructions
Preheat your oven to 400 degrees F.

Toss your veggies (excluding parsley) with olive oil and your choice of either garlic salt or salt/pepper.

Put your veggies into an oven safe roasting pan. Bake at 400 degrees F for 15 minutes.

While your veggies are cooking, prepare your pasta per the directions on the box.

When pasta is cooked, drain and set aside.

When veggies are cooked, toss with pasta. Top mixture with the juice from one lemon half.

Top with parsley and serve!
Notes
If you are a garlic lover, you can add finely diced garlic clove to your dish when you combine the pasta and vegetables.
Remember, you do have the second half of your lemon, you can add in more lemon juice if you'd like to elevate the flavor of the dish.
All though this website attempts to provide accurate nutritional information, the information should only be considered an estimate. Varying factors such as different product types, different brands, etc. can change nutritional information. It is your responsibility as a consumer to read all labels to make sure the ingredients fit your dietary needs as well as calculate your own nutritional information as a double check.
---
Thank you to Explore Cuisine for sponsoring this recipe and for providing the pasta for this dish!
If you are looking for more delicious recipes like this Roasted Vegetables with Pasta, you can check out our recipe index and our listing of gluten-free side dishes.
We have many gluten-free, vegetarian recipes on our site that we can't wait to share with you!
---
Let's talk! Leave me a comment telling me what vegetables you love to roast! Any favorites that are in this Roasted Vegetables with Pasta? Have you ever added them to pasta? I'd love to hear about your creations!
pin for later