Rustic Potato Soup is a comforting vegetarian soup that you can enjoy year-round. Who said homemade potato and cheese soup couldn't be delicious?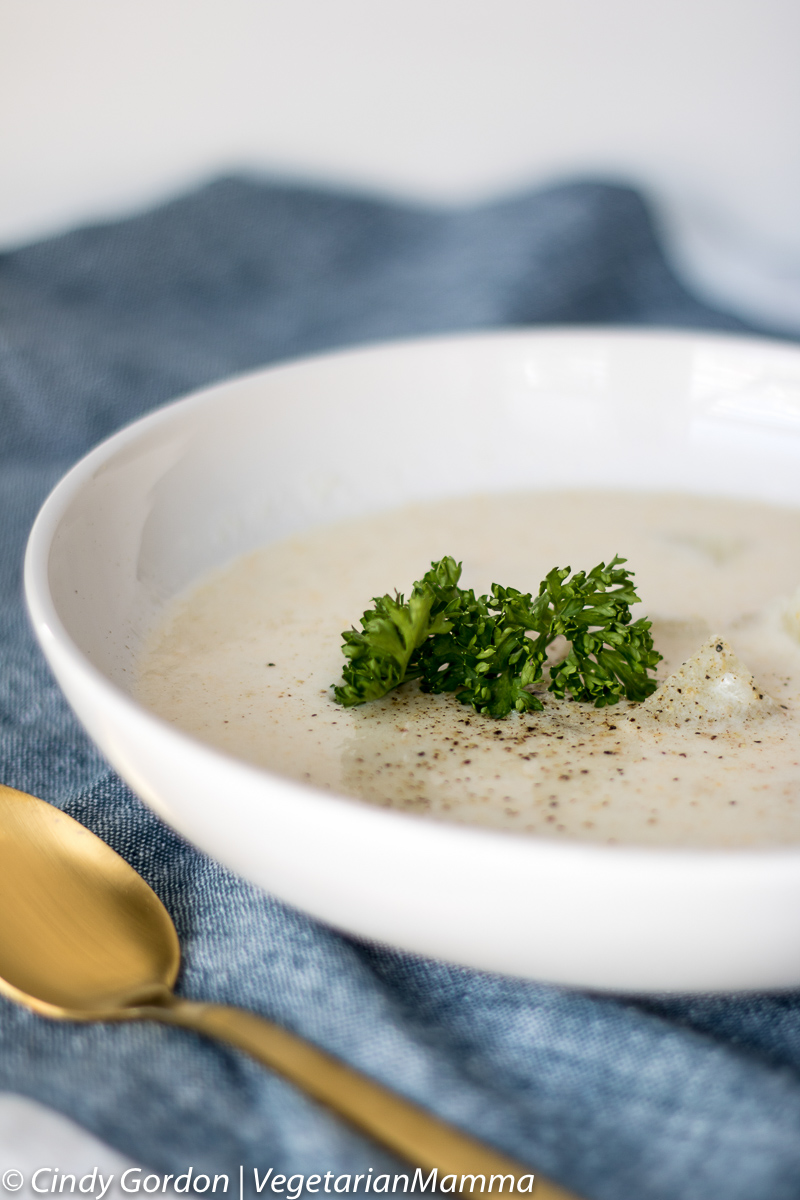 Any season is great for soup, but when the winter chill rolls in this homemade potato soup is perfect. Grab a hot bowl of Rustic Potato Soup and settle in! Are you in for this basic potato soup recipe?
Rustic Potato Soup – Warms the Heart and Soul
There is just something about a hot bowl of soup that warms my entire soul. While there isn't just one aspect that I can put my finger on, the entire bowl just makes me smile.
I love this hearty vegetarian potato soup!
Maybe it's the memories growing up of sitting around and talking to my family while slurping away on a giant bowl of potato soup, that I think about and love.
Memories like that are what I want to share with my kids! Sitting around the table and enjoying each other's company and conversations over a bowl of great potato soup are what it's all about!
Just the smell of this rustic easy creamy potato soup makes me hungry and happy. The great part about this potato recipe? It's literally so very simple. I would pair it with these Gluten-Free Dinner Rolls.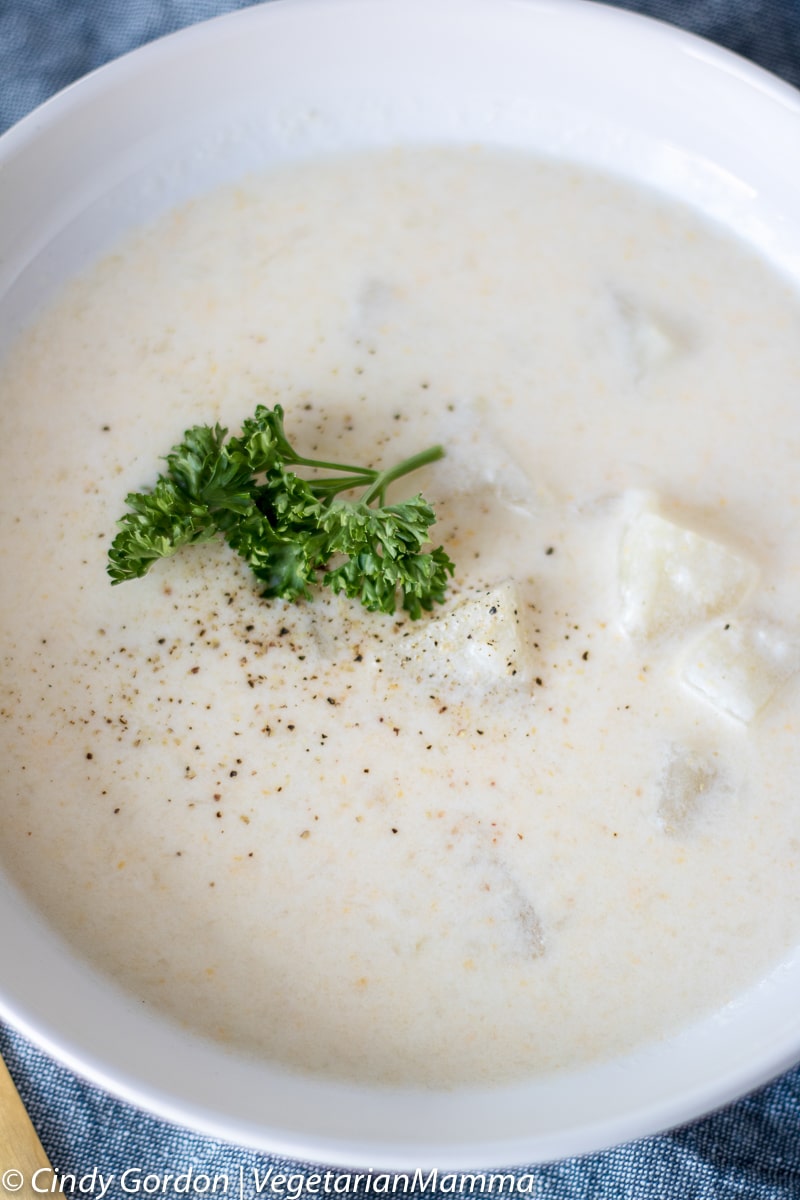 Are you still wondering how simple this recipe is? Check out this video!
Easy Potato Soup – Simple and Easy to Make
We all know the heart of potato soup is…potatoes, right? Lots and lots of potatoes. Depending on how you like your soup, you can actually make this recipe a few different ways.
It is a simple recipe made with hearty potatoes. What I love about this potato soup recipe is that it's possible to get a spoonful of potatoes, onions, and cheese in each and every bite.
Never worry about eating a "wimpy" soup every again with this super hearty potato soup recipe. This soup is so delicious that it doesn't need a companion, but if you want to add something to go along with it, there are options to make it happen.
What to Pair with Potato Soup
Pair it with a biscuit for dipping into the creamy potato soup and you are set. I am a huge fan of flaky biscuits, which can be hard to find in the gluten-free world.
If you've found a favorite biscuit, get it ready for this soup! Crackers or your favorite bread would be great here too. I've been eyeing this Gluten-Free Artisan Bread recipe from my friend GF Jules. She is amazing with everything that she makes and her flour is fantastic!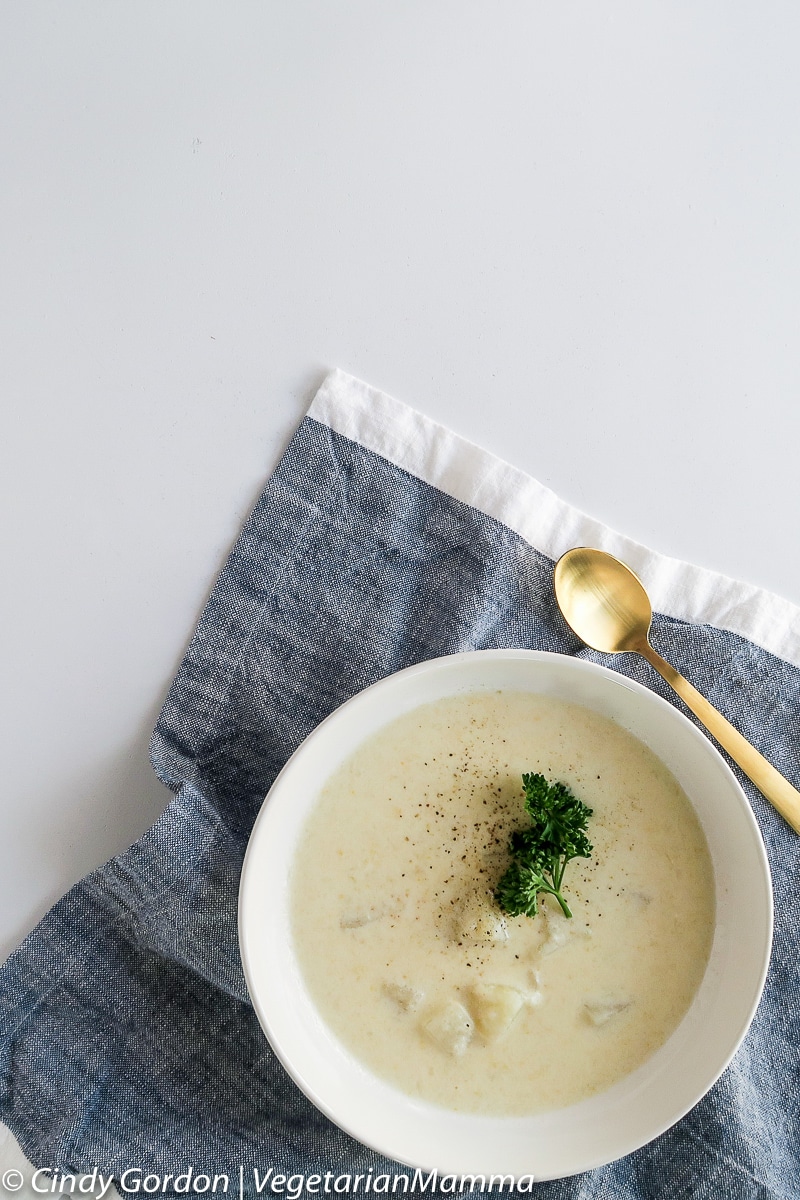 Simple Ways to Share this Cheesy Potato Soup Recipe
With a recipe this delicious in your back pocket, it'd be a shame not to share it with those that you love.
Some simple and great ways to share this hearty potato soup recipe can be to:
Have a soup potluck and have everyone bring their own soup. Let everyone taste test their way through all the soups, and have your potato soup recipe ready to share.

Make it for a friend or family member who's ill. Everyone loves soup when they aren't feeling well, right? This potato soup will fix up whatever is ailing them in a jiffy!
If you're lucky enough to find a great soup recipe that's worthy of sharing, share it! With winter months approaching, everyone needs to have a hearty potato soup recipe to cook and enjoy while warming up around the fireplace.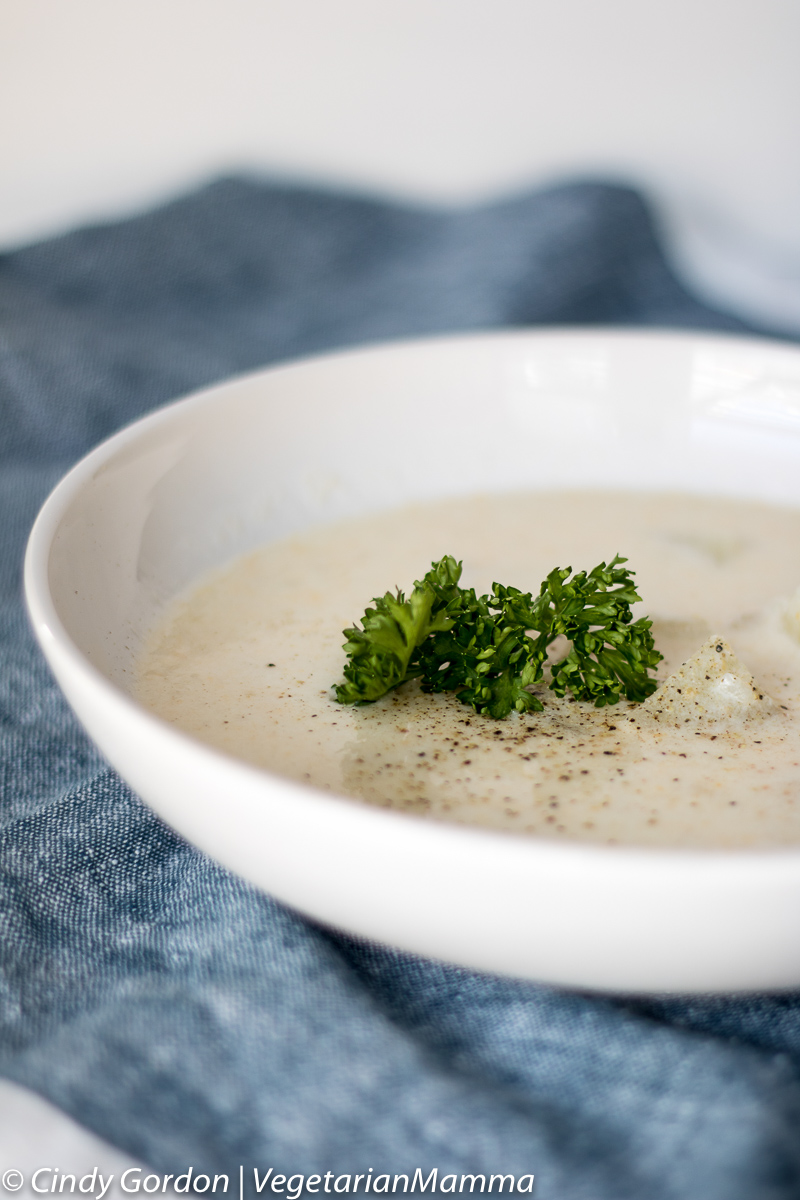 Potato Soup – Perfect to Eat During Any Season of the Year
Many people tend to think that enjoying potato soup has to be a wintertime activity. Wrong, wrong, wrong!
With the amazing flavors that this vegetarian creamy potato soup recipe provides, it can be a soup that you can enjoy at any time of the year!
During those summer months, add a bit more flavor to it by pairing it with some fresh herbs from your garden. Freshly picked cilantro is always a winner in my book!
Fall months are gearing up for soup, so this potato soup recipe is perfect to kick off the fall season. Top it with a dollop of your favorite sour cream (or other dairy-free option), and you'll have a fun and festive Fall soup to enjoy!
Winter needs no introduction to the soup world, so making this potato soup recipe all winter long just makes perfect sense!
Spring is the time of year when you're saying goodbye to the cold weather, and hello to the flower blooms. While it's nice, this soup can be enjoyed in Spring to allow your taste buds to hold on to those winter memories just a little bit longer!
There are so many other great ways to eat Potato Soup, that here are a few other options that you and your family may enjoy as well:
Can you freeze this soup?
I've been asked if this soup can be used as a make-ahead meal and stored in the freezer. The answer is, yes, you can freeze this soup.
Some people like to store their frozen soups in gallon-sized zippered bags and lay them flat in the freezer. Then, all you have to do is put them in the refrigerator overnight to thaw.
When you are ready to cook the soup, put it in a large pot and heat it on the stove.
So easy!
If you love soup as much as I do, make sure to visit the recipe index to find more gluten-free soup recipes! Try Creamy Corn Soup, Cheesy Potato Bean Soup, or Taco Soup.
So get your soup pot (affiliate ad link) ready, we are going to make some delicious soup!


There is just something comforting about a bowl of warm soup! Wouldn't you agree? I can smell that warm bowl of soup calling my name now! Perfect, for cool weather!
Is This Soup Vegetarian?
Yes, this is a vegetarian soup, but not all vegetarians will want to eat it since it has milk in it.
If you are confused, it's ok. Just know that there are a few different types of vegetarians. Here's some more information about them.
Basic types of vegetarians are:
If you want to read more about the different types of vegetarians, you can visit our vegetarian educational posts.
Pin this vegetarian potato soup for later: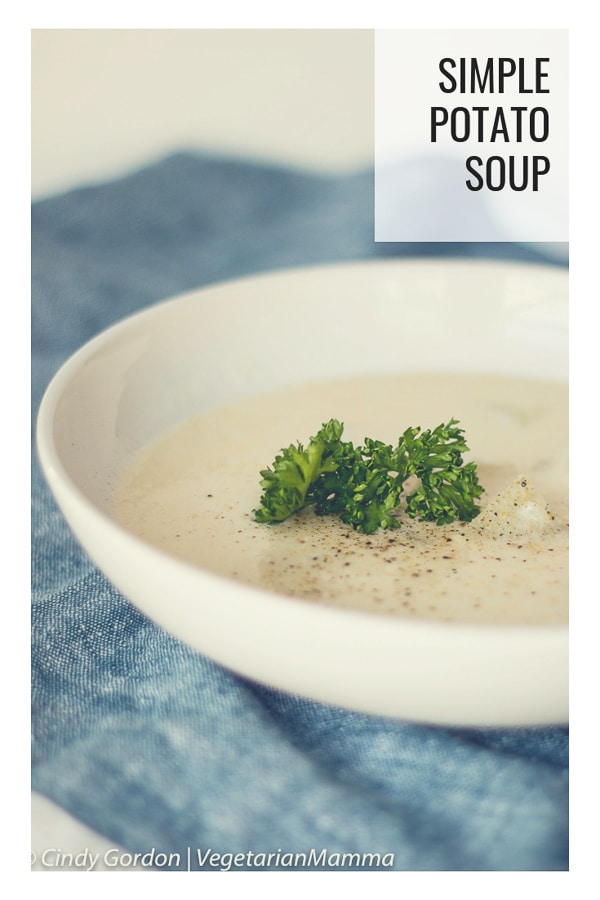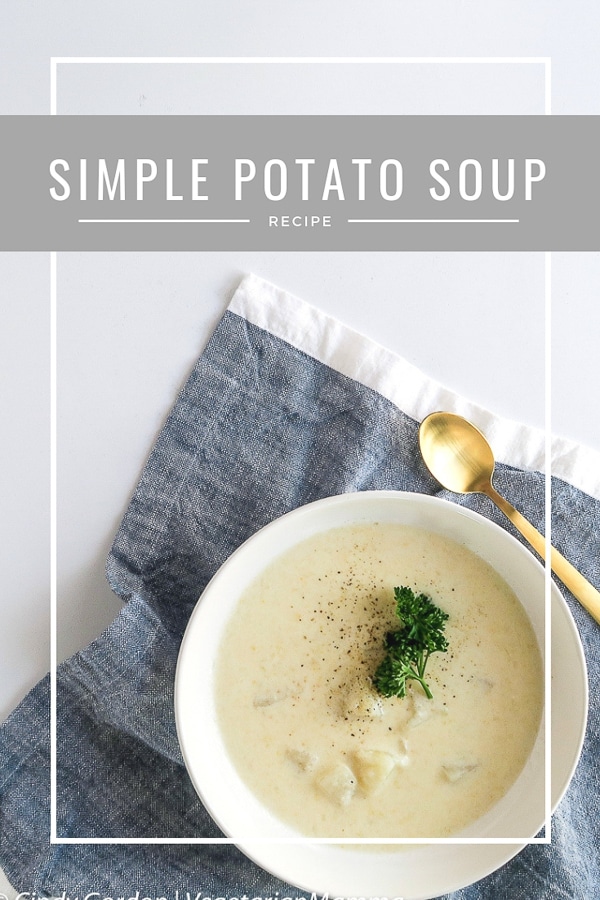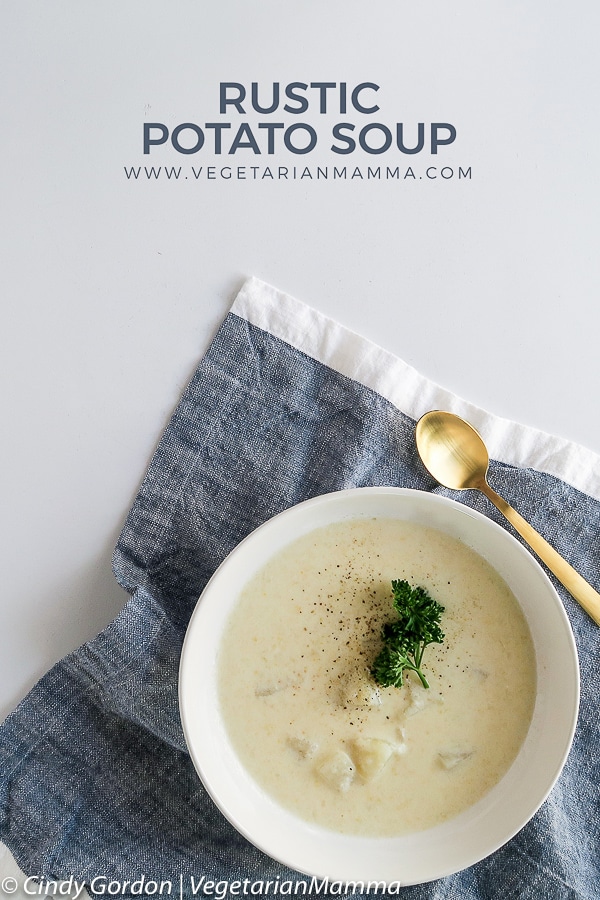 Get your potato and cheese soup recipe: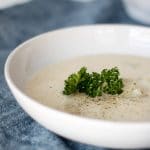 Print Recipe
Rustic Potato Soup - Vegetarian Potato Soup
Rustic Vegetarian Potato Soup is a comforting vegetarian soup that you can enjoy year round. Who said potato and cheese soup couldn't be delicious?
Ingredients
2

cups

of cubed potatoes

1

cup

of reserved water from potatoes

medium onion

2

T

butter

3

cups

of milk

1½

cup

shredded cheese

Parsley and chopped green onions for garnish.

Salt and Pepper for seasoning
Instructions
Bring potatoes to a boil. Cook until done (soft) and drain. Be sure to reserve 1 cup of the potato water.

Melt butter and saute onions.

Next, stir in flour until smooth.

Gradually (slowly!) add the milk product and reserved potato water, while stirring.

Bring to a boil. Boil until thick.

Remove from heat and add cheese, slowly. Stir until melted.

Add cooked potatoes.

Garnish with parsley, green onions and season with salt and pepper!

ENJOY!
Notes
Slow and steady is the pace for this recipe. Don't rush this recipe. Slowly add in the milk and cheese so that it blends well.
Nutrition
Calories:
180
kcal
|
Carbohydrates:
12
g
|
Protein:
9
g
|
Fat:
10
g
|
Saturated Fat:
6
g
|
Cholesterol:
33
mg
|
Sodium:
201
mg
|
Potassium:
353
mg
|
Fiber:
1
g
|
Sugar:
4
g
|
Vitamin A:
380
IU
|
Vitamin C:
6
mg
|
Calcium:
225
mg
|
Iron:
1.9
mg
I am a huge fan of soup. Leave me a comment below telling me if you are a soup fan. If you love soup too, tell me your favorite soup to eat!
*This post does contain an affiliate link.
Here is a peak at our old pictures!